Martin, Mariners prove ideal pairing in first year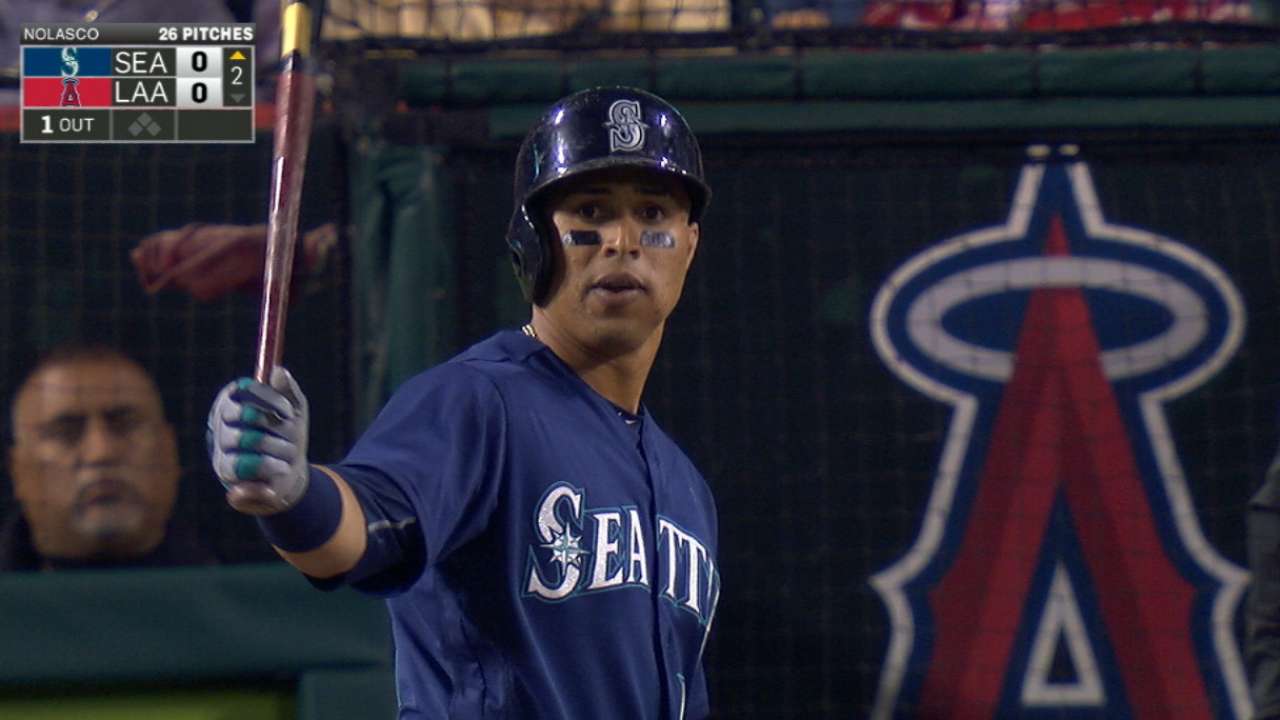 SEATTLE -- Of the multitude of moves made last year by Mariners general manager Jerry Dipoto, perhaps the best was the acquisition of Leonys Martin from the Rangers to solidify Seattle's center-field situation.
Martin had lost favor -- and his starting role -- in Texas, but Mariners manager Scott Servais knew the Cuban standout from his days as the Rangers' farm director and Dipoto felt he'd be the perfect fit for a club looking to get more athletic and defensive-minded in the outfield.
The Mariners gave up reliever Tom Wilhelmsen and young outfielders James Jones and Patrick Kivlehan to acquire Martin, but wound up getting both Wilhelmsen and Kivlehan back from Texas, while Jones was converted to a pitcher by the Rangers before hurting his arm midway through the season.
Meanwhile, Martin not only played an outstanding center field, but he bounced back offensively with a .247/.306/.378 line, a career-best 15 home runs, 72 runs and a team-leading 24 stolen bases in 143 games.
"We saw Leonys Martin kicking into a different gear that didn't really exist before," Dipoto said. "His defensive play all year long was spectacular. The energy he brought to the team was invaluable. That was a real positive for me [this year]."
The Mariners have Martin under club control for two more seasons. The 28-year-old earned $4.15 million last year and is projected to make about $6.3 million in his second season of arbitration eligibility, per MLBTradeRumors.com. For their money, the Mariners are getting both a solid center fielder as well as an emotional leader. Servais points to a June 2 game in San Diego -- when Seattle rallied from a 12-2 deficit for a 16-13 win -- as Martin's emergence as a vocal leader.
"It all kind of started in that San Diego game when he was on the DL," Servais said. "He stood at the top rail and cheered that entire rally on. It started that night and it just continued. He did not back off. I wish I could put a tape recorder on him. The fans would love it.
"He's got a nickname for everybody and is yelling, 'I don't hear you. I don't hear you.' It's the chirping with the umpires and then yelling at his teammates in the box or on the bases. It's contagious, and guys want to be in the dugout because they don't want to miss what he's going to say or what's going to happen, which is great."
Martin wasn't thrilled at how his time in Texas ended after losing his starting role to Delino DeShields in 2015. He dealt with a hand injury, played just one game after being recalled in September and then was left off the playoff roster and refused an assignment to stay in shape in instructional ball in Arizona during his team's postseason run.
But he quickly put that in the rearview mirror upon joining the Mariners and made the most of his fresh start with a team that wanted him to be a central part of its plans.
"I appreciated the Seattle organization giving me a chance to be part of this," Martin said. "I'm so happy to be here. This has been the best year of my life. I learned a lot of things about baseball, about my teammates, about my coaching staff. It was a great year. We didn't make it [to the playoffs], but it was a great year. We fought to the last out.
"Now we have to finish it. We have a lot of young guys and we have to learn from these experiences for next year."
Martin was one of four center fielders in the Majors -- along with Mike Trout of the Angels, Ian Desmond of the Rangers and Odubel Herrera of the Phillies -- to hit at least 15 home runs with 20-plus stolen bases.
But Servais feels there is more to Martin's offensive game, particularly if he focuses more on keeping the ball on the ground and using his speed instead of swinging for the fences quite so much.
"I think he's just scratched the surface," Servais said. "I showed Leonys all the numbers I could come up with. When you hit the ball on the ground, you hit close to .400. Just hit it on the ground once in a while. But he did hit some home runs for us. He got a lot of big hits. He played great center field, but he's a constant work in progress. I do think there's plenty of upside still left in his offensive game."
Martin will spend the offseason in Florida with his family, but already sounds eager to continue working on his plate approach with hitting coach Edgar Martinez.
"I'm glad I have one of the best hitters in baseball all time at my side in Edgar," Martin said. "He's the guy who has helped me. He worked really hard with me and always kept me positive. He meant a lot to me."
And Martin and his ever-present energy mean a lot to the Mariners and their future plans.
"He's happy," said Servais. "I mean, he really likes being here. I feel like as emotional as the kid is, this setting is ideal for him."
Greg Johns has covered the Mariners since 1997, and for MLB.com since 2011. Follow him on Twitter @GregJohnsMLB and listen to his podcast. This story was not subject to the approval of Major League Baseball or its clubs.