Pitching development takes focus at Rangers' meetings
ARLINGTON -- The Rangers are holding their annual organizational meetings in Surprise, Ariz., this week and pitching will be a prime topic of discussion.
That, of course, is nothing new for the Rangers or for most Major League teams.
The Rangers will debate the wisdom of picking up Derek Holland's $11 million option and re-signing Colby Lewis. They will consider all the trade options, including White Sox left-hander Chris Sale, and peruse a free-agent list headed by left-hander Rich Hill and right-handers Jeremy Hellickson and Ivan Nova.
"It's not a great free-agent market on the starting side and we are not the only team looking," Rangers general manager Jon Daniels said. "We will have to be creative."
The Rangers also plan to discuss their elusive goal of developing their own starting pitching. It's not a subject likely to produce immediate results this winter, but it could save them money and misery in future years if they can settle on the right philosophy and develop the discipline to stick to it for an extended period of time.
"That is going to be a big focus in the offseason ... our pitching development, our pitching program from top to bottom," Daniels said. "The reality is the free-agent market isn't great. That's a big reminder of how important it is to produce your own, advance your own, polish off your own, whatever you want to call it. That's going to continue to be a focus for us."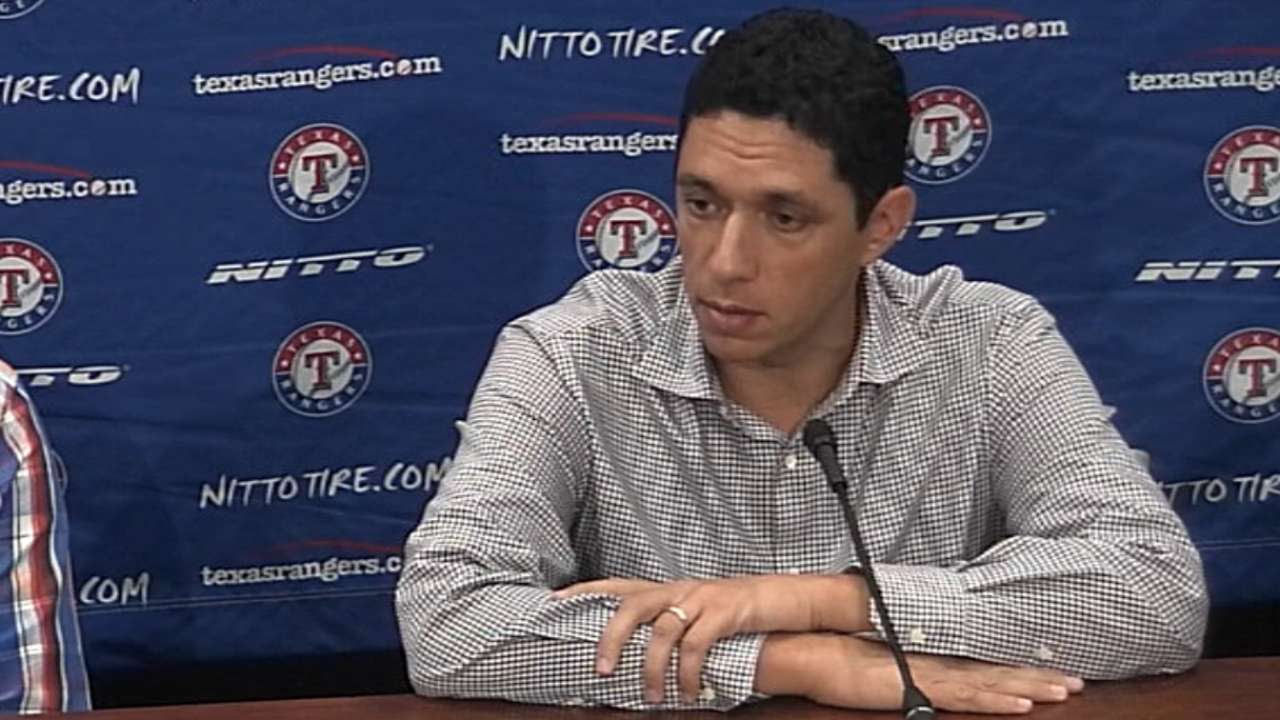 The Rangers have been quite good at producing young pitchers over the past several years and there they haven't been shy about advancing them quickly through the farm system.
However, it is easy to point to all the pitching the Rangers have traded away, a list that includes Kyle Hendricks, Tanner Roark, Jerad Eickhoff, Carl Edwards Jr. and others. It's easy to wonder how good the Rangers would have been this year if Hendricks had been a part of their rotation instead of being traded to the Cubs in 2012 in a fruitless deal for Ryan Dempster.
The Rangers could easily have nothing to show for having the No. 4 pick in the 2015 Draft if they don't re-sign Carlos Beltran. The Rangers traded three Minor Leaguers to the Yankees in August for Beltran, including pitcher Dillon Tate. He was taken with that No. 4 pick, the highest draft pick the Rangers have had since taking Kevin Brown at that spot in 1986.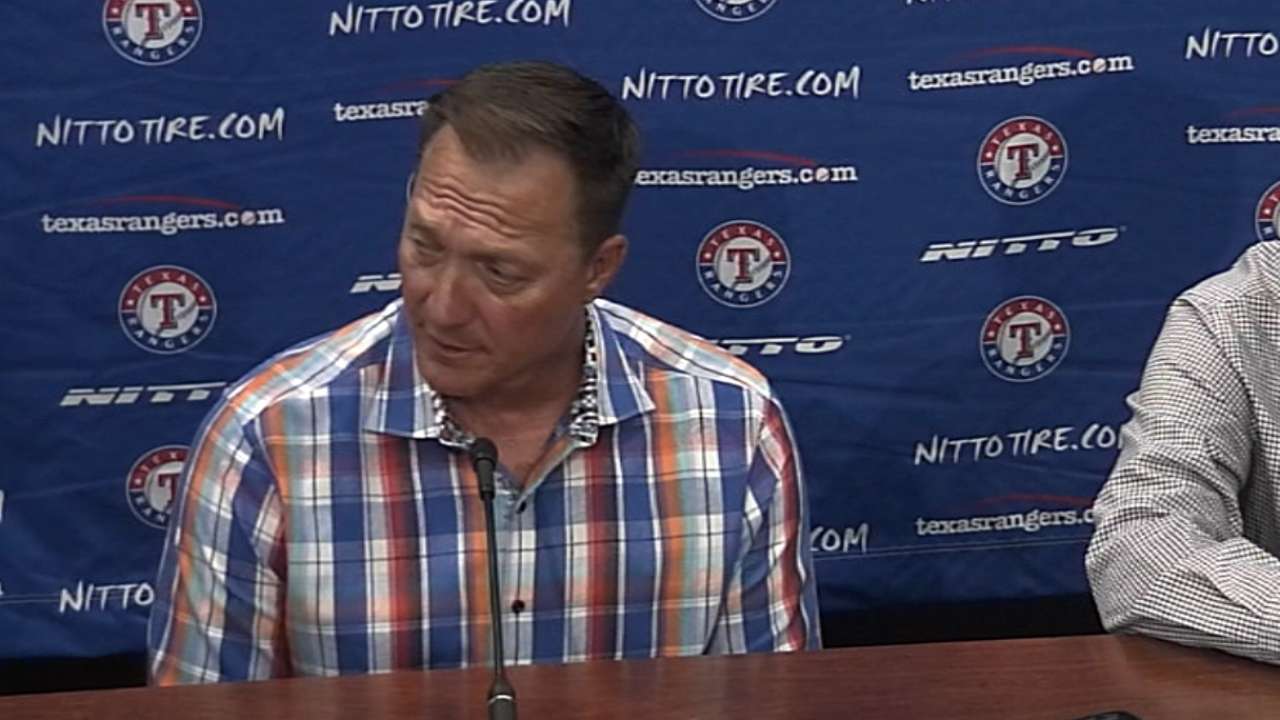 But the Rangers' aggressive deal-making has also brought them All-Star pitcher Cole Hamels and catcher Jonathan Lucroy, and it did not leave the farm system completely barren.
After all the trades were completed, the Rangers still had an admirable collection of young pitching in the system including Chi Chi Gonzalez, Nick Martinez, Tanner Scheppers, Nick Tepesch, Andrew Faulkner and Luke Jackson. Another wave is getting close with left-handers Yohander Mendez and Brett Martin and right-handers Connor Sadzeck and Ariel Jurado. All four are in the Rangers' Top 10 prospects, according to MLBPipeline.com.
The Rangers' self-examination of their pitching-development program appears to be an admission the organization needs to do a better job of polishing off all the young talent they acquire through the Draft and international free agency.
The Rangers find the talent and they are willing to move it exceptionally quick through the farm system to the Major Leagues. The enormous task in front of them is to find a way for their young pitchers to be successful at the big league level for an extended period of time. Lately, it has been hit and miss.
"We've got to look at the whole thing," Daniels said. "Acquisition, development, retention, promotion, the whole piece of it, strength and conditioning, nutrition, performance, all of which we as an organization can get better at."
The last time the Rangers conducted a comprehensive review of their pitching program was in 2008-09 when Nolan Ryan was club president. One of the outcomes of that review was easing the strict pitch limits throughout the system.
Perhaps one outcome of this review will be a halt in rushing pitchers through the system. It is clear the Rangers need to try something different.
T.R. Sullivan has covered the Rangers since 1989, and for MLB.com since 2006. Follow him on Twitter @Sullivan_Ranger and listen to his podcast. This story was not subject to the approval of Major League Baseball or its clubs.