MLB.com Columnist
Mike Petriello
World Series positional breakdown: Cubs vs. Tribe
Teams combined to win 14 of 18 postseason games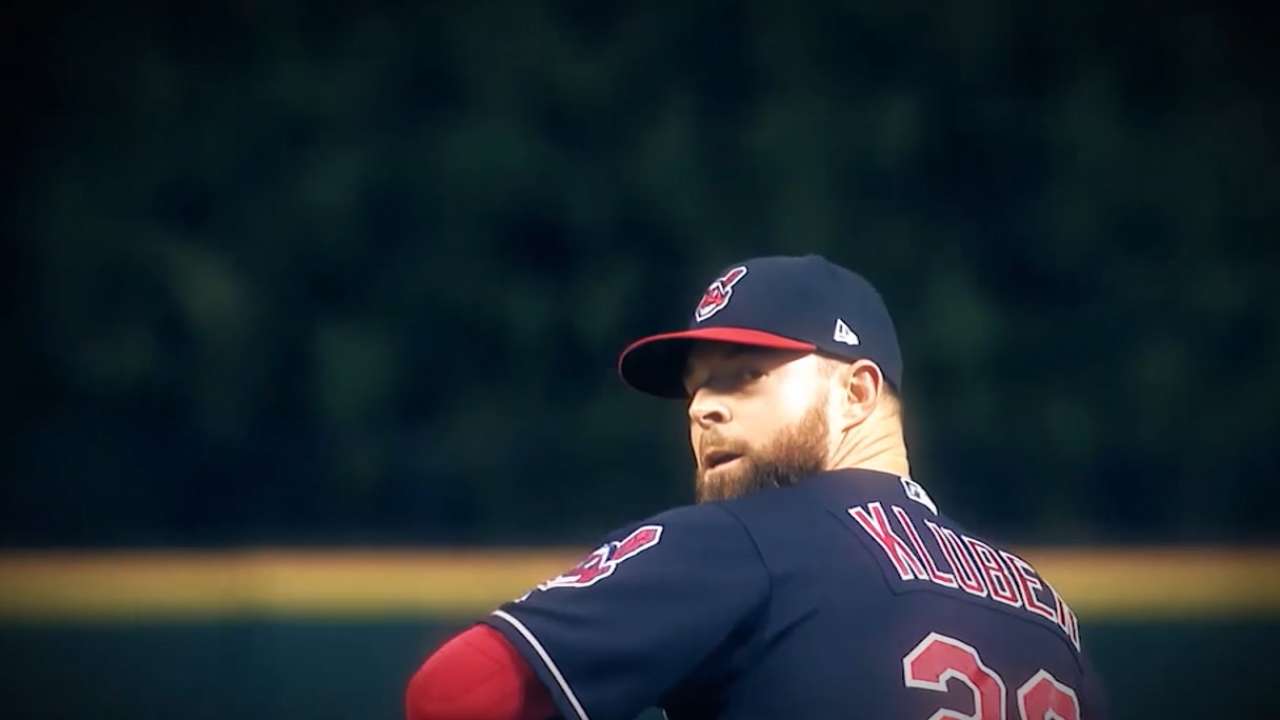 You know as well as we do that the World Series is going to be dominated by history. You'll see the years 1908 and 1948 just about everywhere. One way or another, one of these two teams is going to end a painfully long drought.
There's a place for all that, of course, but at its core, this is also a pretty fascinating baseball series. On one hand, Chicago is the undisputed best team in baseball, with hardly a weakness to be found. On the other, Cleveland continues to defy the odds presented by a tattered starting rotation, with manager Terry Francona continuing to deploy his bullpen in nontraditional ways to maximize leverage and effectiveness.
World Series gear: Cubs | Indians
• World Series Game 1: Tonight, 7:30 p.m. ET air time/8 p.m. game time on FOX
Only one team is going to walk away with the title, but despite the forces of history that pushed the Cubs to this spot, it's not like Cleveland came this far to just roll over, either. Let's break down the 2016 World Series, position by position.
Catcher
Roberto Perez has caught every inning for Cleveland so far, earning high praise from Tribe pitchers for his excellent pitch framing and game-calling, and that matters. Still, after hitting just .183/.285/.294 (58 wRC+, where 100 is league average) during the season, he hit only .174/.269/.348 in the postseason. Meanwhile, Chicago's Willson Contreras has not only been impressive behind the plate as well, his bat (.282/.357/.488, 126 wRC+ in the regular season, .400/.429/.550 in 21 postseason appearances) is a threat, and David Ross' impressive throwing skills are perhaps the No. 1 reason Jon Lester can survive his inability to throw to first. (Ross' Statcast™ exchange time, which measures how quickly he gets the ball out of his hands after receiving the pitch, was .66 seconds on steal attempts of second, which is tied for the fastest of 67 catchers with 10 attempts against them.)
Throw in the fact that it was actually Miguel Montero who hit the biggest homer of the postseason for the Cubs so far, and this group of Chicago catchers outweighs the valuable skills Perez provides for his pitchers.
Advantage: Chicago
First base
Remember when Anthony Rizzo was in an October slump and everyone was panicking? It seems so far away now after he had eight hits -- including two home runs and two doubles -- in the final four games of the NLCS, and it's a good reminder that performance over long periods of times outweighs what happens over a few days. Rizzo has been one of the five or so most valuable players in baseball over the last three seasons (per FanGraphs WAR), averaging .285/.386/.527 (148 wRC+) over that time, and although Mike Napoli (.239/.335/.465, 113 wRC+ in 2016) was a quietly excellent signing for Cleveland, he's a very good player being compared with a superstar.
Advantage: Chicago
Second base
Don't worry, Cleveland fans, this won't be a Chicago sweep, or close to it. Although the endless exploits of Javier Baez may be one of the biggest stories of the postseason, his spectacular plays have helped mask some simple fielding mistakes and the fact that he wasn't even a league-average hitter this season (.273/.314/.423, 94 wRC+). Jason Kipnis, meanwhile, just put up his second consecutive excellent season (.275/.343/.469, 117 wRC+) and fourth in the last five. We may look back on this October as the month Baez burst onto the national stage, but for now, Kipnis is still the better player ... assuming the ankle sprain he sustained celebrating the ALCS win doesn't prove serious.
Slight advantage: Cleveland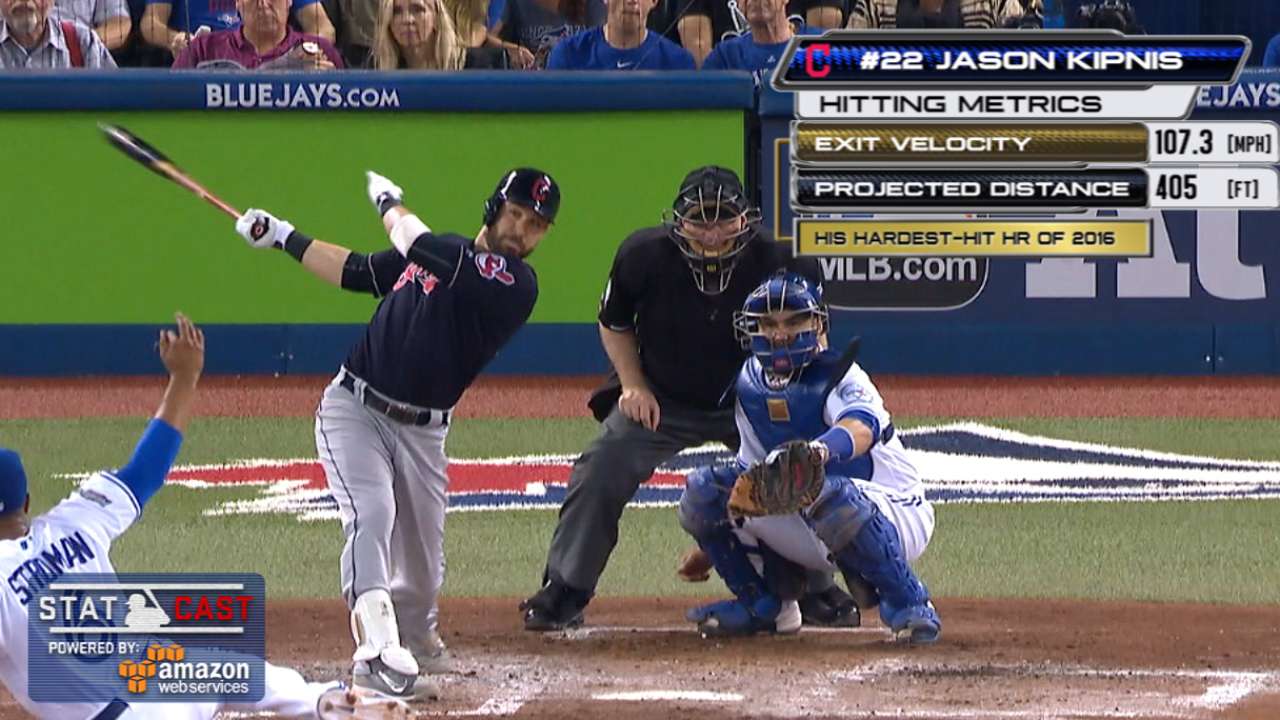 Shortstop
That this advantage goes to Cleveland says a lot less about Addison Russell -- who is proving himself to be one of baseball's most exciting young shortstops -- than it does about Francisco Lindor. Both are just 22 years old, and both rank very highly on defense, with both DRS and UZR considering them to be top-four defenders at the position. But even though Russell did set a career high in home runs, with 21, his overall line -- .238/.321/.417 (95 wRC+) -- doesn't match up with Lindor's .301/.358/.435 (112 wRC+). Lindor is also more of a threat on the bases (19 steals to five),in part because he takes the fifth-highest lead distance on steal attempts, and has been better this October (.323/.344/.581 to .189/.211/.378). Russell's becoming a star; Lindor may already be a superstar.
Advantage: Cleveland
Third base
This is sort of like the shortstop situation, but in reverse. Whereas Jose Ramirez had a breakout season (.312/.363/.462, 122 wRC+), making starts at four positions, Kris Bryant had a Most Valuable Player-caliber season (.292/.385/.554, 149 wRC+, 39 homers) ... while also making starts at four positions. It's fair to say that Cleveland doesn't get here if Ramirez doesn't step up to replace the injured Michael Brantley in left and later the ineffective Juan Uribe at third; it's also not an insult in the least to say that Bryant, one of baseball's five best players, has the edge here.
Advantage: Chicago
Left field
With the rise of Baez at second, Ben Zobrist has been the primary left fielder in the postseason, and may be even more so now that other Cubs will have to step up to fill the designated hitter role. Zobrist's first season in Chicago was a success (.272/.386/.446, 124 wRC+), so that and his track record give him a clear advantage over Coco Crisp (.231/.302/.397, 90 wRC+). That said, Indians manager Terry Francona does have a weapon to use here in lefty masher Brandon Guyer (.288/.390/.469, 144 wRC+ career against lefty pitching), which may be key against Lester and several bullpen southpaws.
Advantage: Chicago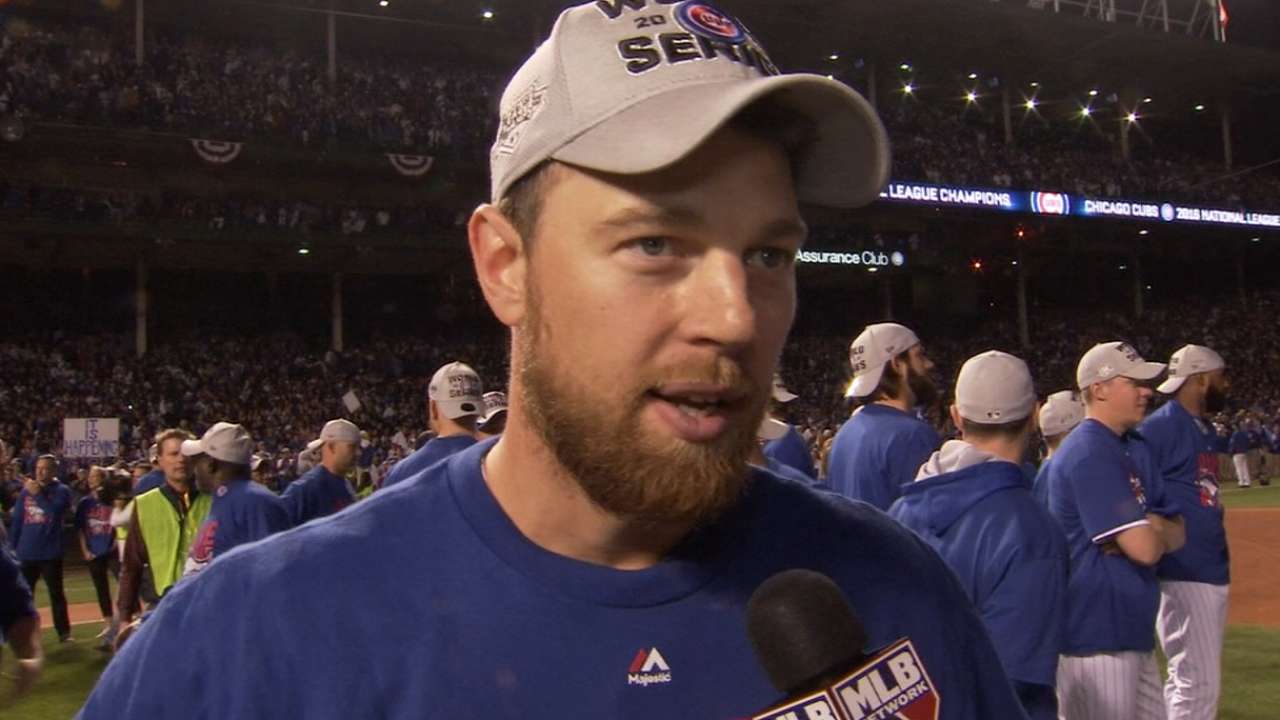 Center field
Cleveland will platoon rookie lefty Tyler Naquin (.296/.372/.514, 135 wRC+, with poor defensive numbers) with veteran righty Rajai Davis (career .288/.343/.437, 112 wRC+ against lefties), and watching Davis and his 43 steals face off against Lester ought to be a treat. It's a good combination, yet neither one is as good overall as Dexter Fowler (.276/.393/.447, 129 wRC+). For what it's worth, Fowler has more extra-base hits this October (five) than Naquin/Davis have hits (three).
Advantage: Chicago
Right field
"All of Jason Heyward's struggles will be forgotten if he comes up big in the postseason," went the refrain from Cubs fans, and time is quickly running out for that to happen. After a miserable Chicago debut (.230/.306/.325, 72 wRC+), Heyward has appeared overmatched in the postseason (.071/.133/.179 in 30 plate appearances), and he was actually benched and replaced with rookie Albert Almora Jr. in Game 6 of the NLCS. It's not as though Lonnie Chisenhall's lesser defense or decent regular-season line of .286/.328/.439 (103 wRC+) inspire a ton of confidence, either. It's just that Heyward has hit so poorly, despite still providing elite defense, that it may only be Cleveland's lack of lefty starters outside Ryan Merritt that keeps him in the lineup.
Advantage: Push
Designated hitter
Kyle Schwarber's return has the makings of October magic, but it's also been more than a year since he had a hit in a game that mattered (Game 3 of the 2015 NLCS). Even at full strength last year, his 132 wRC+ merely matched what the underrated Carlos Santana did this year, and Santana is fully healthy with a solid track record of success. Otherwise, Jorge Soler (who started seven of 10 Cubs regular-season games in AL parks) could start in Games 1 and/or 2, and his .238/.333/.436 (106 wRC+) line, along with potential contributions from Chris Coghlan or one of the extra catchers, can't match up with the underrated brilliance of Santana's .259/.366/.498 (132 wRC+) line and 34 home runs.
Big advantage: Cleveland … unless Schwarber provides miracles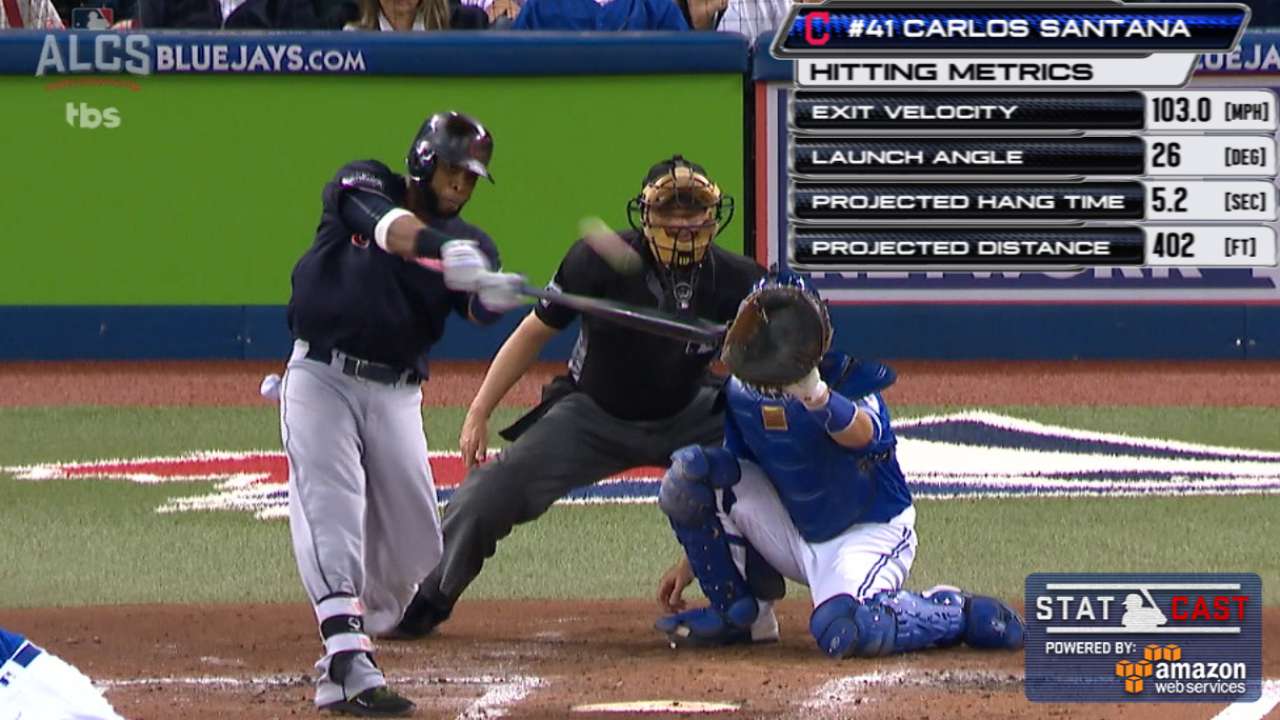 Starting rotation
Cleveland deserves tremendous respect for getting this far without Carlos Carrasco, Danny Salazar and most of Trevor Bauer's pinky, as Corey Kluber has been the ace he's expected to be while Josh Tomlin and Merritt have been nice surprises. At full strength, this is a pretty difficult conversation between these two rotations. Cleveland isn't at full strength, of course, or anything close to it, and the Cubs are in a situation where Jake Arrieta, who won last year's Cy Young Award and is among the best pitchers in the game, is their third starter. You saw how Kyle Hendricks carved up the Dodgers, right? You've seen that Lester's throwing issues haven't prevented him from dominating, right? It's not a fair fight for Cleveland, not that it has been all month.
Big advantage: Cubs
Relief ace
Since Cleveland has made it perfectly clear that closer is no longer the most important role in the bullpen, we're going to do the same here, comparing each team's best reliever -- Andrew Miller and Aroldis Chapman -- though they're used somewhat differently. Although it may seem inconceivable that the flame-throwing Chapman could be bested by anybody, what Miller has done this postseason (41 batters faced, 21 strikeouts, two walks, five hits, zero runs) is just about unprecedented. Meanwhile, Chapman hasn't looked quite himself in October, allowing batted balls hit 100 mph or more on 8 percent of swings against him, compared with 3.4 percent during the regular season. Although we wouldn't normally place much emphasis on small-sample postseason stats for someone as elite as Chapman, it doesn't take much to allow Miller to pull ahead.
Small advantage: Cleveland
Other relievers
Of course, doing it that way means that Cleveland still gets to count Cody Allen among the rest of its relievers, and although it may be easy to forget given Miller's dominance, Allen is still really, really good. Over the last three years, Allen's 33.4 percent strikeout rate is seventh among relievers (Chapman and Miller are among the six ahead, of course), and he's been unscored upon this postseason, striking out 12 in 7 2/3 innings -- thanks in large part to a high-spin 2517 RPM fastball that ranks in the top three percent in fastball spin. But whereas Bryan Shaw has been useful and we may see a surprise Salazar appearance, the Cleveland bullpen depth drops off, whereas the Cubs can still throw Hector Rondon and Carl Edwards Jr. and Pedro Strop and Mike Montgomery and Travis Wood. Edwards is the best reliever you don't know about, but ultimately there's a lot of talent on both sides.
Advantage: Push
Mike Petriello is an analyst for MLB.com and the host of the Statcast podcast. He has previously written for ESPN Insider and FanGraphs. This story was not subject to the approval of Major League Baseball or its clubs.