Salazar throws sim game, could pitch in Series
Tribe righty feels strong, but club making sure he's '100 percent healthy'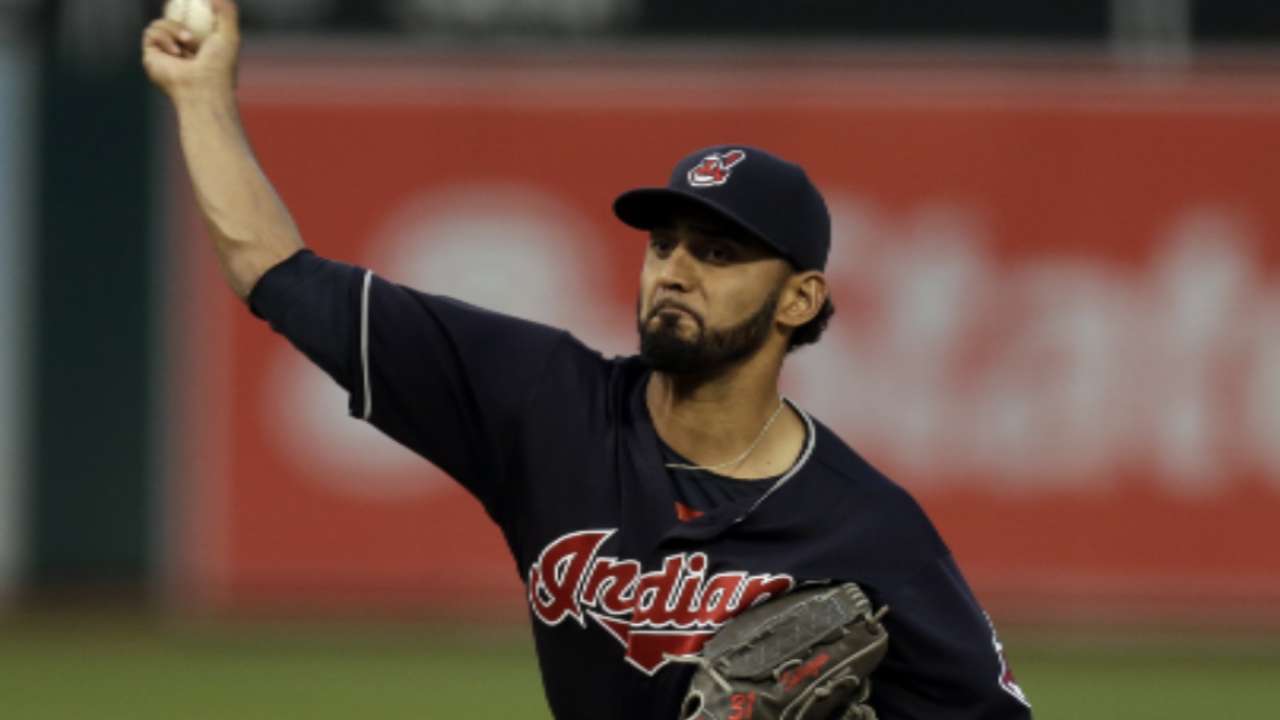 CLEVELAND -- Wild Thing might just be the Indians' wild card for the World Series.
During Sunday's workout, right-hander Danny Salazar took the mound at Progressive Field as the song, "Wild Thing," blared through the stadium's sound system. The hard-throwing starter then worked through a three-inning simulated game, taking another important step in his potential return from a strained right forearm, and in his quest to make the World Series roster.
• World Series Game 1: Tuesday, 7:30 p.m. ET air time | 8 ET game time on FOX
"We're going to evaluate where he's at, what his stuff looked like," Indians pitching coach Mickey Callaway said. "I expect that, if he gets through this, he'll be available at some point in the World Series."
• Shop for Indians World Series and AL champs gear
Salazar met briefly with reporters before his sim game and said that he was feeling close to full strength. The right-hander, who has not started since Sept. 9, when he exited an outing against the Twins with the forearm injury, noted that he has been throwing fastballs, changeups and sliders in his recent mound workouts.
During the American League Division Series, Salazar continued his throwing program in Arizona, where he faced hitters for the first time since the injury. The pitcher then joined the Indians during the AL Championship Series in Toronto, where he threw a two-inning sim game. On Sunday, the righty faced an assortment of Cleveland's regular batters with two breaks between his innings.
"[I feel] really strong right now," Salazar said. "The way I feel right now is the way I feel like when I'm 100 percent."
Salazar went 11-6 with a 3.87 ERA in 25 starts this season, but Cleveland is undecided about whether the righty would return as a starter or reliever for the Fall Classic. It is possible that he could be a candidate to start Game 4 with a pitch limit. Manager Terry Francona has already shown this postseason that he is willing to lean heavily on his bullpen after abbreviated outings from his starting pitchers.
• Tribe to open WS with Kluber; Bauer, Tomlin to follow
"We want to make sure that he's 100 percent healthy," Francona said. "Then, if he shows that, OK, then you take it another couple steps. Is he commanding? Can he help you win? Can he pitch an inning? Can he pitch two? What role can he fill? Because of his side day the other day, it's progressed to the point now where I think we need to take a good, long look, because he looks pretty healthy. So that's what we'll do."
Not your typical sim game
When Salazar hit the field, a roar came from the home crowd. That wouldn't be all that notable, except for the fact that this wasn't an actual game. The Indians had roughly 400 team employees on hand in the stands to provide some atmosphere for the local nine.
"Just so this place wasn't so silent," said Bob DiBiasio, the Indians' senior vice president of public affairs. "Add a little entertainment value."
Francona and team president Chris Antonetti concocted the idea after a silent workout Saturday evening. They remembered the atmosphere of the simulated game they had to stage immediately after Game 2 of the ALCS, when they needed to get their unused relievers some work. Some fans still remained in the stands for that one, and it helped bring a little life to the proceedings.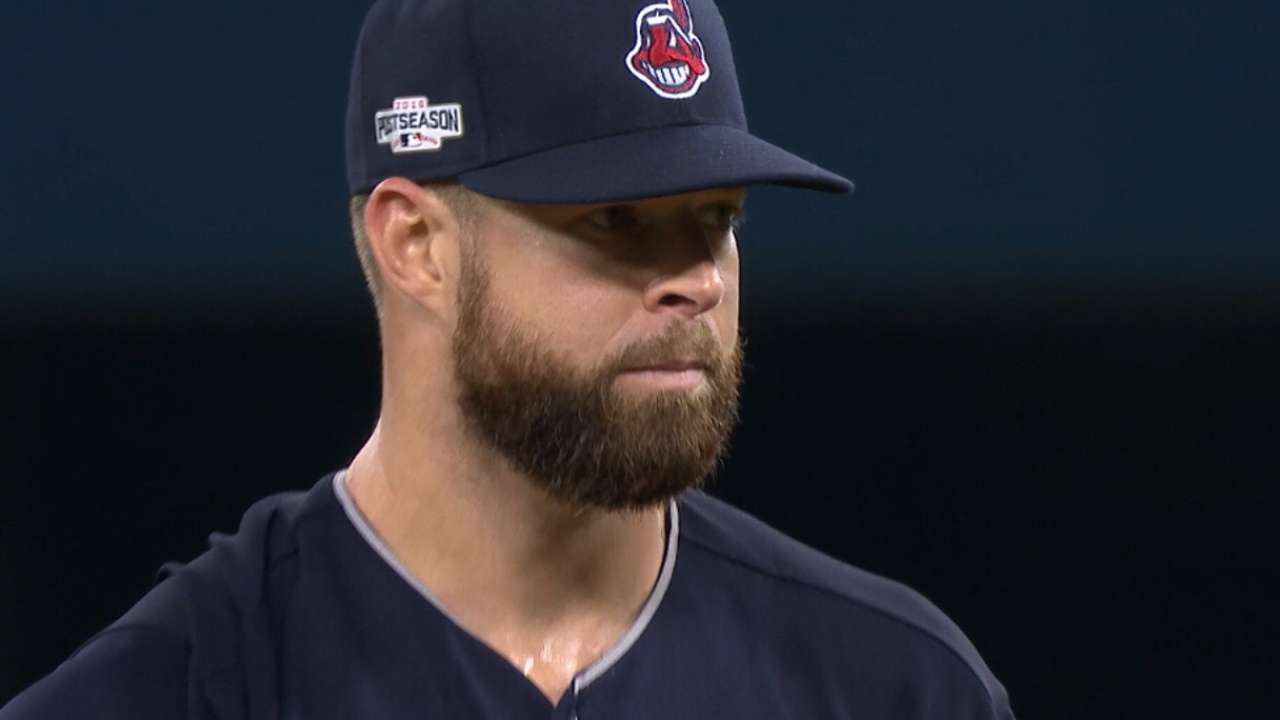 When teams advance efficiently in the LCS round, the time before the World Series can sap them of their momentum. So the Tribe players appreciated a little added enthusiasm. In addition to the employees, who were treated to a pregame pizza party, the club piped in crowd noise and scoreboard effects to make the conditions as game-like as possible.
Kipnis nursing sore ankle
After Carlos Santana caught the final out of Game 5 of the American League Championship Series, securing Cleveland's place in the World Series, second baseman Jason Kipnis ran over to celebrate with shortstop Francisco Lindor. During their leaping hug, Kipnis landed awkwardly, rolling his left ankle. He was then limping in the clubhouse during the champagne celebration.
Got a little too close to @Lindor12BC during the celebration!! Freak accident but should be good to go by Tuesday! #cantkeepmeoutofthisgame! pic.twitter.com/2DKgpzP0lq

— Jason Kipnis (@TheJK_Kid) October 23, 2016
On Sunday, Kipnis took grounders during an early fielding workout to test his ankle and later stepped up to the plate to face Salazar in his simulated game. Francona, who said the second baseman had a low ankle sprain, expressed confidence that Kipnis would be fine in time for Game 1 of the World Series.
"Some of the guys had a tough time getting through the celebration," Francona quipped. "He's going to be OK. Thankfully, we had some time off, which is good. He's not moving yet like he can, but I'm guessing with another 48 hours and 37,000 screaming fans, I bet he'll be OK."
Jordan Bastian has covered the Indians for MLB.com since 2011, and previously covered the Blue Jays from 2006-10. Read his blog, Major League Bastian, follow him on Twitter @MLBastian and listen to his podcast. This story was not subject to the approval of Major League Baseball or its clubs.