Dodgers' banner '16 falls just short of goal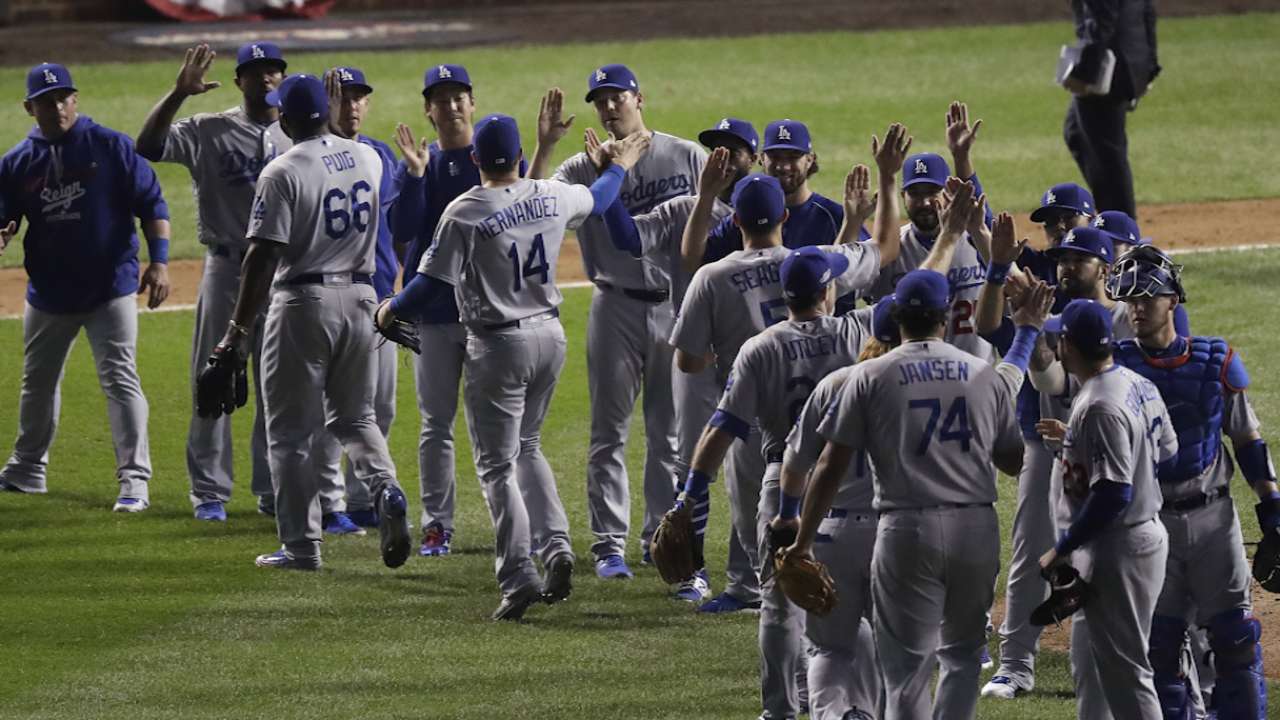 LOS ANGELES -- Until things unraveled in the National League Championship Series loss to the Cubs, the Dodgers under first-year manager Dave Roberts displayed the grit to overcome an eight-game deficit and 32 placements on the disabled list -- including ace Clayton Kershaw for 2 1/2 months -- to earn a fourth consecutive division title and 90-plus win season.
They blended experience and youth and utilized an ever-changing roster (55 players, 31 of them pitchers). They patched up a decimated starting rotation, although that ultimately doomed them in the NLCS. Their deep bullpen, led by closer Kenley Jansen, set franchise records for innings pitched and appearances, keeping them in games when starters couldn't, including the epic Game 5 clincher of the NL Division Series in Washington.
"Looking at the number of people that we had to use just to get here was a grind, and that's what makes you most proud of this ballclub," said pitching coach Rick Honeycutt. "They never quit. They battled no matter the adversity we went through this year. I still can't say enough about the 'pen during the course of this season and how they kept us in there. We did a lot of 'piecing' this year, and we got to this point. We had a chance and we ran into a club that was better than us."
With four sluggers -- Justin Turner, Yasmani Grandal, Corey Seager and Joc Pederson -- hitting at least 25 homers, the Dodgers mounted 46 comeback wins, the most in the NL. Contrary to their self-destructive series against the Cubs, the Dodgers played solid fundamentally this year, ranking third on defense and generally running the bases intelligently, if not aggressively.
"The experience from this postseason will serve our guys really well going forward," said president of baseball operations Andrew Friedman. "It hurts to say that, but that's the silver lining. From the postgame embraces, there was a lot of talk about being back next year, and that's motivation for all of us."
They will have the Rookie of the Year in shortstop Seager and received 16 wins from another contender, former Japan League star Kenta Maeda, who tailed off into the postseason after being the most durable starter they had.
Roberts bought into management's analytics-driven game plans and convinced his players to buy in as well, even though platoons all over the place cost valuable playing time. Roberts handled the egos and kept the ship on course.
"Obviously I'm biased, but I would be absolutely shocked if he doesn't win the Manager of the Year award," said Friedman.
Although Friedman expects the usual offseason roster turnover, he said the culture will endure.
"There is an organizational DNA that can remain in place and we made large strides this year in creating that," he said. "It always has to be fostered and nurtured. I'm incredibly proud of the growth and momentum this year, and we'll try to build on that. Obviously, the goal each and every year is to win the World Series and bring a world championship back to our great fans."
It's been 28 years since the last one. While this club was resilient and determined, it showed against the Cubs it wasn't ready to take that final step to the Fall Classic. The Dodgers struggled on the road (38-43) and against left-handed starting pitching (22-24), two trends that continued in the postseason.
Kershaw threw in a rare clunker in the elimination game after a laser-focused comeback from a herniated disk that again showed why he is the face of the franchise.
"I can't possibly say enough about Clayton," said Friedman. "Most guys would not have come back at all from what he suffered, but it wasn't even a question in his mind -- the way he works, the way he prepares, the way he competes. It rubs off on all of our guys and is a significant impact in the culture we're trying to create. He embodies it in so many different ways."
Record: 91-71, first place, NL West
Defining moment: Kershaw went on the DL after a June 26 loss in Pittsburgh that dropped the Dodgers a season-high eight games behind the Giants. On Aug. 9, the Dodgers caught the Giants, and by Aug. 21 had taken the division lead for good, reaching a high lead of eight games and finishing the season four games in front. While the starting rotation was patched together, the Dodgers made their run by getting offense from their slow-starting hitters, primarily Turner, Grandal and Howie Kendrick. Also, the deep bullpen took over after numerous short starts to rewrite the traditional formula for winning games.
What went right: Seager fulfilled the rave predictions, producing consistent offense all season while playing a solid shortstop. Chase Utley rebounded from an injury-marred 2015 to be a starter again, as well as a team leader. The bullpen carried the load when the starting rotation couldn't, with Jansen reaching elite status and Joe Blanton setting him up. Maeda, who failed his pre-signing physical, turned out to be the most durable and consistent starter. Rich Hill gave the rotation a late-season boost once his finger blisters healed. The kids made an impact, as the Dodgers used 13 rookies. As a team, the Dodgers played fundamentally sound on defense and on the bases, rarely beating themselves the way they did against the Cubs.
What went wrong: An unprecedented wave of injuries, with the starting rotation taking a direct hit. In addition to losing Kershaw, Hyun-Jin Ryu made just one start before undergoing shoulder surgery, Brandon McCarthy never fully recovered from Tommy John surgery, Brett Anderson (back) and Alex Wood (elbow) missed most of the year. Scott Kazmir suffered a neck injury in August and Hill had his blisters. Adam Liberatore's effectiveness led to heavy usage that took its toll, and he needed elbow surgery. Josh Ravin, who came on as a late-inning reliever in September, received a PED suspension during the season that made him ineligible for the postseason.
Offensively, the biggest blow was Andre Ethier's broken leg, his September return allowing him to make a postseason impact. Easily overlooked were injuries to Trayce Thompson and Scott Van Slyke, robbing the offense of potent right-handed bats that contributed to the club's struggles against left-handed pitching. Yasiel Puig continued his regression and was sent to the Minor Leagues for a month before returning as a platoon right fielder with Josh Reddick.
Ultimately, what went wrong to extend the Dodgers' World Series drought to 28 seasons was running into a better Cubs club that got hot when the Dodgers beat themselves with the kinds of sloppy play they had avoided most of the season.
Biggest surprise: Andrew Toles was out of baseball last year, began 2016 at Class A and was the starting left fielder and leadoff hitter on elimination day. He had a tough game in Wrigley Field, losing a ball in the lights, but that doesn't take away from the impact he made, batting .314 with power and speed to work his way into the conversation for next year's outfield. He also had a an overlooked grand slam in Colorado with the Dodgers down to their last out in the second game of a doubleheader on Aug. 31 when the division race was still very tight.
Hitter of the Year: Seager. He's the club's nominee for the Hank Aaron Award, recognizing the most outstanding offensive performer. Only the fourth rookie in the division era to rank in the NL's Top 10 for batting average and slugging percentage, his 26 homers are a club record for a shortstop and his 193 hits are the most for a rookie since Albert Pujols had 194 and Ichiro Suzuki had 242 in 2001.
Pitcher of the Year: Jansen. Even before his tireless performance in the postseason, Jansen had become the Dodgers all-time leader in career saves and tied with Zach Britton and Mark Melancon for second in the Majors in 2016 with 47. Opponents hit only .150 off him and his WHIP was 0.67, ranking first in MLB in both categories.
Rookie of the Year: See Hitter of the Year, as Seager will almost certainly be the Dodgers' 17th NL Rookie of the Year and first since Todd Hollandsworth in 1996.
Ken Gurnick is a reporter for MLB.com. This story was not subject to the approval of Major League Baseball or its clubs.