What we've learned about Cubs in postseason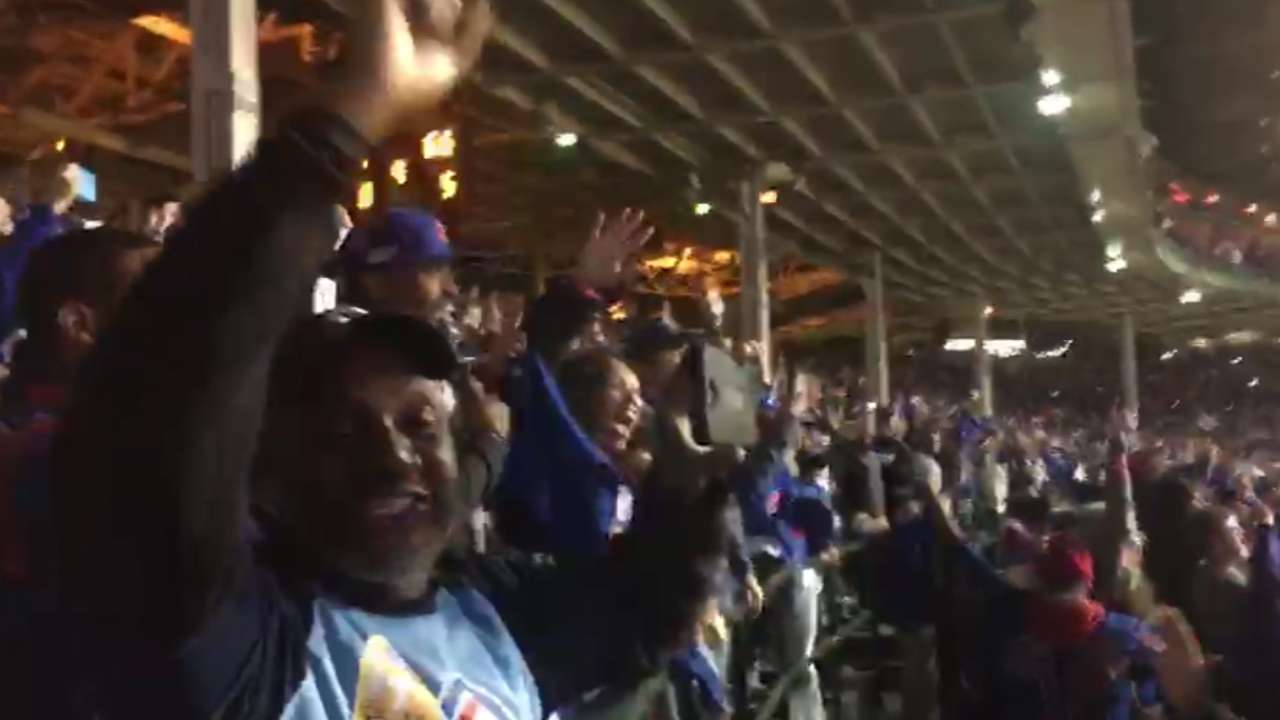 CHICAGO -- Cubs fans flocked to Wrigley Field on Sunday to take photos in front of the famous marquee on Clark and Addison Streets, capturing the historic moment as the team celebrates its first trip to the World Series since 1945. While generations may be savoring the Cubs winning the National League pennant, the players are focusing on four more wins.
"They know the history," Cubs general manager Jed Hoyer said of the young players. "I just don't think they care. We have some guys who shine on the big stage, and I think that means a lot."
• Get official gear: Go, Cubs, going to World Series!
Next up for the Cubs will be the American League-champion Indians on Tuesday in Cleveland for Game 1 of the World Series. The Cubs now have ousted the even-year favorite Giants in the NL Division Series and sent the NL West-champion Dodgers home after beating the best pitcher on the planet, Clayton Kershaw, on Saturday.
• World Series Game 1: Tuesday 7:30 p.m. ET air time | 8 ET game time on FOX
"We need to understand the magnitude of where we're at," Anthony Rizzo said. "At the same time, we need to understand that we control our own destiny. We'll go out and play our hearts out and see what happens."
So what have we learned about the Cubs after 10 postseason games?
The kids can play
Saturday's lineup featured two rookies, Willson Contreras and Albert Almora Jr., and if you don't count Dexter Fowler, 30, or Ben Zobrist, 35, the average age was 24.
"They forget negative things and they stay positive and focused on the task at hand," Zobrist said of the Cubs' youth. "Regardless of how young they are, they play like veterans and make adjustments quickly. It's a really special group of people."
Zobrist knows what to expect at this phase since he played in the World Series last year with the Royals. Any advice?
"I don't need to tell them anything," he said. "They've done it in the postseason. We've knocked down the first two hurdles in the postseason. They need to stay focused, stay in the moment, and hopefully we can get four more."
Rizzo, the elder statesman in the infield at 27, went 1-for-15 in the NLDS, then grabbed one of Matt Szczur's bats in Game 4 of the NL Championship Series and went 7-for-14 in the last three games against the Dodgers.
"To be honest, the more you play in the postseason, the more you try to go another game, another game," Rizzo said. "Just keep going and have fun."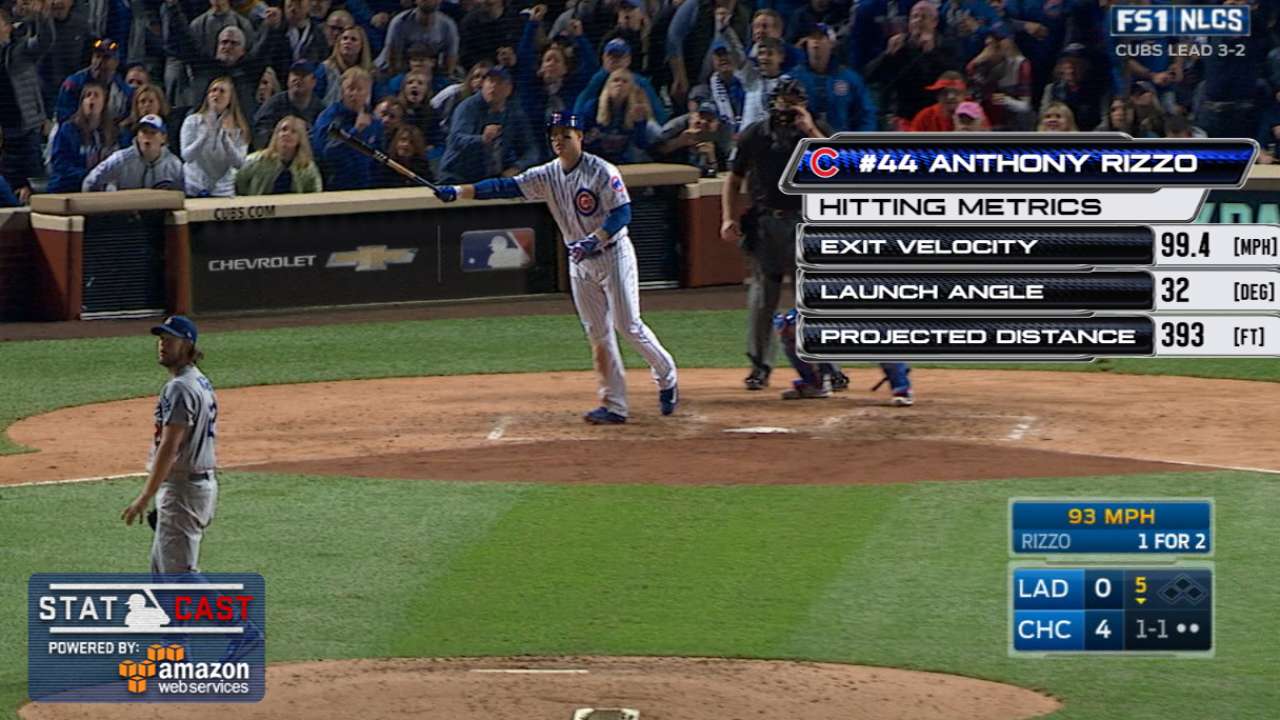 It's the little things
The key moment for manager Joe Maddon was Zobrist's bunt to lead off the fourth inning in Game 4 at Dodger Stadium. The Cubs had been shut out in Games 2 and 3, and that bunt sparked a four-run inning.
"They had a young pitcher going [in Julio Urias], so you put a little pressure out there, and it could just start with a bunt," Maddon said. "All of a sudden, there's a baserunner, [the pitcher's] thought process changes, not knowing how long [he's] going to be out there. All this crazy stuff goes through [the pitcher's] mind. So it is that simple. That's the butterfly effect right there. It was a bunt this year."
It's not how you start, but how you finish
Javier Baez was on the Cubs' bench at the start of the season and finished as the NLCS co-MVP, along with pitcher Jon Lester. Baez batted .318 with five RBIs and one dazzling defensive play after another in the six games.
"Javy has been unbelievable," Fowler said. "He's a diamond in the rough. He makes plays, he plays hard, he loves the game. You can see it on his face."
In Spring Training, the Cubs were talking about playing Baez in the outfield to try to find a spot for him.
"He's the most natural baseball player I've ever seen play the game," Kyle Hendricks said.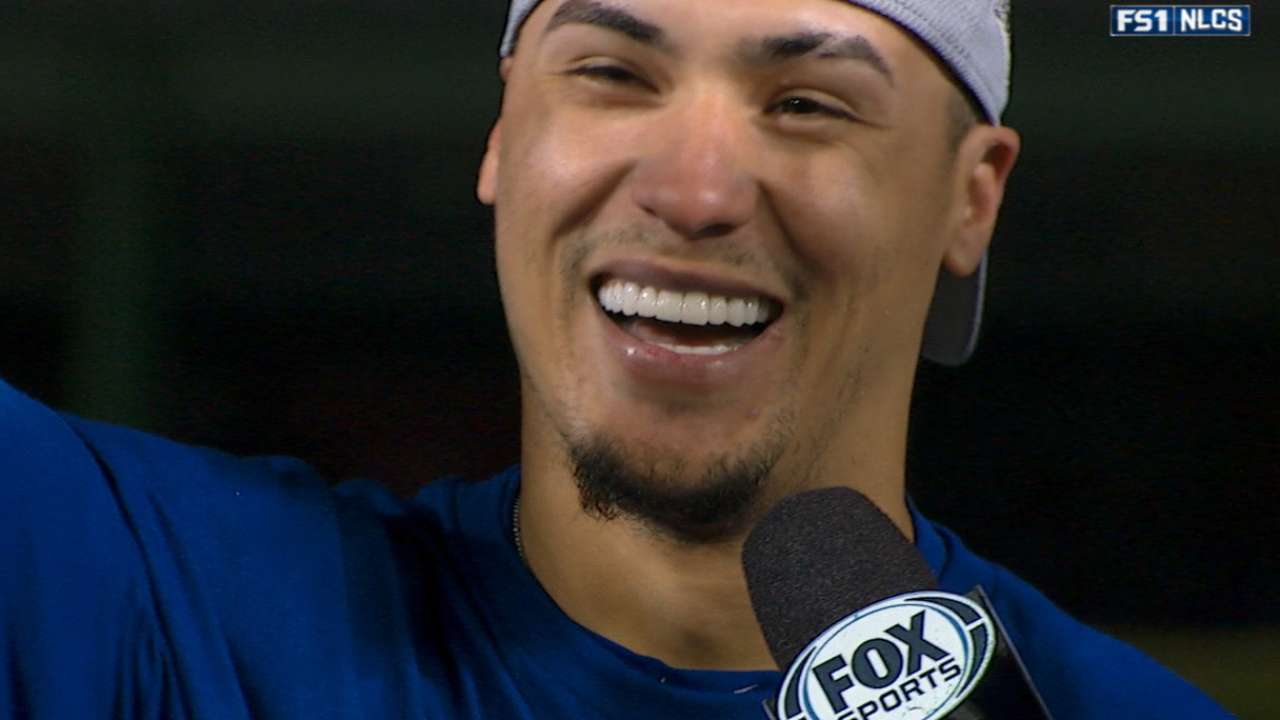 Pitching, pitching, pitching
Cubs pitchers have combined for a 2.93 ERA in 10 postseason games. Their fifth starter, Hendricks, won the biggest game in franchise history on Saturday, holding the Dodgers to two hits over 7 1/3 scoreless innings.
"He had the toughest task out of all of us -- he had to face Kershaw twice," Lester said of the 26-year-old right-hander.
The Cubs have yet to announce their Game 1 World Series starter, but they could open with Jake Arrieta and go with either Lester or John Lackey in Game 2 in Cleveland. That would set up Hendricks for Wrigley Field when the series shifts to Chicago for Games 3, 4 and 5. Lester is 4-0 with a 3.72 ERA in eight career starts at Progressive Field, Lackey is 3-5 with a 2.94 mark in eight career starts there and Arrieta has made one start in Cleveland.
Score first, win innings
Maddon's message was simple, and it worked. The team that scored first in the NLCS won that game. It helps when Fowler provides the spark. Maddon's message to him is, "You go, we go," although lately, the manager just tells Fowler, "It's true."
"When he gets on base, we do special things," Rizzo said.
Trust in Joe
Maddon didn't do anything wacky -- like insert his pitchers in the outfield -- and his take-it-one-day-at-a-time approach may have bored the media, but it was soothing to the players.
"Joe is amazing," Hoyer said. "His demeanor going into Game 4 is why you get a guy like Joe Maddon. He had confidence in the guys, our guys know he has confidence in them. He never waivers, he's fun to play for and he's great tactically. There's no way this happens without Joe."
Carrie Muskat has covered the Cubs since 1987, and for MLB.com since 2001. She writes a blog, Muskat Ramblings. You can follow her on Twitter @CarrieMuskat and listen to her podcast. This story was not subject to the approval of Major League Baseball or its clubs.