1948 WS fan hopes to see 'beloved Tribe' win again
Shimrak recalls Indians' last title, admires 2016 team's grit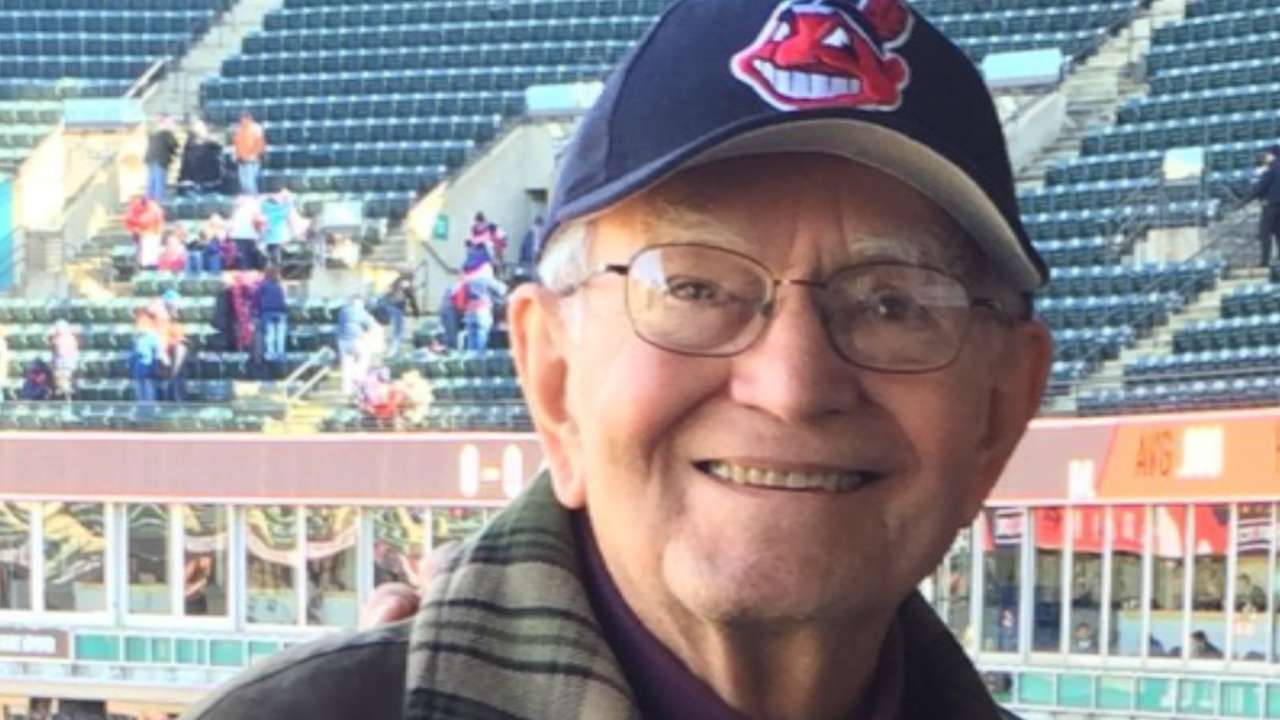 CLEVELAND -- The regulars at Shimrak's Cafe, located at E. 33rd St. and Superior Ave. once upon a time in Cleveland, used to quiz little Pete about the Indians. He rarely was wrong. Pete knew all the batting averages for the hitters and records for the pitchers.
Many Sundays in that summer of 1948 were spent walking to old Cleveland Stadium and taking in Tribe games. Pete Shimrak's dad, Eli, who ran the bar, would sometimes get tickets from local brewers. When the Indians made the World Series that year, Pete was not going to miss it for the world.
• Shop for Indians World Series and AL champs gear
"That was the first great summer in my life," Shimrak says now.
Shimrak, 84, bursts into a joyful laugh when asked about this season's Indians, who will try to defeat the Cubs to win a World Series for the first time in 68 years. When he exited Cleveland Stadium after Game 5 of the World Series on Oct. 10, 1948, a 16-year-old Shimrak never would have predicted that a lifetime would pass without another Indians championship.
• World Series Game 1: Tuesday 7:30 p.m. ET air time/8 p.m. game time on FOX
There have been return trips for the Tribe -- in 1954, '95 and '97 -- but no titles.
On Sunday morning, Shimrak was full of energy as he recalled that magical 1948 season for Cleveland. He had just learned to drive and inherited a '41 Buick Special, and his dad gave him "some bucks" for World Series tickets. The Indians won the American League pennant behind a stout rotation of Bob Feller, Bob Lemon and Gene Bearden and an offense led by Larry Doby, Lou Boudreau, Joe Gordon and Ken Keltner.
• Oldest Indians champion rooting for new winners
Pete scored some tickets down the right-field line, among crowds of 80,000-plus.
"I was sitting behind the post somewhere around first base, short right field," Shimrak said. "The place was packed. There was a fence out there, and behind that fence were people -- it was standing room."
In Game 4 of the World Series on Oct. 9, Shimrak watched Doby launch a home run off Johnny Sain of the Boston Braves. Cleveland held on for a 2-1 victory.
"Boy, I remember the games," Shimrak said.
• Castro: Doby, Paige highlight special 1948 World Series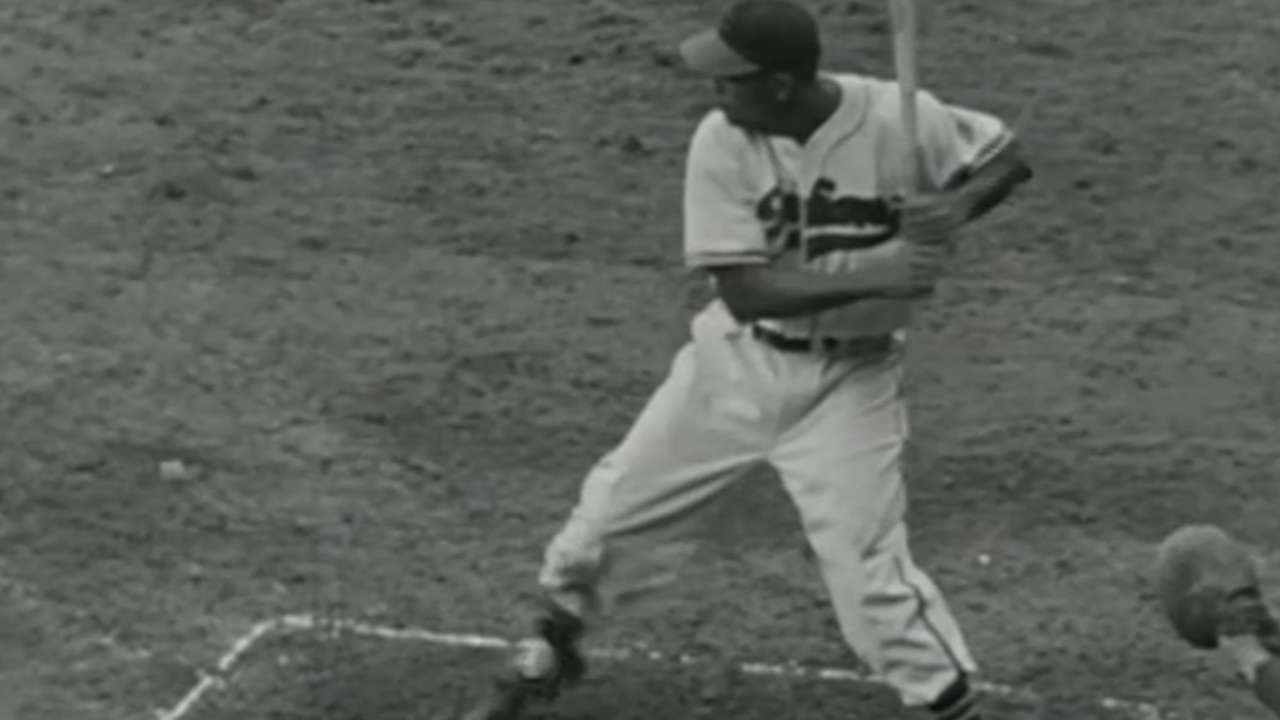 On Oct. 10, Feller took the hill, but he was on the wrong end of an 11-5 loss. Hall of Famer Warren Spahn came out of the Boston bullpen and worked 5 2/3 scoreless innings for the win.
"It ticked me off, because Feller didn't win," Shimrak said. "I wanted him to win so badly. [Feller was] the greatest I've ever seen, the greatest pitcher I've ever seen."
• Whereabouts of Tribe's '48 title pennant remains a mystery
Shimrak went to East High School and later studied journalism at Ohio University. After a stint in the Air Force, he returned home and worked as a reporter for the Cleveland Press. Later in life, Shimrak went into banking and had a stint as a minority owner of the Indians in the 1970s. Long before then, though, he went into the public relations field in '59. That led to a chance meeting with Tito Francona.
"One of the first jobs with the small PR firm was with Johnson's shoe wax company," Shimrak said. "They wanted my little firm to take three athletes around to the radio and TV stations and the newspapers to plug the polish. One of the guys that I took was Tito."
Naturally, when asked about Indians manager Terry Francona, Shimrak referred to him as "Tito's son."
"We are fortunate enough to have him," Shimrak said. "Tito's son is a very bright guy that knows two things: He knows how to manage people and the game. The Dolans did a phenomenal job ... bringing Francona here, and then making the moves like [Mike] Napoli and Rajai Davis."
Asked about all the adversity the Indians have overcome to reach the World Series, Shimrak said: "It's what makes American history great. You never surrender -- no matter the odds. That's the Indians this year."
• 'This is our year': Tribe fans confident vs. Cubs
As Shimrak spoke from his home on Sunday, he said he had a 1948 Indians-Braves World Series program sitting on the table in front of him. It cost 50 cents back then. He jokingly referred to himself as an S.O.B. -- a son of a bartender -- and spoke fondly of memories of talking about his team in his dad's cafe so many decades ago.
After a 68-year wait, Shimrak hopes to see the Indians win it all again.
"My beloved Tribe is back," he said, "and I lived to see it."
Jordan Bastian has covered the Indians for MLB.com since 2011, and previously covered the Blue Jays from 2006-10. Read his blog, Major League Bastian, follow him on Twitter @MLBastian and listen to his podcast. This story was not subject to the approval of Major League Baseball or its clubs.