Tribe's return to World Series stirs memories for Thome
CHICAGO -- When the Indians inducted Jim Thome into their Hall of Fame at the end of July, Thome's son, Landon, came away with an Indians sweatshirt and hat along with a plethora of memories.
Landon wore that Indians gear to his suburban Chicago school. That was even before Terry Francona's squad won the American League Central and ripped off a 7-1 run through the AL side of the postseason to return to the World Series for the first time since 1997, when his dad played first base for the team.
• Shop for Indians World Series and AL champs gear
"All his buddies wear Cubs stuff," said Thome during a phone interview. "This was before they advanced, so everybody was like, 'Why are you wearing Cleveland Indians stuff?' Now, he wears the same gear and I think they get it."
The elder Thome currently serves as a special assistant to White Sox general manager Rick Hahn, but has direct connections to both of this season's World Series combatants. Thome grew up in Peoria, Ill., a city with many Cubs fans despite an almost equal distance to St. Louis. And, of course, the slugger with 612 career homers played a major role on the Indians' last trip to the Fall Classic.
• World Series Game 1: Tuesday 7:30 p.m. ET air time/8 p.m. game time on FOX
In that remarkable seven-game series won by the Marlins, Thome hit .286 and belted two homers. The always upbeat Thome can put the gut-wrenching loss in perspective -- a series that ended with Cleveland closer Jose Mesa blowing a 2-1 lead in the ninth inning of Game 7 and the Marlins' Edgar Renteria delivering the World Series-winning single in the 11th.
"We didn't get to where we wanted to get to, but I always say this: 'We were in the arena. We were there,'" said Thome, who hit 337 homers over parts of 13 seasons in Cleveland. "We put ourselves in a position to be the last team that won a baseball game.
"Somebody had to lose. Somebody had to win. Unfortunately for us, it didn't happen -- and the hard part of that is just the unknown. Let's face it, I didn't get a chance to go back [to the World Series] -- and I played a considerable amount after '97."
Cleveland's teams in the mid-to-late '90s were consistently among the best in baseball. This year's squad has been excellent but surprised some with its postseason dominance in the face of injuries to starting pitchers Carlos Carrasco, Danny Salazar and Trevor Bauer. It embodies the "we before me" attitude that stood as the credo for Thome's dynamic teams.
Thome realizes Cleveland, a city familiar with championship heartbreak, had its thirst quenched by the Cavaliers' NBA title in June. He also comprehends what a baseball title would mean to the Indians' fan base.
"There are so many people there that, baseball-wise, have been through so much -- and fortunately for me, I've been a part of that," Thome said. "When I say fortunately, I mean they are wonderful. They truly, genuinely love their team -- just like Cubs fans. It would bring so much happiness to a city that has been dying to win a World Series.
"They show it when the excitement hits. They wear it on their sleeves. One thing I've always said about Cleveland fans: They are loyal and they are passionate -- and there is no better place to watch October baseball than ... I call it Jacobs Field, but obviously Progressive Field."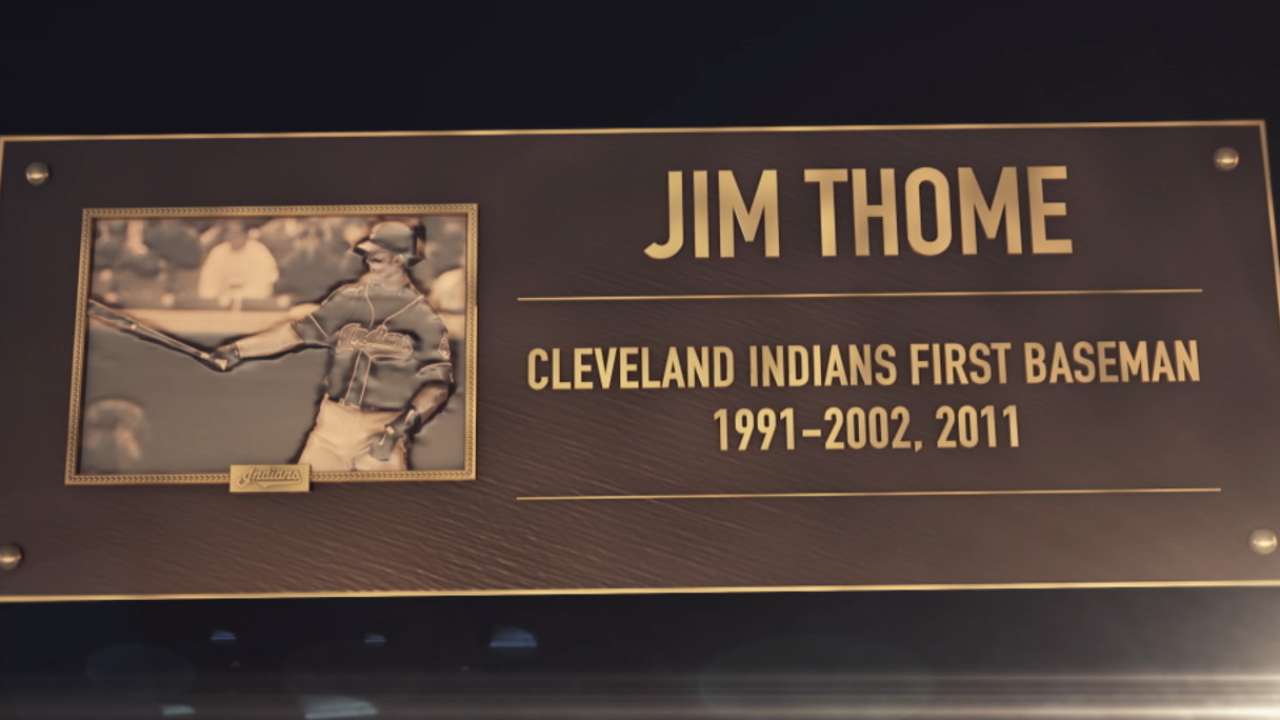 That common passion, coupled with the respective title droughts -- 1948 for the Indians and 1908 for the Cubs -- makes this World Series a special one in Thome's mind. He will return to Cleveland on Tuesday to see the competition begin.
"Both organizations have done things first class," Thome said. "Being [in Cleveland] ... five years ago, when I came back to [the Indians for] the second time [in 2011], with Chris Antonetti and their training staff -- and Francona got hired the year after I left -- they are on top of things.
"It seems like Theo [Epstein] and Jed [Hoyer] and the Ricketts [family], they are very passionate about winning, as well. And their Draft, they've done a wonderful job over the years with the Draft and it shows -- just like Cleveland.
"Personally, I have to root for my boys in Cleveland. It's been a lot of fun to watch them. From a guy that has played there for a long, long time, I'm really happy for so many people there that they are doing what they are doing."
After hitting one homer in the 1995 World Series, which the Indians lost to the Braves in six games, Thome admitted to having a more comfortable feel in the Fall Classic two years later. He advises the current participants to soak up every moment.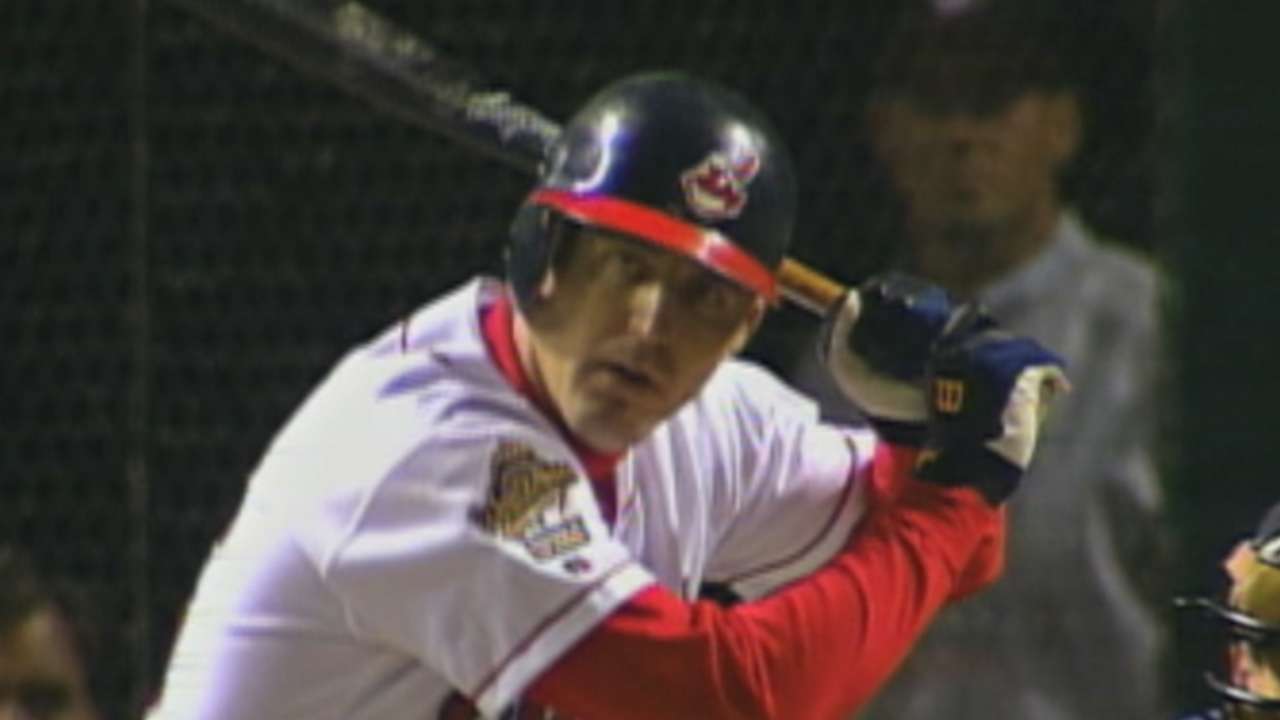 "You are in a World Series," Thome said. "It's easy to kind of just go, 'Wow,' and take a step back and go, 'Oh, my gosh. I'm in a World Series,' which you should. But once you've been there, then it's, 'OK, I understand it now.'"
Scott Merkin has covered the White Sox for MLB.com since 2003. Read his blog, Merk's Works, follow him on Twitter @scottmerkin, on Facebook and listen to his podcast. This story was not subject to the approval of Major League Baseball or its clubs.