MLB.com Columnist
Anthony Castrovince
Oldest Indians champion rooting for new winners
First baseman Robinson is the last living member of the 1948 World Series club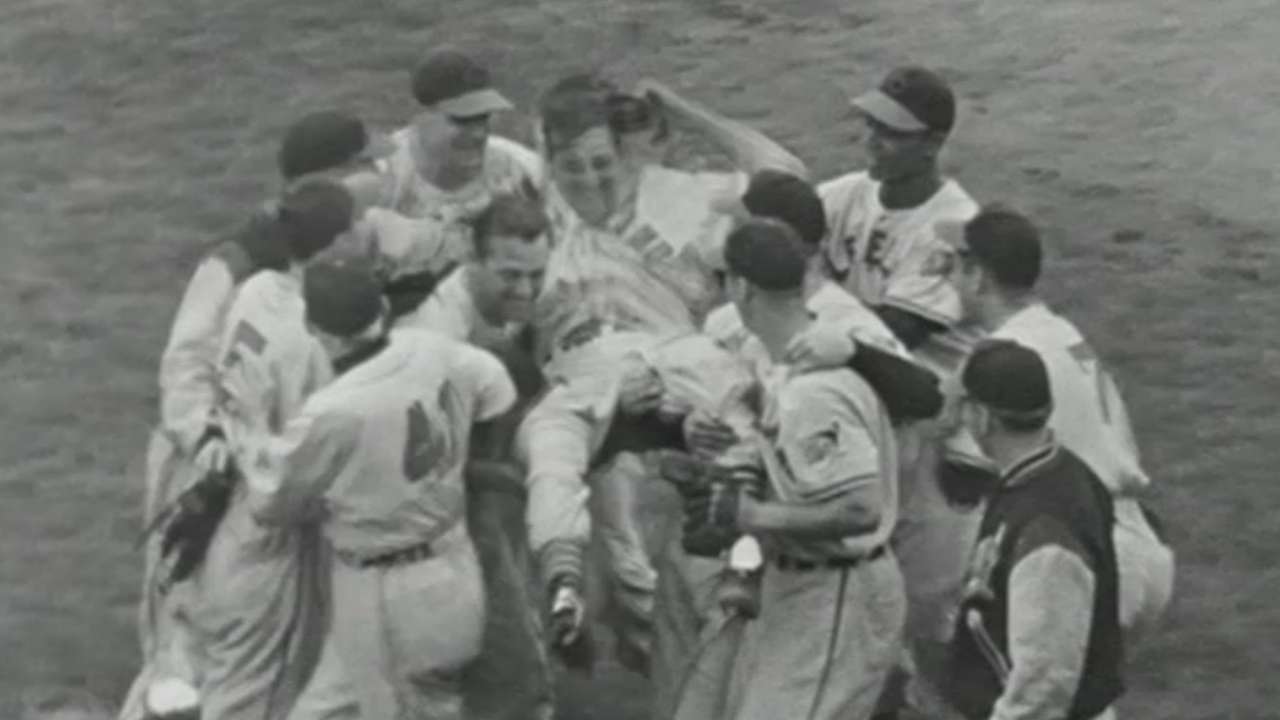 CLEVELAND -- It is a unique distinction, but it's one Eddie Robinson has no interest in maintaining. The last living member of the last Indians team to win the World Series? That's not exactly a badge of honor for the 95-year-old former first baseman on the 1948 champs.
"I keep wanting them to win a World Series, and it's been more than 60 years," said Robinson, whose Indians will take on the Cubs in this year's Fall Classic. "I think it's time. And this may be the year."
• Shop for Indians World Series and AL champs gear
Robinson, who is also the oldest living former player for the Yankees and Tigers, is less than two months from his 96th birthday, and his mind and his interest in baseball are still quite sharp. He lived what he describes as a "lifetime of baseball," first with a playing career that spanned 13 Major League seasons, then as a coach and farm director and, eventually, as the general manager of the Braves (1972-76) and Rangers ('77-82). He finished his working days as a scout for the Red Sox and chronicled his 65 years in the game in his book, "Lucky Me."
It is the Cleveland connection, though, that stands out at the outset of the 2016 World Series. Robinson, who makes his home in Fort Worth, Texas, and identifies himself as a Rangers fan, hopes this is the Fall Classic that will bring the Indians their first championship in 68 years.
• World Series Game 1: Tuesday 7:30 p.m. ET air time/8 p.m. game time on FOX
With Texas knocked out in the American League Division Series, Robinson said he's all in on Cleveland.
"They have a very interesting team," Robinson said. "They have a team where hardly anybody knows anything about the players. I didn't. I went to see them play here in Texas, and I didn't know any of the players, but I realized they were good players. They surprised me when I saw them here. That team is a better team than I thought it was. They've proven it by going out and winning, but they've actually won it with a lot of guys that the baseball world isn't too familiar with."
The 1948 Indians were something of a surprise themselves. They were coming off a fourth-place showing in '47, when they finished 17 games out of first. So it's not as if they were a popular pick for the AL pennant in '48. But rookie pitcher Gene Bearden came out of nowhere to win the league ERA title and he, Bob Lemon and Bob Feller combined for 59 victories and 53 complete games.
Larry Doby, a year after breaking the AL color barrier, moved to the outfield and made major offensive and defensive strides. Player-manager Lou Boudreau, nearly traded by owner Bill Veeck in the offseason, responded to the winter controversy with the best season of his Hall of Fame career, and Boudreau at short, Ken Keltner at third, Joe Gordon at second and Robinson at first gave the Indians an infield group that combined for 432 RBIs.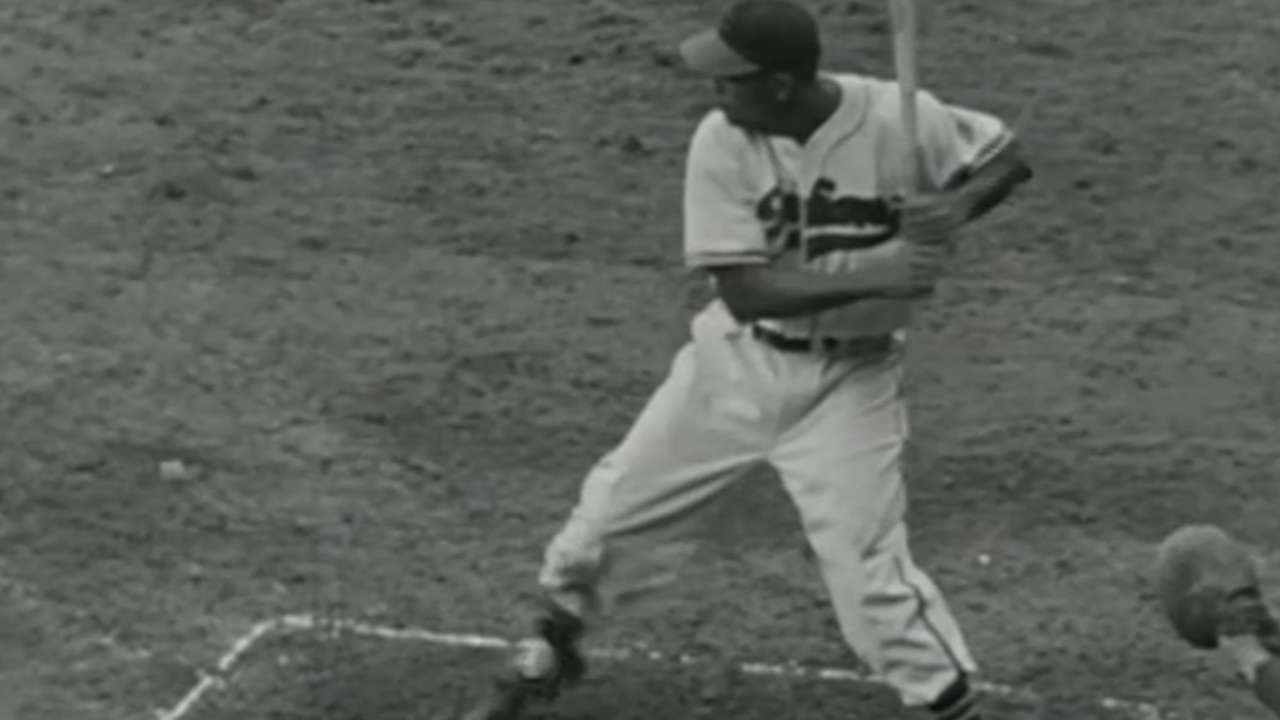 Robinson hit .254 with 16 homers and 18 doubles.
"We won our first four games of the season, and Joe Gordon, who was my roommate on the road, told me, 'We're going to win the pennant,'" Robinson said. "But that year, the Yankees and the Red Sox and [the] Philadelphia [A's] and Cleveland were neck and neck, just about the whole season. It made for a very exciting year, but also a very nervous year."
Never were Robinson's nerves as frayed as they were on Oct. 4, when the Tribe played the Red Sox in the AL tiebreaker. Nowadays, such one-game drama is baked into the postseason schedule in the form of the Wild Card Game, but in 1948, it was a first.
"Bearden started that game [on one day's rest], and he had a trick pitch -- a knuckle-curve -- that everybody swung at and nobody could hit," said Robinson, who came off the bench and singled and scored a run in that game. "It was a tough assignment, and he did great. Our World Series was not as exciting as winning the pennant. That was tough. After we won the pennant, the World Series didn't seem to be as nerve-wracking."
The Indians beat another Boston team -- the Braves -- in six games. There were 86,288 people at Municipal Stadium for Game 5, a perfect capper to a home season in which Cleveland drew a Major League-high 2.6 million fans.
"Bill Veeck had bought the team, and Bill was a promoter," Robinson said. "In '47, we didn't do all that great, but he got the people enthused with his promotions, and he used to bring buses from outlying towns to the ballpark. Starting in '48, it was exciting from the beginning. And when there were 86,000 people at the park, it was fabulous. It was really great. As a player, all you could hear was a roar. There was no identifying individual sounds. It was just a big roar."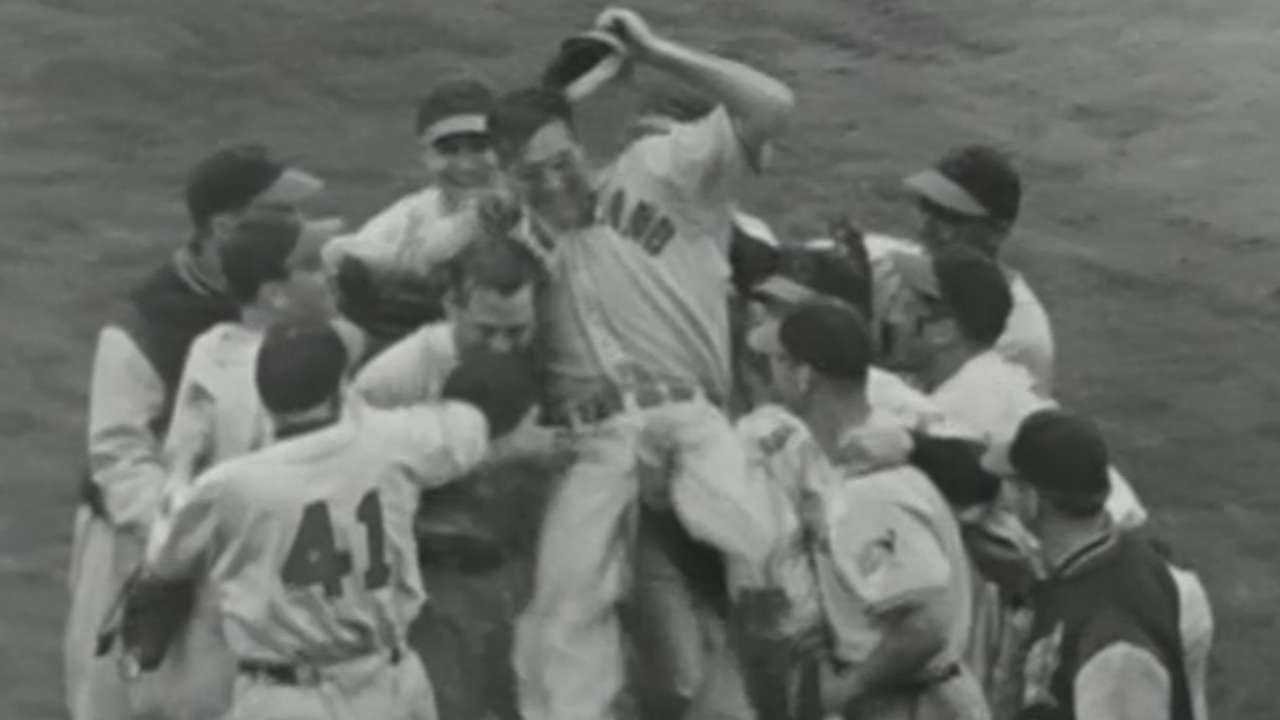 Because the Indians lost Game 5 at home, the Series shifted back to Boston, where the Tribe finished the job and set up a rollicking party on the train ride back home.
"Fabulous," Robinson said. "Champagne was dripping from the ceiling in the club car. I don't know what it cost him, but Veeck had to refurbish the car after we got to Cleveland. And then we had the great big huge parade down Euclid Avenue, and that was wonderful. The whole year was a wonderful year. It was the highlight of my whole big league career."
Just to show how it all goes and comes around in baseball, Robinson's career would wind up crossing paths with Tito Francona, whose son, Terry, has now managed the Indians to within four wins of their first title in what, for Robinson and others, feels like forever. And count Robinson among those who would love to see the organizational drought end.
"I just hope Cleveland wins it," Robinson said. "I think it's time."
Anthony Castrovince has been a reporter for MLB.com since 2004. Read his columns and follow him on Twitter at @Castrovince. This story was not subject to the approval of Major League Baseball or its clubs.