NLCS Game 6 starting lineups: Dodgers vs. Cubs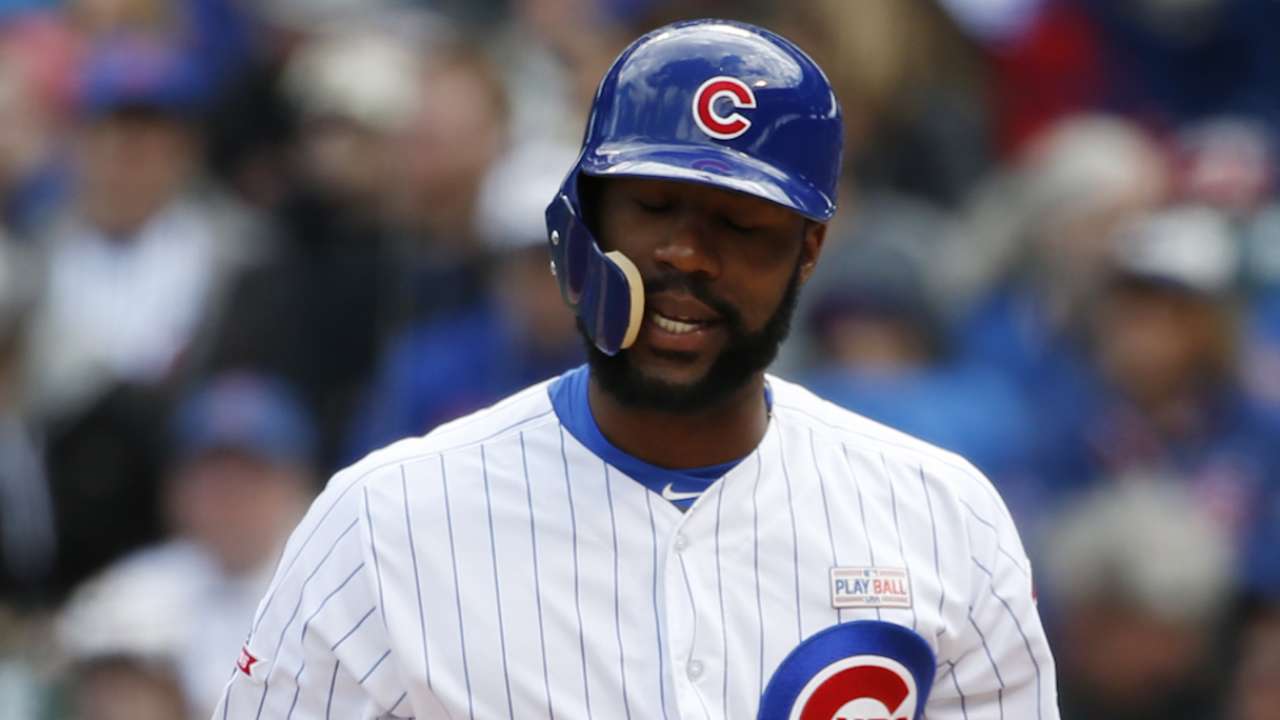 CHICAGO -- Cubs manager Joe Maddon inserted rookie Albert Almora Jr. in right field for tonight's Game 6 of the National League Championship Series and sat Jason Heyward, who is 2-for-28 in the postseason so far.
The best-of-seven series between the Dodgers and the Cubs resumes at 8 p.m. ET at Wrigley Field. Chicago, leading 3-2, would clinch a World Series berth with a victory. The winner of the NLCS will face the Indians in the Fall Classic, which begins Tuesday night at Progressive Field in Cleveland.
• NLCS Game 6: Tonight 8 ET on FS1
Dodgers manager Dave Roberts decided to bat Andrew Toles leadoff for the first time this season, bumping Chase Utley to the eight-hole. So far in the NLCS, Toles is 5-for-10 with two doubles, two RBIs, a walk and four runs scored. Fellow left-handed batter Utley is 0-for-10, but he's walked twice.
"You take what Andrew's done in the postseason through September, the at-bat quality," said Roberts. "And I think that also it has to do with the player as far as Chase and talking to him prior and just having him ... totally accept whatever decision I made for the good of the team obviously played a factor in it. So I think those two variables for me made it actually pretty easy.
"I think that also giving Chase a different view from the different part of the lineup might help him get untracked a little bit."
Roberts was confident that Toles could handle the pressure of hitting leadoff.
"With Andrew, he's a baseball player, so regardless of if he hits coming off the bench, or he starts and hits 8th or first, I really don't think that it will affect his at-bat quality."
Utley hit first in 112 games during the regular season, and Los Angeles was 66-46 in those games.
As for the Cubs' decision to sit Heyward, Almora is 0-for-6 so far in the postseason, but he gives the Cubs another right-handed bat against Dodgers lefty Clayton Kershaw. Heyward, in the first year of an eight-year, $184 million contract with the Cubs, batted .230 during the regular season, including a .207 mark against lefties.
"He's struggling," Maddon said of Heyward. "I think he had a hit in his first at-bat in the playoffs, and he's struggled since. He keeps working, and we have a lot of faith in him. If we didn't have the opportunity to do something different tonight, I wouldn't have, but we do. Albert presents well at the plate and well on defense."
Maddon knows this is not how Heyward wanted his first season in Chicago to go.
"You know he's not satisfied with the year, but [Heyward] keeps going out there, and he's a big part of our 100-plus wins this year," Maddon said. "It is something he has to work on, he will work on it. And by no means has anyone given up on him. He needs to clear his mind a little bit. When it's all said and done, he can get back to the drawing board."
The Cubs batted .267 against left-handers this season, second best in the NL.
Cubs starter Kyle Hendricks, who finished the season with the top ERA in the Majors (2.13), will be making his second NLCS start. He took the loss in Game 2 when he faced Kershaw at Wrigley Field, giving up one run on three hits over 5 1/3 innings.
Dodgers
Andrew Toles, LF
Corey Seager, SS
Justin Turner, 3B
Adrian Gonzalez, 1B
Josh Reddick, RF
Joc Pederson, CF
Yasmani Grandal, C
Chase Utley, 2B
Clayton Kershaw, P
Cubs
Dexter Fowler, CF
Kris Bryant, 3B
Anthony Rizzo, 1B
Ben Zobrist, LF
Javier Baez, 2B
Willson Contreras, C
Addison Russell, SS
Albert Almora Jr., RF
Kyle Hendricks, P
Carrie Muskat has covered the Cubs since 1987, and for MLB.com since 2001. She writes a blog, Muskat Ramblings. You can follow her on Twitter @CarrieMuskat and listen to her podcast. This story was not subject to the approval of Major League Baseball or its clubs.