MLB.com Columnist
Phil Rogers
Heyward should start Game 6 in right field
One win away from World Series, Cubs need their best defensive players in lineup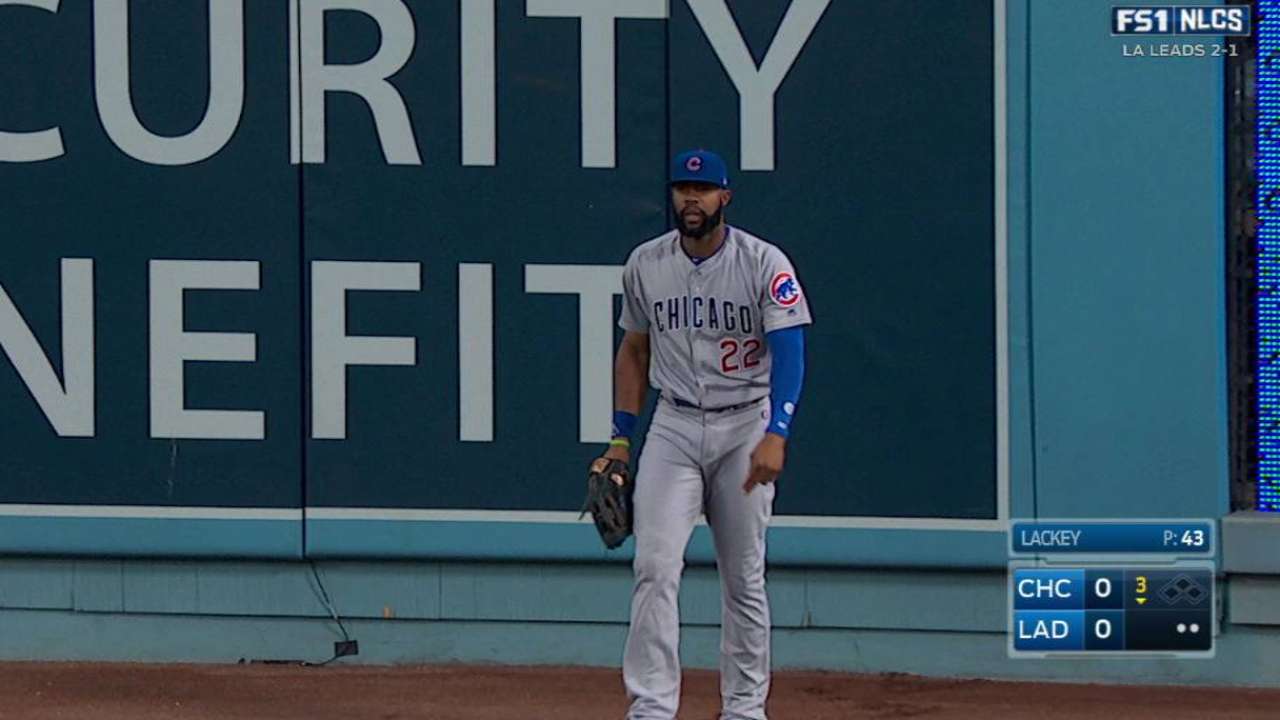 CHICAGO -- From the first grisly scene to the climax, "The Texas Chainsaw Massacre" lasts 90 minutes. Running time on "The Exorcist" is two hours, 13 minutes.
It took 4 hours, 16 minutes to play Game 5 of the National League Championship Series, and the time spent watching Jason Heyward bat must have seemed like a horror film for Cubs fans.
• NLCS Game 6: Tonight at 8 ET/7 CT on FS1
We get it. Anybody who was watching gets it.
But what should manager Joe Maddon do about it? Should he sit Heyward against Clayton Kershaw tonight, when a victory gets the Cubs into the World Series, or should he stick with him for his Gold Glove defense in right field?
Willson Contreras caught Kyle Hendricks in Game 2, but Maddon could use David Ross behind the plate and move Contreras to left field and Ben Zobrist to right. Or he could stick with Contreras behind the plate and give Albert Almora Jr. or Jorge Soler the start in right field.
It's a question worth pondering, given how games can turn on one at-bat. Do the Cubs really want Heyward to face Kershaw three times?
Cubs president of baseball operations Theo Epstein, Maddon and the analysts Maddon calls "my geeks" are sure to consider a variety of right-field scenarios before the potential clincher against the Dodgers.
Ross gives the Cubs a lift with his presence, like he did for the Red Sox in the 2013 postseason. But he's only 2-for-14 with six strikeouts against Kershaw. He's caught Hendricks only twice this season, but got good outings out of him both times. However, Contreras was the regular guy with Hendricks late in the season, helping him to a 1.51 ERA over 12 games.
In the end, the guess here is they'll stick with Contreras behind the plate and Heyward in right. If they do, they won't be doing it because the front office doesn't want to bench a $184-million player. They'll be doing it because it's the right thing to do.
The Cubs play their best when they have their best defensive players on the field, and Heyward is certainly one of those. He has had as much to do with them being a historically good fielding unit as anyone, including middle infielders Addison Russell and Javier Baez.
No question, Heyward is lost at the plate. He has been throughout the season, hitting .230 with seven home runs. He's 2-for-28 in the postseason and hitless in 15 at-bats since a triple off Kenta Maeda that had Wrigley Field rocking in Game 1 of the NLCS.
The Dodgers are pounding him inside with fastballs and sliders, one after another, and he simply doesn't have the bat speed to turn on them. His struggles have never been uglier than they were on Thursday night, when his best moment came when Maeda hit him with a 1-2 fastball.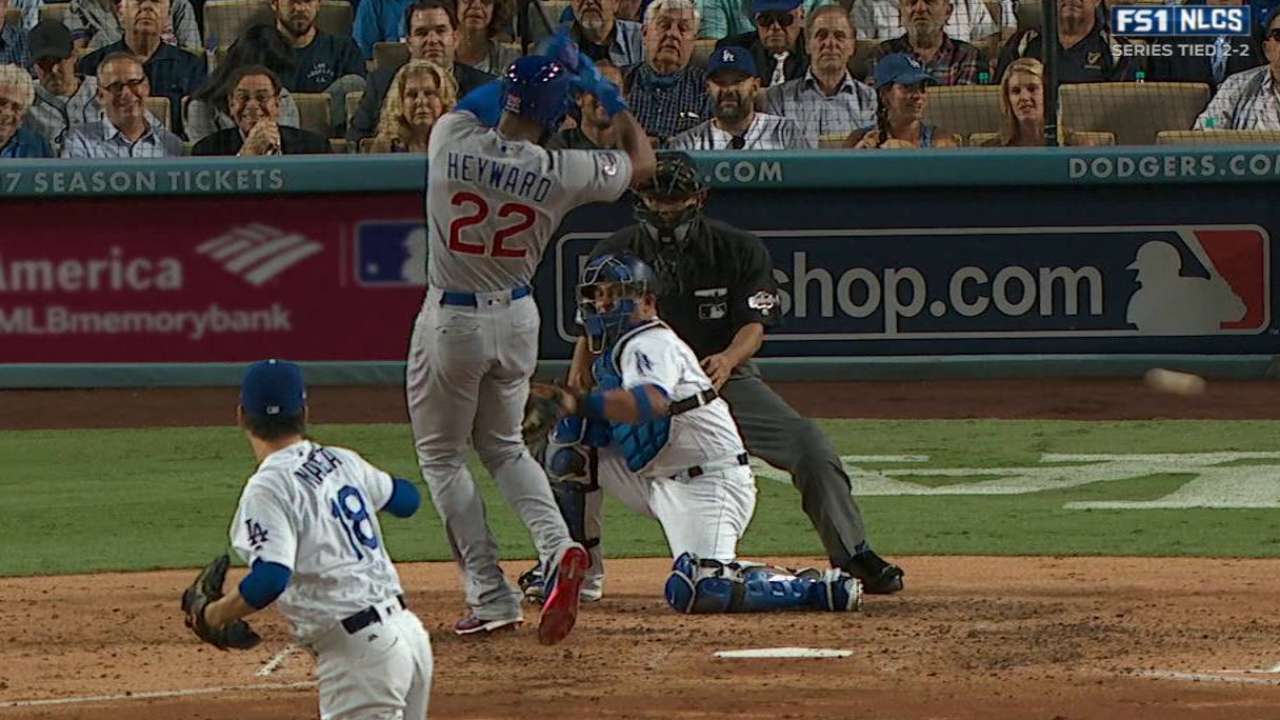 Otherwise, it was as ugly as it gets. To recap:
First inning, two outs, men on first and second: The count climbs to 2-2, Heyward fouls off two pitches and then swings at a 92-mph fastball he can't catch up to, ending the inning and stranding two runners.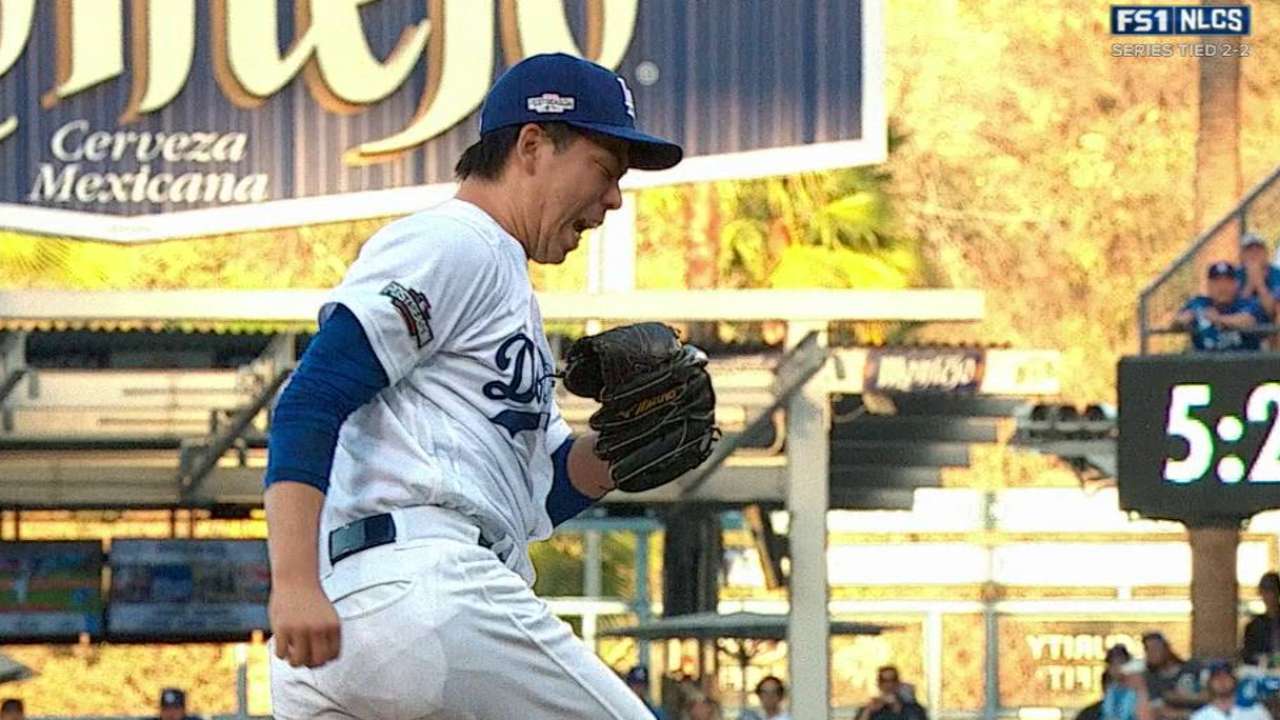 Sixth inning, nobody out, man on second: Baez briefly preoccupies Joe Blanton with his leads off first, then steals second. Heyward gets the count to 3-1, but then takes a strike and swings and misses on a slider in the dirt. He does the fundamentally right thing (as he always does) by running to first, but catcher Carlos Ruiz makes a routine throw to finish the strikeout.
Seventh inning, two outs, men on first and second: Facing left-hander Luis Avilan, Heyward again gets ahead in the count, 2-0. He eventually finds himself at 3-2 and fouls off two pitches. But the eighth pitch of the at-bat is a changeup, and Heyward pops it up weakly to Ruiz.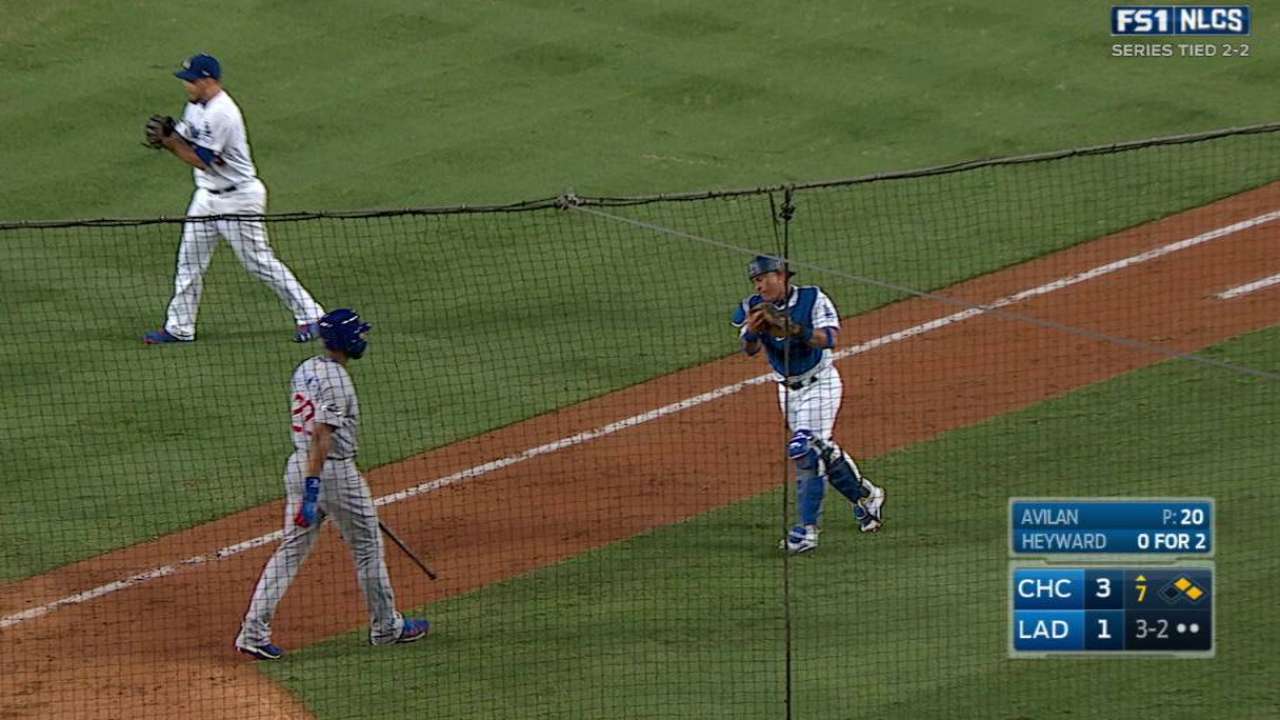 Eighth inning, man on second, two outs: Ross Stripling starts Heyward off with a ball, but Heyward pops up the next pitch, a 91-mph fastball, to second baseman Enrique Hernandez.
That's 0-for-4, every time with a runner in scoring position, stranding six runners.
And now here comes Kershaw. So sit him, right?
Wrong.
Remember when Heyward made a throw to the plate to stop Adrian Gonzalez from scoring on that much-debated (and reviewed) play in Game 4? Or, better yet, remember when Soler collided with Dexter Fowler in Game 3, the last time Maddon benched Heyward to get a right-handed bat into the lineup?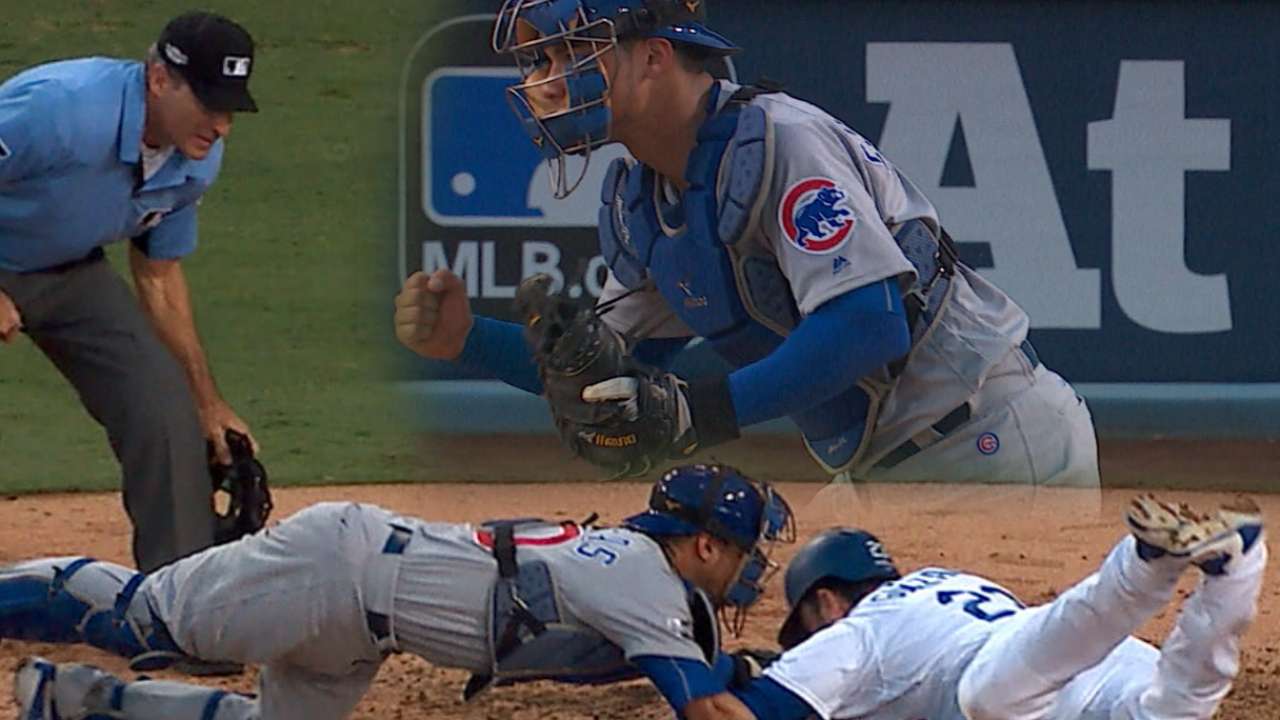 Here's a fact that might surprise you: In the postseason series against the Dodgers and Giants, the Cubs are 6-1 when Heyward starts, 0-2 when he sat against Rich Hill and Madison Bumgarner.
While Heyward isn't hitting, he still makes pitchers work. He saw 27 pitches in his five plate appearances in Game 5. He was 0-for-2 against Kershaw in Game 2, grounding out to third base and hitting a foul pop to third. But that was better than Soler, who struck out as a pinch-hitter.
Heyward could use that look at Kershaw to help him get the barrel of the bat on the ball in Game 6.
"I think the more you face him, maybe you have a better shot, but he's really good," Ross said. "We have our work cut out for us."
Don't underestimate the value of Heyward's consistently solid work in the outfield in a game certain to be played on a high wire. Defensive lapses led to the Cubs' postseason unraveling at Wrigley Field against the Dodgers in 2008 and the Marlins in '03.
With Hendricks on the mound, the Cubs have a chance to win a 2-1 game. They can't sacrifice that by weakening themselves defensively.
If Heyward comes up in a big spot, with the Cubs trailing, give Soler or Almora Jr. a crack off the bench. But Heyward needs to be out there in right field when Hendricks steps on the rubber. If you don't want to watch him hit, that's OK. Go get popcorn or walk the dog. But get back in time to see if he can run down a gapper or two.
Phil Rogers is a national columnist for MLB.com. This story was not subject to the approval of Major League Baseball or its clubs.