MLB.com Columnist
Anthony Castrovince
Miocic loves championship fight in his Indians
UFC heavyweight champ may be reason why Cleveland lifts title curse
CLEVELAND -- The Curse, as it were, survived in this city long enough that credit for killing it is something valuable, albeit not tangible. That credit clearly tends to go to LeBron James and his band of Cavaliers, who won the NBA title in June to bring a once-woebegone sporting populace its first major professional title in 52 years. The Indians, with their entry to a World Series that begins Tuesday night at Progressive Field, hope to follow in LeBron's size-15 footsteps.
But there's another guy, a former ballplayer and a rabid fan of the American League champions, who believes he is responsible for knocking down the first domino, for changing the mojo around here. And disagreeing with this dude does not seem a particularly wise course of action, because he also just so happens to be the 6-foot-4, 240-pound heavyweight champion of UFC.
• Shop for Indians World Series and AL champs gear
So yeah, if Stipe Miocic says he broke the curse, he broke the curse, OK?
"I do believe he did," said catcher Yan Gomes, who doubles as Miocic's close friend.
Hey, there's basis for the belief. While Cleveland did have its technical titles in the past (how dare you forget the Cleveland Crunch won three National Premier Soccer League titles in the 1990s?), it's actually kind of crazy how much has happened since Miocic's first-round knockout of Fabricio Werdum at UFC 198 in Curitiba, Brazil, back on May 14.
Four weeks later, the Lake Erie Monsters, who, like the Cavs, play their home games next door to Progressive Field at Quicken Loans Arena, won their first Calder Cup -- the championship of the American Hockey League -- with a 1-0 overtime victory over the legendary Hershey Bears.
• World Series Game 1: Tuesday 7:30 p.m. ET air time/8 p.m. game time on FOX
Eight days after that, the Cavaliers completed their climb from a 3-1 hole against the 73-win Golden State Warriors to finish off the NBA Finals.
And four months after that, the Indians beat the Blue Jays at Rogers Centre to seal their first AL pennant in 19 years.
Maybe it took a man with the physical strength and stamina of Stipe to punch, kick or otherwise fell the first domino.
"You know what, man," Miocic said on Friday, "I'm just happy the city has something to be proud of. The Cavs, the Indians, the Monsters. It just shows that we are the land of champions."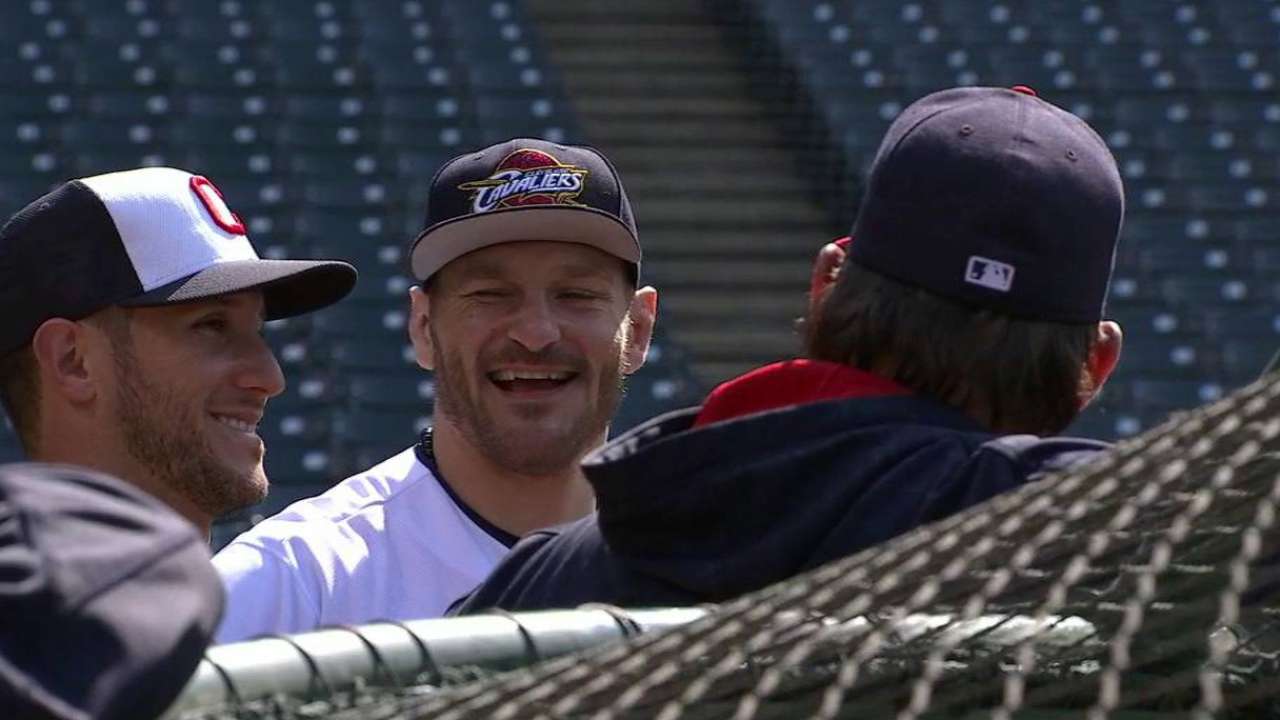 Miocic was like about 20,000 other Clevelanders in that he planned to attend Tuesday's Opening Night of the Cavaliers' 2016-17 schedule at The Q, where they will receive their championship rings.
Now, Miocic is hoping to see a bit of the basketball before catching the Fall Classic, where his buddy Gomes and the boys will be trying to end an organizational curse of 68 years without a World Series title.
"It's kind of crazy," Miocic said. "Of course I'm biased, because Yan is my dude, my favorite player, but all these other guys are hurt and we're still just plugging away and beating teams. No one cared about us at the beginning of the year. They might have picked us to win the division, but they didn't really think anything of it. Usually, we play pretty good in the first half, maybe .500. But this year, they were tearing it up the whole time, and they're just wrecking it right now."
There was a time when Miocic, 34, could see himself in the World Series in his wildest athletic dreams. He was a ballplayer at Eastlake North High School and at Cleveland State University and Trevecca Nazarene University.
"I could hit the [heck] out of the ball," he said, "but it's just never-ending line drives. I can't get lift. I think I swing too level."
Miocic did get a hold of one at Progressive. Shortly after he won the title, Miocic took BP with the Tribe and hit one over the 19-foot-wall in left -- his second knockout in less than a week.
"That was a dream come true for him," Gomes said. "He felt like one of us."
Miocic remembered the experience a little differently.
"I was terrified," he said with a laugh. "But those guys were just awesome cheering me on, and I finally got a hold of one."
"He's true, true Cleveland," Gomes said. "I think that's one of the reasons we became such good friends, because he was a big fan of what we're doing here. This is what his first dream and passion was. But I don't think he understood how big of a fan I am of what he does."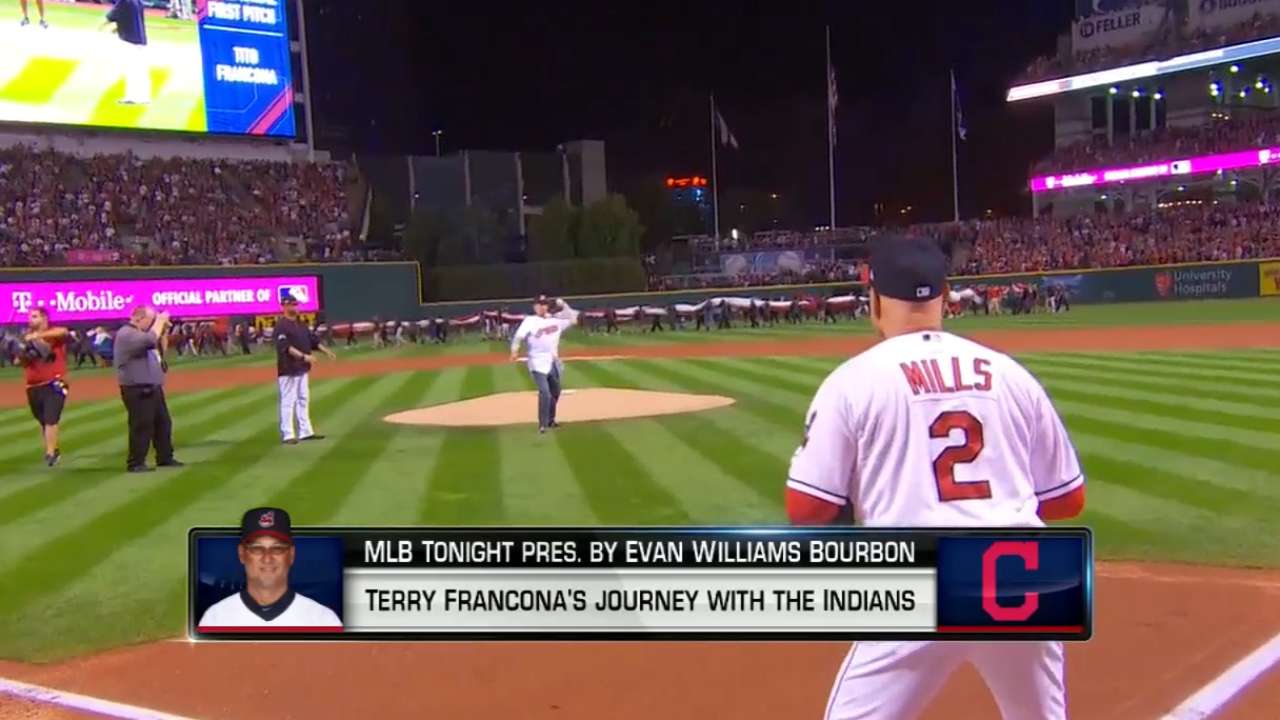 Miocic and Gomes first met a few years back, at another one of Miocic's visits to the ballpark when he was fighting in the Road to the Octagon in Cleveland. They hit it off, despite the fact that Gomes happened to be wearing a T-shirt representing his native Brazil that day and Miocic was scheduled to fight a guy from Brazil.
Gomes has attended several of Miocic's fights, and Miocic was there for Game 1 of the AL Championship Series and will be back again for the World Series. The two text constantly. Gomes has had a tough year, and he's taken a back seat to Roberto Perez on account of the injuries he's endured this season. But when Gomes hit the home run -- in his first at-bat back from the DL -- that helped the Indians clinch home-field advantage throughout the playoffs on the last day of the regular season, nobody was happier for him than Miocic.
"I'm always telling my wife to be quiet because I'm watching Yan bat," Miocic said. "She's so over it. She's like, 'You talk to him every day!'"
Miocic has been glued to every moment of the postseason. When a friend's wedding coincided with Game 2 of the ALCS, he tracked all the action on his phone.
"It's absolutely amazing," Miocic said. "It's a city that deserves it. It's just been so long, and finally, the year 2016 shows what our city is all about."
Just don't forget who knocked down that first domino.
Anthony Castrovince has been a reporter for MLB.com since 2004. Read his columns and follow him on Twitter at @Castrovince. This story was not subject to the approval of Major League Baseball or its clubs.