'Designated yo-yo' Zobrist an asset for Cubs
Chicago uses veteran in cleanup spot, multiple positions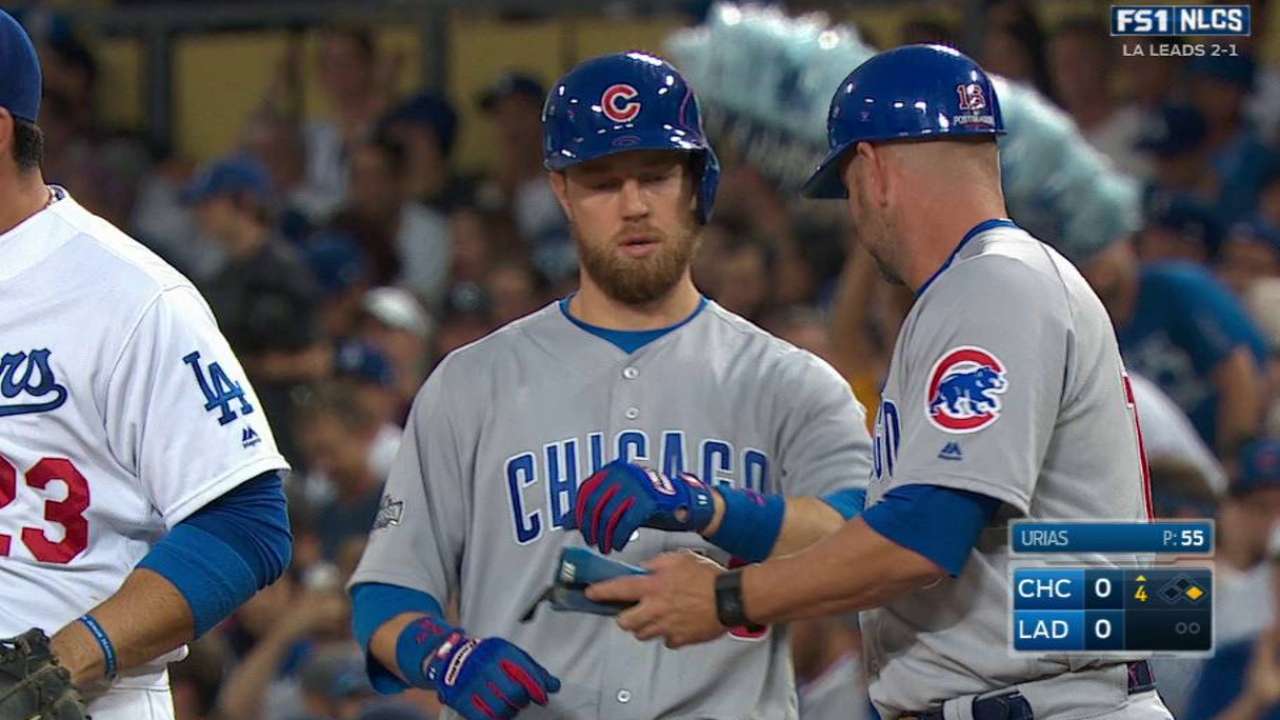 CHICAGO -- Early in his career, Ben Zobrist was what he calls the "designated yo-yo," bouncing from the Majors to the Minors as he tried to win a spot on the Rays. If it weren't for an offseason phone call from manager Joe Maddon telling him to show up at Spring Training with six different gloves, Zobrist might be sitting on the couch watching the Cubs in the National League Championship Series.
Today, Zobrist is the unlikely cleanup hitter for the Cubs, who are one win away from their first trip to the World Series since 1945. Zobrist's bunt in Game 4 might have been the key hit that propelled the Cubs.
• NLCS Game 6: Tonight 8 ET/7 CT on FS1
The Dodgers shut out the Cubs in Games 2 and 3 behind Clayton Kershaw and Rich Hill. Young Julio Urias was on the mound in Game 4 at Dodger Stadium, and Zobrist led off the fourth inning with a perfect bunt toward third.
"I felt like that spot in the game was the right time," Zobrist said. "After we hadn't gotten any hits up to that point, I was like, 'Well, it's time. Someone needs to do it.'"
That mini hit ignited a four-run inning for the Cubs, highlighted by Addison Russell's two-run homer. Chicago won, 10-2, to even the best-of-seven series at two wins apiece.
It was Zobrist's decision to bunt.
"It's always best when Benny does something extemporaneously," Maddon said. "Whenever I give him a sign, it never works. So I'm glad he thought of it on his own."
It wasn't the first time for Zobrist, either. According to ESPN Stats and Information data, the only time in the postseason when a cleanup hitter has bunted for a hit since 2000 was in Game 1 of the 2011 American League Division Series between the Rays and Rangers. And, yes, Zobrist was the batter.
The Rays were leading, 3-0, with one out and a runner at first in the third against the Rangers, when Zobrist took advantage of third baseman Adrian Beltre playing deep. He bunted toward third and reached on the infield hit. One out later, Kelly Shoppach smacked a three-run homer to open a 6-0 lead. The Rays won the game, 9-0, but that was their only victory of the series, and the Rangers advanced.
"That's definitely his call, but I don't think there's too many cleanup hitters in the league that do drop that bunt," Johnny Damon said at that time.
There aren't too many batters who can do what Zobrist, 35, does. This season, he has started at second base, left and right field, appeared at first and even shortstop, which was where he started with the Rays in 2007.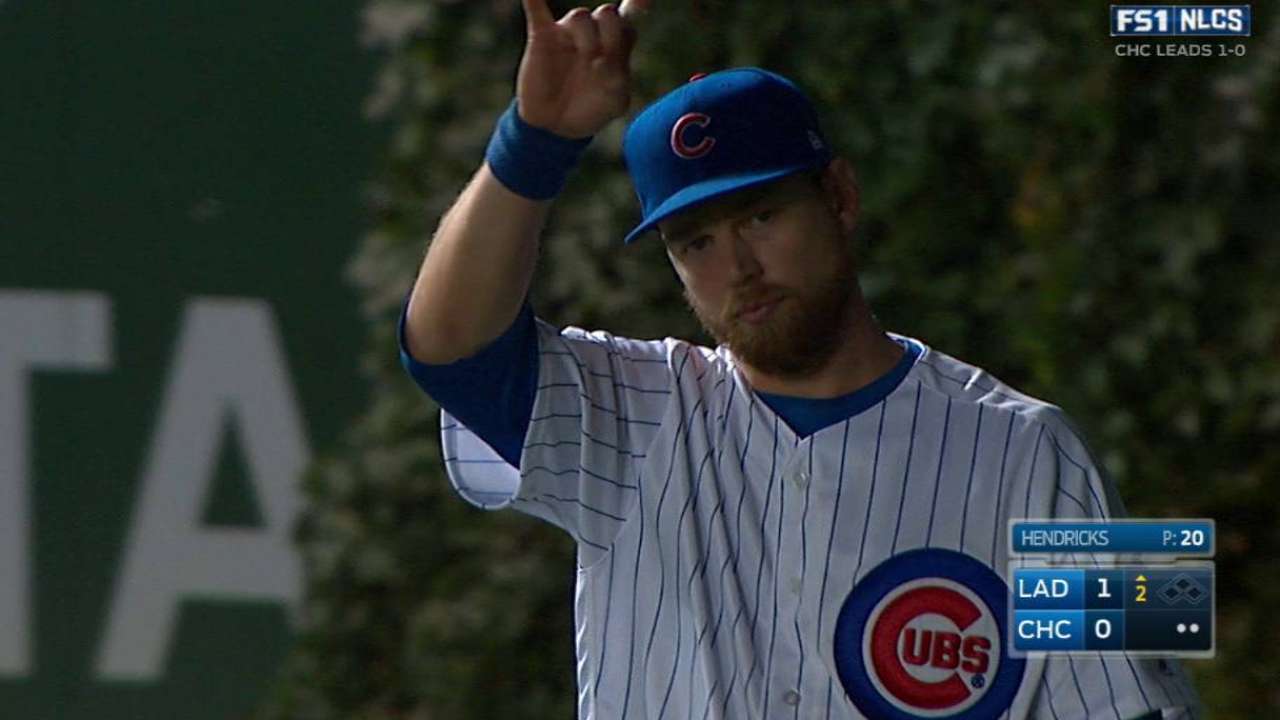 "He was a nice shortstop, he was fine," Maddon said, recalling their early days in Tampa Bay. "But he didn't have this extraordinary range or tools or arm that you want out of a shortstop. He's a switch-hitter, and he's one of the best teammates you've ever had in your life.
"Moving forward, when you get a guy like that, who's talented, who can hit from both sides of the plate, you try to find a spot for somebody like that. We just thought by giving him multiple positions that it was his best avenue to get to the Major Leagues. And, of course, the player has to concede and say, 'I'm on board, I like this, I can do this,' which he did."
The Rays had acquired shortstop Jason Barlett in November 2007, which is when Maddon, Tampa Bay's manager at the time, called Zobrist.
"[Maddon] said, 'I want you to bring about six different gloves to the field,'" Zobrist said.
Maddon's theory was that by being versatile, Zobrist could sub at a variety of positions and get more at-bats. A fractured left thumb in March 2008 limited Zobrist, and he wasn't activated until mid-May. Then, he started his shuttle trips between Tampa Bay and the Triple-A Durham Bulls.
"I was the designated yo-yo," Zobrist said. "Finally, my hitting started catching up."
Zobrist finished strong in September, batting .321 in 20 games, and he began 2009 on the Rays' bench. But an injury to another infielder gave Zobrist an opening, and he played in 152 games, quite a leap from the 62 he totaled in '08.
Maddon felt Zobrist made some adjustments with his swing at Triple-A, and they paid off.
"When the power showed up, that made it even more interesting to have him become this multiple-positional player," Maddon said. "You didn't see him as an everyday shortstop, but he definitely has an outfielder's body. We found out he can play second base. We were just working him all around the diamond. Second base and either corner outfield is probably his best position."
With the emergence of Javier Baez, Zobrist has started in left in the NLCS. The veteran has put all of his gloves to good use.
"It wasn't my idea," Zobrist said of playing all positions.
But it was Zobrist's idea to bunt in Game 4, although he admits he considered doing so in Game 2 against Kershaw.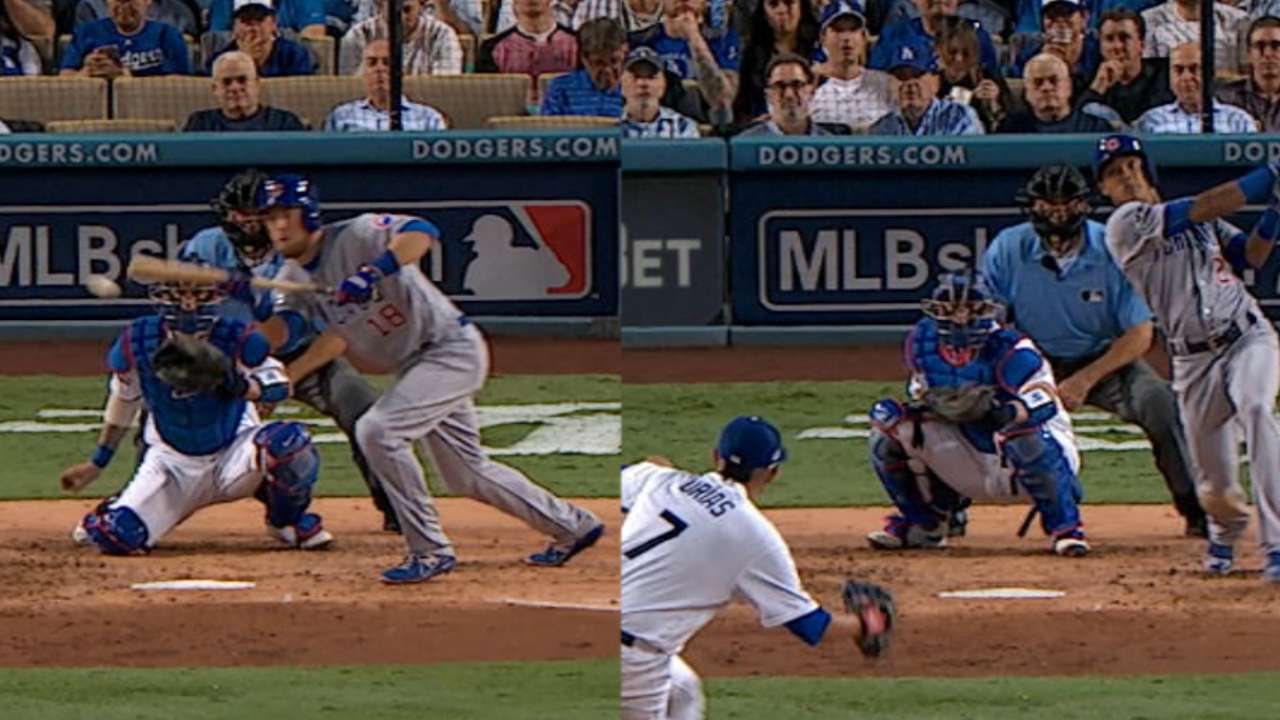 "You're not going to hit a bunch of three-run homers every game," Zobrist said. "You really have to find a way to play small ball, especially in the postseason when we're facing good pitching, and they've been tough on us. That [bunt] just kind of got everything going. Offensively, everyone contributed. It just kind of felt like the floodgates opened."
Zobrist already has a World Series ring after helping the Royals win last year. However, he grew up in downstate Eureka. This time, he'd be able to say he did so for his home state team.
"That's the definition of a good baseball player and a guy that's going to find a way to win," Chicago's David Ross said of Zobrist after his bunt.
If Zobrist hadn't learned to play all those positions, if he had gone home after the 2008 season, what would he be doing now?
"I'd probably be out of baseball," Zobrist said. "I'd be doing something else, probably sitting on the couch watching these games."
The Cubs are glad Zobrist is in the lineup.
"I'm not a cleanup hitter," Zobrist said. "I'm just batting fourth."
Carrie Muskat has covered the Cubs since 1987, and for MLB.com since 2001. She writes a blog, Muskat Ramblings. You can follow her on Twitter @CarrieMuskat and listen to her podcast. This story was not subject to the approval of Major League Baseball or its clubs.