Statcast of the Day: Why didn't LA run?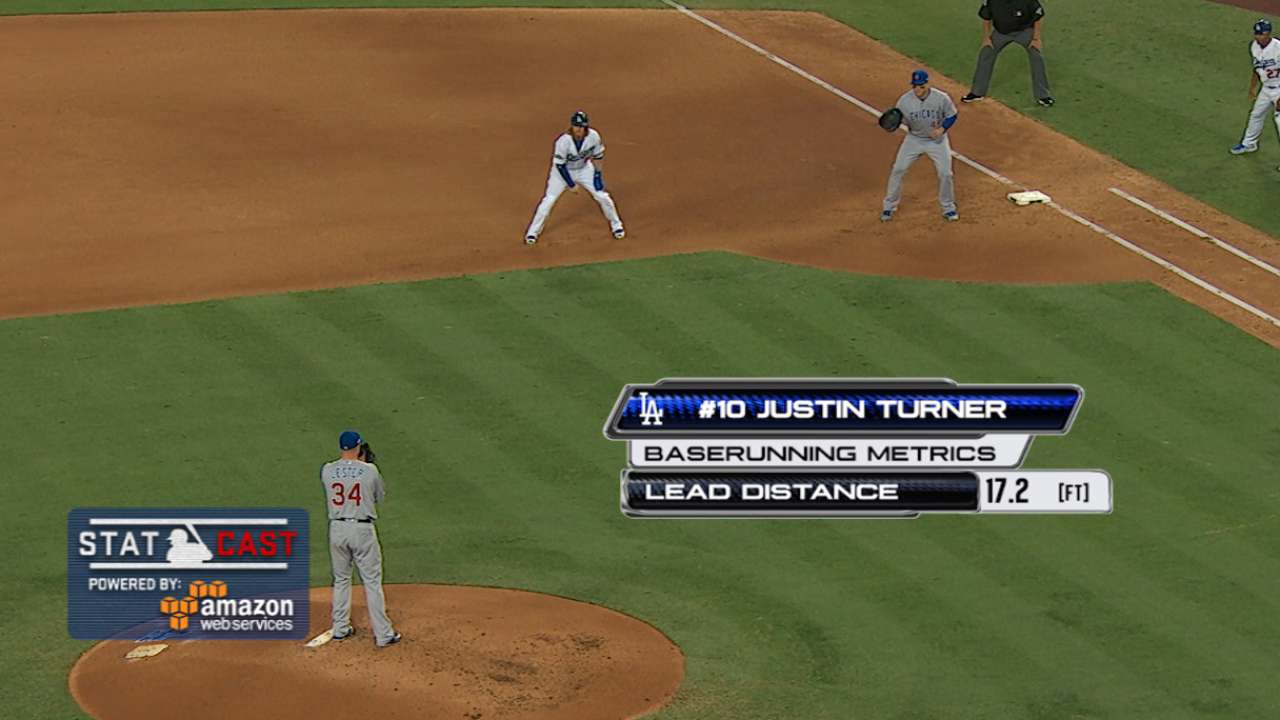 LOS ANGELES -- Kiké Hernandez danced off first base in the first inning. He jumped, he bobbed, he shimmied, and he generally dared Cubs starter Jon Lester to do what everyone at Dodger Stadium knew Lester cannot consistently do. The left-hander's troubles throwing to the bases are so widely known that Dodgers manager Dave Roberts was comfortable telling a room full of reporters before his team's 8-4 loss in Game 5 of the National League Championship Series that the plan against Lester was to bunt and take huge leads on the basepaths in an effort to "get in his psyche a little bit."
With Statcast™, we can measure those efforts. The Major League average for a lead off first on a stolen base is 11.4 feet, but after Hernandez led off the first inning with a walk, he was 20.3 feet off first base when Lester released his next pitch. After advancing on Corey Seager's single, Hernandez strayed 23.5 feet from second base on the first pitch to Carlos Ruiz.
• NLCS Game 6: Saturday at 8 p.m. ET on FS1
Hernandez never stole a base, but Justin Turner did in the third inning after getting a 28.3 foot lead off first base. In the fourth, Howie Kendrick doubled and was 34.9 feet off second base -- more than a third of the way down the baseline -- when Lester released a 1-0 pitch to Adrian Gonzalez.
Kendrick broke for third on that pitch and initially was called out -- a credit to Cubs catcher David Ross, whose 1.5 second pop time was excellent. The decision was overturned on replay, and Kendrick scored on Gonzalez's groundout to tie the game at 1.
In the seventh, Joc Pederson singled and tried something different. His lead was "only" 15.7 feet, but Pederson turned his body and got into a starter's position, as if he were at first base in a slow-pitch softball game.
None of it fazed Lester. The Dodgers collected five hits and a walk in Lester's seven innings, but scored one run.
"It's certainly a credit to him," Roberts said. "I thought that when we did get a little bit of traffic, I thought that we put a little pressure on him. But he's a great pitcher. He's a great pitcher who competes and finds ways to get outs when he needs to."
Why didn't the Dodgers try to parlay their huge leads into more stolen bases in an effort to increase that pressure on Lester?
"David Ross still throws the ball well, and even Jon Lester, there were some 1-1.5 [second deliveries], some 1.2s, so you've still got to get a pretty good jump," Roberts said. "Also, when you start getting behind in the game, you don't want to give outs away by just stealing."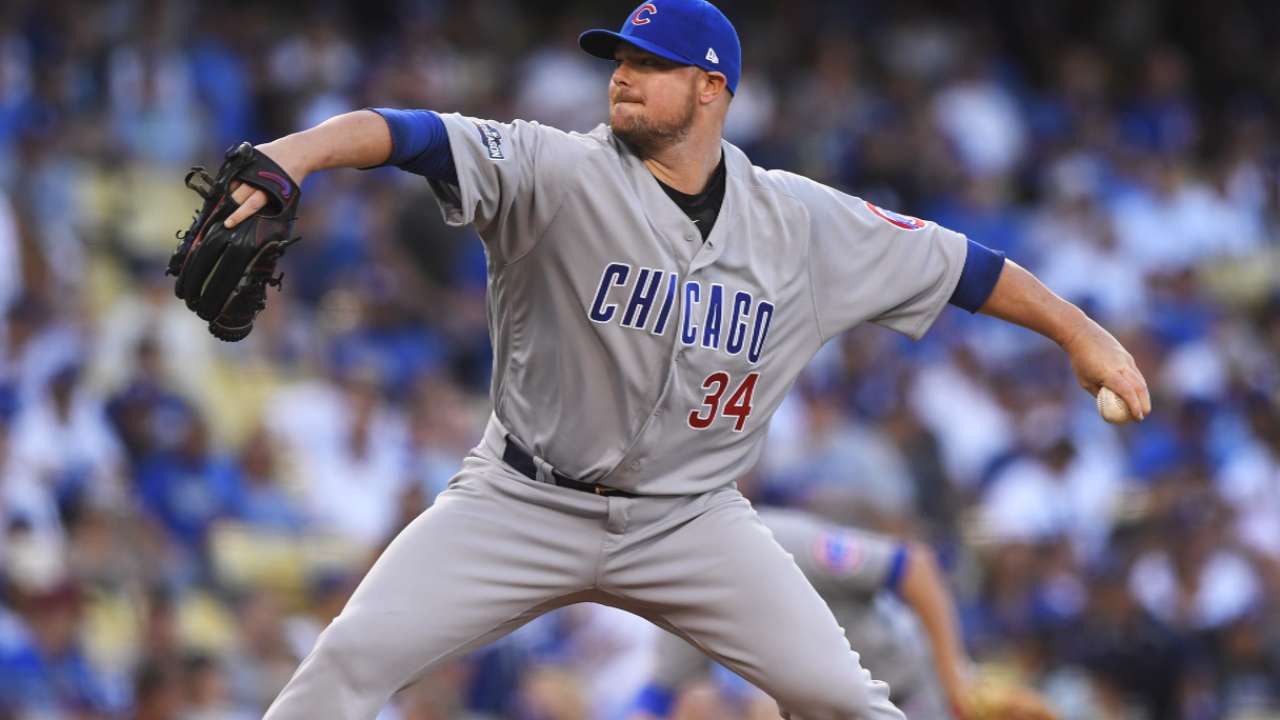 The Dodgers tried bunts, too. When slugging center fielder Pederson tried to bunt for a hit in the second inning, Lester threw him out with a one-hopper to first base and glared into the Dodgers' dugout. In the seventh, Gonzalez pushed a bunt toward second base, but he was out thanks to Javier Baez's terrific play.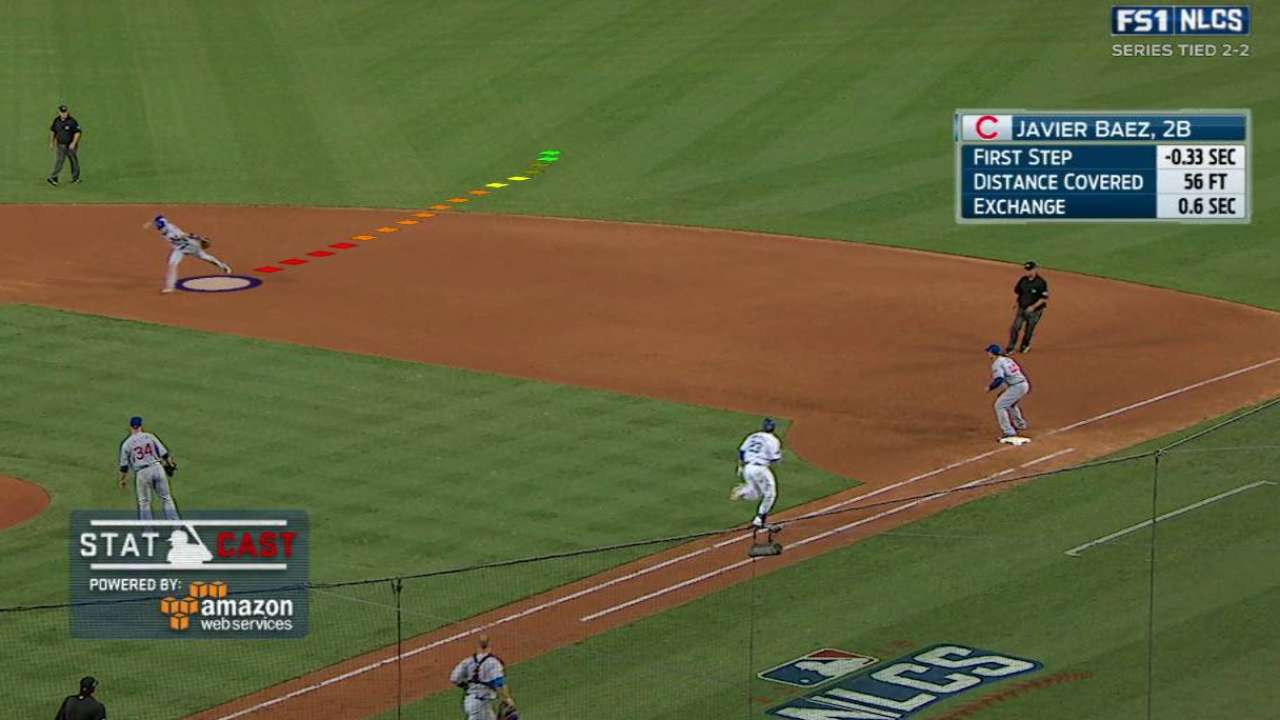 "There's always plotting going on," Cubs manager Joe Maddon said. "And the most important thing is that Jon throws the ball well to home plate. That's the most important part of this. That gets overlooked. And I don't want him to get caught up in the minutiae of everything else. Do what you do best. What he does best is he throws pitches very well."
Could the Dodgers feel good about at least executing the baserunning portion of their game plan?
"I guess, but it doesn't really matter because we lost," Hernandez said. "He's a good pitcher. He's got some issues throwing to the bases, but he's figured out how to control the game by being quick to the plate. He's been the same pitcher for years now. What you saw is what he's going to give you every night."
Adam McCalvy has been a reporter for MLB.com since 2001. This story was not subject to the approval of Major League Baseball or its clubs.