Scully delivers surprise pregame welcome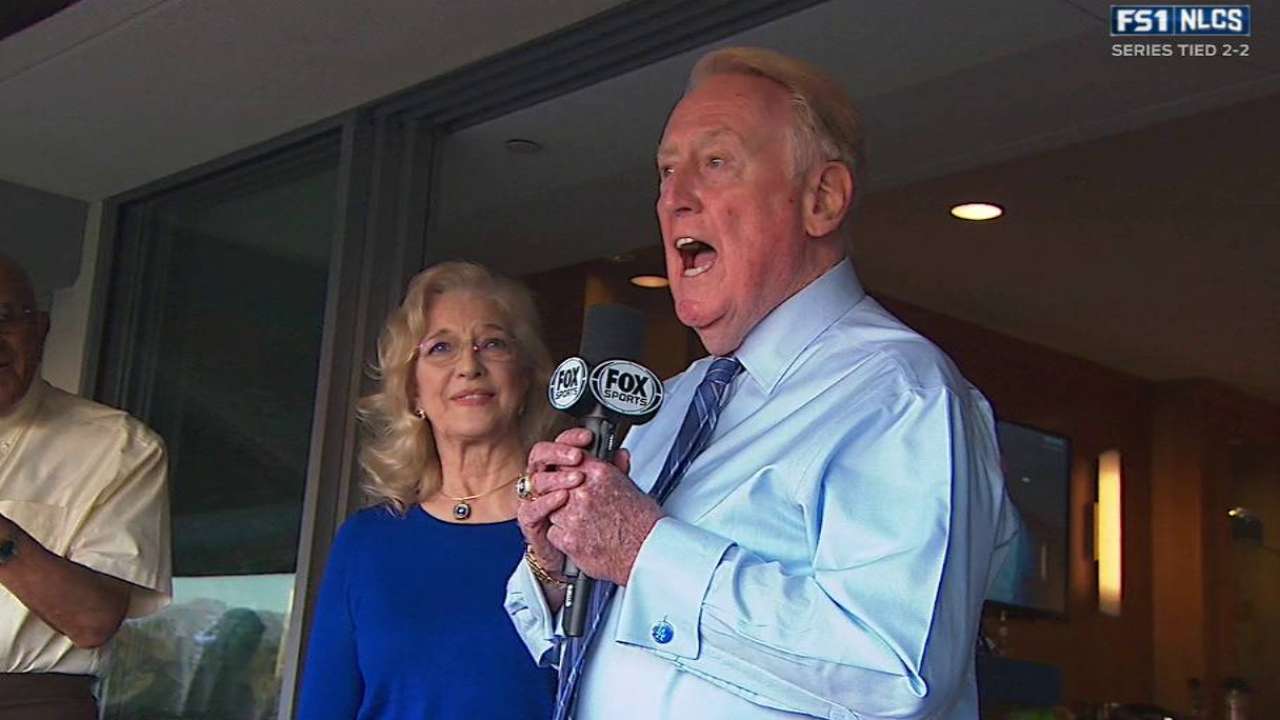 LOS ANGELES -- The final segment of the pregame ceremonies at Dodger Stadium this week has been the same every day -- a celebrity of some sort, whether it's the ceremonial first-pitch thrower or another special guest, bellows into the mic, "It's time for Dodger Baseball," words uttered for decades by now-retired broadcaster Vin Scully.
It's the Dodgers' version of the more standard "Play ball!" normally heard throughout ballparks prior to first pitch. On Thursday, before an 8-4 Cubs victory in Game 5 of the National League Championship Series, the Dodgers added a very special, surprising twist to this daily ritual, one that the fans didn't know was coming.
• NLCS Game 6: Saturday at 8 p.m. ET/5 p.m. PT on FS1
Steve Garvey, who, along with Eric Karros, had just thrown the ceremonial first pitch, instead said, "You have been the 10th player, the wind beneath the wings of this franchise all through the decades." He and Karros then sent a salute high to a Dodgers suite, where Scully himself recited the famous line -- "It's time for Dodger Baseball!"
It was a fitting way to begin the final NLCS game the Dodgers will host in 2016. Garvey, a 10-time All-Star, appeared in five postseasons during a career that spanned nearly two decades. Karros, the 1992 NL Rookie of the Year, set the Los Angeles-era franchise record for home runs with 270.
And Scully, who called his final game on Oct. 2, ended a broadcasting career that spanned six decades, during which he became known as the greatest baseball announcer of all time.
It was another day at Chavez Ravine packed with star power. Earlier, Garvey reminisced about his own playing career, one that included a hit that has still not been forgotten among Cubs fans.
While playing for the Padres in Game 4 of the 1984 NLCS, Garvey hit a game-winning home run off Cubs closer Lee Smith, forcing a decisive Game 5. The Padres won it, 6-3, to send them to their first World Series in franchise history. It also gave Cubs fans a full offseason to grouse about curses, billy goats and, likely, indigestion.
That year also marked the last time Garvey could walk the streets of Chicago for a while without being chided, however good-naturedly, by passersby.
"I've been a tongue-in-cheek villain there," Garvey said. "If we were to walk Michigan Avenue, you'd see where people would come out of the stores -- 'Garvey, you killed us! You seemed like a nice guy!' I'd say, 'Hey, the ball hit my bat.'"
Garvey understood the angst of Cubs fans back then, and he still gets it today. The current NLCS features two teams that have had long droughts since their last World Series appearances: 28 years for the Dodgers and 71 for the Cubs (and 108 years since they last won it).
Garvey, who played for the Dodgers from 1969-82 and the Padres from 1983-87, is hoping the Dodgers end up with the pennant. But he acknowledged whoever wins it will be satisfying a very deserving fan base.
"It's time," he said. "It's really time for both teams but it's relative to your fans and your time. Who would have ever thought it would have been this many years since '88? Or for the other team, that many years -- the turn of the century -- since the last one?
"I think both teams are on a mission. Both teams seem like there's destiny, as we always do. We thought there was destiny in '74, '77, 78 and '81. And '81 was the year."
Alyson Footer is a national correspondent for MLB.com. Follow her on Twitter @alysonfooter. This story was not subject to the approval of Major League Baseball or its clubs.