MLB.com Columnist
Anthony Castrovince
LeBron's lead: Tribe continues Cleveland's renaissance
After Cavs' title, Indians on verge of alleviating local fans' long-simmering anguish
CLEVELAND -- The gold was gleaming in the midday sun, held aloft for the adoring masses at the IX Center near Hopkins International Airport.
Nothing in this town had shined quite so brightly in the 52 years between championships. Maybe that sounds crazy, but that's what sports mean to people around here, and LeBron James, the Northeast Ohio native gifted with the skillset to become one of the greatest his game had ever seen, had learned the value of that attachment over the years. And on June 20, on a tarmac in title town, he brought the Larry O'Brien Trophy home, as promised.
• Shop for Indians World Series and AL champs gear
Four months have passed, and now it's the sterling silver of the Tiffany-designed Commissioner's Trophy that is in sight. LeBron won't be suiting up for the Indians when they take the field for Game 1 of the World Series on Tuesday night at Progressive Field. In fact, he'll be preoccupied with a ring ceremony of his own right next door at Quicken Loans Arena on opening night of the Cavaliers' campaign to repeat.
But there's something about the spirit James instilled in this formerly flailing sports site that even Indians players have admitted has lifted their spirits and removed the pressure to perform.
• World Series Game 1: Tuesday 7:30 p.m. ET air time/8 p.m. game time on FOX
"That's what we want to do," LeBron told reporters Thursday. "That's part of my whole mindset -- to inspire as many people as I possibly can, from kids growing up in my inner city to professional athletes in our city."
There's a fair amount of swagger in a statement like that, but James isn't exactly incorrect.
If you suited up for the Cavs, Indians and Browns in the past quarter-century, especially, you did so not just playing for personal pride or financial security or championship dreams but with the watchful eyes of people who were projecting an awful amount of emotional baggage upon you. So if you lost a game on, say, a helmet toss penalty, or if the third-base coach held up what would have been the tying run at third, or if your elbow's such an issue that you throw up a left-handed free throw late in a playoff loss, well, it wasn't just about you; it was about the misery you were extending.
LeBron changed all that, just as he said he would. And because of that, his legacy in these parts is forever secure. No matter what anybody here felt about James way back when he left, or, for that matter, when he wore a Yankees cap to a Tribe playoff game in 2007, his return in '14 was a heartfelt homecoming, and his status as the face of a city has been embraced enough that his emotional investment in the local nine has been broadcast for all the world to see, both on social media and, well, the broadcasts themselves.
World Series here we come!! Congrats Boyz!! @Indians #RallyTogether

— LeBron James (@KingJames) October 19, 2016
That was LeBron giving the Indians and their fans a proper pump-up speech before Game 1 of the American League Division Series against the Red Sox, and though the NBA schedule might possibly impair his presence at the Fall Classic, he's made it clear he's there in spirit, at the absolute minimum.
"We all know the excitement that's going on in our town right now, and, as good as it is for the players on both sides, it's even better for the fans," James said. "Our fans get an opportunity, people who have followed the Indians, covered the Indians, followed the Cavs, covered the Cavs for so many years, it's great for them."
And then of course, there are the Browns, who …
Well, OK, never mind.
The point is that LeBron and Co. broke through that dam of disappointment, and now this is the city where the champagne flows as freely as the Cuyahoga, even as people still try to make lame burning river jokes.
When James was drafted by the Cavaliers in 2003, he went next door to what was then still known as The Jake and took some hacks in the batting cage. For those of us who witnessed the swing-and-a-miss spectacle, it was a welcomed confirmation that the man -- nay, kid, at the time -- could, in fact, look human in the sporting realm, so long as he happened to be playing the wrong sport entirely. And so his more recent visits to the facility have found him strictly in the realm of fandom, and he and his mates have been fine fans, indeed.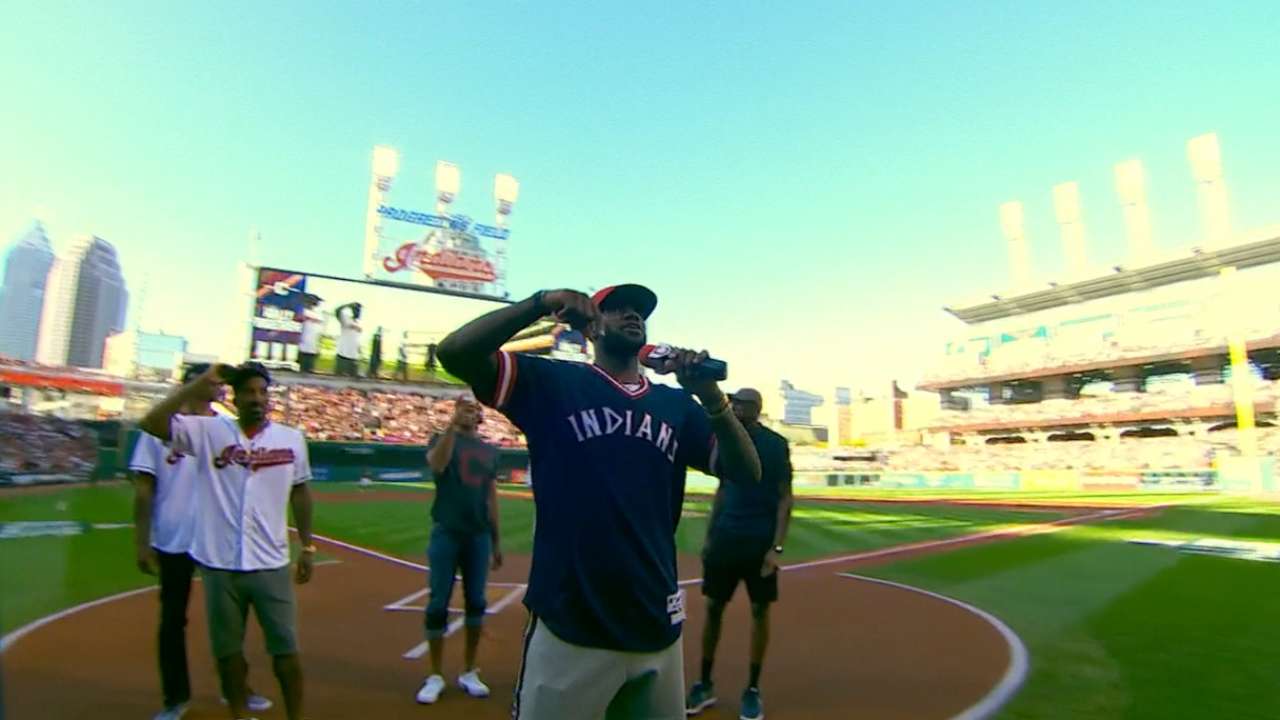 On Tuesday, LeBron's world and the World Series collide at Gateway Plaza. It will be a night quite literally like none other in the history of Cleveland sports, and that's something the King of Cleveland sports can appreciate.
"It's going to be great," James said. "From a fan's perspective, is there any better way? I don't know …Having an ice cream truck outside of both arenas at the same time as well -- the icing on the cake? It's great … If we had a retractable roof, it would be probably the loudest we ever heard. So it's pretty special."
Special as silver and gold.
Anthony Castrovince has been a reporter for MLB.com since 2004. Read his columns and follow him on Twitter at @Castrovince. This story was not subject to the approval of Major League Baseball or its clubs.