Hendricks excited, but mindset won't change
With chance to pitch Cubs to WS in Game 6, righty gets rematch with Kershaw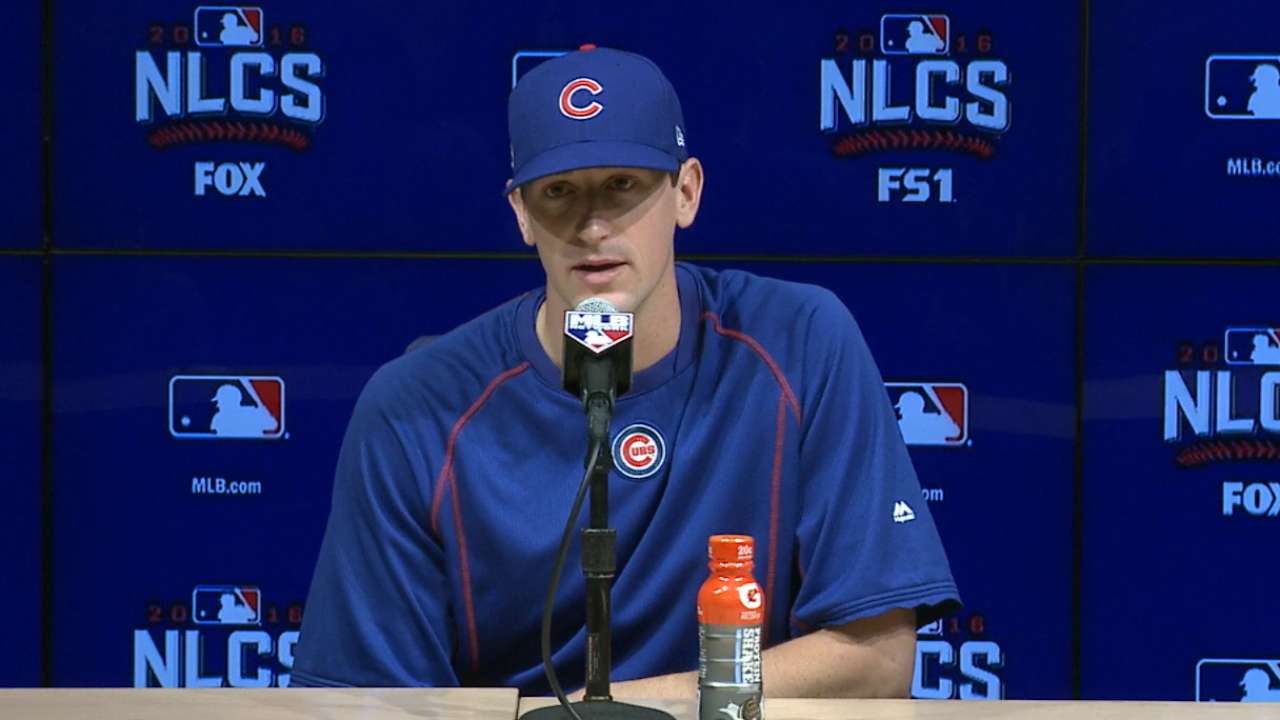 LOS ANGELES -- Already the oft-overlooked member of the Cubs' stellar starting staff, Kyle Hendricks heads into the biggest start of his career with the spotlight shining brightly on someone else.
While it was the 26-year-old Hendricks who claimed the league's regular-season ERA title, it is opposing starter Clayton Kershaw drawing almost all the headlines leading up to their matchup in Game 6 of the National League Championship Series at Wrigley Field. The Cubs beat the Dodgers, 8-4, in Game 5 on Thursday to move within one win of their first World Series appearance since 1945.
• NLCS Game 6: Tonight at 8 ET/7 CT on FS1
Kershaw will shoulder most of the weight tonight, too, as he carries not only heavy expectations but also the onus of extending the Dodgers' season. Hendricks, in contrast, can set a city into celebration if he's able to pitch the Cubs into the Fall Classic. The Cubs left Los Angeles with a 3-2 advantage in the best-of-seven series.
"It's big, but at the end of the day, you have to take the same mindset into it as any game," said Hendricks, four days after being outdueled by Kershaw. "It's going to be the same environment as [Game 2], Kershaw again. I'm looking forward to it. It's a good matchup. I'm excited in a sense to get another crack at it."
Hendricks went toe-to-toe with arguably the greatest pitcher of this generation in Game 2, but made a mistake that Adrian Gonzalez put in the seats to send the Dodgers to a 1-0 win. However, Hendricks' performance, which came a week after he was struck in the forearm by a line drive, reminded why he should not be entirely upstaged by Kershaw.
Hendricks' second taste of the postseason came on the heels of a season in which he posted a 2.13 ERA and became the fourth pitcher in baseball history to make at least 30 starts in a season without allowing more than four runs in a single one. Only Billy Pierce (1960), Phil Ortega (1967) and Tyson Ross (2015) had done that since 1913.
Hendricks also ranked among the league leaders in opponent OPS (.581), WHIP (0.98), hits per nine innings (6.73) and opponent slugging percentage (.319). His 1.32 ERA at Wrigley Field was the second-best single-season mark in franchise history, and his 24 starts with two or fewer runs allowed tied teammate Jon Lester for the most in baseball.
It was a season that will earn Hendricks NL Cy Young Award consideration, and one that a three-time NL Cy Young winner took notice of from afar.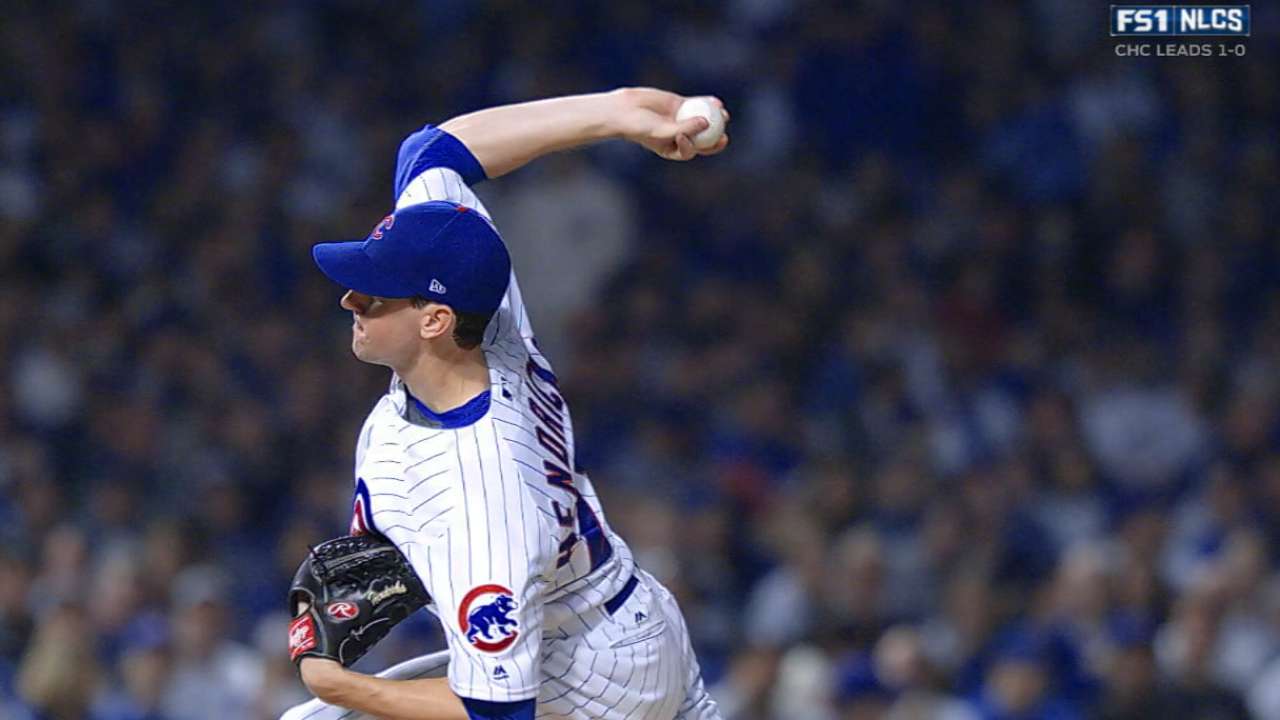 "He obviously had an amazing year," Kershaw said of Hendricks. "He's kind of like the Greg Maddux of this generation, with his ability to sink the ball, cut the ball, and put him in spots where hitters are enticed to swing at it, but you can't put the barrel on it. He's really good at mixing speeds, changing it up. He's a tough guy to go against, for sure."
In his start opposite Kershaw in Game 2, Hendricks allowed three hits, including the home run to Gonzalez, and walked four. Those four free passes were particularly uncharacteristic, as Hendricks boasted a walk rate per nine innings of 2.1 during the regular season.
"I knew who I was going up against, so with that being said, I knew I couldn't give in," Hendricks said, acknowledging the Kershaw factor. "After I gave up the one run, I knew I had to keep it there to give us a chance. And that comes with that. You really have to toe the line in the playoffs. Because one run against a guy like that could be huge."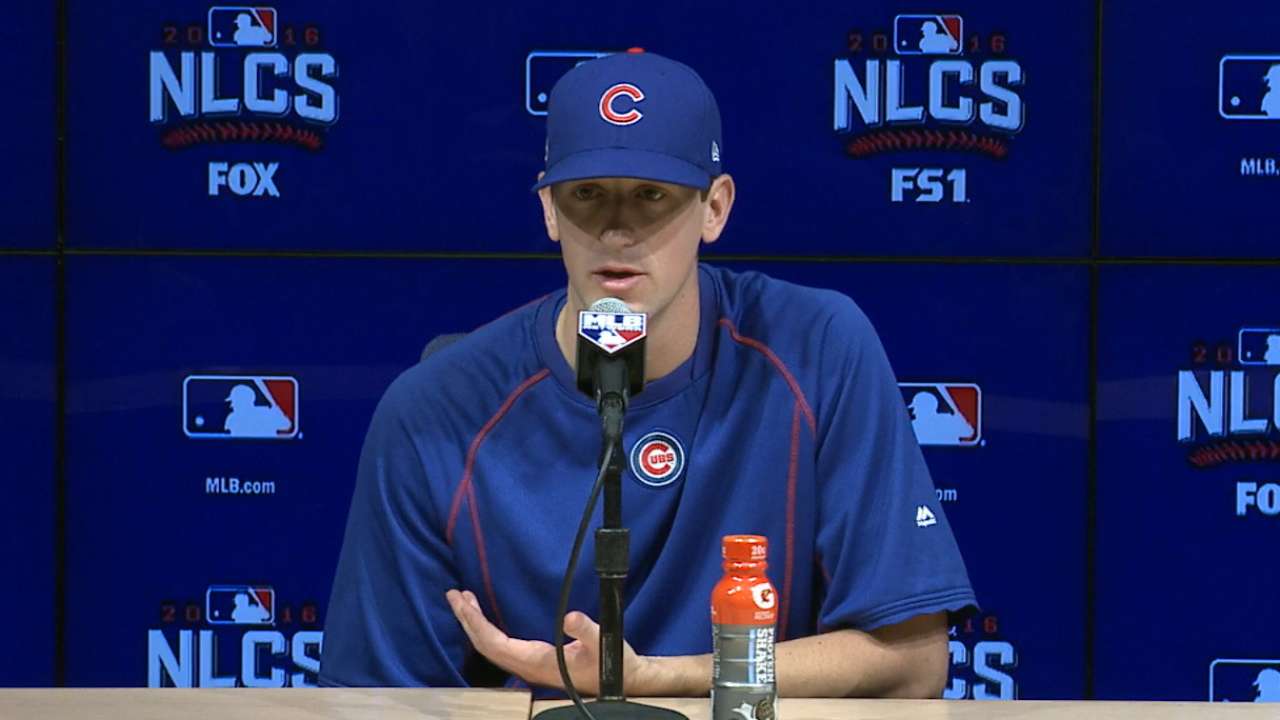 But the Cubs were intentional about plugging Hendricks into their postseason rotation the way they did, believing that a pair of starts in a place where he has pitched so well could make Hendricks a worthy challenger to Kershaw.
Over his 17 home starts this year, including two this postseason, Hendricks has allowed 16 earned runs. If he can be that stingy in Game 6, he may emerge as the starter being most talked about when it's all over.
"Yeah, he understands that Clayton Kershaw is a guy that if you give up one or two, you might not be in the game very long," catcher David Ross said. "But he has to stay in the moment. He understands that. We have a ton of confidence in him. I'm excited to have him on our side."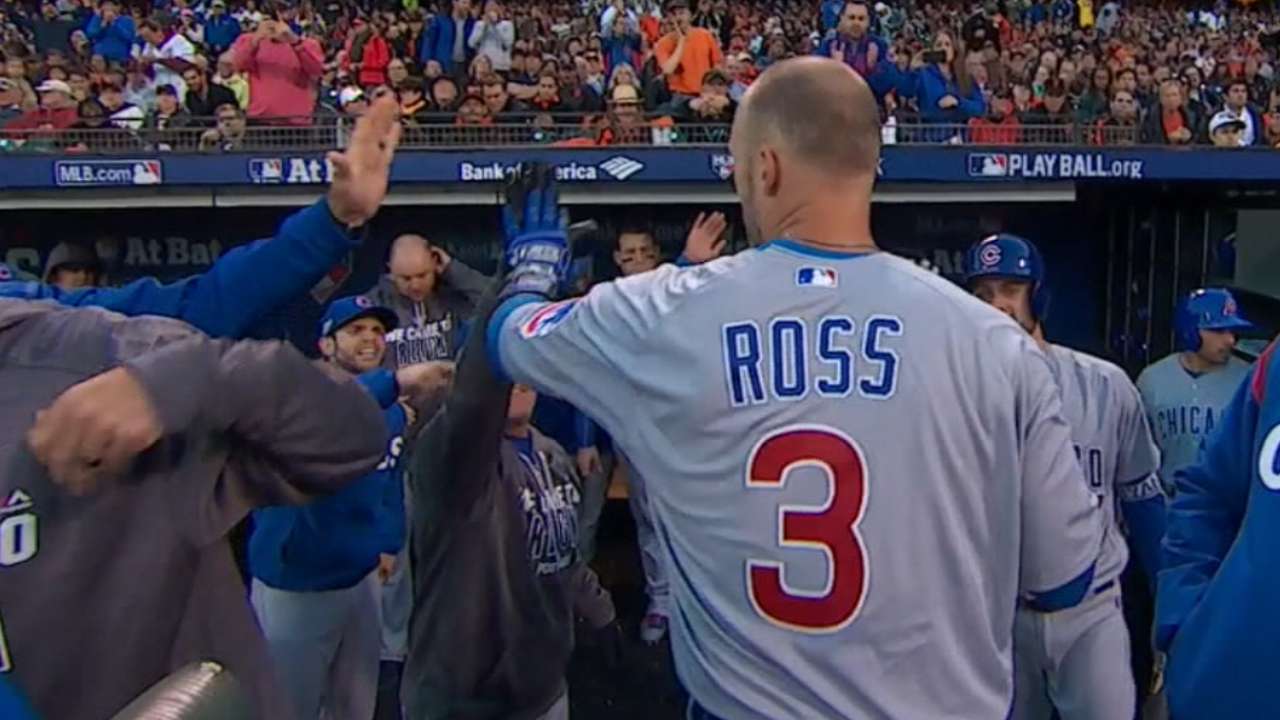 Jenifer Langosch has been a reporter for MLB.com since 2007. This story was not subject to the approval of Major League Baseball or its clubs.