Oct. 20 Clayton Kershaw pregame interview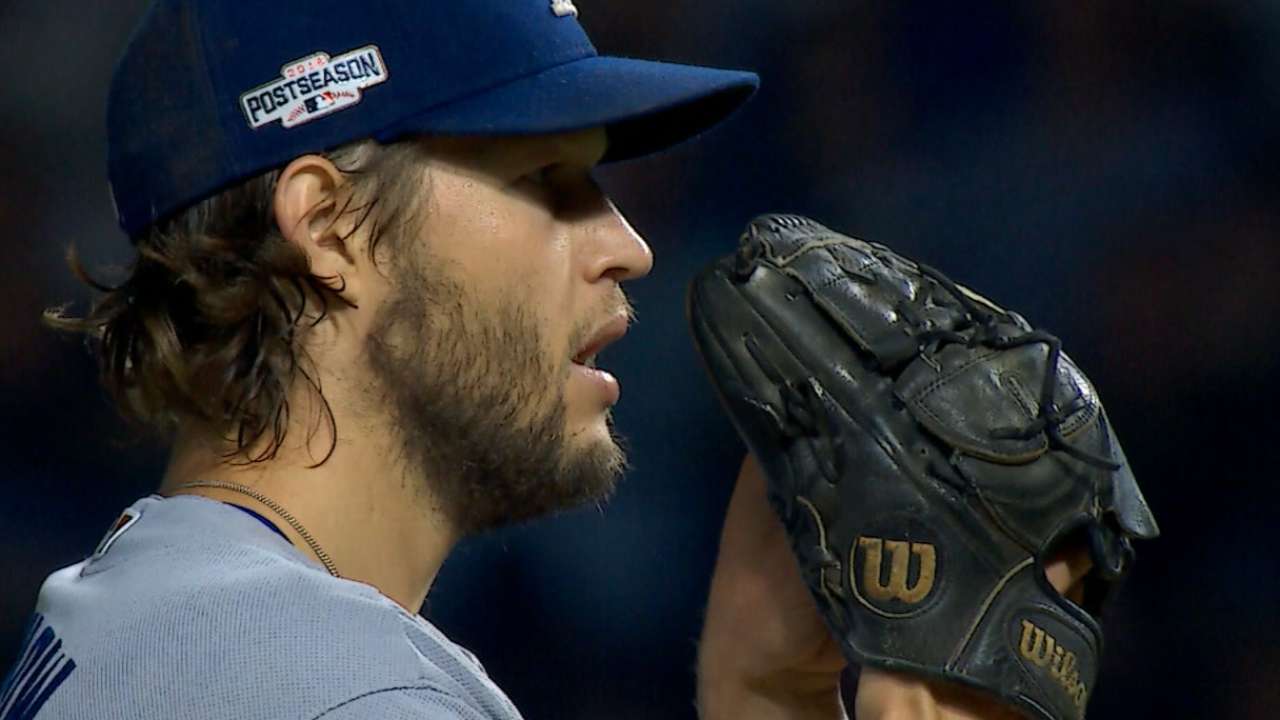 Q. Clayton, you're fairly regimented in your routine. How are you going to handle tomorrow? Are you going to come in early and do it there? Are you going to wait till you get to Chicago? On top of that, how are you feeling? I think, extra day, right?
CLAYTON KERSHAW: Yeah, extra day. Yeah, I'll come in tomorrow before the flight and get all my stuff done, yeah. Then, yeah, pretty much an extra day. It's kind of nice. Haven't had that in a while, so it's good. Should be ready to go.
Q. Did you politic to pitch this game today?
CLAYTON KERSHAW: My stance is always the same. I always tell them I'll do whatever they want. I told them I'd pitch today if they wanted me to and pitch Game 6 if they wanted me to. I don't feel like that's my decision. I feel like Doc and everybody above me has the whole team's best interest in mind, obviously, trying to win the series. So it's not my decision. But, definitely told them I'll pitch whenever they want me to.
Q. Hitters say a lot of time when they face a pitcher in back-to-back starts, the hitters get the advantage. Do you agree with that? And if so, what do you do to try to counteract that?
CLAYTON KERSHAW: Yeah, it's not -- I mean, pitchers definitely don't have an advantage. I don't know if the hitters have an advantage. But pitchers, the more you see somebody, the more familiar you get with them. I mean, that's true for sure. So I don't think there's anything that you do to counteract it. I said this the other day, but you can't really -- there's no secrets, anyway, in the game right now. There's so much information. They know every pitch that I throw and every count and every situation. So it's just a matter of not really focusing on that and just trying to compete every single pitch and execute every single pitch. You maybe have a little less margin for error facing them the second time, but just be better, I guess.
Q. Clayton, Justin Turner was saying that he thought your two-and-a-half-month absence this summer may have allowed you to be stronger now than maybe you have in the past. Is that because you've thrown fewer innings this year?
CLAYTON KERSHAW: I guess common sense would say that. If you haven't done something, you're probably fresher. But I never really felt bad in previous Octobers. I've always felt the same. So I don't know. I don't think it really works like that, honestly. But I feel good. So, sure.
Q. What's your view on Kyle Hendricks? What strikes you about him?
CLAYTON KERSHAW: Well, he obviously had an amazing year. What he's been able to accomplish this year. He's kind of like the Greg Maddux of this generation, with his ability to sink the ball, cut the ball, and put him in spots where hitters are enticed to swing at it, but you can't put the barrel on it. He's really good at mixing speeds, changing it up. He's a tough guy to go against, for sure.
Q. One weapon you've used in the second half is playing with the arm angle a little bit facing the Cubs the second time, I understand you can't tell the whole game plan. But is that something you could use more of in this game?
CLAYTON KERSHAW: I don't know how many times I used it in the last game, but probably not, to be honest. It's not something that -- just every once in a while for a different look. But it's not going to be a huge part of the game plan by any means.
Q. No matter what, Game 6 on Saturday is a huge game, obviously. What is your level of excitement in pitching in a game of that magnitude?
CLAYTON KERSHAW: I don't know if excitement's the right word, but it will be exciting if we win, for sure.
Q. What is the right word?
CLAYTON KERSHAW: I don't know. Such a deep thought (laughter). I don't know if I have a word for it. But I think you do everything you can to try and keep it just like another start at the beginning. Then obviously the magnitude and the situation of the game kind of raises everybody's adrenaline and things like that. But trying to keep it the same right now.
Q. Wrigley was pretty loud in Game 2. Obviously the fans are either going to be looking for the Cubs to finish it off or just keep their season alive. What did it feel like to quiet that crowd down as you did in Game 2?
CLAYTON KERSHAW: Yeah, obviously the fans are pretty excited about their team this year, and rightfully so. They've been waiting a long time for them to win. Hopefully we can, like you said, either prolong it one more day or kind of clinch it in Game 6. But pitching on the road is obviously different, but you try and keep it the same as possible. D.C. was one of the louder environments that I've pitched into. So I've gotten to do that now a few times. I guess I'm as prepared as I'll ever be for that.
Q. Do you feel like the series is kind of working in your favor, just that it's actually going to be in your hands kind of in a positive way?
CLAYTON KERSHAW: I don't really think of it like that. I think the saying is you're only as good as your next day's starter. So today we're focused with Kenta. We get a win today and we're feeling really good about it. Obviously we've got a tough task ahead. But I'm not really looking ahead to Game 6 yet. I know our team's not. So this is a pretty big game for us right now.
Q. We were just talking about dealing with those hostile environments. When you're out there, do you feel like it's something that you have to block out, or do you embrace it and feed off of it in any kind of way at all?
CLAYTON KERSHAW: Neither, I think. It's not something -- you don't really feed off of it. But there is no real clear, the mechanism thing, I don't think that really happens. You definitely still hear it, and it definitely doesn't go away. But just do your best not to let it affect you.