Oct. 20 Joe Maddon pregame interview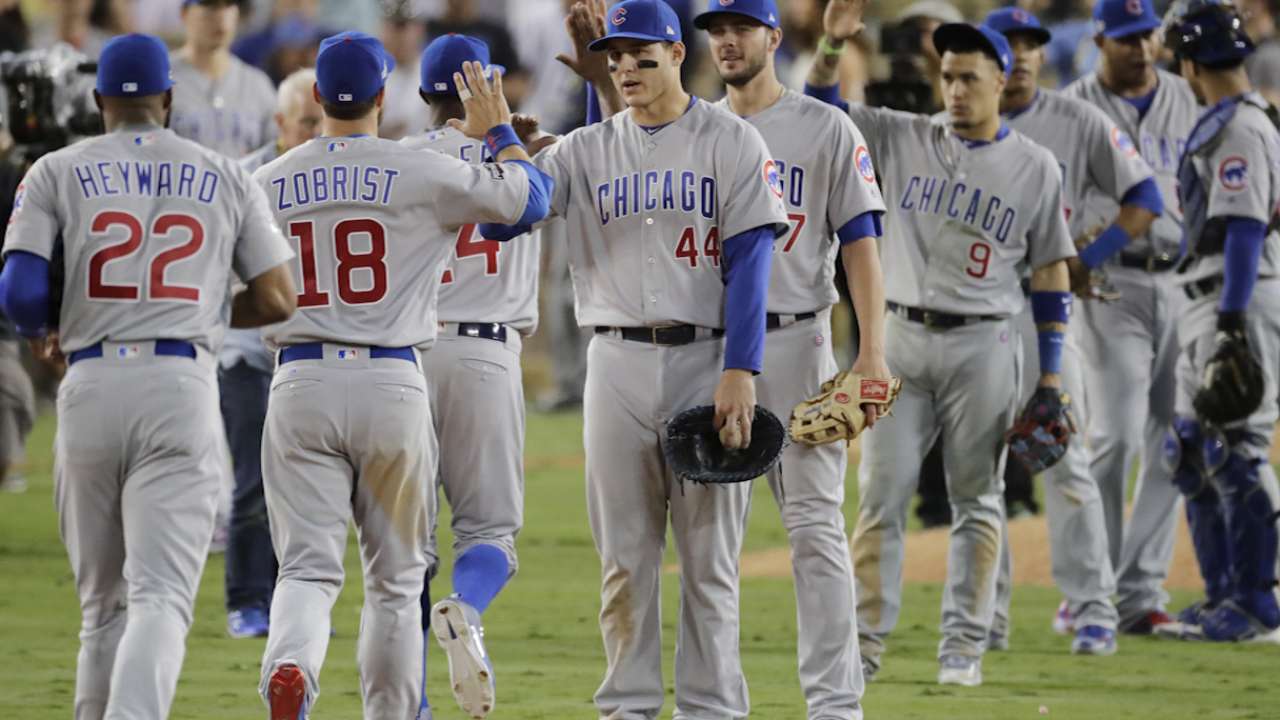 Q. Can you talk about Anthony Rizzo prior to last night, how he went about his business, how he's always gone about his business, and what that might mean for your team coming out of it?
JOE MADDON: Yeah, he was very much full of questions prior to the game. He's just looking for that right thought or that right answer in order to get him unearthed a little bit. So we had a nice conversation. But he went up there. The whole time I never saw him panicking, in a sense. He was just wanting to feel more comfortable up there. What am I doing wrong, differently? What is this small different thing that I'm doing? Because he was fouling his pitch straight back, and then he didn't last night. I think the 3-0 count I was hoping that he would swing at it. Definitely wanted to green light him, and he hit it foul, but he hit it well, and that was good. Because I didn't know how he was going to react to that 3-0. I was talking to Aaron Boone about it, I thought during the season if he was going well and I let him swing on the 3-0, he might take it because he's swinging well. But he utilized that moment last night to get him right and then hitting the home run fair.
We all have so much faith in the guy, and the way he just plays a complete game. I'd like to believe that his confidence has been picked up going into tonight. But he definitely was not swinging under the ball last night.
Q. Switching bats is not exactly staying with the process. So I was kind of wondering how you feel about that, and if switching bats ever helped you out in your career?
JOE MADDON: The one time with the Angels we were going badly, and the guys decided to use the same bat for the first time through the batting order. And Orlando Palmeiro was the first hitter, and he gets called out on strikes, drops the bat on home plate. And the home plate umpire threw him out of the game thinking he was trying to show him up. And which we're no, no, no, we had to explain he was leaving it for the next guy. So that was the most extreme case I've ever seen with that. So I think it was Tim Tschida, he might have been the umpire, and he reinstated him. No, no, we're doing this for everybody. That might have been the craziest. Otherwise, guys change bats all the time. They change batting gloves. They change bats, they go from light bats to dark bats. Primarily about the same size, but it's something different, looks different. Might feel slightly different. That's just how guys are. That's how hitters are. You get the real freaks that use the same thing all the time, and you look at their bat, you talk to Billy about Stan Musial, and he said -- or maybe it was Mike Shannon, there was one mark on his bat. This guy never broke bats. That's the anomaly guy. That's just part of the tradition of baseball. Guys are normally very superstitious, and if it takes another bat to get you moving in the right direction, you're going to do that.
Q. I know you guys feel good playing at Wrigley. How much do you think Kershaw balances that out or negates a home-field advantage for you or any team for that matter?
JOE MADDON: Yeah, yeah, he could definitely negate a phone booth. This guy, when he's pitching well, he's good. He's just that good. There is that certain set of pitches that are that guy, and the confidence he brings to their group. There is no question about that. But at this time of the year, if you wanted to get to your ultimate goal, you have to beat people like that. You have to. Normally this time of the year the opposition's going to field some really good pitching, both starting and relieving. I've always -- the line's always been for me, you've got to pitch better than good pitching to win. So tonight we'll take care of tonight first, hopefully, we've got our guy going tonight, Jon, and then we'll worry about that on Saturday. But, again, he's one of those guys, he's been sprinkled throughout the playoffs recently, Bumgarner has, Jon Lester has. Jake made his mark. There's always been that group of pitchers through history that pitched a lot in the postseason because they're very good, and they are very good, and he's one of them.
Q. Earlier in the series you said that these teams were pretty evenly matched. And it would appear that obviously the Dodgers have some great pitching. But offensively the numbers seem to indicate that your group has a substantial edge. Where do you get the evenly matched?
JOE MADDON: Well, maybe that might have -- the way they're set up right now what they've done in the latter part of the season with the addition of Reddick, and the addition of Ruiz, and their ability to go back and forth to me, that's where I think -- I call them switch hitters. Like Luis is, Grandal, Kendrick is, Utley. They could go back and forth. So they're really strong for both sides of the plate if they can put you in the right spot for them. So what I'm saying is offensively they got better just through their acquisitions, I think, year in progress. Had they not made those particular moves, I don't think I would view them nearly as formidable as they are. Right now I'm sitting up there going over my sheet, you know, their lineup, and looking at our bullpen matchups versus them. The moment you put your righty down, here comes the lefty, and it's a good lefty. So up and down the lineup, they're pretty formidable, I think, right now.
On our side of it, we're still really young too. We're still counting on a lot of young guys. We're very athletic, and when that top part of the order goes, we're in pretty good shape, like Riz did last night, KB, and of course what Zo did. I still believe a lot of our success depends on Dexter getting us going quickly.
But to answer your question specifically, I think season in progress what they did to their team has made them more formidable.
Q. Kyle doesn't allow many runs, anyhow, because, after all, he is the Major League ERA leader. But what does it get into the mind of a Major League pitcher when he knows his team is hitting and after not doing very well coming into the start of the postseason?
JOE MADDON: What is he thinking about the pitcher?
Q. No, how better he feels knowing that he probably doesn't have to pitch in such a tight game because his team's hitting?
JOE MADDON: I think that holds true for all pitchers. Well, and also I think sometimes when your team's not hitting it, it really spurs your pitcher to hit even better. I think that occurs on occasion. But it's good.
Again, the vibe in the dugout normally occurs through some significant offensive moments or some significant defensive moments. When you make a good play, sometimes that can pick you up. Last night was the offense that picked our dugout up. It's easy to accuse a group of being lethargic when you're not hitting, but you're not. You're just not hitting. So last night we finally got it rolling in the right direction, and everybody's attitude and how you feel about one another, your confidence gets even greater.
So, yeah, of course, when a pitcher sees runs forthcoming, you probably can show a little bit. The big thing we talked about yesterday was scoring first, and we did. We scored first, I guess it was four runs first, and that's kind of nice when that occurs and it really helps. But just moving forward, man, yeah, we want to keep scoring runs. But I have a lot of confidence in our starters that if we're not, they're going to keep it in check too.
Q. You're talking about the vibe, how much did the vibe rise when Ben laid down that bunt, regardless of what happened after that? Is that one of those things that's a harbinger of good things to come?
JOE MADDON: Yeah, it does. It was. I mean, I don't know why, but you're right. It picked up the whole group. We needed something to get us going right there. It was kind of an unexpected play. It was all him on his own. And to do that, and then we have Javy and Contreras coming up right after that, and the at-bats that they work.
But part of it is what it does to their pitcher. Once you make a play like that, you're going to be a little bit upbeat about it, but it also puts a different thought in his head. It's crazy, but it happens. So all of a sudden, a runner gets on base, a bunt, here comes a guy, nobody out, runner on first, everything looks a little bit different. And then we work a good at-bat there, Javy does, and Contreras does, and the ground ball and the homer. It's weird, though, how sometimes just something as small as a bunt can cause that kind of a ripple effect. But it's a combination of what it does in your dugout, I think, combined with what it makes the pitcher think about.
Q. As this thing has played out, did you think you might be getting Kershaw in Game 5? And if you could put yourself in their shoes, would you have considered that knowing you could have them in 5 and possibly be available in 7?
JOE MADDON: Again, I was just curious. Honestly, the answer, because after the game I asked last night who are they pitching tomorrow. That was probably one of the first things I asked. So it was more of a curiosity thing. The thing that I've learned, unless you're walking a mile in those shoes, you have no idea why they made the decision that they did. Who knows exactly how he feels, how much they want to push him right now based on the usage to this point, how his back is. You don't have any really proprietary information there. So you just permit the Dodgers to do what they do. We try to react on our side. So I was more curious regarding their strategy involvement right now. But I'm sure they have their reasons.
Q. Similar to how a catcher can look at a guy set up in the box and decide where he likes the ball, where he doesn't like the ball, when the Dodgers change their lineup like they have, can you -- do you have a notion of what they're getting at, what they're going to try to do because of that different lineup? And is it of any benefit to you?
JOE MADDON: Actually, I did. That's exactly what I was looking at. The fact that Ruiz is 4 and Howie is 5. Two things that stood out to me with that is last game Ruiz hit him really well, even though he's 0 for 16 against them, and they're not going to go -- they don't play off that number at all. So for that group that's out there, that's really interesting, the fact that he's 0 for 16. That does not bother that group at all. And Howie's like 7 for 31, with four extra base hits, and I think he hit the ball hard the last time. I think it's more about hard contact versus. The other part is how they would pitch the game in process, if we chose to bring a righty in there. Where last game we had them lower so I think there could be more impact beneath these two guys, if, in fact, we chose to bring a righty in, they pinch-hit, and still Gonzalez is hitting behind those two guys. So that's a substantial moment for them possibly.
So just creates a different thought for me regarding when to incorporate the right-hander. Or do you stay left-handed and keep those guys in the game? That's the choice you have to make.
Over the course of the year, obviously, it's been -- the fact is that they've not played as well against lefties as they have against righties. Like I said, though, the difference is now Ruiz is in the lineup. And he's good. He's very good against left-handed pitchers. So, yeah, I did look at that. There's probably some internal strategy working right there. From my perspective, the best way to counteract that is to grab a lead and hold on to it.
But game in progress it really causes us to do different things. Either keep those righties in the game with one of our lefties or choose to pick the right righty versus the pinch-hitters, and that's what I was talking about before when I think they're pretty formidable right now.
Q. Joe, every time Jon Lester pitches, the throwing to first, his throwing issues is always part of the narrative?
JOE MADDON: Right.
Q. And I don't really recall a time when a game swung based on that. Maybe his first ever start for you. But why hasn't it been more of an issue?
JOE MADDON: Because he's really good at throwing the ball to the plate. Everybody -- that's the one thing I try to really convince Jon of in Spring Training. Everybody's worried about you throwing to first base, and so are you. Everybody's worried about a bunt, and so are you. But the one thing that you do probably as good as any pitcher in the Major Leagues is throw the ball to the plate, so let's focus on that. Let's continue to really focus on our strength first and let the other guys cover what we perceive to be the weakness. So it's no big surprise. You saw them last time with the Dodgers attempted to do.
So from our perspective, I'd much rather Jon be pitcher and really focus on the guy at the plate, and then let our defense take care of everything else.
You know, there's always the threat to the bunt for the bunt, but then again in the Major Leagues today, you probably can count on maybe two hands really good bunters for a base hit. It's not as easy as it appears to be, and it's just why don't you have your guys bunt or why don't you have so-and-so bunt? Well, he's not good at it. And that's stuff I've talked about before, and that's stuff that should be nurtured in the Minor Leagues. Because you don't know where you'll be batting in the lineup three or four years from now when you get to the Big Leagues. And furthermore, if you're presented with a situation either on a shift or something like this, to be able to put one down comfortably. Hitters don't like that, man. They don't like to bunt and take a strike or bunt and foul it off. It blows their heads up. It absolutely does.
So it's not as easy as it appears to be, and then, of course, take into consideration Jon throwing 93, 94 miles an hour, maybe moves your feet. Maybe throws a cutter at your back foot. It's very uncomfortable. So there's all different ways to combat it. But, primarily, my method with Jon is: Understand one thing. You're one of the best pitchers in the game by throwing the ball from the mound to home plate.
Q. They talk about a different postseason baseball is from regular season baseball from manager's viewpoint. How much of that is schedule driven with the off-days, and do you like it more the way it is or would you rather play more straight through?
JOE MADDON: With all the travel involved, I'm okay. I think it's kind of bunched up pretty good. Although Cleveland is going to be faced -- we were faced with somewhat of a little bit of a break. Once the game actually starts to roll, I kind of like 2-1-3, I do. It helps you utilize your bullpen to the max and still give guys a break. The rust component, I really believe rust is equivalent to your starting pitcher on a particular day after a layoff. That's what it comes down to. And pitchers are normally used to not playing for four or five days sometimes.
So I like the format. I'm good with it. Like I said, I think it helps you maximize what you have. As manager, again, for me it's no different, probably a little more agonizing over the bullpen. I agonize all year with the bullpen. I'm agonizing now over the bullpen. Just trying to figure out what to do and when to do what you feel is the right thing to do. You don't want to wait too long. Like I said, with this group here, with all the switch hitters they have, it makes it a little more difficult. So that's where I spend most of my time.