Avila, Tigers keeping 'window' of contention open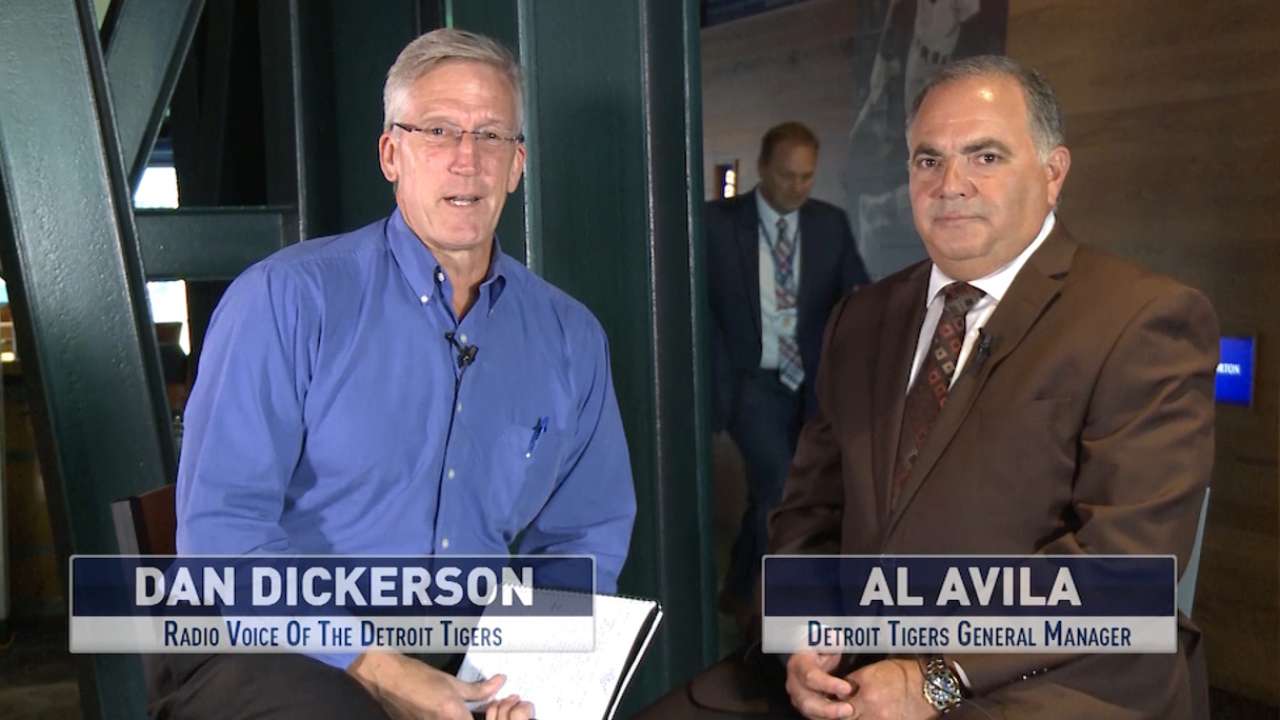 DETROIT -- Comerica Park will open its 18th season next April. The home of the Tigers might never have encountered such discussion about the size of windows.
They have nothing to do with the glass panels enclosing the Tiger Club or press box.
From the February 2004 press conference introducing free-agent signing Ivan Rodriguez, beginning the build-up from the AL Central cellar to the World Series, the Tigers have never put a date on their window of contention. Once the Tigers made it to the Fall Classic in 2006, their goal was to compete for a postseason berth every year. With the exception of last-place finishes in 2008 and 2015, and an injury-plagued fade to .500 in 2010, Detroit has managed that.
As general manager Al Avila discussed his plan Tuesday to make the Tigers a younger, leaner team, their window came into question. And Avila acknowledged the challenge with another analogy.
"That's a tightrope we have to walk," Avila said Tuesday. "We certainly want to stay competitive. We certainly want to be able to try to get back in the playoffs. But at the same time, this organization has been working way above its means for many, many years."
Does that mean the window is closing?
"I wouldn't say the window's shut," Avila said.
The window of contention became a topic of discussion with the plethora of deals last winter. Though Jordan Zimmermann signed a five-year contract, Mike Pelfrey and Mark Lowe signed two-year deals through 2017. So did J.D. Martinez, on a contract extension to take him through his arbitration years rather than past free agency. Justin Upton's six-year contract includes an opt-out after next season, allowing him to hit the open market again if he wants.
At the same time, long-term deals for Ian Kinsler and Anibal Sanchez also run out next winter, though both have club options for 2018. Cameron Maybin and Francisco Rodriguez would be free agents next winter as well, if the Tigers pick up their options for '17. Even if there wasn't an acknowledged window, the structure for one was there.
"The two-year window, I don't know exactly how that became a real big story last year," Avila said. "But I like to look at it as a window of opportunity, wherever that opportunity takes us. So I'd like to keep the window open as long as it makes sense for the Detroit Tigers. That's really my goal, is to have a larger window of opportunity to move forward for many, many years to come."
Avila acknowledged that the expiring contracts could further that process by themselves.
"That's a good thing that as we move along year to year, just naturally, some contracts come off," Avila said.
So why start the transition this winter, especially with a team that stayed in contention for a postseason berth until the last day of the regular season?
"I'm not saying that we're going to force that issue," Avila said. "I'm just saying if it makes sense from a financial perspective, from a competitive perspective, then we're going to have to look into it very, very hard and make decisions based on what we find."
In other words, with a thin free-agent market -- especially for starting pitchers -- and what has the potential to be a busy trading winter, the Tigers are exploring. Players a year away from free agency could attract interest from teams seeking short-term help and long-term flexibility, though trading Lowe and Pelfrey seems unlikely, since they are coming off struggling seasons.
In other cases, the Tigers are poised to weigh the potential return of one extra year against letting free agents walk next winter. Just as Michael Fulmer, Daniel Norris and Matt Boyd helped the Tigers stay in contention this year after being part of the David Price and Yoenis Cespedes trades, the Tigers will see if there's anything close to that out there.
"We're going to go out and talk to 29 other clubs and see how we can start, little by little, making this team leaner, younger, more efficient, and at the same time, staying competitive, trying to get to the playoffs," Avila said. "That's where the tightrope is that we're walking on."
Jason Beck has covered the Tigers for MLB.com since 2002. Read Beck's Blog, follow him on Twitter @beckjason and listen to his podcast. This story was not subject to the approval of Major League Baseball or its clubs.