One potential matchup may favor Tribe in WS
Due to rotation lineup and Miller's effect, Indians should root for Dodgers in NLCS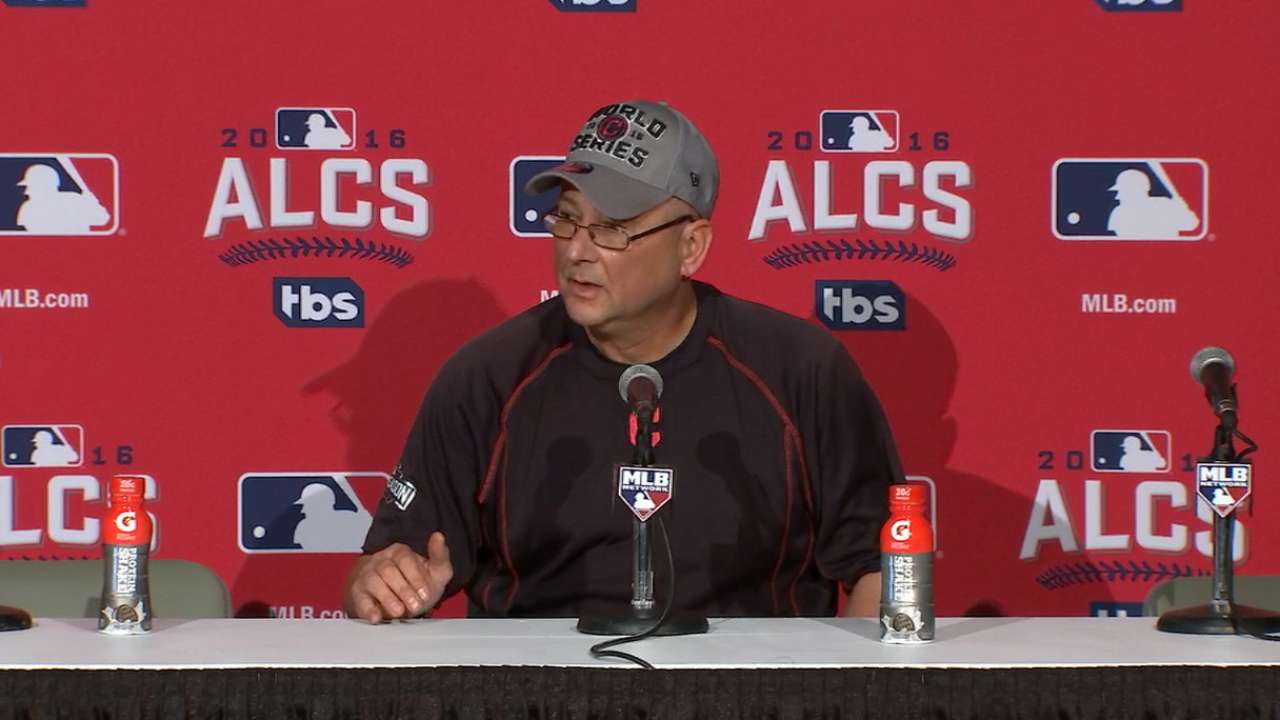 The 2016 World Series will begin on Tuesday night in Cleveland, with the Indians participating in their first Fall Classic since 1997.
But while they closed out the American League Championship Series with a 3-0 victory in Game 5 at Toronto on Wednesday, the National League Championship Series remains hotly contested. The Cubs' 8-4 win at Dodger Stadium on Thursday night gave them a 3-2 series lead as it heads back to Chicago for Game 6 on Saturday -- and perhaps a Game 7 on Sunday.
• Shop for Indians World Series and AL champs gear
As the Indians rest, prepare and watch the rest of the NLCS unfold, should they have a rooting interest?
Certainly, either opponent would present a significant challenge. Both won their respective divisions and advanced past the NL Division Series for a reason. But while it's a close call, it would make sense for the Indians to hope they meet the Dodgers as they try for their first championship since 1948.
Here are three reasons why Chicago would offer the slightly tougher matchup:
1. The starting rotation schedules
Los Angeles opted not to push ace Clayton Kershaw into another short-rest outing in NLCS Game 5, instead starting Kenta Maeda and slotting Kershaw in for Game 6 at Wrigley Field. That means that while the Indians will have time to align their starting rotation any way they choose for the Fall Classic -- presumably with Corey Kluber at the front -- the Dodgers wouldn't be able to go to Kershaw until Game 2 on short rest or Game 3 on regular rest.
• World Series Game 1: Tuesday 7:30 p.m. ET air time/8 p.m. game time on FOX
If the NLCS goes to Game 7, Los Angeles almost certainly would burn another Rich Hill start. In such a scenario, manager Dave Roberts probably wouldn't go back to Hill until Game 4 of the World Series. In other words, the Dodgers' rotation setup would be nowhere close to optimal.
The Cubs, on the other hand, are starting Jon Lester in Game 5. That sets him up for Game 1 of the Fall Classic on normal rest, providing a worthy adversary for Kluber.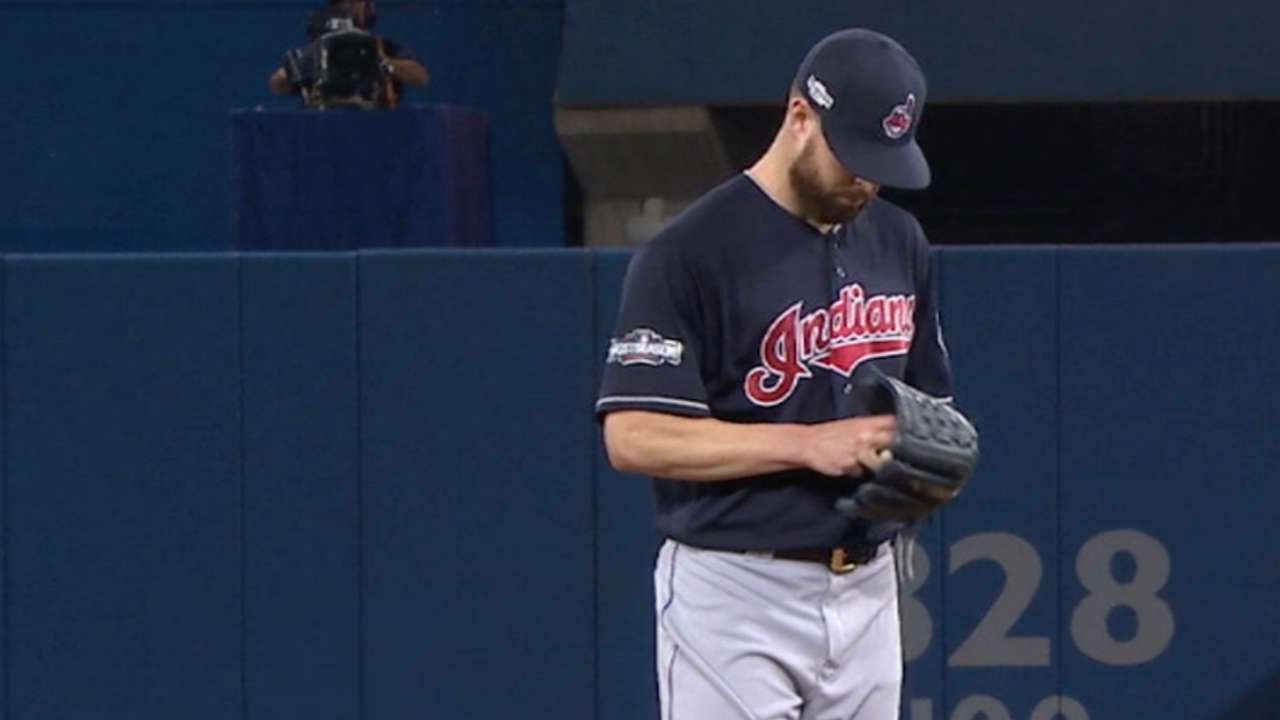 2. The Miller effect
Tribe lefty reliever Andrew Miller has been the postseason's most overwhelming weapon. With manager Terry Francona using him aggressively out of the bullpen, Miller has thrown 11 2/3 scoreless innings over six postseason games, striking out 21 and earning ALCS MVP honors.
Miller has the potential to dominate the World Series in a similar way, regardless of opponent. And while it's true that he has put up slightly better numbers against right-handed batters over the past two seasons, the Dodgers' issues with lefty pitchers have been well documented.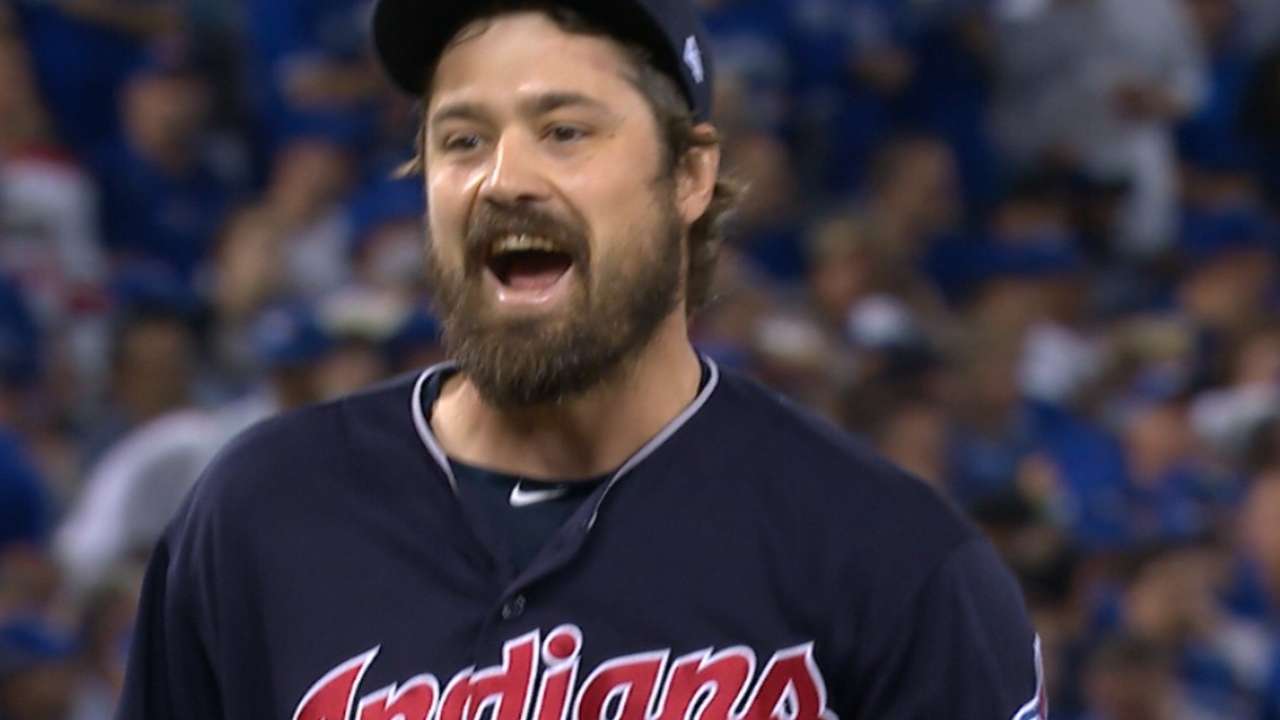 Against southpaws, the Cubs ranked second in the Majors during the regular season with an .807 OPS. The Dodgers ranked last, with a .622 mark, and even Justin Turner, their lone right-handed everyday player, has shown big reverse splits. Los Angeles' problem has continued into the postseason, with the club batting .242/.336/.395 in 190 at-bats against righties, but .190/.296/.280 in 100 at-bats against lefties.
Those splits also could factor in if Cleveland gives rookie lefty Ryan Merritt another postseason start. Merritt, who had just one career regular-season start, tossed 4 1/3 scoreless innings against Toronto in the ALCS clincher.
3. Overall, all-around strength
Anything can happen in a short series. But in most respects, the deep and talented Cubs hold the statistical edge.
In the regular season, Chicago won more games (103 to Los Angeles' 91), had the far bigger run differential (252 to 87), was more effective with the bat (107 OPS+ vs. 98), ran the bases better (15.9 baserunning runs vs. 2.8, according to FanGraphs), was the class of the league defensively (82 Defensive Runs Saved vs. 29) and had the more successful rotation (2.96 ERA vs. 3.95). The Dodgers' bullpen put up better numbers, but the Cubs bolstered theirs with midseason additions that included closer Aroldis Chapman.
None of that means the Dodgers won't make it to the World Series -- or win it if they do. But by a narrow margin, they would offer the Indians the more appealing matchup.
Andrew Simon is a reporter for MLB.com. Follow him on Twitter @AndrewSimonMLB. This story was not subject to the approval of Major League Baseball or its clubs.