Vin Scully's World Series sendoff
After calling 25 Fall Classics, the legendary broadcaster pens farewell essay in World Series Program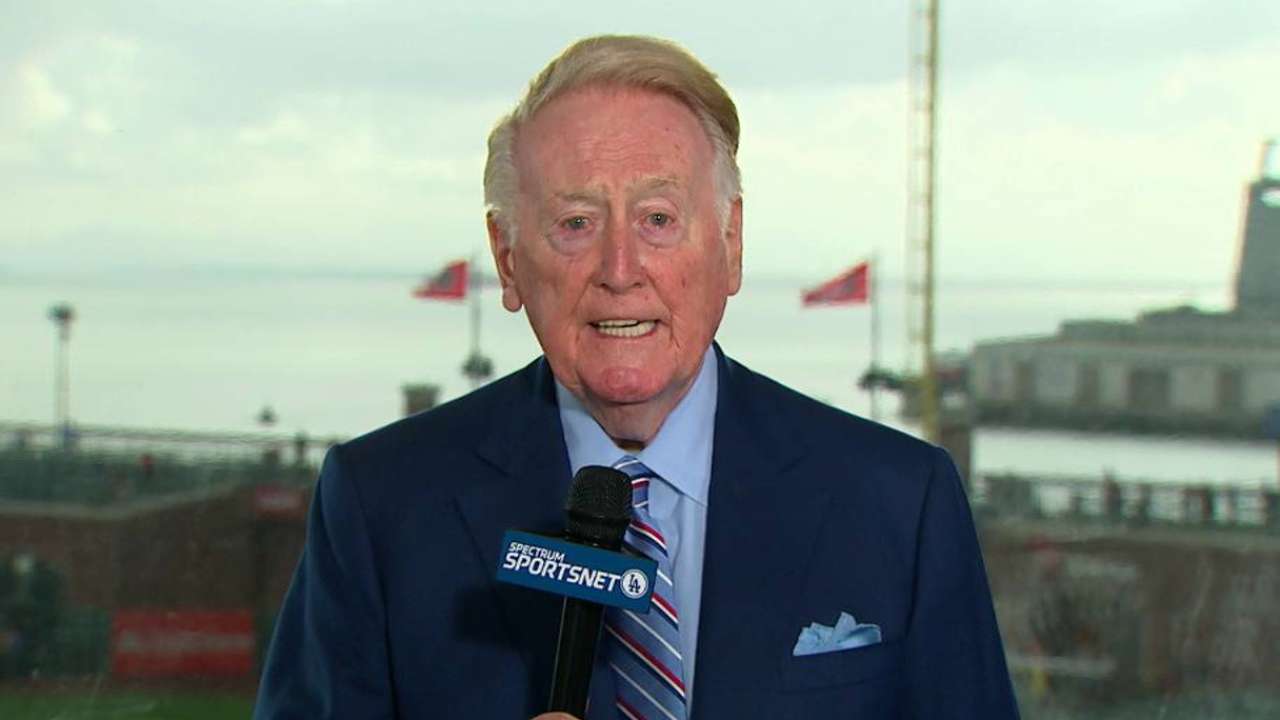 When I was 8 years old, I loved the roar of the crowd. I would crawl under this big old four-legged radio we had, and I would get a pillow, maybe a glass of milk and some saltine crackers, and listen to a college football game that really meant nothing. But it was the roar of the crowd that poured out of the speaker like water out of a showerhead, and I would just be covered in goose bumps.
When I was not quite 9, I was walking home from school, which was 20 blocks from the old Polo Grounds, past a laundromat. In the window was the linescore of the World Series game from Oct. 2, 1936; the Yankees beat up the Giants, 18-4. My last game, Dodgers versus Giants, was on Oct. 2, 2016. That's exactly 80 years after I fell in love with the game. It seems like the plan was laid out for me, and all I had to do was follow the instructions.
When I got into broadcasting, I was again captivated by the roar of the crowd. Since the beginning, I've tried to call each play accurately and quickly, then sit back and revel in the roar. For a brief time, I am 8 years old again. When you come into the radio booth, there's a blank canvas, and for about three hours you're trying to paint what you're looking at. In the television booth, the canvas is already painted; you just provide footnotes.
My single greatest break in life was the transistor radio. The fans who sat 70-some rows from the action at Los Angeles Coliseum knew the superstars, but they brought their radios to find out about the other players and what they were trying to see down on the field. That was big for a broadcaster in a new community: to be able to talk directly to the fans.
I've been so fortunate. I've called 20-some-odd no-hitters, three perfect games, All-Star Games and World Series, The Masters and the NFC Championship game called "The Catch" in San Francisco. But none of those are my achievements. I just happened to be there.
Growing up in New York, the voices of Mel Allen and Red Barber were part of my family, listening every day. As I look back, I can remember Allen leaving the Yankees. And Barber leaving Brooklyn. I thought, "Oh, my gosh, they'll never be the same." I feel the only reason there's been all this fuss is the fact that I've lasted 67 years. It would only be human to miss something that's been going on for so long. I will miss the game, but I think, more than anything, I'll miss the people. At Dodger Stadium, for instance, I know the lady on the elevator and the men who run the press box. I see my pals who are writers and fellow broadcasters, and I really love all of that.
It's a thrill, the opportunity to try to describe as best as possible what I'm looking at. But I truly would rather be remembered as a good husband, a good father, a good grandfather and an honest man - one who lived up to his own beliefs. The sportscasting, that's fine if they want to mention it. But that will disappear as the sands of time blow over the booth. In a year or so, however long it takes, I'll be history. God has been very generous to me, and I will continue to spend my life giving thanks.
This article appears in the MLB Official World Series Program. To purchase a copy, visit shop.mlb.com.
Vin Scully is a Ford C. Frick Award winner who's covered the Dodgers since 1950. This story was not subject to the approval of Major League Baseball or its clubs.