NLCS Game 5 starting lineups: Cubs vs. Dodgers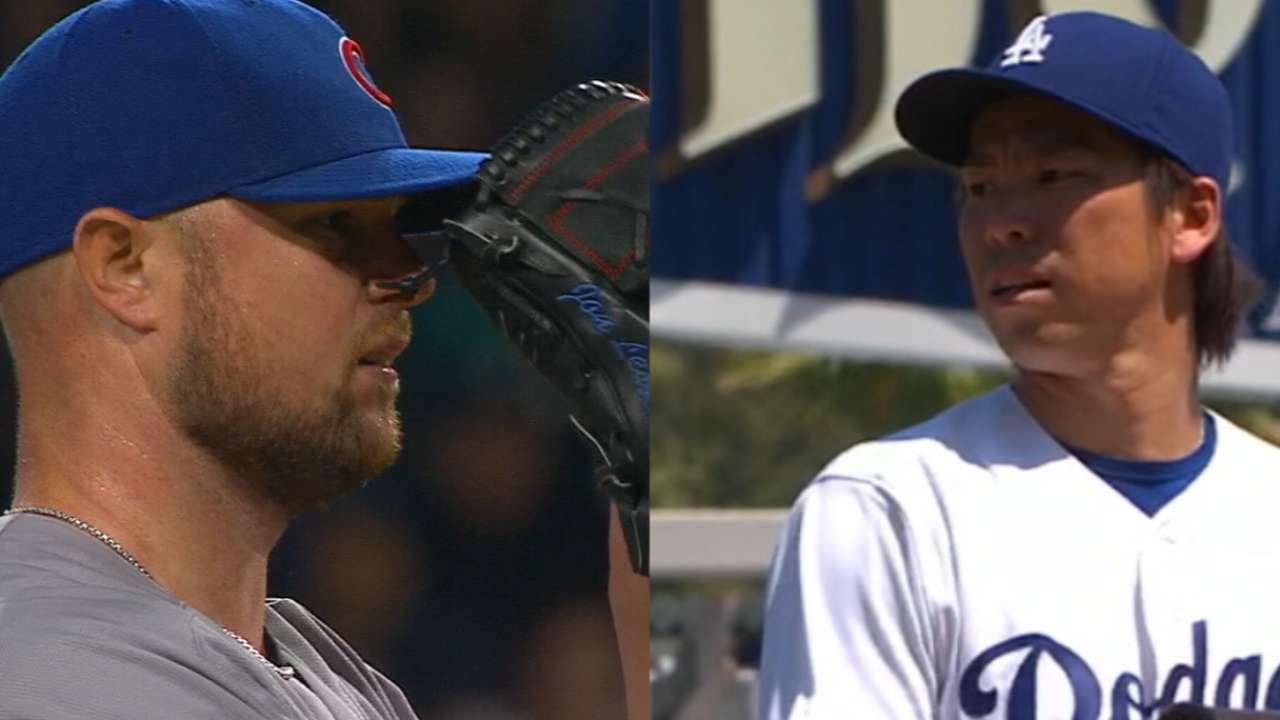 LOS ANGELES -- The Cubs started virtually the same lineup for tonight's Game 5 as they did for Game 4, when they scored 10 runs against the Dodgers, with a minor tweak. Addison Russell, who had three hits including a two-run homer in Game 4, batted seventh, while catcher David Ross was eighth.
The National League Championship Series between the Cubs and the Dodgers resumes tonight at 8 ET at Dodger Stadium. The best-of-seven series is tied at two games apiece, and the winner will advance to the World Series against the American League-champion Indians.
• NLCS Game 5: Tonight at 8 ET on FS1
While Chicago's lineup barely changed, the Dodgers shook theirs up after only scoring two runs in Game 4. Enrique Hernandez was slotted into the leadoff spot and played second, while Howie Kendrick was in the five-spot and in left field.
"I know that Howie feels really comfortable out there in left field. We've used him a lot out there. And obviously, [Hernandez], with his athleticism, he feels comfortable at second," Dodgers manager Dave Roberts said. "I like him there. So, yeah, I didn't think twice. Felt I didn't need to text him."
On top of those changes, Roberts moved Adrian Gonzalez into the six-hole, followed by Yasiel Puig and then Joc Pederson in the No. 8 spot.
"I think it's the same eight guys, but I think that as far as where to put guys, it's more of a little bit of a [Jon] Lester thing, a little bit of a left-handed thing," Roberts said. "Again, I just felt that four, five, six -- where I think that the difference is going to be -- there's going to be some opportunities right there. And I felt that those three guys that I have right there, I feel really good to drive in a run."
Game 5 will be a rematch of Game 1 starters, with Lester facing the Dodgers' Kenta Maeda. Lester is 11-1 with a 1.61 ERA in 16 starts since the All-Star break, including the postseason. The Cubs have won 14 of those 16 games.
Maeda struggled in Game 1, allowing three runs on four hits in four innings for the no-decision. He's been unable to make it past the fourth inning in both of his postseason starts.
Russell snapped out of his hitting funk on Wednesday, as did Anthony Rizzo, who had three hits, including a solo home run. After going 2-for-32 (.063) with four RBIs in the first three games of the NLCS, the Cubs' 3-4-5 hitters were 6-for-13 with four RBIs in Game 4.
Javier Baez has hit in all but one of eight postseason games so far, and he was batting .333 (10-for-30) with one homer and four RBIs entering Game 5. He and Kris Bryant hit RBI doubles in Game 1 against Maeda, who lasted four innings.
Justin Turner continues to be a rock in the middle of the Dodgers' order. His single in the fifth inning of Game 4 extended his postseason on-base streak to 14 games.
CUBS
Dexter Fowler, CF
Kris Bryant, 3B
Anthony Rizzo, 1B
Ben Zobrist, LF
Javier Baez, 2B
Jason Heyward, RF
Addison Russell, SS
David Ross, C
Jon Lester, P
DODGERS
Enrique Hernandez, 2B
Justin Turner, 3B
Corey Seager, SS
Carlos Ruiz, C
Howie Kendrick, LF
Adrian Gonzalez, 1B
Yasiel Puig, RF
Joc Pederson, CF
Kenta Maeda, P
Carrie Muskat has covered the Cubs since 1987, and for MLB.com since 2001. She writes a blog, Muskat Ramblings. You can follow her on Twitter @CarrieMuskat and listen to her podcast. This story was not subject to the approval of Major League Baseball or its clubs.