MLB spreads message of inclusion on #SpiritDay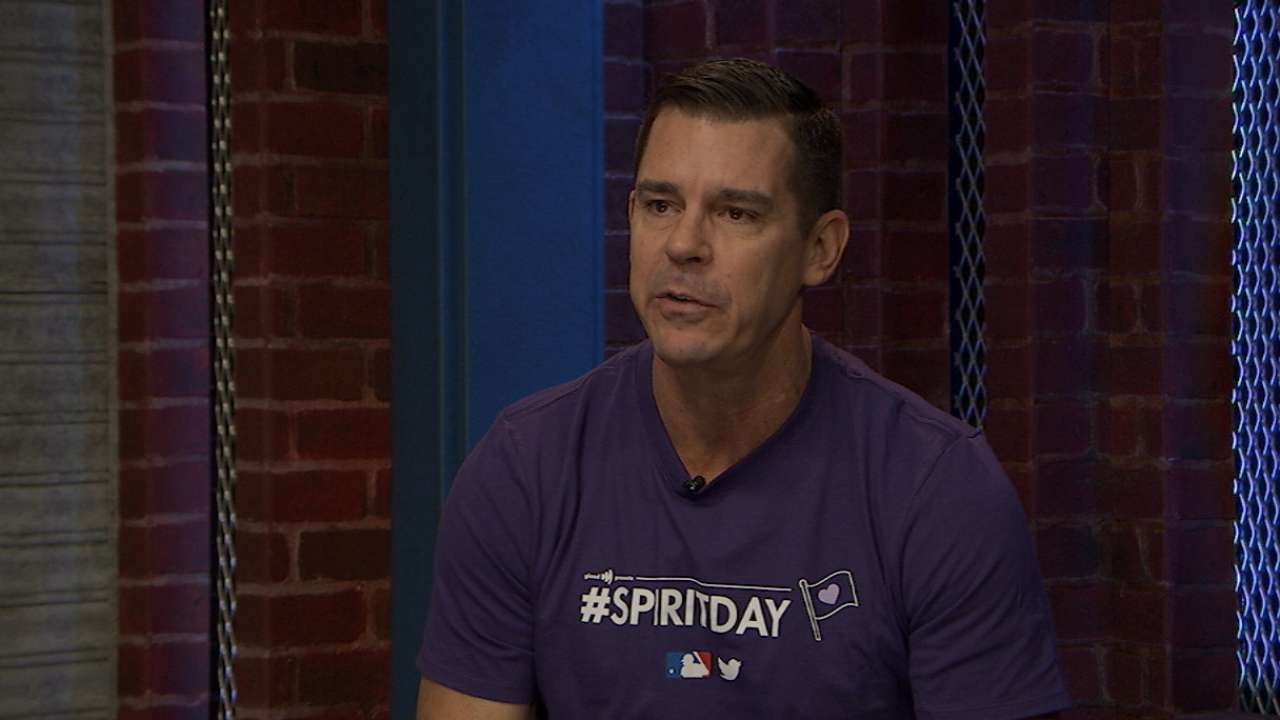 Billy Bean still has the $10 ticket stub from his first visit to Dodger Stadium on Oct. 15, 1977. It was Game 4 of the World Series against the Yankees, and on that Saturday afternoon, he sat high in the Reserved Green Level among 55,995 fans in aisle 54, row EE, seat 3.
"It was easy to keep when you love baseball," Bean said. "I remember I lived in Santa Ana, and I don't think I'd ever been to Los Angeles before. Tim Bruce was my buddy and Joe Bruce was his dad, and Joe got us tickets. The Dodgers were on TV every day, Vin Scully, I grew up in all of that. Steve Garvey, Bill Russell, Ron Cey … that was my team. It was larger than life and the chance to go to the World Series was something I'll never forget, even up there in the top deck in right field. I remember the sun setting in our face, and we couldn't see."
• National League Championship Series Game 5: Tonight at 8 ET on FS1
Thinking back now to those halcyon dreamer days, back to that sunny Saturday when Reggie Jackson hit the first of five World Series homers to help the Yankees end an uncharacteristic 15-year title drought, Bean smiles wistfully and thinks how many things about baseball remain the same -- but also how much they have changed.
Thursday is #SpiritDay, a day during which MLB takes a stand against bullying and supports the LGBTQ community by symbolically going purple. Bean will be right there again for a postseason game at Dodger Stadium, the sun beaming on that seating area in right that he once occupied, casting shadows on the same field as the Dodgers host the Cubs for Game 5 of the National League Championship Series. This time he will be there as Major League Baseball's vice president of social responsibility and inclusion, a former Major Leaguer and a Dodger outfielder and subsequently the only openly gay former big leaguer, and he will be wearing a purple #SpiritDay T-shirt and continuing to spread a message that makes a real difference in people's lives.
"I feel really grateful that we have a chance to not only go to the game, but to be a part of it and support Game 5 of the NLCS, a great series with the Cubs and the Dodgers," Bean said. "People might see an image, someone wearing a purple shirt like this one, and they may just ask a question: 'What does that mean?' And you can say, 'You know what, baseball is just standing up for kids and taking a stand against bullying, which is something we do not endorse.' A parent might be sitting next to their child, and the child might ask their parent, 'What does that mean?' And then they can have a conversation about bullying.
"It could be as simple as that, where you see a child learn that picking on someone else because they're not as tall as you, or they don't have the same clothes as you or they're not as good as you in baseball -- that's not the kind of person that we want to be. Then the parent will have an interesting transition to have that dialogue, where it might not have come up before. You never know, we might save a kid from taking their own life. At the end of the day, what can be more important than trying to protect kids who don't have someone to reach out to?
"And if you are a young kid, and you are struggling with something like that," Bean said, "and you see me running out on the field in batting practice shaking the manager's hand, and then you look online … you know, you don't always get a chance to hear the words 'Thank you,' but over the past 15 or 16 years that I was outside of baseball, I saw some things that were devastating and I saw some happier endings when people see an example or a role model that they can look up to."
On #SpiritDay, we proudly join @billybeanball, @glaad and @twitter in taking a stand against LGBTQ bullying. https://t.co/E1mwmlMIal pic.twitter.com/ACVHqvI3tE

— MLB (@MLB) October 20, 2016
#SpiritDay began in 2010, organized and developed by GLAAD as the product of an idea by teenager Brittany McMillan, who wanted to remember young people who lost their lives to suicide and to take a stand against bullying. This event occurs on the third Thursday each October during National Bullying Prevention Month, and MLB has become an ally, visible on social media.
"Year after year on #SpiritDay, Twitter has been where people around the world take a stand against bullying of LGBTQ youth," said Jeffrey Siminoff, vice president of inclusion and diversity at Twitter. "This October 20, we're proud to come together with GLAAD and our partners at Major League Baseball to support #SpiritDay in a new way, and help amplify its inspirational messages of compassion, speaking up, and the power of the community."
"Since #SpiritDay's inception, Twitter has provided a powerful platform to encourage millions of people all around the world to take a stand against bullying," said Sarah Kate Ellis, GLAAD president and CEO. "This year, with a dedicated emoji and the ongoing support of MLB, #SpiritDay is sure to have an even broader reach with its important message of support for LGBTQ youth."
Bean's story is well-known by now: A fourth-round pick by Detroit in the 1986 MLB Draft; a Major League career in parts from 1987-95; a sexual preference hidden as a player who was "living a lie"; the death of his partner, Sam, to complications resulting from being HIV positive; walking away from baseball and his unprecedented out-of-the-closet interview with Diane Sawyer on ABC's "20/20" show. And then, notably, his appointment to a role created by MLB just for him, to help pave the way for a more inclusive culture in the national pastime.
Bean relocated from Southern California to New York to have a greater presence in Major League Baseball's headquarters, but he spends much of his time traveling around the sport, talking with clubs and their players, facilitating events such as the Mets' first-ever Pride Night in August at Citi Field -- the first time a pro sports team in New York held such a celebration.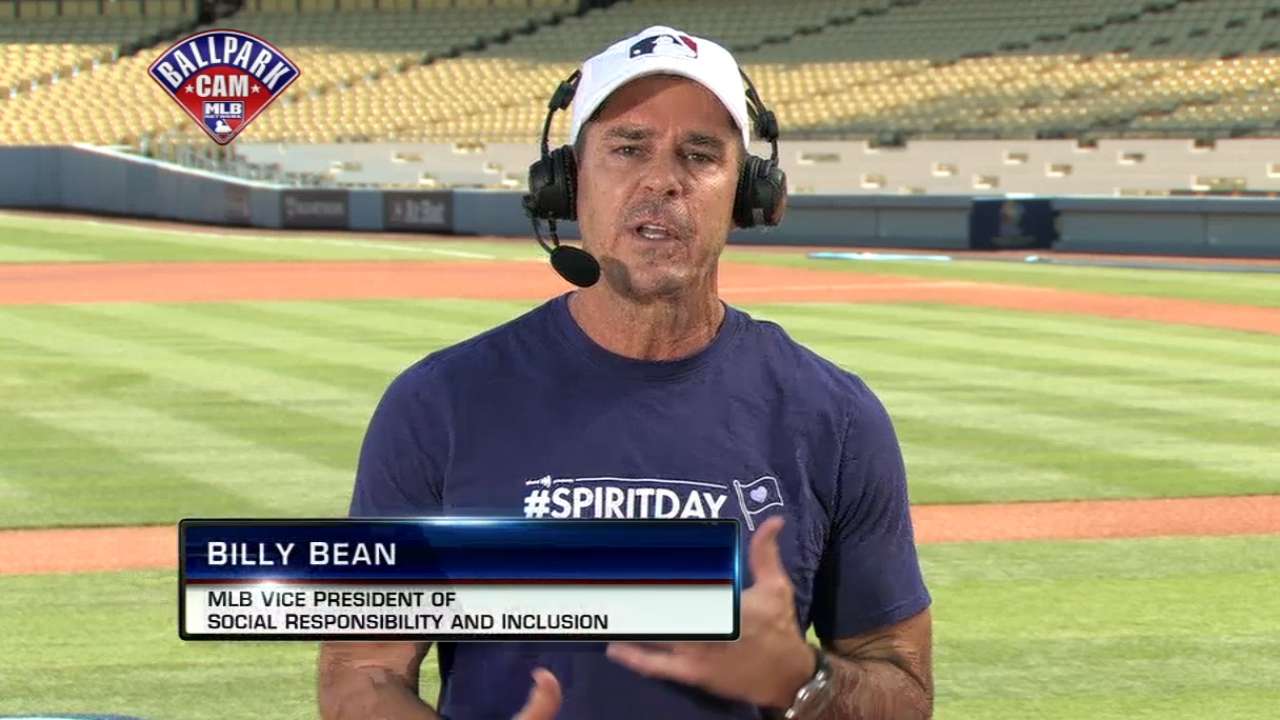 "We had 12 of those around the league, and all of those were originated by the clubs themselves, group events that blossomed or matured into a really great working relationship that just expanded the fan base," Bean said. "I think it's important that we put a message of acceptance out there, but it has to come in an organic way from each and every club. I'm there for support when they want to put that out there."
Nearly three years into his role, Bean said it is important for people to know that this is not about engineering the existence of a first openly gay active MLB player.
"For me, I'm not measuring our report card of the work we're trying to do by if we have players on the field come out," he said. "Every player has to make decisions like that that are personal to themselves. As a former player, I know time [as a player] is very brief, and there are a lot of decisions that go into kind of teamwork decisions about what it means to be able to stay healthy and to succeed at the big league level. So what I focus on is the dialogue and the culture that we can create in and around not only the players, but also the employees, and the in-game experience. That's where the sport is going."
What would it have meant to Bean to have an ally in the sport when he played?
"It would have been life-changing for me," he said. "But I didn't give the players that I was closest to that chance. . . . The only thing I knew was how to be a baseball player, and I didn't see that integrating with baseball. So when things got really tough in my life, away from the field, and my partner passed away, I just stepped away from it."
Now he is back at Dodger Stadium for another postseason game, like he was in 1977, only this time wearing purple and reminding everyone about #SpiritDay and championing the kind of ally culture that would have made his life easier and maybe even save lives.
Mark Newman is enterprise editor of MLB.com. Read and join other baseball fans on his MLB.com community blog. This story was not subject to the approval of Major League Baseball or its clubs.