MLB.com Columnist
Anthony Castrovince
Dad means the World to Indians' Tomlin
Tribe righty extra appreciative of bond with father after health scare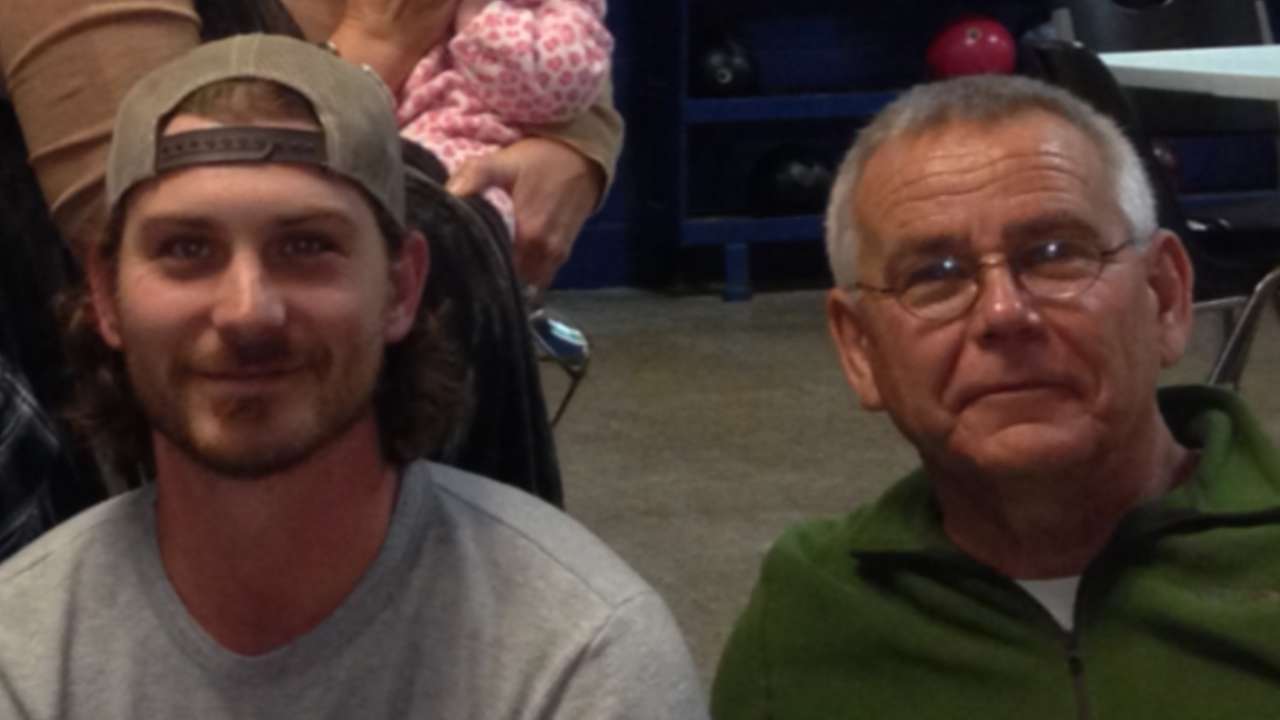 The father can't be there, so the son tries his best to put the experience into words. Josh Tomlin and his dad, Jerry, have talked and texted every day of the Indians' dramatic run to the World Series, and Josh relishes those moments when he can give his old man a little window into his world.
"What was it like hearing people scream your name in Fenway Park?" the father will ask, and the son will answer.
• Shop for Indians World Series and AL champs gear
"Can you get me one of those postseason T-shirts?" the father will ask, and the son will deliver.
"You just show 'em what you can do," the father will say. "Nobody deserves it more than you deserve it."
It is only naturally to hyperbolize the absurd in professional sports, to call the Cleveland Indians' claim of the American League pennant with a depleted rotation -- one that was rescued by Tomlin's stunning performance in Game 3 of the AL Division Series clincher in Boston and Game 2 of the AL Championship Series win over Toronto -- a miracle.
• World Series Game 1: Tuesday 7:30 p.m. ET air time/8 p.m. game time on FOX
But it is not hyperbolic to say that in the Tomlin family, they are hoping for a miracle. Because that's what it might take for Jerry Tomlin to walk again.
Two months ago, the elder Tomlin was at his job at a power plant for the Whitehouse, Texas, school system when he felt a burning in his stomach. He went to one of those 24-hour clinics, and they couldn't figure out what was wrong. So they transferred Jerry to the hospital in Tyler, Texas, where the working theory was an issue with his gall bladder. They had him laying on the table with his chest down when, suddenly, his body went numb from the chest down.
"It freaked me out," Jerry said, "and it freaked everybody else out, too."
A neurosurgeon was summoned, an MRI was ordered and in a matter of hours, Jerry had gone from feeling pain in his stomach to undergoing emergency surgery. His actual condition was what is called an arteriovenous malfunction -- essentially, a tangle of blood vessels -- on his spinal cord. The procedure to halt the spinal damage was a matter of life or death.
Josh got the call in Cleveland and immediately went to manager Terry Francona.
"We know how much you care about pitching," Francona told him. "But that's your dad. You get [yourself] home."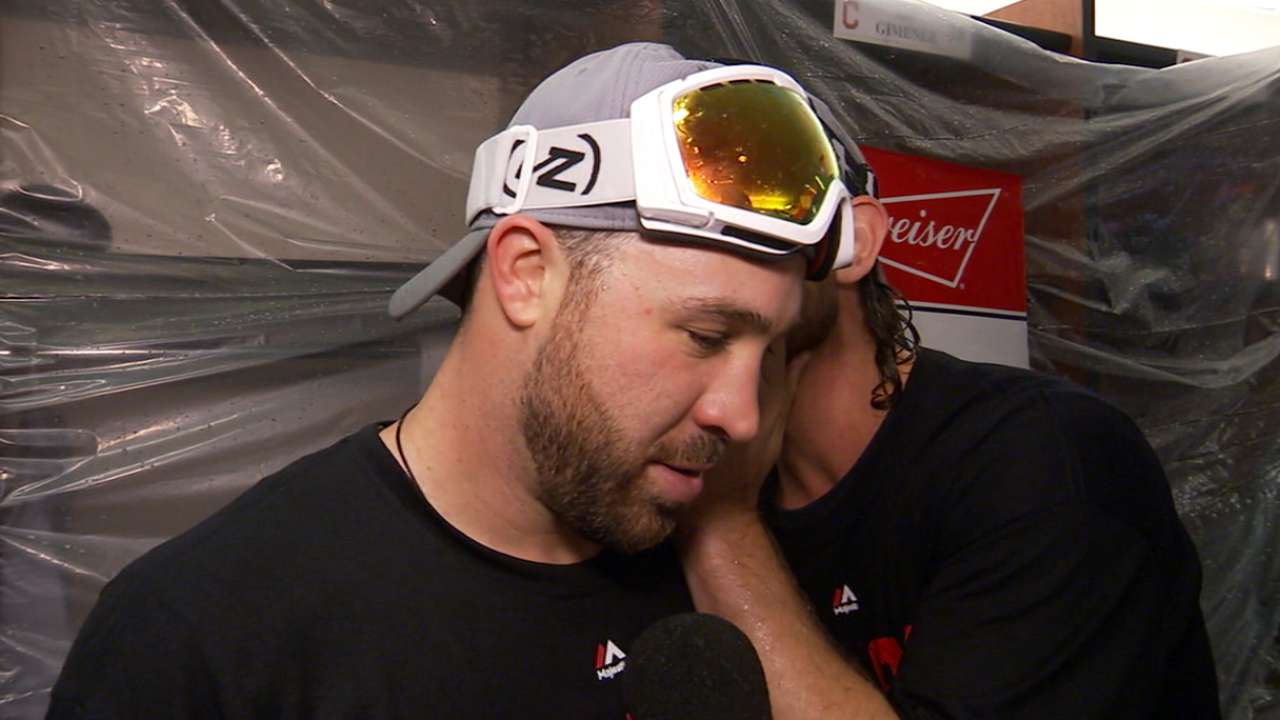 Tomlin asked team travel director Mike Seghi to book him the first private jet he could secure, no matter the cost. While waiting for those arrangements to be ironed out, he got a call from his mom, Elana, who was giving him the details of what had transpired. A nurse entered the room while Elana was on the phone and told her the surgery would be over in about an hour. But just a few minutes later, with Josh still on the phone, another nurse came in and told her, "The doctor wants to meet you in the prayer room in the next five minutes."
On the other end of the line, Josh's heart sank. He thought his dad was gone.
"The worst moment of my life," Josh said.
What the doctor actually wanted to relay, much to the Tomlins' relief, was that the procedure was completed ahead of schedule. Josh got on his flight to Tyler at 2 a.m. on Aug. 17, and he got to the hospital in time to be one of the first faces Jerry saw when he came to.
"I knew it was going to be hard on him," Jerry said, emotional at the memory. "He ain't used to seeing his old man like that. His life is a life where you can't take time off to deal with things like you probably should deal with them. So he spent as much time as he could with me, and I enjoyed that time with him. And then I just told him, 'You need to go back to work.'"
Tomlin went back to work, in the midst of the most awful month of his Major League career. He got rocked by the Rangers just three days after his dad's surgery, part of a six-start stretch in which he posted an 11.48 ERA.
But while his dad began adjusting to his new reality, doing the rehabilitation work to ensure his legs remain in shape should he one day regain the ability to walk, Josh made adjustments of his own. In need of a distraction from the troubles back home, Tomlin poured himself into working out, into pitching, into studying why his cutter was no longer as effective as it once had been. He responded with a sterling September (1.69 ERA in 26 2/3 innings) at a time when the injuries to Carlos Carrasco and Danny Salazar sent the Indians into a mad scramble with their starters.
"Tough kid, man," Francona said. "Tough. He's what you're looking for. He gives you every ounce, every time."
The Indians needed to squeeze every ounce of outs from their starting staff in the ALDS and ALCS.
Tomlin delivered. With a clinch in sight, he walked onto the mound at Fenway and heard Boston's ravenous fans turning his name into a curse word. Tomlin responded with five sharp innings that paved the way toward the Tribe's champagne celebration. In Game 2 of the ALCS with the Blue Jays, Tomlin was thrust into assignment when Trevor Bauer suffered his finger mishap, and he turned in 5 2/3 innings of one-run, three-hit ball.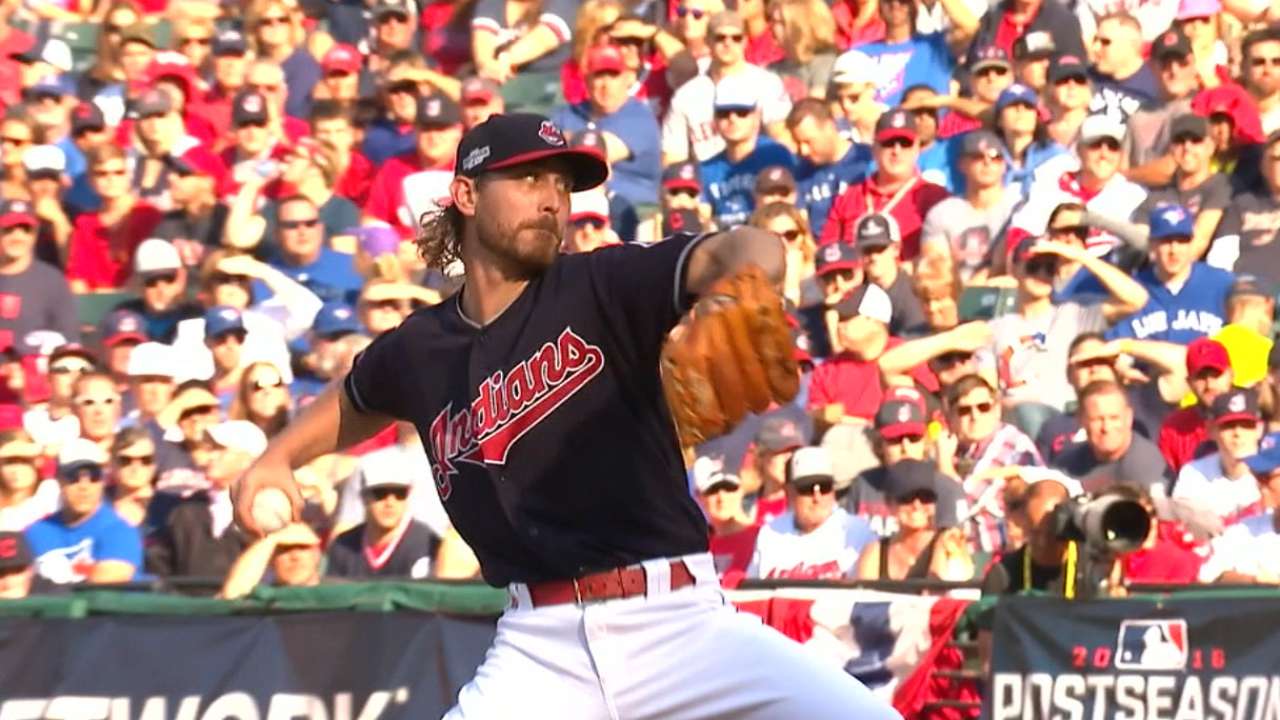 Jerry watched every inning from his room at the Baylor Institute for Rehabilitation in Dallas. He'd proudly tell the doctors and nurses that if they watched the Indians on TBS, they'd see his son.
"Of course, they don't believe me," he joked.
For two long months, Jerry was holed up in that hospital. Finally, on Wednesday, which just so happened to double as Josh's 32nd birthday and the day the Indians' clinched the AL pennant, Jerry was allowed to head home, where he watched Game 5 of the ALCS in the comfort of his living room. While Jerry was gone, a family member who works in construction had repurposed Jerry and Elana's home to make it wheelchair accessible. The adjustment continues, and Jerry will continue to pray that he'll get feeling back in his legs.
Some doctors have told Jerry he'll never walk again. Others offer a glimmer of hope that his spine isn't severed and that perhaps once the swelling goes down, things will regenerate.
"We plan on trying to get it back to walking," Jerry said. "It may be a while. Some days I feel like I've got a little movement, and some days I don't have anything. I don't know how to explain it, man. But we're not going to give up on it."
This is the attitude Jerry instilled in his son from a young age. He'd have him throw balls into buckets as target practice to sharpen his strike-throwing, and he'd make him chase down the ones that missed the mark. Jerry always worked two jobs -- mornings as a plumber, afternoons and evenings at the power plant -- so that Josh didn't have to work one, so that the kid could focus on baseball. The father did everything in his power to help the son achieve his dream.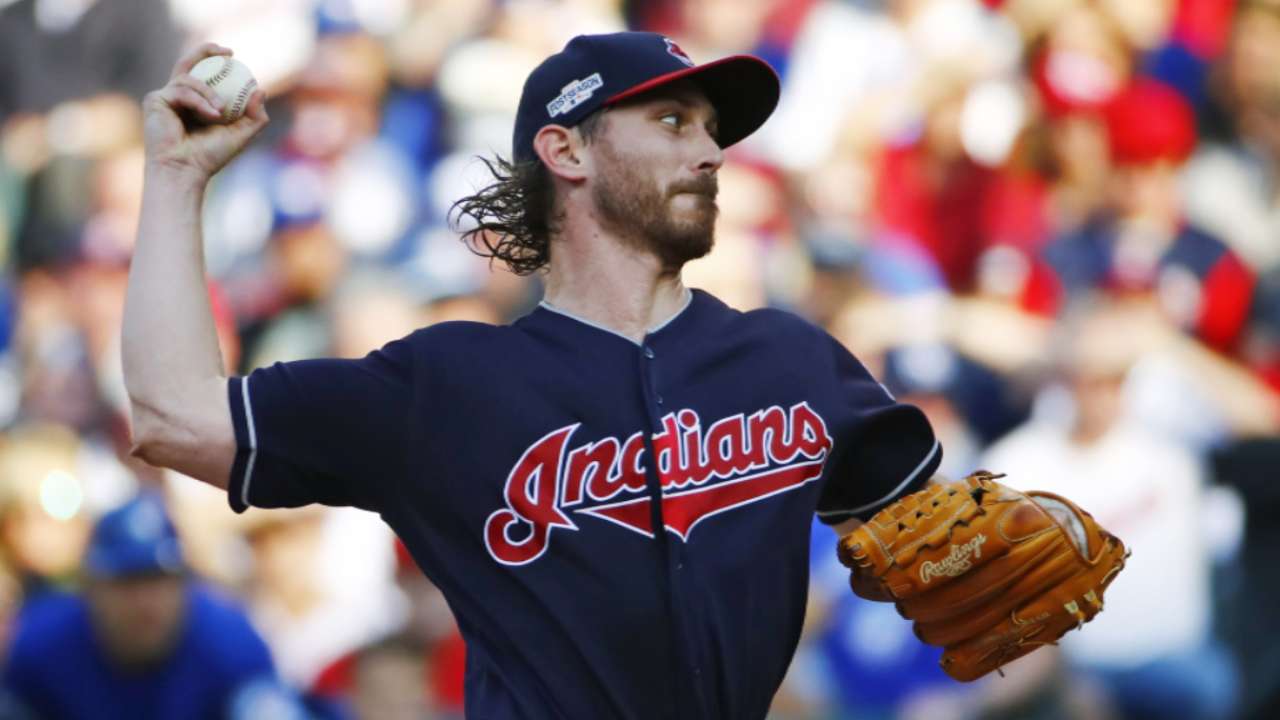 "He's my best friend," Josh said. "I don't think he's missed a game, either on TV or coming to a game, that I can remember."
And so for Jerry, it's been hard to watch this postseason story unfold from afar. But now that he's out of the hospital, there is talk in the Indians' clubhouse of addressing that issue in time for Tomlin's assignment in the upcoming World Series. The Tribe recently passed the hat to come up with what became a $1 million donation to inner-city kids. For the dad of a beloved teammate, they'll pass the hat again, if they have to.
"If you say the word," Francona told Josh, "we'll get him here."
It should go without saying that Jerry wants to be there.
"I may have to break every rule in the book," Jerry said with a laugh, "but I plan to get there one way or another, brother. If they have to throw me on somebody's back and carry me, I'm going to get there."
And so the father and son expect to be reunited soon, to enjoy this wild October ride together. They're still counting on a miracle, but in the meantime, a World Series championship would be nice, too.
Anthony Castrovince has been a reporter for MLB.com since 2004. Read his columns and follow him on Twitter at @Castrovince. This story was not subject to the approval of Major League Baseball or its clubs.