Dodgers have themselves to blame in Game 4
A team that rarely beat itself during regular season commits four errors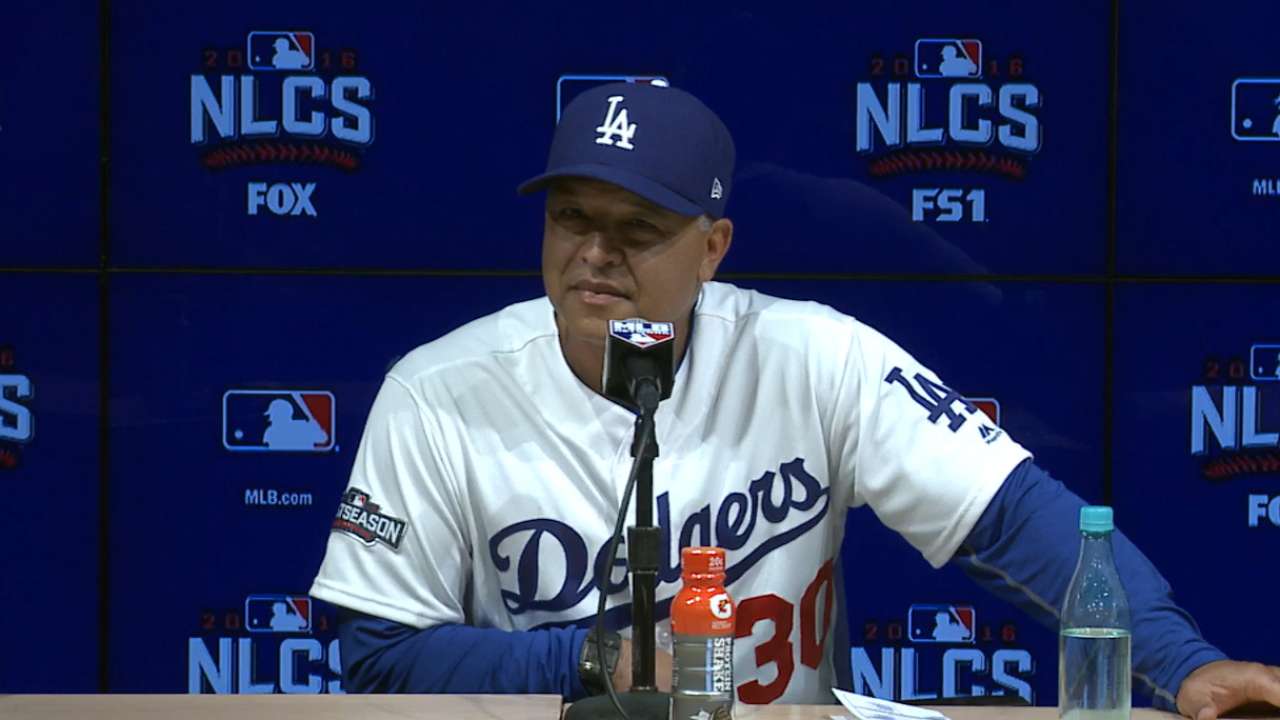 LOS ANGELES -- For a team that rarely beat itself in 2016, the Dodgers picked Game 4 of the National League Championship Series to come unhinged.
Their 2016 theme has been overcoming adversity, but they lost a controversial replay challenge in the second inning Wednesday night and never recovered, committing a season-high four fielding errors and getting routed by the Cubs, 10-2. The best-of-seven series is deadlocked, with Game 5 on Thursday at Dodger Stadium and a return to Chicago for a Clayton Kershaw start in Game 6 on Saturday.
• NLCS Game 5: Today at 8 p.m. ET/5 p.m. PT on FS1
"Let's be honest, after that [replay], we played a very sloppy game," said Adrian Gonzalez, who was the Dodger called out at the plate, followed by a lost challenge. "I think the game would have been a whole different game, 100 percent. We didn't play a great game after that, for sure."
Dodgers manager Dave Roberts was slightly askew when asked about the sloppy play, which included six runs (five earned) charged to his bullpen.
"It happens," he said. "And obviously it's more magnified in the postseason. But we haven't had a game like that in a long time. So there are a few plays that could have [gone] a certain way or plays that we could have made that could have changed the outcome of the game, but it wasn't to be. So I think for us it's one of those things you've got to brush off and get ready for tomorrow."
Second baseman Chase Utley tried to catch a flip barehanded from Corey Seager and dropped the ball for an error. Andrew Toles, with a chance to throw Ben Zobrist out at the plate from left field in the four-run fourth inning, pulled the throw 30 feet wide. Second baseman Enrique Hernandez triggered Chicago's five-run sixth inning on Addison Russell's infield single by throwing the ball into the photo well. And Joc Pederson was the unfortunate recipient of the fourth error when nobody cut off his throw to the plate after making a diving catch of Javier Baez's sacrifice fly that scored two runs.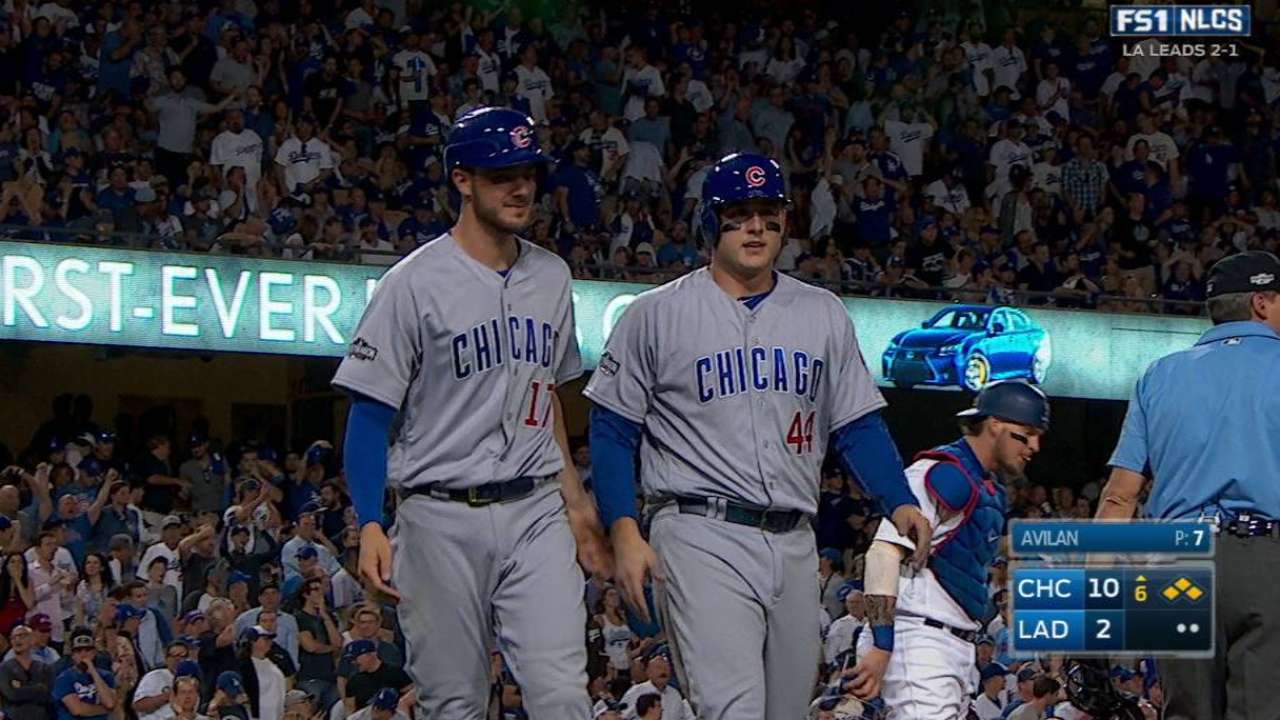 "It happens," Pederson said of the mistakes. "No one's out there trying to make errors. Sometimes, it snowball-effects, domino-effects, gets out of control. But today's over with, we lost, and we'll come back tomorrow. It's a new game and we'll be ready to win."
Misplays dated to the first inning, which ended when Justin Turner was picked off second base by a heads-up throw from Cubs catcher Willson Contreras.
"That was very large with Gonzalez hitting right there," said Cubs manager Joe Maddon. "It put a whole different feel or look on the game."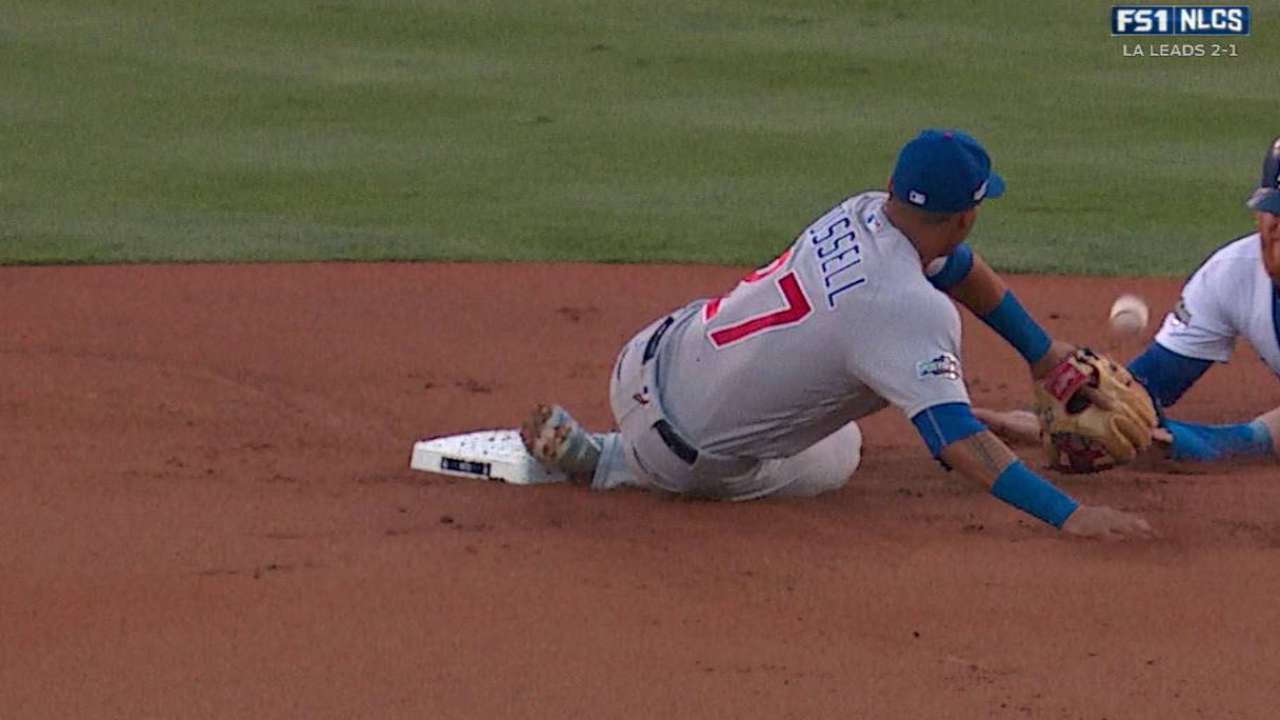 Roberts conceded the Game 4 Dodgers didn't play like the West Division champion Dodgers.
"I think that just the things on the bases and the overthrows and catching the baseball. This is very, very uncharacteristic of our group," said Roberts. "But like I said, over the course of 162-plus games, it's going to happen. And it hasn't happened very often with our guys. So just in that clubhouse, I think guys are going to turn the page and I'm certain we'll be ready to go tomorrow."
Ken Gurnick has covered the Dodgers for MLB.com since 2001. This story was not subject to the approval of Major League Baseball or its clubs.