Oct. 19 Anthony Rizzo, Addison Russell postgame interview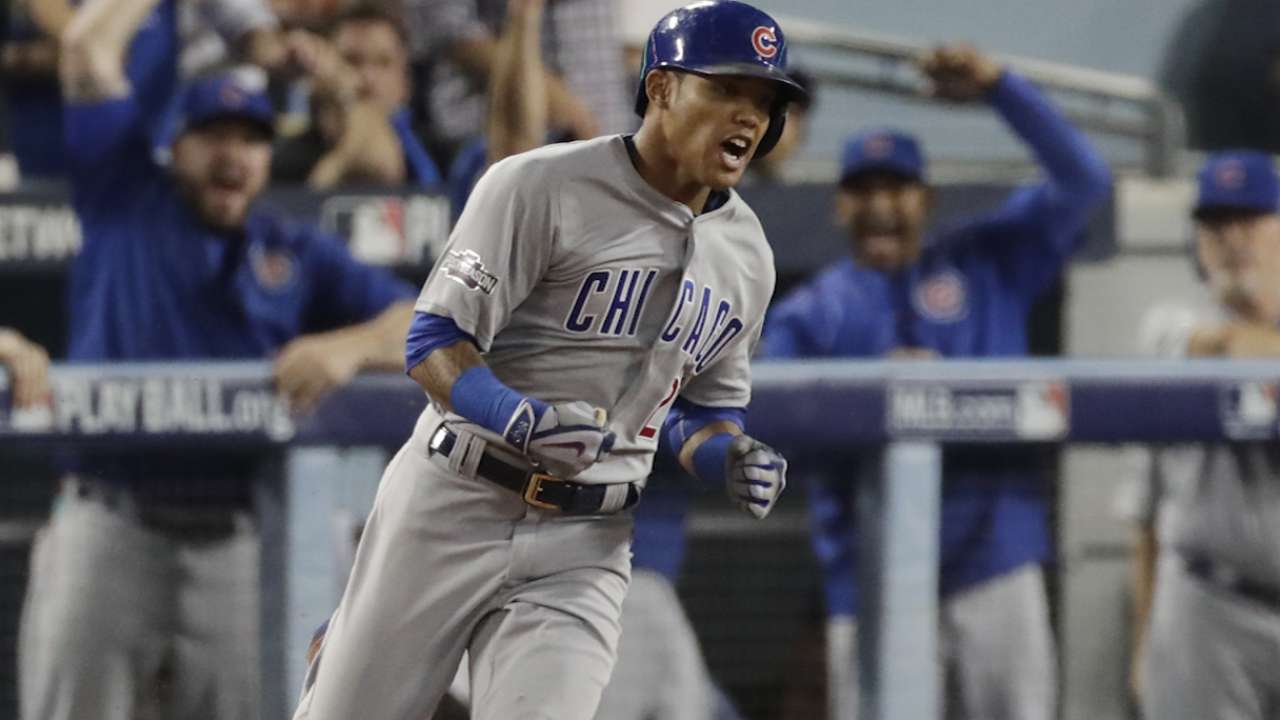 Q. Addison, when you hit the home run and you were rounding the bases, you gave a couple fist pumps. Was it a matter of relief, exhilaration or a little bit of both there?
ADDISON RUSSELL: I would say all of the above. I've been struggling this postseason a little bit, but didn't panic. My confidence was still there. I feel like I've been seeing the ball well, taking some pretty good swings. So definitely wasn't panicking. I was a little more frustrated than anything else. But got back down to about my work and my athletic, my work ethic, and it's fine. So it's definitely a sigh of relief to have a big night.

Q. Anthony, can you tell us a little bit about Matt Szczur's bat? Using it maybe last night and how often you've done that, and how it feels to get on the board here?
ANTHONY RIZZO: I've done it a few times, especially later on in the year. Especially today. The first two at-bats weren't so hot. Szcz came out today with a nice feature on him about him giving his bone marrow, so all the things were just adding up. I hit well with his bat, so he has hits in it. Same size, just different model and different name, and it worked.

Q. Anthony, you've been around long enough to know that slumps come and go. And if there's always going to be at-bats out there, and assume they're going to be better when you're in a slump. This time of year, does it start to feel a little more finite? You can probably count the number of at-bats in the best scenario, and does it start to grind on you after a couple of strikeouts earlier today? You start thinking I don't have a lot of time left here, I've got to get going?
ANTHONY RIZZO: I think like Addie said, the work ethic and what you do is there. Our confidence is up. The best part about the postseason is it's the next bat. You've got to turn the page to the next at-bat, and you've got to be ready for that big situation.

All the guys in the clubhouse are there telling you, all the veterans: It just takes one at-bat. It just takes one. It's all about winning games, and we came up on the good side tonight.

Q. Last week we talked about you getting back to what you do, taking the deep breath and just getting back to the baseball you play. Looked good today. Can you talk about did you switch anything up or did you just stick to your script?
ADDISON RUSSELL: It's pretty much the same thing. I still had the same approach. The only thing that changed from last week is just lowering my hands a little bit. I think that I stayed through the ball pretty well whenever I do that, and just working the middle of the field as well. But that's been my approach the whole time. So nothing really, just a little bit of hand placement. Like I said, I really wasn't panicking. Really wasn't nervous. It was just more of, you know, my teammates know what I have to bring to the plate and definitely want to display that here in the postseason. That might be a little bit of a tidbit that put a little bit more on me. But I'm just excited about playing and happy to have my teammates here, rooting me on. They didn't doubt me for one second.

Q. Given the way you guys won tonight with 13 hits, I think six different guys had hits with runners in scoring position. In any way does it feel like more than one win? I guess this is for both of you guys. And what does it feel like to know you're going to get another crack at Kershaw?
ANTHONY RIZZO: I think that this is a big win, for sure. With Lester going tomorrow, what he's going to bring to the table, he's going to bring to the game tomorrow. To even up the series, now we have a chance to take another one here tomorrow and go home with a 3-2 lead. In a way, this is just one game. And we know that it's going to be a quick turnaround to be ready tomorrow, but this was definitely a big game for us.

Q. Addison, Joe was talking about how hitting can be contagious both when it's not going well and when it does go well. Can you talk about the four-run inning where you hit the home run? It started off by a Zobrist bunt and then the guys in front of you getting on base, and just how that sort of built upon itself?
ADDISON RUSSELL: Well, Zo did a great job on that bunt to get on. We moved guys over. That's kind of what we've been working on the whole season. Then coming up to the plate just wanted to get something to drive. Man on third, less than two outs. Just trying to hopefully get a sac fly and get that run in. That's kind of what I'm trying to do at that point. Saw a fastball down and away, stuck with it, and hit it out the other way.

Q. Anthony, just to be clear, you changed bats after the two strikeouts, is that what you said?
ANTHONY RIZZO: Yeah, I did, yeah.

Q. The home run you hit, fastball, I believe?
ANTHONY RIZZO: Fastball.

Q. What happened in that at-bat that was better beyond just the result? Was everything the same but the result, or did something work for you?
ANTHONY RIZZO: Yeah, everything was the same result. It was kind of a roller coaster at-bat, 3-0 there. I know I have to get on base, and we're up 4. So just said to myself, this is going to be a good pitch for me to just let it eat, and I missed the right way. I missed foul, just foul. Obviously, I'm not too happy about that ball going foul at the moment, and then the next pitch is painted on the inside corner. So I go from 3-0, just missing a home run to 3-2. You know, pitched another good pitch, and I got the hat trick on the day. So just stuck with it and he threw another fastball and I put a good swing on it.

Q. I know we overuse the word pressure a lot. But instead of that, did you feel any extra maybe responsibility when the team's struggling and not scoring for two straight games to kind of produce?
ANTHONY RIZZO: You know, as a competitor, of course, because anything I do, anything any of us do, we want to be the best at. So it's annoying, for sure, but it's what makes our team so great is everyone has each other's back and everyone's rooting for everyone. We're so close it's more of friendships than anything else.

Personally, I was upset, but I knew that the team was where we needed to be, and obviously we were down 2-1, but we responded in a big way today.

Q. The TV cameras picked up what people on social media are calling a cool moment of sportsmanship between you and Angel Hernandez. Can you just talk about that?
ANTHONY RIZZO: Yeah, well, the umpires, all of the umpires they're out here at the highest level doing their best, and we're competing at our best and they're competing. So on a pitch that I disagreed with and to think it was a ball and then him call a strike, I don't like showing up the umpires. They're out here working their tails off 162 like we are. There is no home for them. They're on the road the entire season. So just to let him know that, hey, my fault there. I probably should have waited a little longer to not just assume it was a ball. That's just the way I am. They're working as hard as we're working, and it's just different perspectives.