Bullpen picks up Lackey as Cubs even Series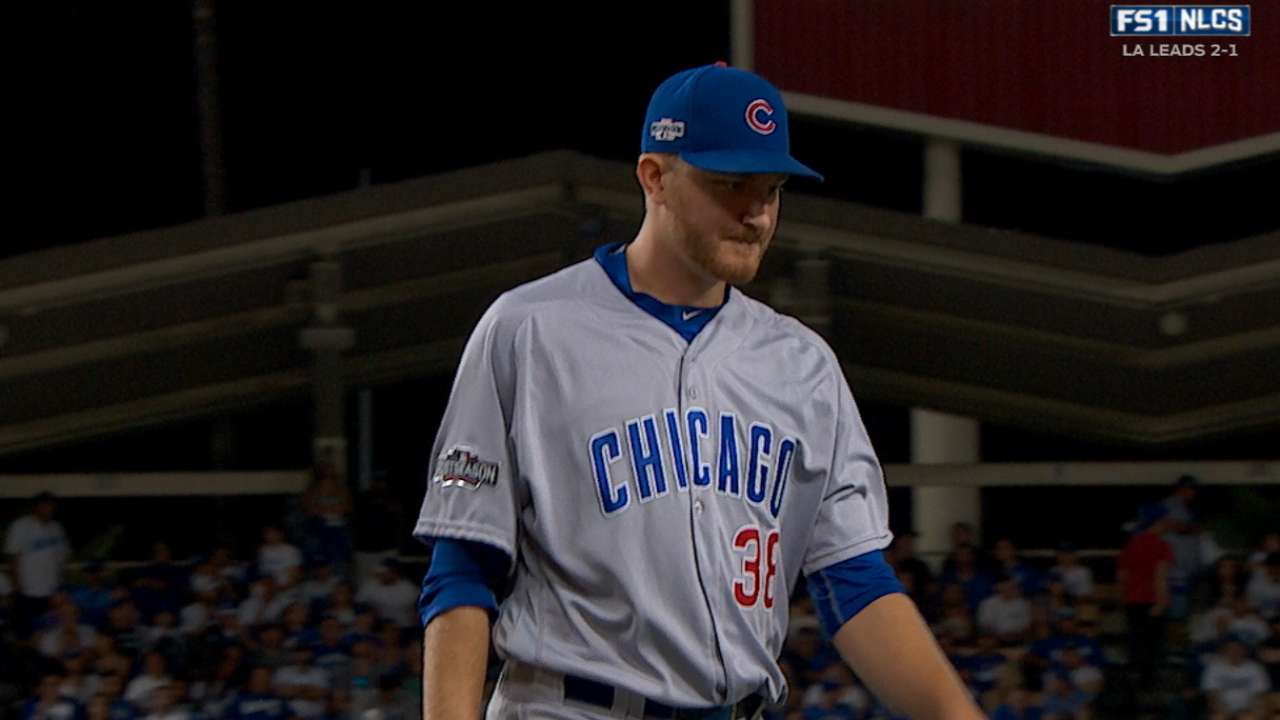 LOS ANGELES -- John Lackey may not have been happy about being pulled on Wednesday night, but the Cubs bullpen was more than ready to pitch in and even contribute at the plate.
Lackey started Game 4 of the National League Championship Series, and was lifted after walking the first two Dodgers he faced in the fifth, even though the Cubs had a 5-0 lead at that point. That was enough for manager Joe Maddon to make a switch and call on lefty Mike Montgomery.
• NLCS Game 5: Tonight 8 p.m. ET/ 7 CT on FS1
"Up five runs, yeah, I was pretty surprised," Lackey said of the move.
Maddon had his reasons.
"John doesn't normally walk people like that," Maddon said. "So up comes [Chase] Utley, [Corey] Seager, [Justin] Turner, [Adrian] Gonzalez, third time around. Again, it's not like, you know, the middle of June. It's just you've got to play a little bit differently from the pitching perspective. So we did, and it worked out."
Montgomery, Carl Edwards Jr., Travis Wood, Pedro Strop and Hector Rondon combined to finish the game, with Montgomery not only getting his first postseason win but also his first hit.
The lefty came up with a runner at first and one out in the sixth, and looked at the Cubs' dugout for a sign, expecting to be asked to bunt.
"I looked back at Joe and he told me to swing," Montgomery said. "It was kind of a shock."
Montgomery did what he was told, and smacked a single to left. He would eventually score on Anthony Rizzo's two-run single that inning as the Cubs romped 10-2 over the Dodgers to even the NLCS at two wins apiece.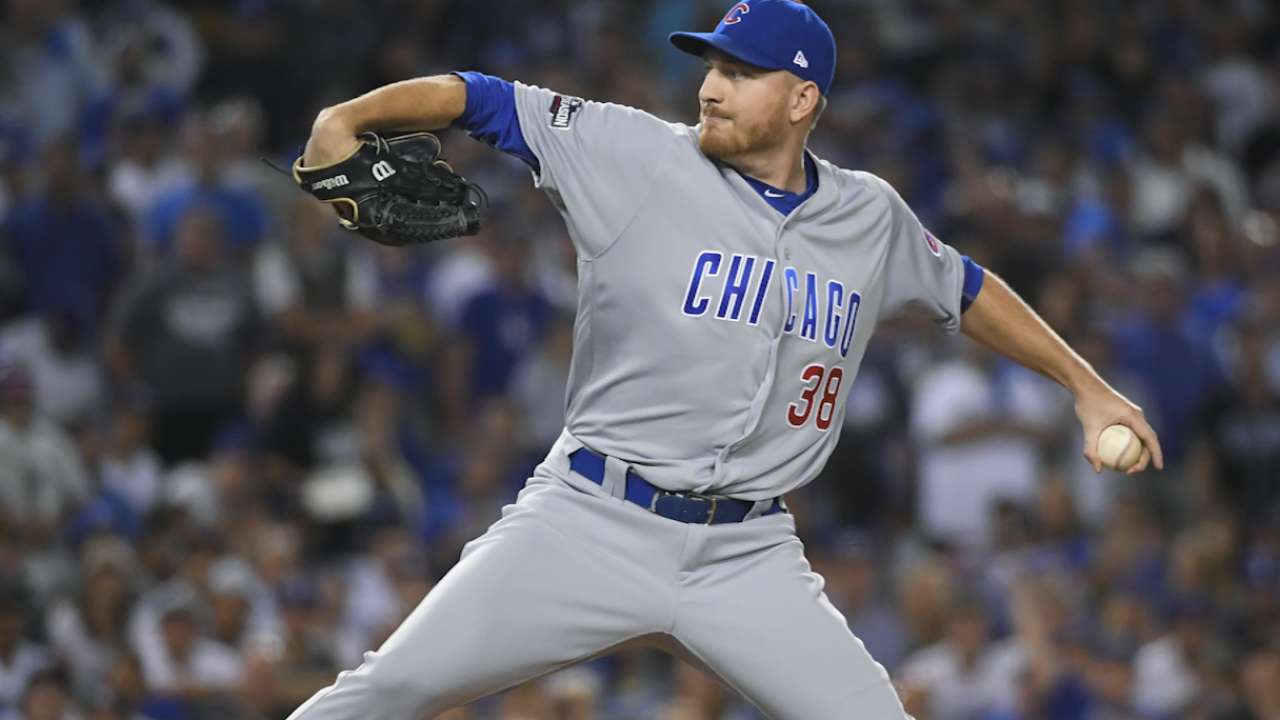 Before the NLCS began, Montgomery asked pitching coach Chris Bosio if he could take more swings.
"Seeing the other guys take [batting practice] every day, they really take it seriously," Montgomery said. "They're good hitters. You come in the game in a big spot and you never know when that spot might be and you want to put good swings on the ball."
Montgomery even got the ball that he hit as a souvenir. He would've liked to have gotten his glove on Justin Turner's hit that drove in the two batters Lackey walked. It deflected off his glove into left field.
"I felt I could've gotten that ground ball -- I wish I could have that back," Montgomery said. "We had the five-run lead, so it was 'OK, just attack the zone, don't walk [anybody], don't worry about the runners, just go after them.'"
That was Lackey's approach, too.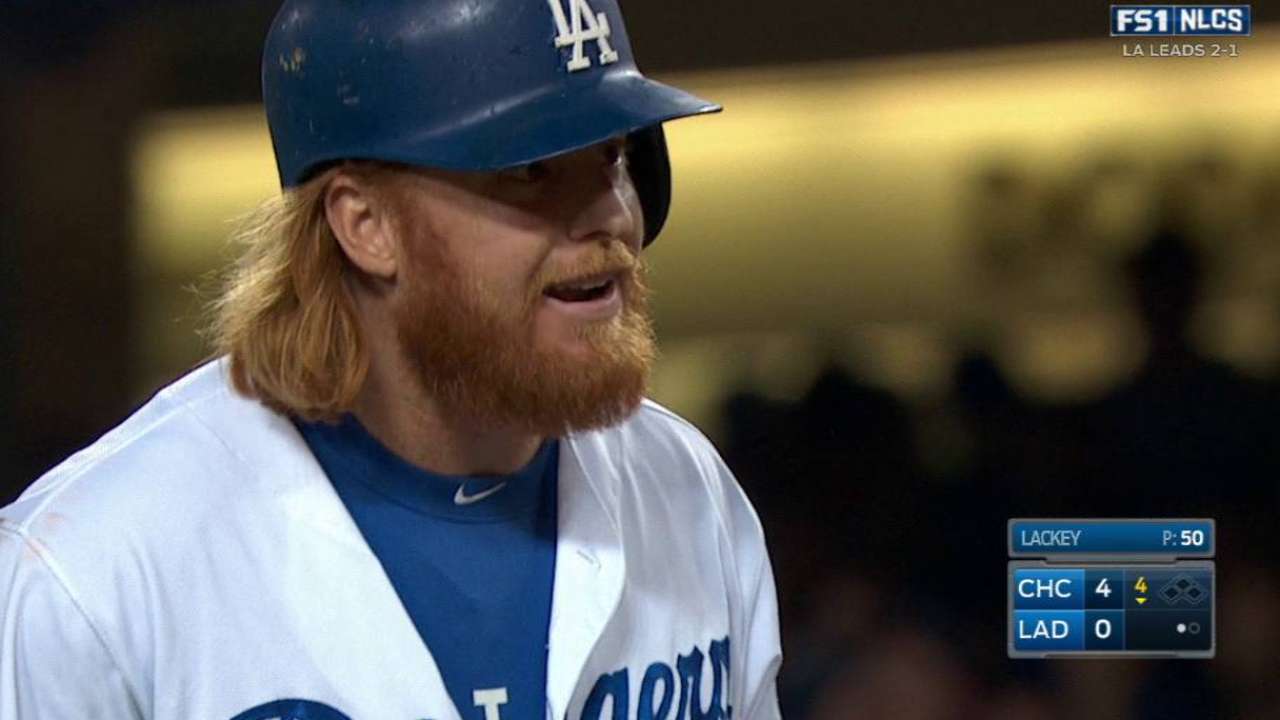 "How I feel personally is irrelevant now," Lackey said. "It was a great team win and good to see our guys swing the bats."
Edwards' outing ended earlier than he wanted also as the right-hander had to leave because of tightness in his left hamstring. This postseason has been completely different for Edwards, who was with the Cubs last season but not on the playoff roster. He's gone from cheerleader to contributor.
"Just being here last year and around these guys and watching, my confidence level is pretty high," Edwards said. "It feels like I've been in this situation before. Last year, I was just traveling with the team. The group of guys we have here were in the playoffs last year, and they were telling me every day, 'Hey, it's the same game that you've been doing all year.' I haven't been shell-shocked about anything."
And he and Montgomery and the others are ready whenever needed. The message they got prior to the series was all hands on deck.
"We understand that [Thursday], they'll be coming back strong at us," Montgomery said of the Dodgers. "We have to try to play another good game and try to get out of here with a 'W' and go back to Chicago."
Carrie Muskat has covered the Cubs since 1987, and for MLB.com since 2001. This story was not subject to the approval of Major League Baseball or its clubs.