MLB.com Columnist
Jim Callis
Dubon provides spark in Fall League victory
Red Sox prospect notches three hits, two steals, scores winning run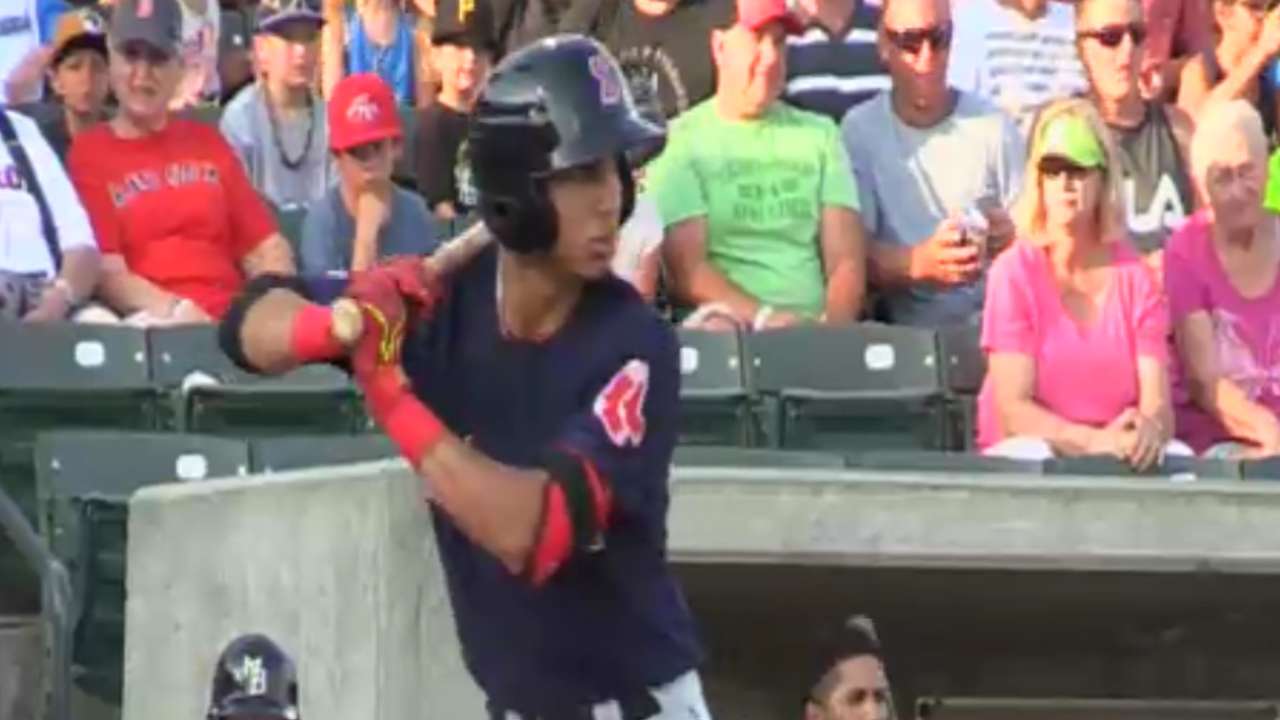 SCOTTSDALE, Ariz. -- Mauricio Dubon put a slow Arizona Fall League start behind him Wednesday night, providing three hits and two steals to spark the Surprise Saguaros to a 2-1 victory over the Scottsdale Scorpions.
Boston's No. 12 prospect scored what proved to be the game-winning run in the sixth inning, which he led off with an opposite-field single to right against right-hander Tyler Mizenko (Giants). He stole second, advanced to third on a single by Alex Trevino (Rangers) and came home on a sacrifice fly by Scott Heineman (Rangers).
Dubon had gone 4-for-18 in his first four games for the Saguaros, and his big night raised his batting average from .222 to .318. He said he hadn't let his lack of production get to him and just tried to maintain his approach at the plate.
• Gameday
"It's just part of the game, not every day you're going to get a base hit," Dubon said. "I trust what I'm doing. I felt good at the plate. I did the same thing I've been doing, I just saw the ball a little better."
Dubon said his AFL goals include improving his ability to recognize pitches and work counts. Normally a shortstop, he's also enhancing his versatility. He manned center field against the Scorpions and will divide his time between the two positions.
Before this fall, Dubon hadn't played the outfield since he was an 8-year-old learning the game in Honduras. He has played center twice so far for the Saguaros and said the toughest adjustment is reading balls hit right at him, though he's happy with his progress so far.
"This was my second game out there and it's fun," he said. "I like playing the infield, but if the Red Sox think this will get me quicker to the big leagues, I'm fine with it. Being more versatile will open up a lot more doors."
Dubon, 22, is coming off his best season as a pro. He batted .323/.379/.461 with 46 extra-base hits (six homers) and 30 steals in 124 games evenly split between high Class A and Double-A. He has some of the best hand-eye coordination in Boston's system, a quick right-handed bat and solid speed, arm strength and infield ability.
He's driven by the opportunity to become the first native Honduran to reach the big leagues (former Astros outfielder Gerald Young was born in Honduras but did not grow up there). After a Christian baseball mission group visited his Central American nation when he was 15, Dubon returned to the United States with them so he could improve his baseball skills while attending high school. Since signing for $75,000 as a 26th-round pick in 2013, he has developed into the Red Sox's top shortstop prospect.
"I never spent the night at another person's house in Honduras, and my mom just let me go to another country," Dubon said with a smile. "It was a hard decision but it has been a blessing so far."
Besides Dubon's performance, the game also was notable for Scottsdale outfielder Tim Tebow's (Mets) best AFL at-bat to date. Facing left-hander Trey Ball (Red Sox) in the bottom of the fith, Tebow fell behind in the count 1-2 before fouling off a couple of pitches, taking a pair of breaking balls and then lining a 92-mph fastball to left for an opposite-field single. He finished the day 1-for-4 and boosted his batting average from .063 to .100 (2-for-20).
Jim Callis is a reporter for MLB.com. Follow @jimcallisMLB on Twitter. This story was not subject to the approval of Major League Baseball or its clubs.