Indians party like it's 1997 after winning pennant
Cleveland will host Game 1 of the World Series for first time in its history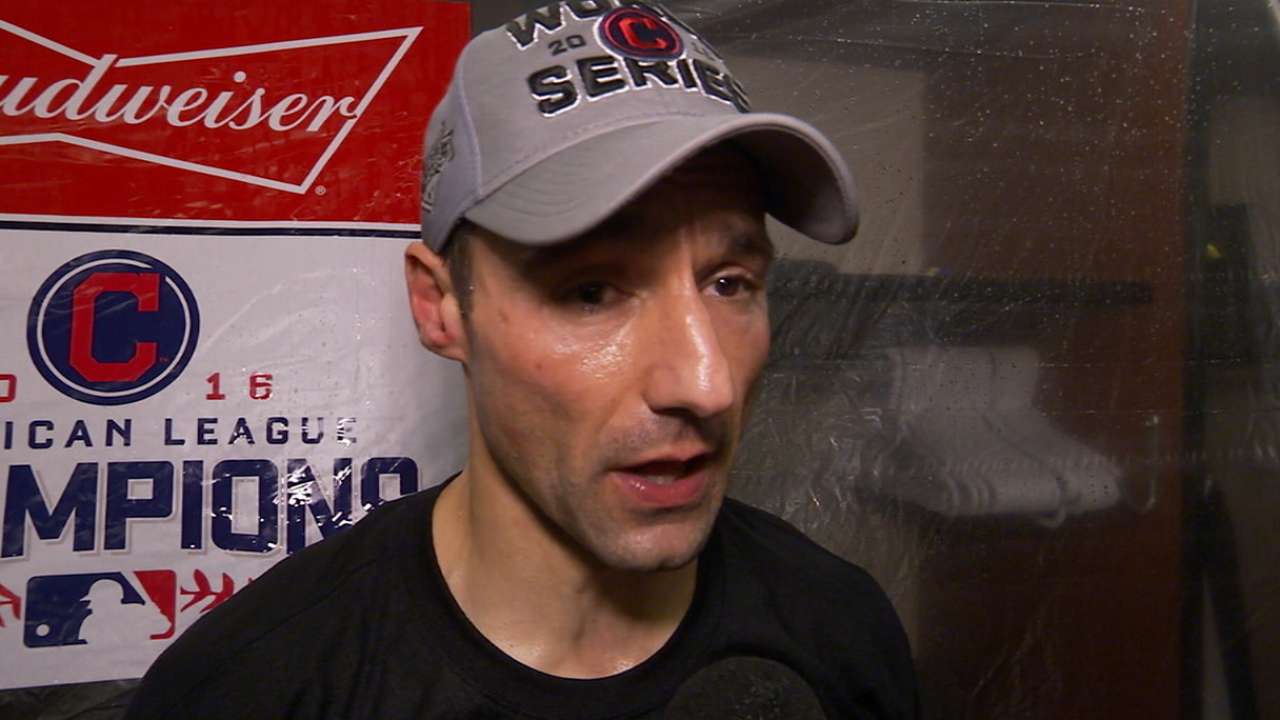 TORONTO -- They took turns passing the trophy around. A bottle in one hand and the hardware in the other, one by one, Cleveland's players savored their moment. They would stare at it, champagne dripping from the gold eagle that sits atop the black base, pausing for a moment before posing for photos.
In that brief personal moment, the players probably thought about all that had to happen for the Indians to reach this stage, for that trophy to be placed in their arms. Wednesday's 3-0 win over the Blue Jays in Game 5 of the American League Championship Series, a victory that clinched the franchise's sixth AL pennant, gave the world a look at what has defined this Indians team all season long, and why it is now going to the World Series.
"I'm just really happy that we're standing here today," said Indians president Chris Antonetti, as his players partied on the other side of Rogers Centre's visitors' clubhouse. "However we got here, I'm not sure I've reflected back on. But this team, the resiliency, the grit, the perseverance to overcome all that they've gone through over the course of the season ..."
World Series Game 1: Tuesday on FOX
More champagne bottles popped behind him.
"The guys we have are not focused on who's not here," he continued, "but focused on the guys that are here and [they] try to find a way to help them win. I think that says a lot about the team and [manager Terry Francona]."
In a little more than three weeks, the Indians' players have soaked through the carpets of three visiting clubhouses. The plastic sheets could not save the Comerica Park clubhouse on Sept. 26, when the Tribe clinched the AL Central in Detroit. On Oct. 10, Cleveland crowded into the tight quarters of Fenway Park's clubhouse and raged on after dispatching the Red Sox in three games in the AL Division Series.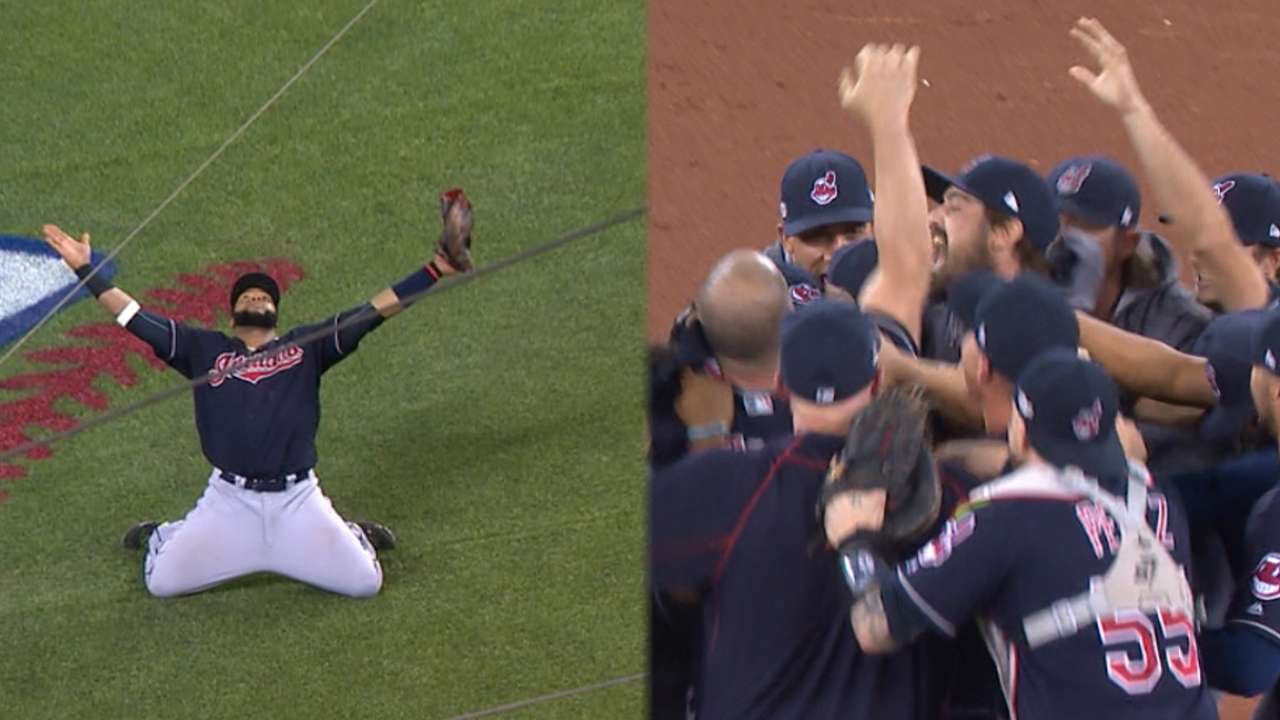 The narrow clubhouse at Rogers Centre will now be forced to undergo some serious cleaning in the coming days after the Tribe took down Toronto's high-powered offense in five games. Corks were strewn across the floor, as players waded through the beer and champagne in shower sandals. The ceiling dripped after the bottles were uncorked, sending celebratory bubbly spraying in all directions.
"Every time you put on this uniform, what you're trying to do is make it to the World Series," Indians ace Corey Kluber said. "We're in the World Series. We're going to be one of the last two teams playing. Our goal is to win that Series, win four games before they do. It is a little bit surreal, but at the same time, I think we're ready to embrace it."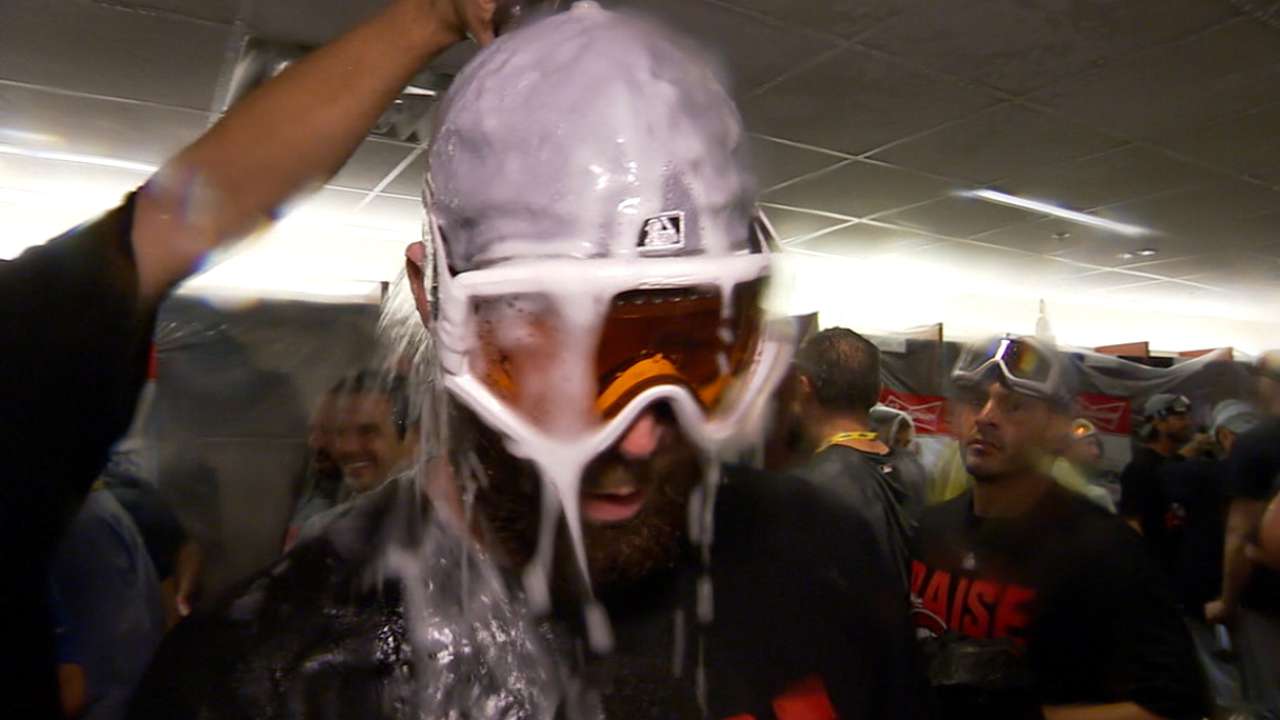 The World Series -- the first to feature the Indians since 1997 -- will begin at Progressive Field on Tuesday and will be aired on FOX. It is the first time Cleveland will open a World Series at home. The Indians now have five days off to rest and reset their depleted rotation, which will presumably begin with Kluber taking the ball in Game 1. The Tribe awaits either the Cubs or Dodgers, who are battling in the National League Championship Series.
On paper, Cleveland is probably best matched up against Los Angeles, but this team has overcome so much, and defied so many odds, the players would probably want a crack at Chicago. No matter who emerges as the Tribe's opponent, the men inside the champagne-soaked clubhouse in Toronto did not expect to be favored. They have not been favored yet.
"I've got news for you: Nobody is picking us next series," Indians second baseman Jason Kipnis said. "They won't, and we don't care. If it means that we're going to win again, none of us care. Predictions mean nothing. The game is decided in between the lines, and that's where we do our best work."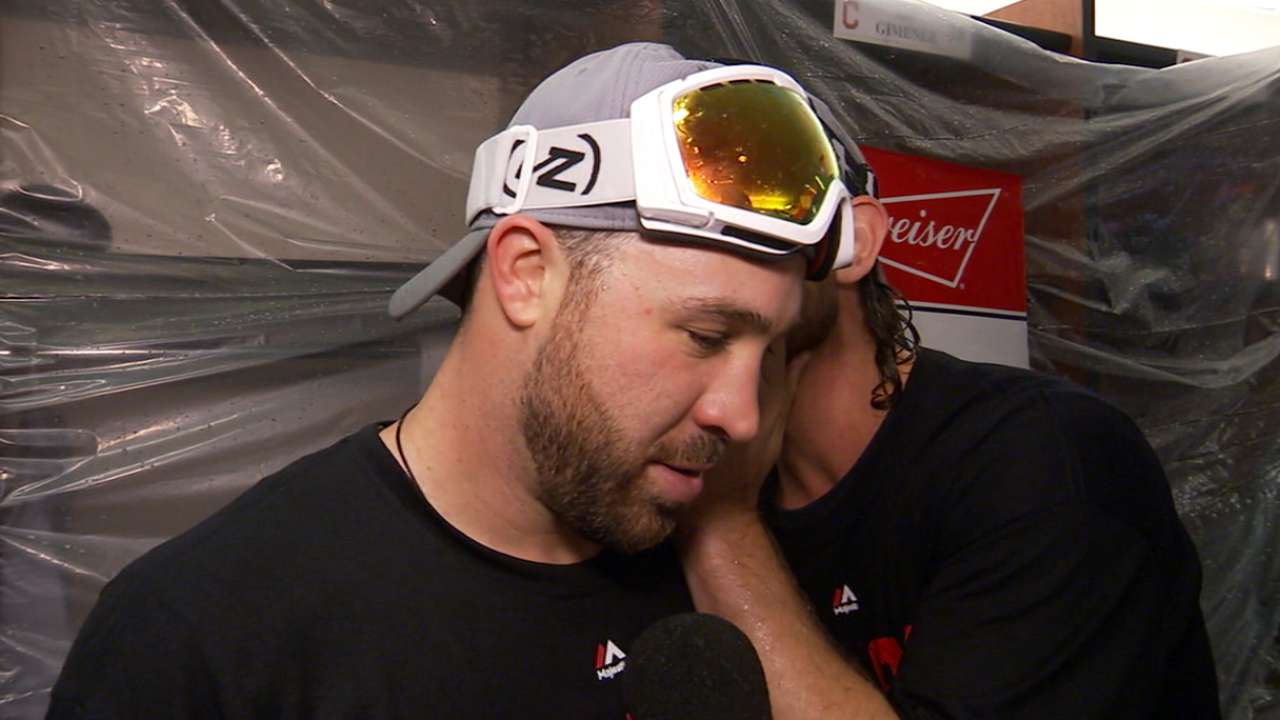 The Indians went to the World Series in 1997 and in '95, but those teams were jam-packed with superstars from Cleveland's golden era. The Indians also went in 1954, but Willie Mays and his legendary catch for the Giants had something to say about their chances. Not since 1948, when Bob Feller was on the mound -- not just a statue outside Gate C at Progressive Field -- has Cleveland won it all.
Given all that has happened this year, it is incredible that the Indians are still standing.
Michael Brantley missed most of the season. Yan Gomes was sidelined for most of the second half. Injuries robbed the Tribe of the electric right arms of Danny Salazar and Carlos Carrasco in October. A lacerated pinkie finger -- caused by an accident while repairing a drone, if you can believe it -- cost Trevor Bauer a normal start in the ALCS. Kluber entered the playoffs with one bad leg.
And yet, somehow, here are the Indians, champions of the AL.
"In February or March of many years, we foresee a team that can win," said Indians owner Paul Dolan, while getting his turn with the AL trophy. "And then the story develops and something happens and we don't. This has been that year where everything goes right. Even when something goes wrong, it turns into something right. I've heard 'team of destiny' mentioned a few times. It sure feels like something like that."
It was fitting then that rookie Ryan Merritt was on the mound on Wednesday.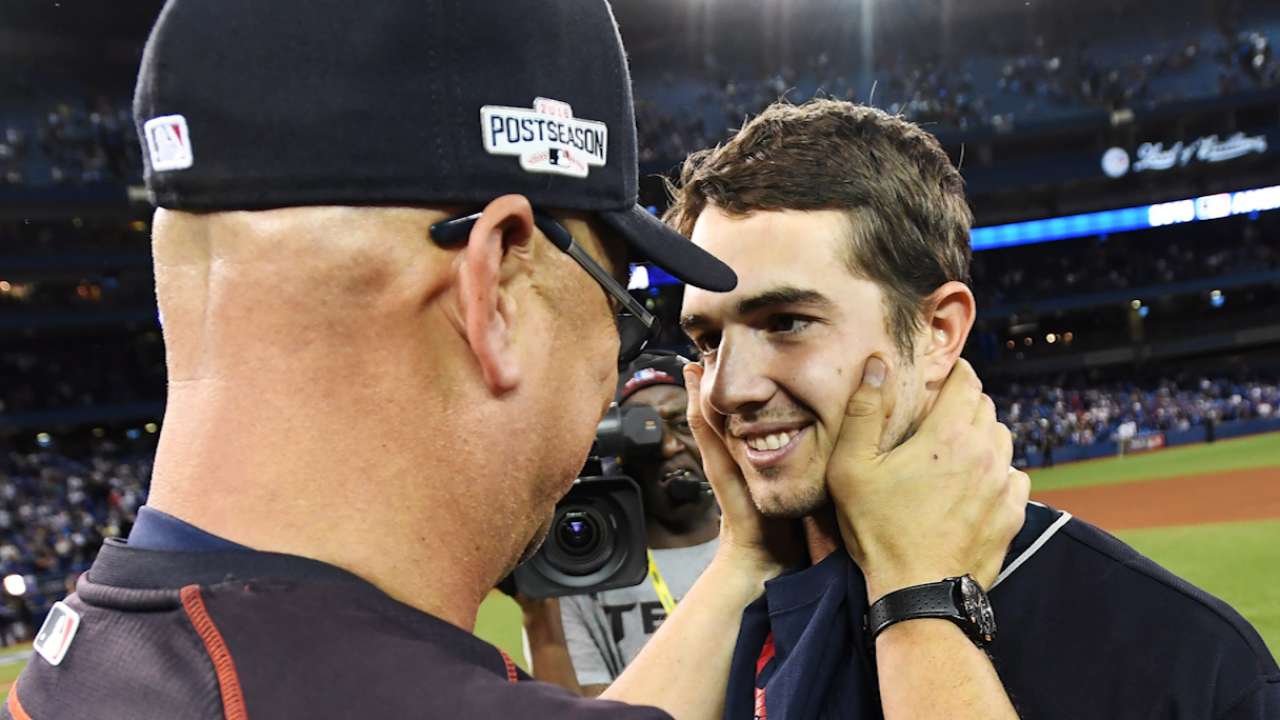 Who, you might ask? Exactly. The kid from Celina, Texas, was a virtual unknown before the spotlight found him in the past 48 hours. Then, one day after Kluber could not slam the door on the Blue Jays to complete a sweep, it was Merritt who baffled Toronto in an outing that will go down in Indians lore. In Toronto's famously loud environment, the soft-tossing lefty confounded the Jays for 4 1/3 innings, forming the bridge to the bullpen.
Merritt was the embodiment of the next-man-up mentality that has defined Cleveland's season.
"He was unbelievable," Indians pitching coach Mickey Callaway said. "He was calm. It was unbelievable. I was nervous and he was all calm. He kind of calmed us all down."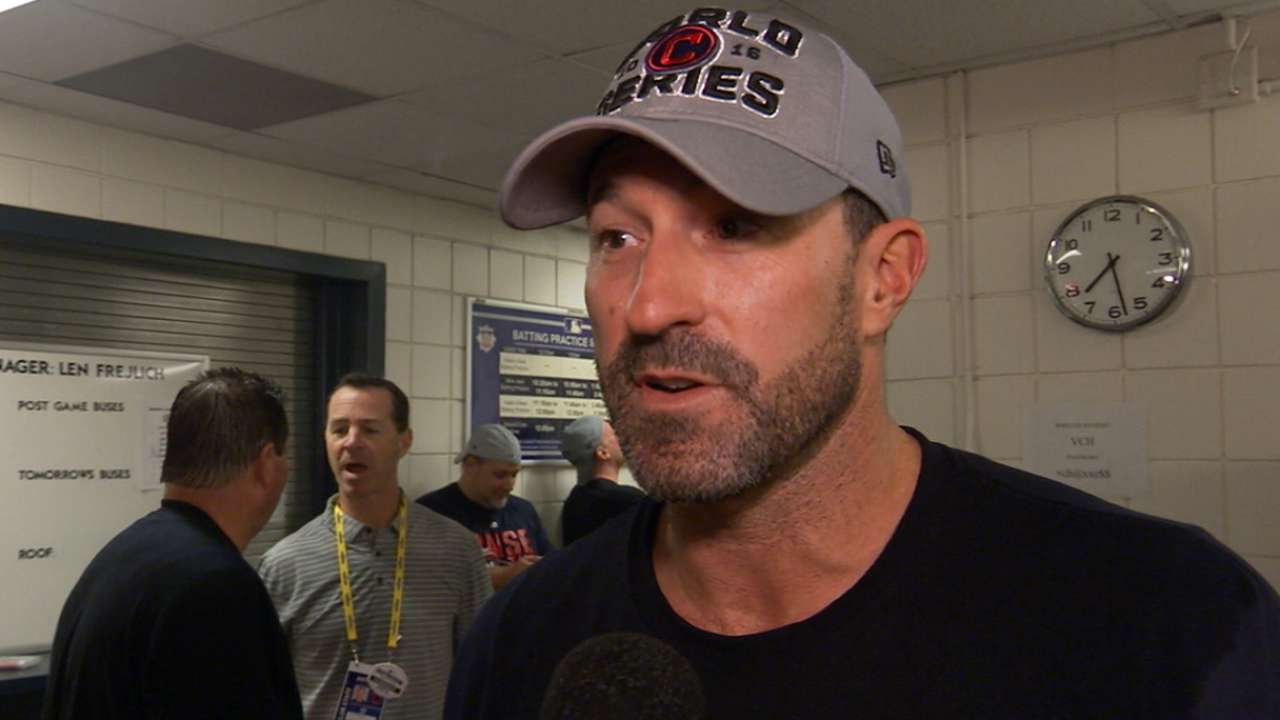 As Callaway spoke, Josh Tomlin walked over and dumped a series of beers on the pitching coach's head, and yelled for reporters to keep asking questions. Tomlin was taken in the 19th round of the MLB Draft by Cleveland in 2006. On the other side of the room, Carter Hawkins, Cleveland's director of player development, wrapped rookie outfielder Tyler Naquin (Cleveland's first-round pick in 2012) in a hug.
Eleven players on the Tribe's ALCS roster were acquired via trades and 10 others were drafted and developed by the ballclub. Only Mike Napoli and Rajai Davis came aboard as Major League free agents. Cleveland is not able to compete with the big boys in free agency, and the team still pulled this off.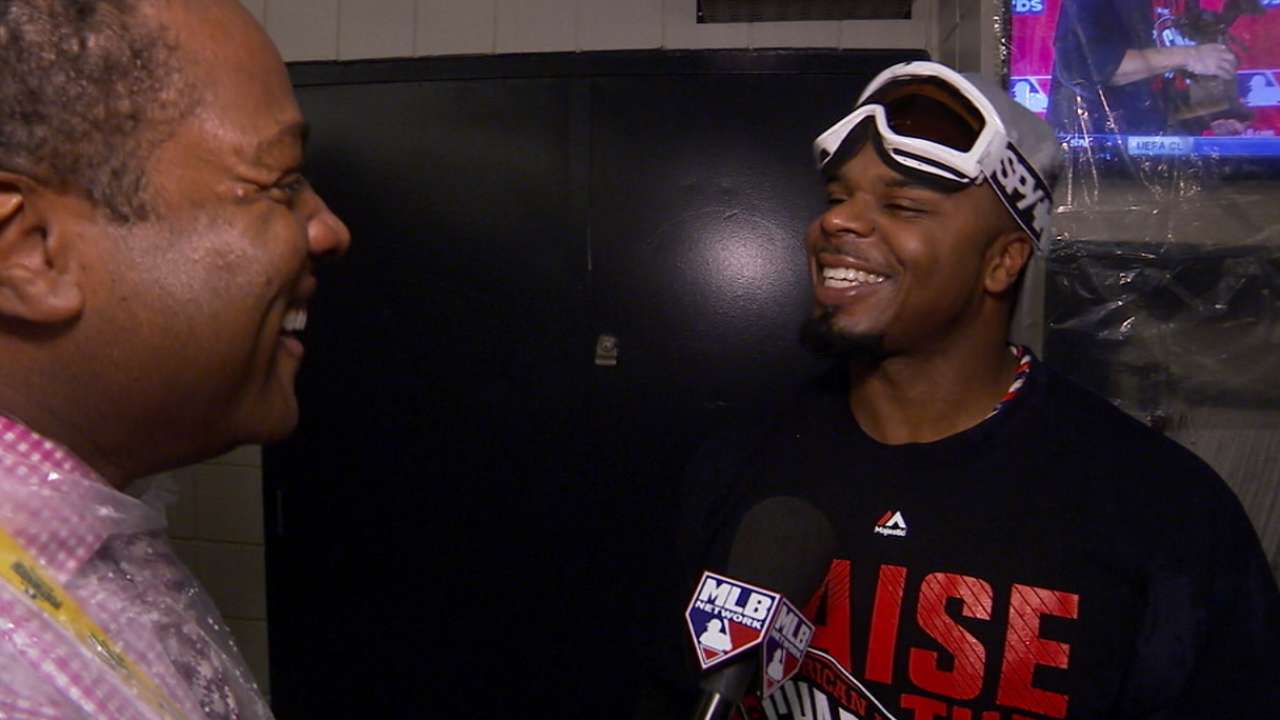 That is the only way this team could make this happen.
"Every scouting department has touched this," said Brad Grant, the Indians' director of amateur scouting. "We can see it now. This has been a team that's been built from within and everybody has a hand in it. To watch that and for everybody to have a part in that, it's really fulfilling."
As players posed with the AL trophy behind him, Napoli smiled when asked if Wednesday's win served as a summation of this season.
"That's us," Napoli said. "The amount of people that stepped in to be able to come up big, it's unbelievable. ... It's happened all year. We thrive on it. We're all family in here. It doesn't matter if you're coming in from Triple-A or not, we're all together in Spring Training. To come together as a group, it's just something special."
Jordan Bastian has covered the Indians for MLB.com since 2011, and previously covered the Blue Jays from 2006-10. Read his blog, Major League Bastian, follow him on Twitter @MLBastian and listen to his podcast. This story was not subject to the approval of Major League Baseball or its clubs.