MLB.com Columnist
Mike Bauman
Dodgers can reclaim momentum with pitching
Los Angeles is relying on Maeda to step up in Game 5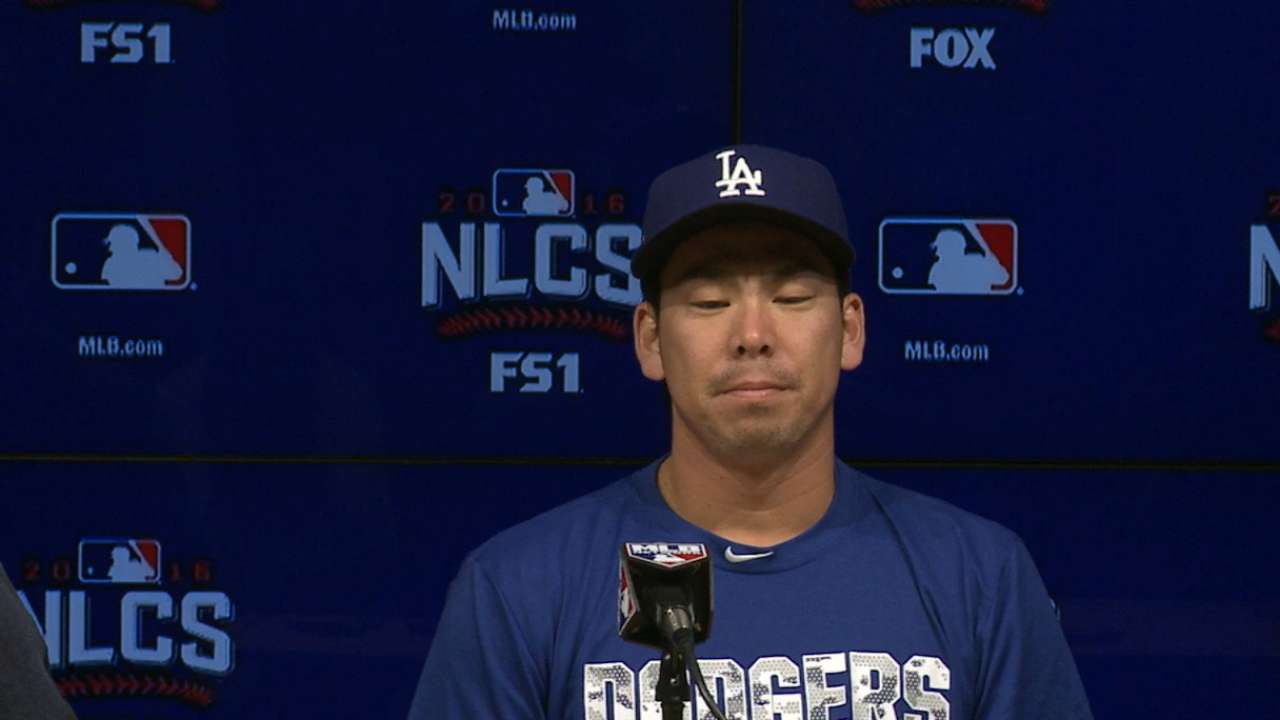 LOS ANGELES -- The Dodgers weren't supposed to shut out the Cubs for four straight games and win the National League Championship Series in five.
There were moments over the previous two nights when those outcomes may have looked like distinct possibilities, but it was never going to be quite that easy or uncomplicated.
• NLCS Game 5: Tonight at 8 p.m. ET/5 p.m. PT on FS1
After the Dodgers had shut out the Cubs twice in a row, the Cubs' offense arose Wednesday night in Game 4. A 10-2 Cubs victory evened the series at two games apiece. The Cubs started a four-run, fourth-inning rally in the least offensive way, or the most offensive way, depending on your point of view.
After the Cubs had been shut out for 21 straight innings, and after the Dodgers' 20-year-old lefty Julio Urias had held the Cubs hitless for the first three innings of Game 4, Ben Zobrist, the Cubs' cleanup hitter, laid down a bunt single leading off the fourth.
"How about the bunt gets the whole thing rolling by your No. 4 hitter?" said Cubs manager Joe Maddon. "How unlikely is that? We do that."
This modest start eventually became a four-run rally, highlighted by shortstop Addison Russell's two-run homer.
Russell had been 1-for-25 in the postseason coming into that at-bat. It was that sort of thing that convinced some people that the rest of the series could go on that way. The Cubs' 3, 4 and 5 hitters were hitting just 2-for-32 (.063) in this series, coming into this game. The worst previous mark for 3, 4, 5 hitters in a single LCS was .094 by the 1982 Braves, who were swept by the Cardinals.
But the middle of the Cubs' order picked up the pace. Anthony Rizzo, hitting No. 3 Wednesday night, crushed a solo home run to center in the fifth. Before that at-bat he had been 2-for-28 (.071) in this postseason. But he had three hits and three RBIs in this game. Russell also finished with three hits.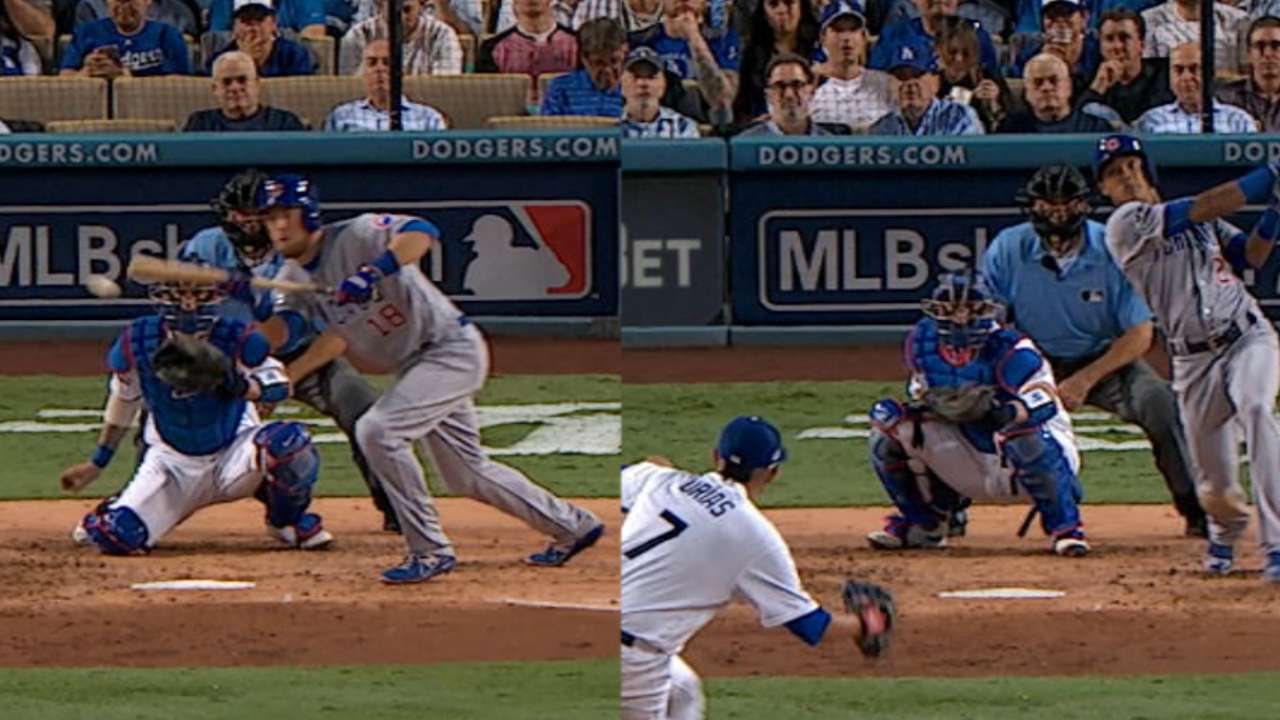 It became uglier later for the Dodgers, particularly in a five-run sixth, in which both the pitching and the defense suffered shortcomings. At the end, the final score was a fair measurement of how badly the Dodgers had been beaten.
So the Cubs' offense, third in the Majors in runs scored, second in on-base percentage, third in OPS, was not to be stopped for a third straight game. But was this Cubs' onslaught the start of a trend or merely an aberration?
The Dodgers dominated two games in this series with their pitching. They will likely have to do that again to win the series. The comfort level in that notion is that they have already accomplished this feat. The problem is that doing it again is not automatic, particularly when at least one of those pitching gems would have to occur at Wrigley Field.
The 10-2 drubbing also doesn't seem to predict Dodgers pitching dominance, but the Dodgers pitchers who have produced dominant performances were not pitching Wednesday night. And the four errors in this game were completely uncharacteristic for the Dodgers.
"In the first three games I thought we played good baseball," Dodgers manager Dave Roberts said. "Today, it just got away from us. Tomorrow we're at home and we're expecting Kenta [Maeda] to go out there and throw well. And I expect for us to play a much cleaner game."
The Dodgers have waited patiently for the really good postseason start by Maeda, the scheduled Game 5 starter.
"Kenta, I expect him to go out there and get ahead of hitters, pitch off the fastball ... and just compete," Roberts said. "So I have all the confidence in the world in Kenta that he's going to give us a chance to win a baseball game tomorrow. … Kenta's pitched in a ton of big baseball games in his career, so we expect him to go out there and compete and get outs."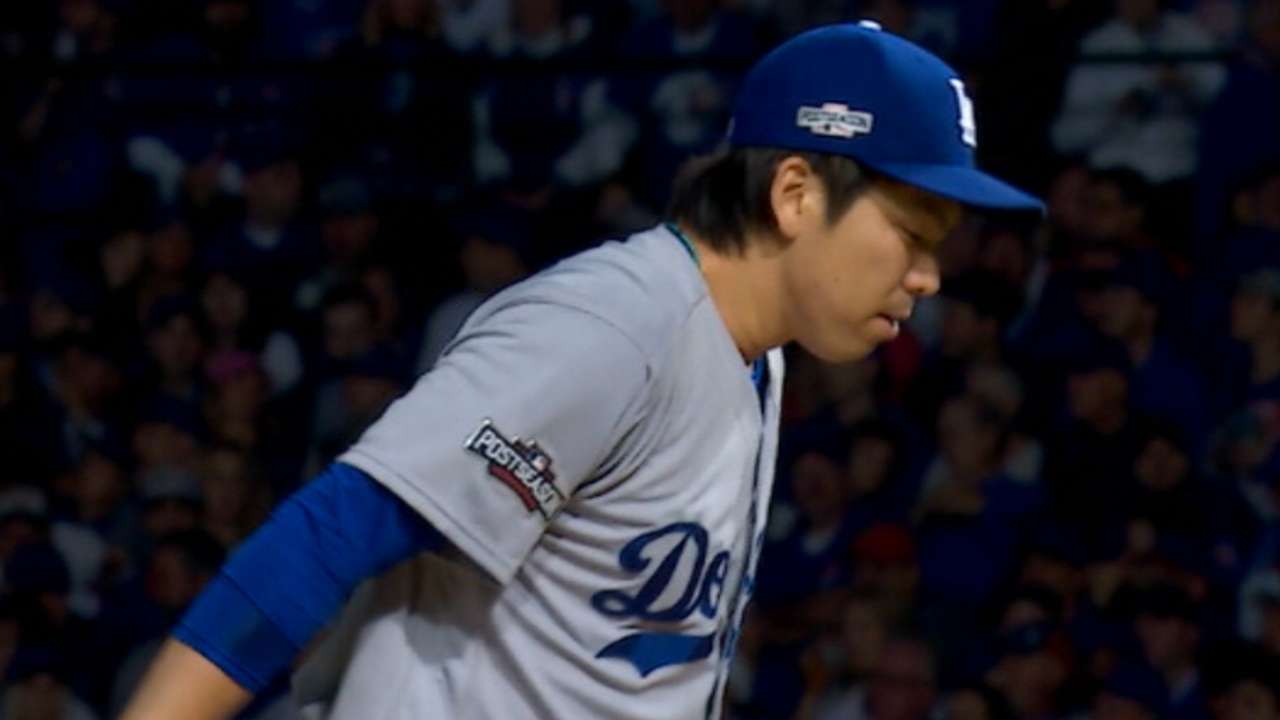 "In terms of whether I feel satisfied at this point: No, because I haven't been pitching well," Maeda said. "So I'm looking forward to pitching well this time around."
If Maeda does not deliver a winning performance in Game 5, the Dodgers would have to depend on superior outings from both Clayton Kershaw in Game 6 and Rich Hill in Game 7. This is not a dream scenario, since it already occurred in Games 2 and 3.
Kershaw has demonstrated his ability to be as dominant in the postseason as he typically is in the regular season. There is no sound reason to believe, short of suffering an injury, that he will be anything other than terrific in a Game 6 start. Hill's six shutout innings in Game 3 will also give the Dodgers confidence.
The Dodgers received a dose of harsh reality Wednesday night. The Cubs will not be going away meekly or quietly if they can be made to go away at all. The Dodgers will have to pitch extraordinarily well and play defense at a nearly flawless level to win this series. The good news for them is that they achieved those necessary levels in their two victories over the Cubs.
Mike Bauman is a national columnist for MLB.com. This story was not subject to the approval of Major League Baseball or its clubs.