Oct. 19 Andrew Miller postgame interview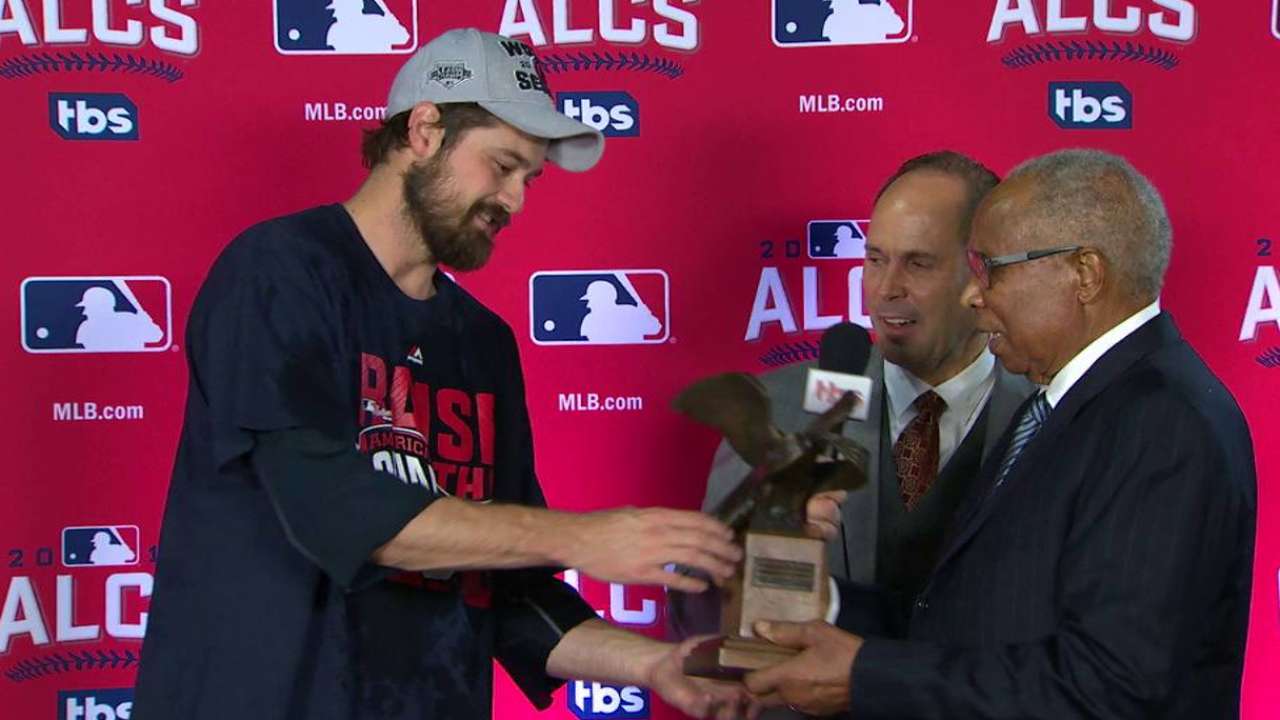 Q. Is everything OK? Only one strikeout today.
ANDREW MILLER: Thank you. Yeah, I trusted my defense. Maybe a little bit their approach, maybe just the situation. But all that matters are outs. All that matters are wins. It honestly does not matter how we get there. And I think top to bottom this team believes in that. I think guys aren't carrying their bats in the field. Guys aren't getting upset if an outing doesn't go their way; they're rooting for the next guy and it shows. The results are there.
Q. First pitch, double play, how huge was that?
ANDREW MILLER: It was awesome because I think we were all on the same page. I came in the dugout and even Mickey Callaway seemed really excited. We all had this idea and we executed it and went through it. And I think Roberto, everybody wants to talk about, we have starting pitchers, we have a Cy Young winner that's up for another one. We have a bullpen that's getting a lot of notoriety right now. The constant behind all that is Roberto Perez. He's a special talent. I think having him back there, having him put down the pitch that I had in my mind, that hey, this might work, gave me a lot of confidence and just execute and find a way and trust the defense. These guys are incredible in the infield.
What a play by Santana to stay on the bag. All around, what a special player. I think that was a big moment in the game.
Q. Personally how can you describe this season? It was tumultuous to be traded in the middle of the year and then on this team to be on the verge of making history. What can you describe about the experience?
ANDREW MILLER: It's so fun to be a part of this team. I really enjoyed my time with the Yankees. It's tough when you leave a comfort zone and a place that you like and people that you like. But I knew I was coming to a team that had won a lot and had expectations to win more. I was coming to play for Tito. I couldn't have dreamt it up any better.
It's been special. It's been a lot of fun. And it's just -- I feel like I've said the word "special" a million times in the last 20 or 30 minutes. But it's the truth. It's a blast to be a part of. We have one more big step, but we're going to the World Series and that's what you dream of.
Q. For a low-key guy, have you wrapped your brain around what you guys are doing, for the city of Cleveland, for the Indians? It seems to be a pretty big thing to digest.
ANDREW MILLER: I can't wait to see what it's like in Cleveland, honestly. I think it's going to be a lot of fun. Obviously they got a taste of the basketball championship. The crowds for the playoff games at home have been special, as you would expect them to be. I'm looking forward to seeing how they react. It's going to be a lot of fun.
I think no matter who goes it's going to be special playing the World Series. But I think Cleveland is really going to react well and we're going to have a great time.
Q. When you come into the game and the Toronto media had been calling you the "angel of death," what do you think about that nickname?
ANDREW MILLER: I don't know. Nicknames aren't something you pick or anything like that. No offense, but I stay away from the media as much as I can. It's a team effort every day. I think, like I said, we have a catcher and a defense that are special. It's not just us out there getting outs. And just all that matters is we won. It doesn't matter how we got there. I would have given up a hundred runs today if we won the game.
Q. I know you played for Terry in Boston and here and now he joins a pretty short list of guys who have taken two franchises to the World Series. Could you speak to what it's like to play for him and the job he's done in this postseason to kind of shepherd you guys through all the adversity that's gone on?
ANDREW MILLER: Yeah, I mean, first of all, Tito does such a good job of setting the tone in the clubhouse. It's loose. That's his style. I think players in a sense run it. It doesn't mean we're not prepared, it doesn't mean we're not working hard. There's card games, there's cribbage all over the place. Guys are loose. The trash talking is kind of going back and forth, but guys are prepared at the same time and we work really hard. And it shows. It pays off. We wouldn't be here if that wasn't the case.
His ability to just put us in good situations and his ability to communicate from maybe the front office or ownership to us or whatever is asked of us, it's exceptional and he's special. He wouldn't be accomplishing the things you mentioned if he weren't special as a manager.
Q. How aware were you of Jose Bautista's comments about Ryan Merritt and how did you use that as a rallying point?
ANDREW MILLER: Like I said, I try to stay out of the media, but it was impossible to miss. Some guys are into it. There are guys that are very active on social media. The TV's on in the clubhouse, we hear stuff.
Everybody reacts differently. Some people use it as fuel and other people ignore it. And Ryan Merritt, I assume he didn't pay any attention at all. He went out there and he did what everybody expected him to do, which is pretty amazing considering he has one career Major League start. He went out there and for whatever reason we believed in him. And it says a lot about this team and a lot about him.
What a special day for him. What a guy. For him to go out there and face those big hitters and never seem to get out of his speed and never seem to fall out of his comfort zone, it was incredible to watch.
Q. You've been pitching virtually every game, more than one inning most of the time. How significant was it to get yesterday off?
ANDREW MILLER: I don't think I could have thrown parts of three innings today if I had pitched multiple innings yesterday. That's the reality of it. I would have tried, I would have done everything I could, but maybe it wouldn't have been as crisp. And I don't think I was as crisp as maybe I've been on maybe some other days.
At this point of the year you just find a way, that's all that matters. It's about winning. As I said earlier, I would have given up a hundred runs if we won 101 to 100. That's all that matters is we're going to the World Series and that's a special experience and I can't wait.