Oct. 19 Ryan Merritt postgame interview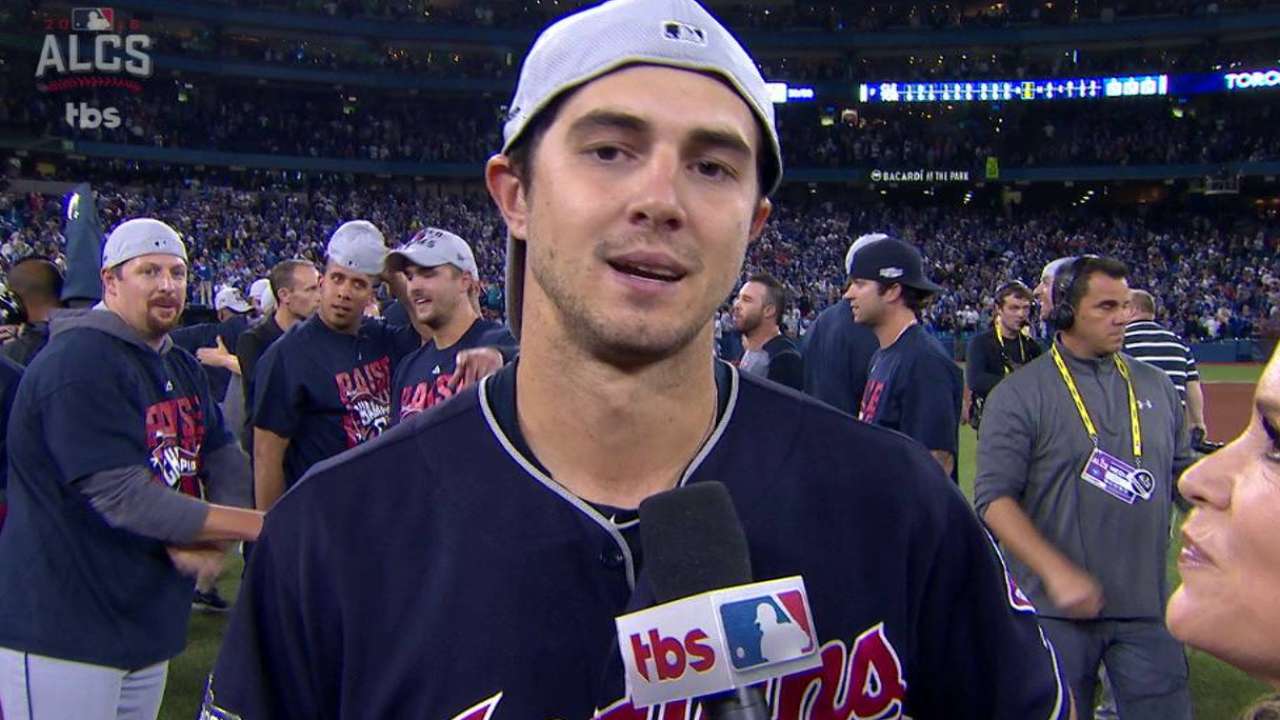 Q. Did you hear what Jose had said about you shaking in your boots prior to this baseball game? And then I understand that's hyperbole, your thoughts on getting a start in the ALCS, what he had said, the moment, how you had pitched and how does it feel now? I know that's a lot.
RYAN MERRITT: I heard it. But I didn't let it affect me or get to me. I mean, that's a good lineup. I guess he's got a right to say it. It's my first start. But the emotions out there were kind of crazy at first, a little nervous.
But it settled down, just trusted myself, stayed within myself, didn't let the -- tried not to let the crowd get to me too much, trusted my defense and just be myself out there.
Q. How much did the crowd at Rogers Centre play into the game? Did you try to take them out of it early?
RYAN MERRITT: Well, I got to see the first two games here so I kind of knew what to expect. But when you actually get out there on the mound it is a different feeling, you know? The crowd is loud but in order to pitch well you've got to tune it out, focus on what you're doing, relax and just pitch and try to have fun.
Q. You went from pitching a good year last week to pitching a clinching game to go to the World Series this week. Could you even put into words what this has been like?
RYAN MERRITT: It's crazy. It's awesome that I'm here. I'm glad they called me and that they showed that they had trust in me to come out here and give them a chance to win a game, especially at this point in the season. It's tough for them to pick a guy and trust him to go out there that hasn't had much experience to go out there and win for them. So it's an honor, really, just to be able to have that opportunity to go out and try to win.
Q. You made it look easy. Ten up, ten down to start. Were you a little relieved? I can only imagine how nervous you were after that first run in the first inning for Cleveland.
RYAN MERRITT: I was definitely nervous the first inning, but I definitely got confidence after you get through the first inning. You see where you're at with your pitches. You say, Okay, I can get these guys out. And we got an early lead. Our team put up runs early so it gives you confidence to go out there and pitch and just relax, not try to do too much.
Q. What were the last couple of days like for you? You were at the podium a couple of days ago talking about starting Game 4. And Terry makes the switch to Kluber for Game 4 and pushes you back to Game 5. What was that all like, thinking you were going to start and then the change and the anticipation leading up today, and even knowing after the Blue Jays had the emotional win yesterday having to shut them down today?
RYAN MERRITT: Definitely emotional. Terry Francona and Mickey pulled me into the office and told me, Hey, there's a chance you're going to get a start. So immediately I was nervous, of course. But they know what they're doing and I trust them like whenever they're going to throw me, that's when I'm going to throw. I'm not going to worry too much about other things, just worry about the day I'm throwing and try to do what I need to do before the game to be ready to go.
Q. Did any of the veteran players or Terry speak to you before the game and give you advice, and if so, who, and what did they say?
RYAN MERRITT: Tito did. He probably two hours, three hours before the game just pulled me into the office and he said, Hey, no matter what, good or bad, when you go out there we're behind you. He said, I'm behind you. Your team is behind you. Everybody is behind you. So just go out there and be yourself, control what you can control and just have fun, just enjoy it.