Lester seeks LA edge tonight on FS1
Lefty looks to help Chicago move closer to World Series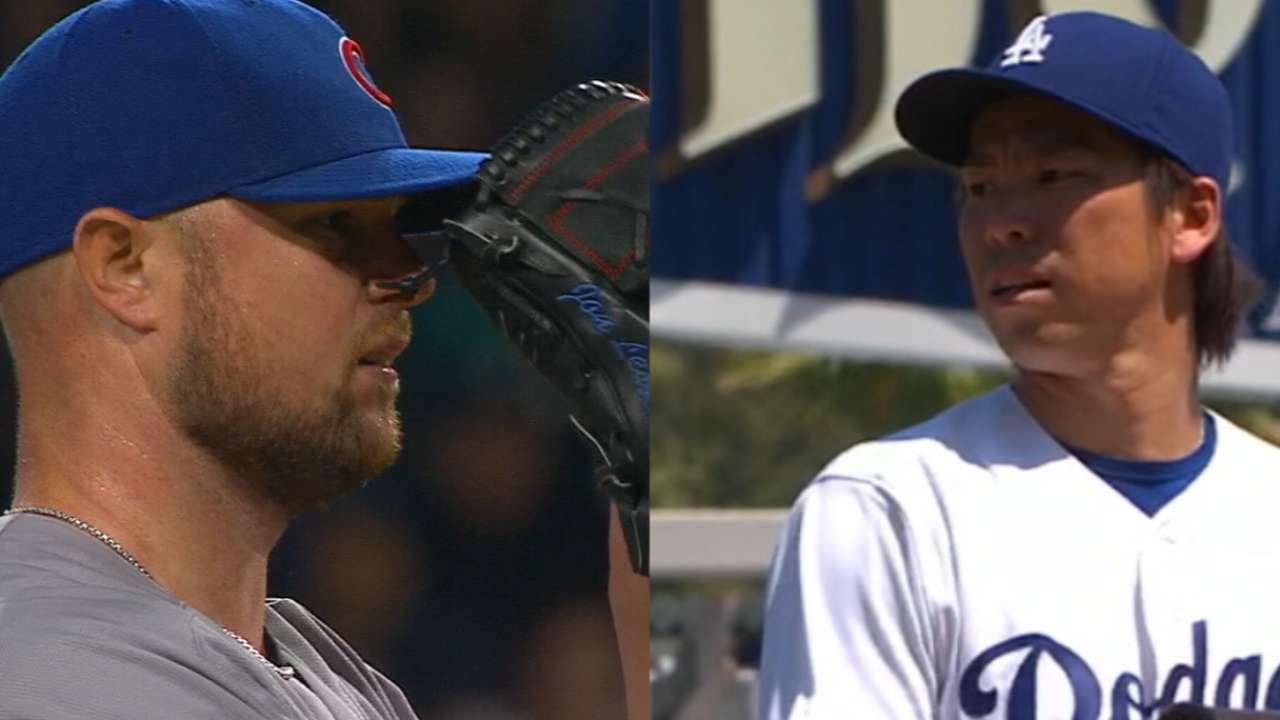 LOS ANGELES -- As Jon Lester absorbed the sales pitch, impressive as it was, he nevertheless understood that a leap of faith would have to accompany a decision to spurn competing offers from perennial contenders San Francisco and Boston to instead accept the imagine-what-could-be opportunity presented by Chicago.
But Theo Epstein, Cubs president of baseball operations, was impassioned and honest as his recruitment of Lester intensified after the 2014 season. Chicago showered Lester with gifts, offered a fine financial package of $155 million, impressed upon him the up-and-coming talent in the farm system and left him with a DVD that depicted him securing the franchise's first World Series championship since 1908.
• NLCS Game 5: Today at 8 p.m. ET/7 CT on FS1
And that December, Lester bought in, committing the next six years of his career to an organization that had just averaged 94 losses over a four-year span.
Recalling that decision on Wednesday, Lester remarked, "You're betting on words."
But the vision the Cubs presented then is inching nearer to a reality now. And although Lester isn't yet in position to clinch a World Series win, he can pitch Chicago to the precipice of a Fall Classic meeting with Cleveland when he takes the mound for Game 5 of the National League Championship Series today at Dodger Stadium.
With the series notched at two games apiece following Wednesday's 10-2 win, Lester has an opportunity to send the Cubs back to Wrigley Field one win away from that World Series berth he envisioned two winters ago.
"It came down to us finally saying, 'Here we go,' and diving in, and really believing in what Theo and the front office, and [chairman] Tom [Ricketts], and all those guys believed in from the get-go with their young guys," Lester said of choosing Chicago's overture over all the others. "We've all seen guys that are uber-prospects that have gotten called up and don't turn into anything. So you just have to believe.
"They couldn't have been more right about these guys."
For the Cubs, luring Lester gave them a veteran pitcher with a winning pedigree to complement the rise of young talent. To some outsiders it legitimized the nucleus being built in Chicago, one that, with Lester in the middle, arrived a year ahead of schedule with a 97-win season in 2015.
With Lester anchoring the starting staff and pitching his way into NL Cy Young Award consideration this season, the club ran away with the NL Central title.
"When you're able to track free agents like Jon that come to your program, obviously that's going to attract more -- and it's going to make the group that's already there better," manager Joe Maddon said. "Now moving forward, man, it's good to have him on your side. When he takes the mound [on Thursday], you feel really good about it, because you know he's in a moment. He's not intimidated by the surroundings."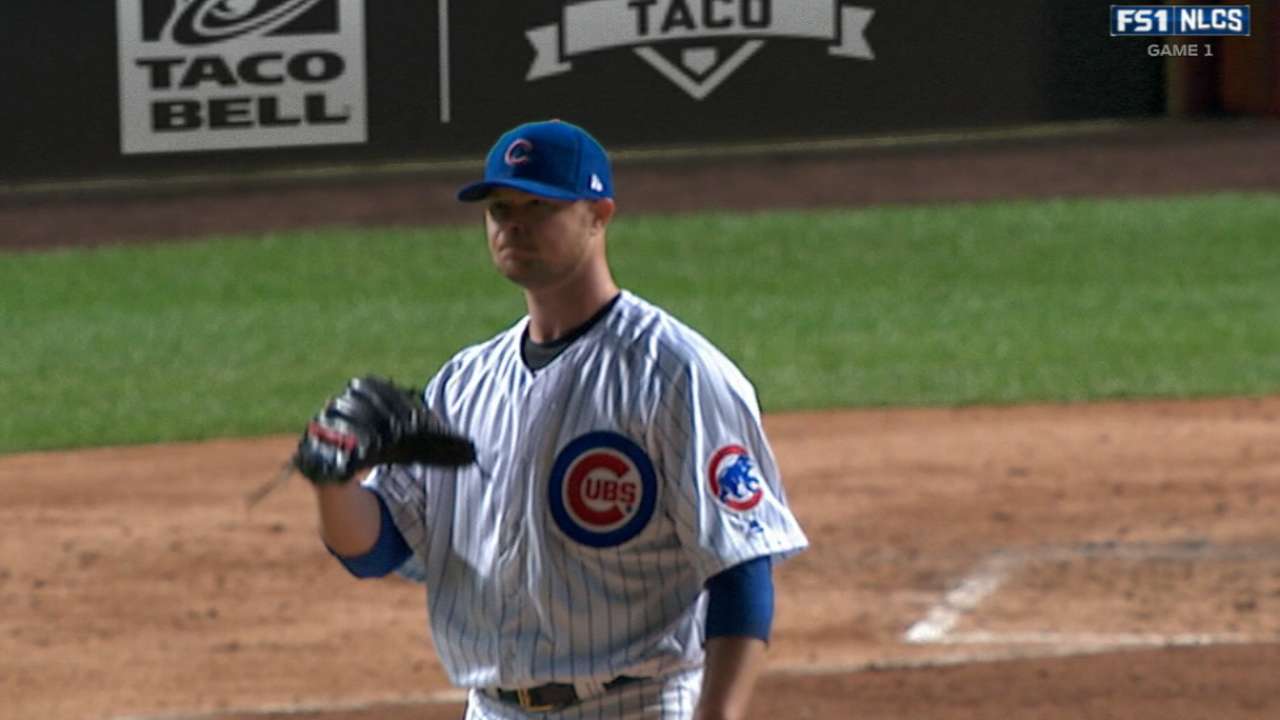 Lester's start will be his third this postseason and the 17th of his postseason career, third most among all active pitchers. Already this month he has outdueled Johnny Cueto with eight shutout innings against the Giants and finished six innings with one run allowed against the Dodgers.
That Game 1 NLCS appearance ended after 77 pitches, a modest count for someone who averaged 99 per game during the regular season. Maddon explained afterward that he pulled Lester when he did to take advantage of a pinch-hit opportunity, and to avoid pushing Lester any further with what Maddon described as less-than-optimal crispness and command.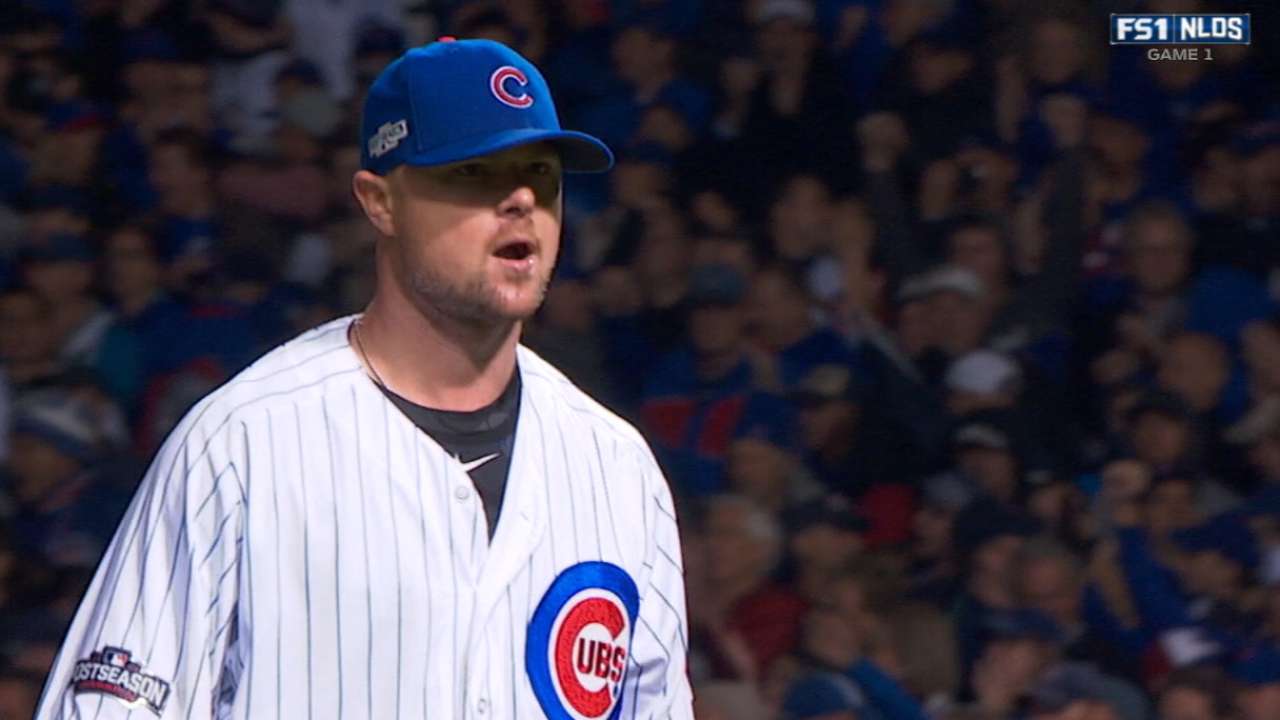 Lester, who looked irritated by the move in the moment, insisted there is no lingering frustration about the early hook. Thursday will offer him a chance to be sharper, to pitch deeper and, as it was anticipated two winters ago, be that centerpiece on a club moving closer to history.
"It's comforting to know that he's ready to pitch [on Thursday]," Maddon said. "Been there done that, too. He's done that in Boston. He's doing it here again."
Jenifer Langosch has been a reporter for MLB.com since 2007. This story was not subject to the approval of Major League Baseball or its clubs.