Maeda set for Game 5; Kershaw ready for 6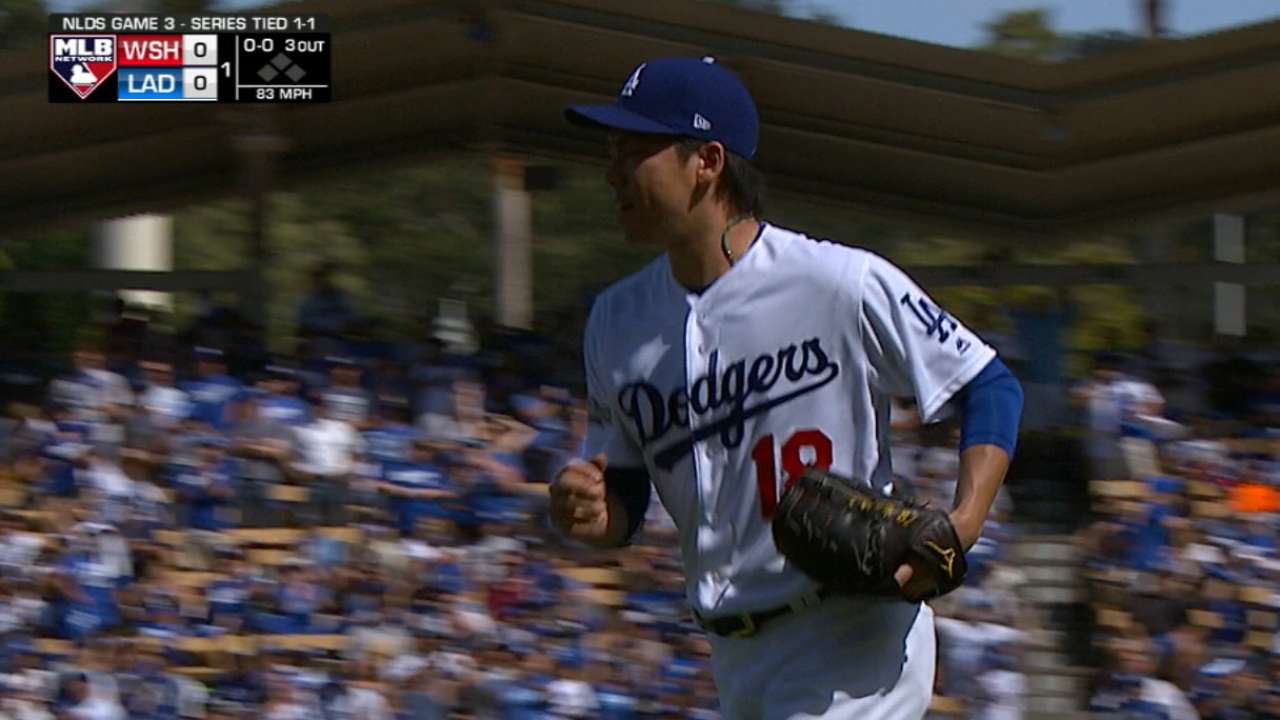 LOS ANGELES -- If there was any lingering doubt about who would start Game 5 of the National League Championship Series for the Dodgers, it was wiped away Wednesday afternoon. First, manager Dave Roberts said there was no circumstance in which Clayton Kershaw would come back on short rest. Then Kershaw threw his regular between-starts bullpen session, something he would never do the day before a start.
So, Kershaw will wait for Game 6. It's Kenta Maeda in Game 5, giving the Japanese right-hander another opportunity to shake his recent funk. The Dodgers and Cubs are tied 2-2 in the series after Chicago's 10-2 victory in Game 4, so Maeda will be looking to give them back the NLCS lead before the series returns to Wrigley Field on Saturday.
• NLCS Game 5: Today at 8 p.m. ET/5 PT on FS1
"It's going to be an important game for the team, but it's going to be an important game for myself, too," Maeda said. "I haven't been doing well, so I really want to -- I have the desire to really do well, and that's what I'm going to try to do."
Kershaw would have started Game 5 on three days' rest only if the Dodgers were facing elimination, Roberts said, but that possibility was erased with Rich Hill's win in Game 3. Still, Kershaw made a pitch, even after appearing in four games over a 10-day span from Game 1 of the NL Division Series through Game 2 of the NLCS.
"Yeah, he said -- he's done what he's always done in saying that he'll do whatever we ask of him," Roberts said. "So I think that for us thinking through it, the best thing for us is to have him pitch Game 6 and have Kenta to go [Thursday]. And with the guys that we have at the back end of the 'pen, I feel really good about the position we're in.
"I think for Kenta, it's just about getting ahead of hitters. If he can get ahead of hitters and expand, he's really good. But I think with any pitcher, if you start working behind and hitters start smelling blood, it gets to be a little bit tougher. Kenta's pitched in a ton of big baseball games in his career, so we expect him to go out there and compete and get outs."
Maeda threw an extended bullpen session this week after allowing three Cubs runs on four hits and three walks over four innings of a no-decision in the Dodgers' 8-4 loss in Game 1 at Wrigley Field.
In Maeda's two postseason starts, he has pitched seven total innings. He has not thrown a pitch past the fifth in any of his last six starts. Asked Wednesday about his health, Maeda said, "It's the end of the season, but I'm feeling fine, physically."
"To be honest, results-wise, it hasn't been there," he said in a separate conversation with Japanese reporters. "But, for me, it doesn't feel like much of a difference. Maybe want to work on being careful with two strikes and execute those pitches. Last time, I didn't locate pitches where I wanted to. [They were] running into the plate instead of running away from the plate and ended up being a bad result."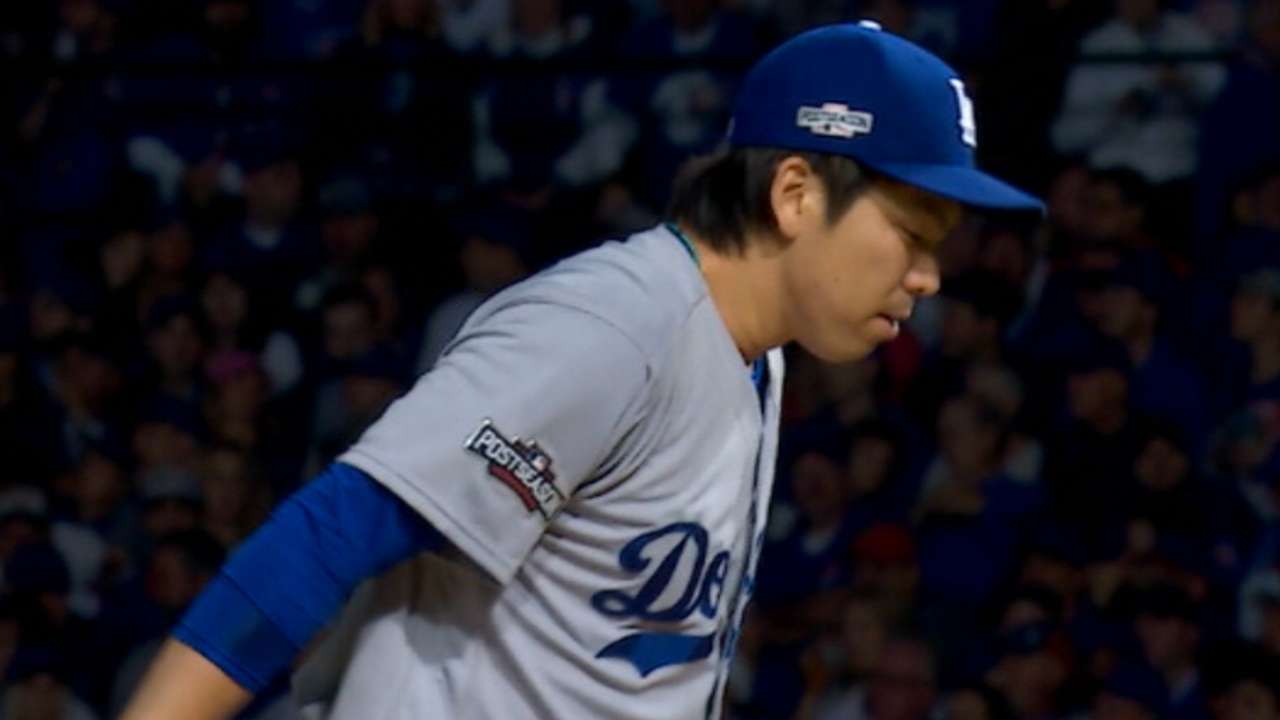 That is particularly the case against left-handed batters like Dexter Fowler, a switch-hitter who was swinging from the left side of the plate when he led off the bottom of the first inning of Game 1 with a single. He scored on Kris Bryant's double.
In the second, another lefty, Jason Heyward, led off with a triple to spark a two-run inning.
Maeda did hold the Cubs hitless in the third and fourth, but was out of the game after that. The short leash is a new experience for Maeda, who was a star in Japan with postseason experience for the Hiroshima Carp, and who pitched into the sixth inning in 19 of his 32 regular-season starts.
"I do understand that, pitchers don't have the leeway like in the regular season, when you have to think about all the games left to play," Maeda said. "But that's the same as the postseason in Japan.
"I'm not going to change the approach. Just focus on getting hitters out."
Speaking of the postseason in Japan, Maeda's former team is still alive, headed to the championship series beginning Saturday.
"I think for myself and for our fans in Japan, I think it's a good thing that the Hiroshima Carp and the Dodgers are deep into the postseason," said Maeda, who came to the U.S. Major Leagues last winter. "It's a very complicating feeling that the Carp have made it this far without myself."
He was joking.
"But I'm very happy for them," Maeda said, "and I really want to win it for the Dodgers."
Adam McCalvy has been a reporter for MLB.com since 2001. This story was not subject to the approval of Major League Baseball or its clubs.