MLB.com Columnist
Alyson Footer
A-list stars add extra glitz to NLCS stage
Hollywood celebs, Dodgers greats take in Game 4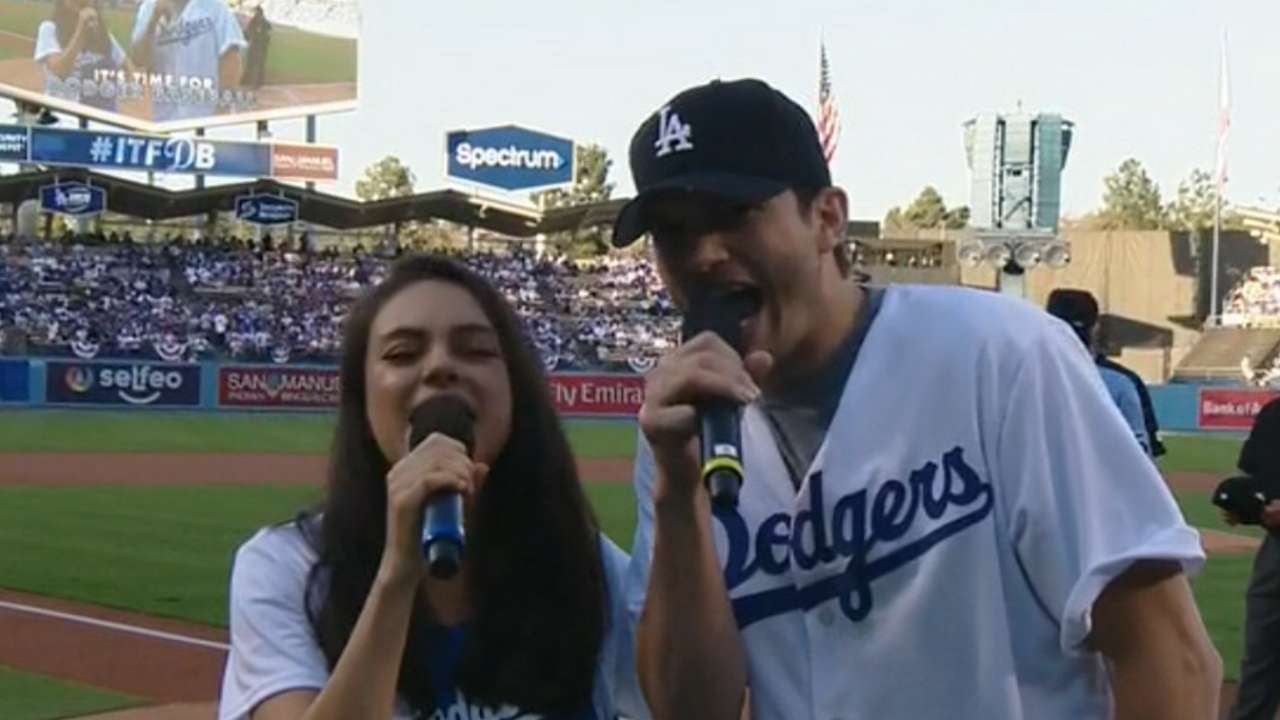 LOS ANGELES -- Among the things that haven't been lacking at Dodger Stadium during the National League Championship Series with the Cubs? Star power.
Chavez Ravine typically has a strong Hollywood presence during baseball season, but the list of celebrities tends to double, maybe triple, in October. Movie stars and musicians from across all eras can be spotted at Dodger Stadium during the postseason. It's so common that the Dodgers regularly show stars in their seats on the scoreboard between innings.
• NLCS Game 5: Today 8 p.m. ET/ 5 PT on FS1
On Wednesday, for Game 4 of the NLCS between the Dodgers and Cubs, Chavez Ravine was again teeming with optimism and celebrities. Perhaps a series between two of baseball's most storied franchises brought out even more A-listers than usual, or maybe everything just seemed magnified because the Dodgers were, before the game began, two wins away from winning a pennant. The Dodgers then lost to the Cubs, 10-2, as Chicago evened the series at 2-2.
Or maybe it was because the Dodgers had so many famous people on the field in the minutes before the game started that gave it a more hyped feeling.
It began with the Dodgers lineup, introduced not by the traditional smooth stylings of the public address announcer, but by two well-known actors: Mila Kunis and Ashton Kutcher, who stood in front of home plate and announced -- loudly -- the Dodgers' starting nine.
"The baby boy! The man who can't drink champagne yet! Julio Urias!" Kutcher bellowed, introducing the Dodgers' 20-year-old starting pitcher.
The ceremonial first pitches were thrown by two former Dodgers who were a big part of championships past: Ron Cey and Bill Russell. Cey, a six-time All-Star and World Series champion, was co-MVP of the 1981 World Series. Russell, an 18-year Dodger and three-time All-Star, played in five NLCS.
Like Rick Monday, who threw out the first pitch for Game 3, Cey played for both teams involved in the current NLCS. Cey's Dodgers career lasted from 1971-82 before he moved on to Chicago, where he played from '83-86.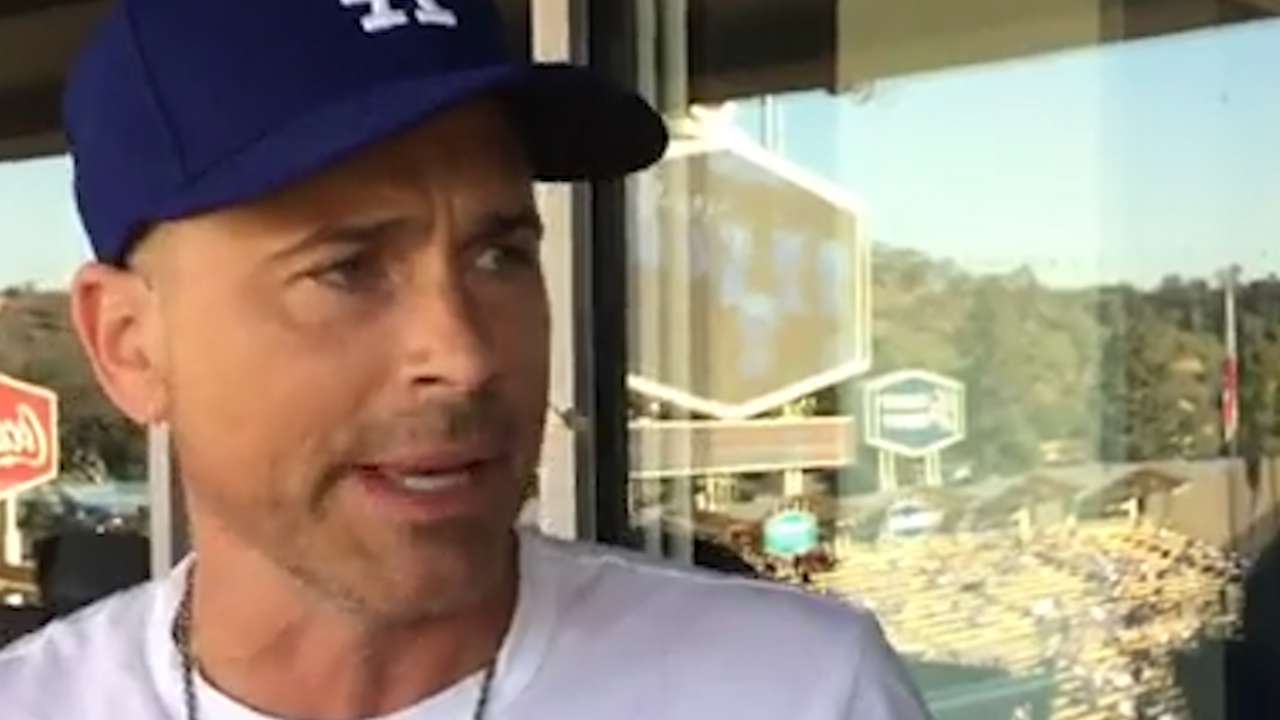 Though he respects both clubs, Cey's loyalties sit firmly with the Dodgers.
"I'm thrilled that the Cubs have been able to get to this spot the second year in a row," Cey said. "The future is extremely bright. One of those fan bases is going to be very happy. We've been missing from the World Series for 29 years, and that's not characteristic of our history, and the Cubs' [drought], as we all know, goes back over 100 years. Either way people are going to be very happy."
If it's the Dodgers' fan base that gets to celebrate a pennant, expect some familiar faces to be among the joyous revelers. Actor Rob Lowe, a regular attendee at Dodgers games, is ready to watch his adopted home team (an Ohio native, Lowe grew up as a Reds fan) finally get back to the World Series.
.@RobLowe is literally here with Skip. #LALovesOctober pic.twitter.com/0MlDNK70g5

— Los Angeles Dodgers (@Dodgers) October 19, 2016
"This is it. I don't want to jinx it, but everybody has a good feeling," Lowe said, snapping photos of his son and nephew on the field just after batting practice ended. "I also think the goat may have found its way back into the Chicago dugout, I'm afraid."
The pregame ceremony also included the presentations of colors by a military color guard representing all five branches of the U.S. military. Conjunction Entertainment Gospel recording artist Keith Williams Jr., who also performed prior to NLDS Game 4 and NLCS Game 3, sang the national anthem.
Alyson Footer is a national correspondent for MLB.com. Follow her on Twitter @alysonfooter. This story was not subject to the approval of Major League Baseball or its clubs.