Maddon sticks with struggling Russell at SS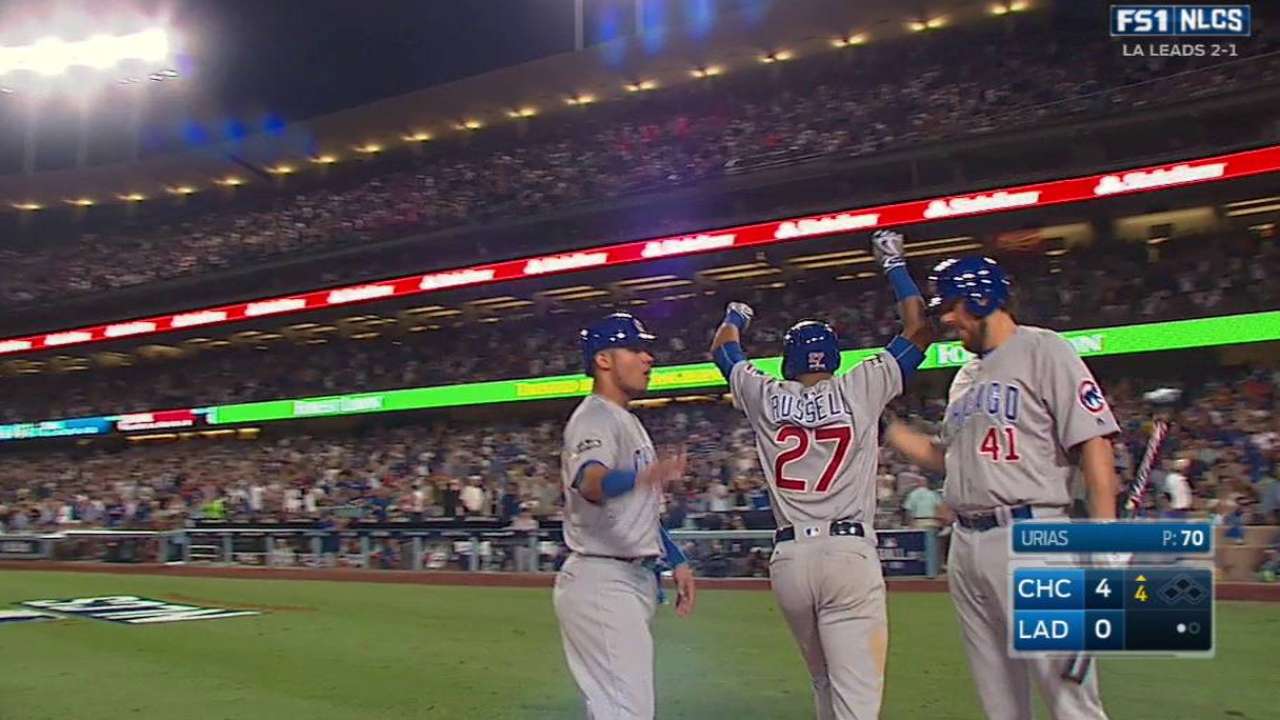 LOS ANGELES -- Prior to Wednesday night's Game 4 of the National League Championship Series, Cubs shortstop Addison Russell was throwing a football around the outfield with teammate Matt Szczur. If Russell was feeling any pressure from a tough postseason, he wasn't showing it.
"I don't want anything to change," manager Joe Maddon said on Wednesday. "If they did that in the middle of June, do it in the middle of October. I have no problem with that. Our guys are fine. We just haven't hit -- that's it. Everything else is pretty much the same."
• NLCS Game 5: Tonight at 8 ET/7 CT on FS1
Russell, who entered Wednesday 1-for-24 in seven postseason games, and 0-for-9 against the Dodgers in the NLCS, went 3-for-5 with a home run and two RBIs as the Cubs broke out for a 10-2 win in Game 4. Maddon did have Jason Heyward pinch-hit for Russell in the seventh inning on Tuesday, but he didn't hesitate to start the 22-year-old at shortstop.
"Right now, Addison and [Javier Baez] up the middle is our best chance," Maddon said.
After Russell was elected to his first All-Star Game this season, he responded confidently, and ranked second on the Cubs in second-half RBIs with 44 behind Anthony Rizzo (46).
"Regardless of what happens right now, I don't think it will detract from next year," Maddon said of Russell. "He's way too young. He's got so many adjustments to make over the next few years.
"We have a lot of young guys and there's still time for them to get better. I don't think any negative experience will linger."
No NLCS comparison
Maddon downplayed any comparison between this NLCS and last year when the Mets shut the Cubs down in a sweep.
"It's different," Maddon said. "The way [the Mets] pitchers pitched was entirely different. There's no weather excuse. We've been playing in good weather. The style of pitching [the Dodgers] are presenting is totally different."
Dodgers starters Clayton Kershaw and Rich Hill have stymied the Cubs with a mix of fastballs and curveballs. But the stats from last year's NLCS and this year's are very similar. Against the Mets, the Cubs' slash line was .164/.225/.297, and they totaled eight runs, hitting four homers. This year against the Dodgers, the Cubs' slash line is .161/.235/.312, they've scored eight runs and hit two homers.
Hometown feeling
The folks in Maddon's hometown of Hazleton, Pa., are watching how the Cubs do. Maddon mentioned that the kids at the Hazleton Integration Project, which he created and funds, can watch the game on a television they got through a drug bust.
"I stay in touch with all these guys all the time," he said. "And believe me, man, there's a lot going on in the bars back there. It's great. It's absolutely great."
Carrie Muskat has covered the Cubs since 1987, and for MLB.com since 2001. She writes a blog, Muskat Ramblings. You can follow her on Twitter @CarrieMuskat and listen to her podcast. This story was not subject to the approval of Major League Baseball or its clubs.