Entering with high hopes, Estrada just solid for 6
Blue Jays righty allows three runs (two earned) in Game 5 loss to Indians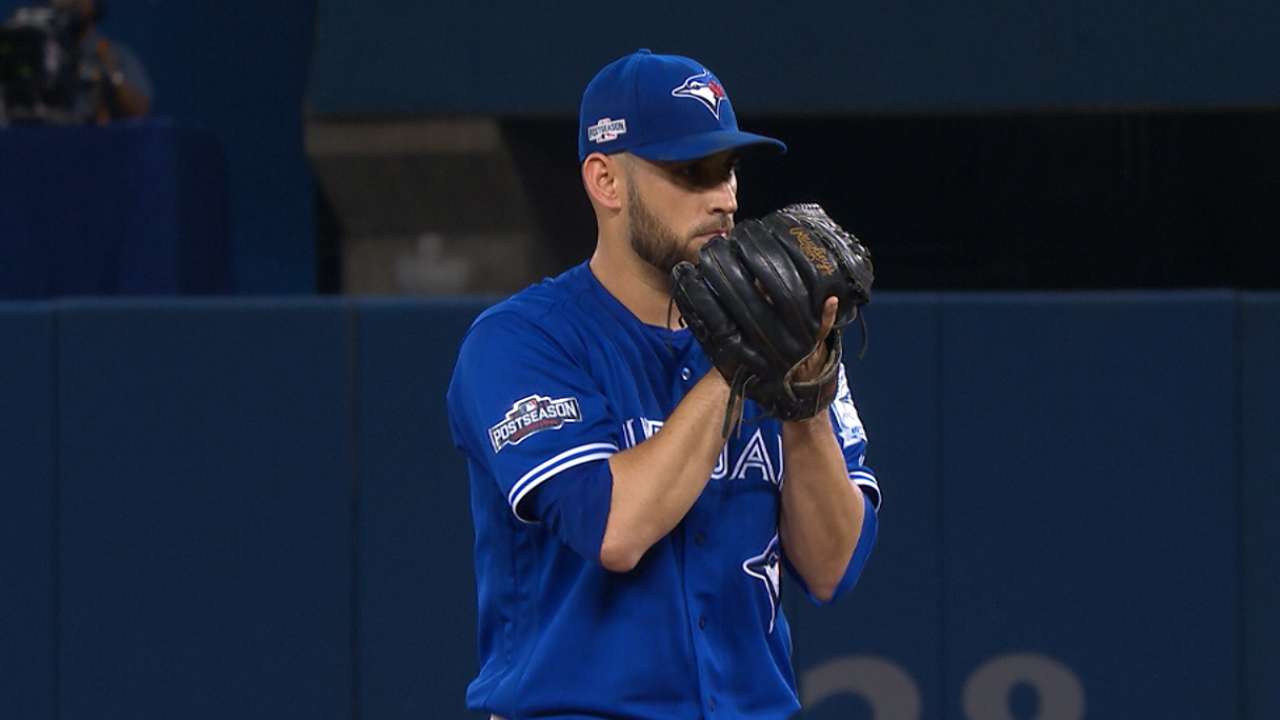 TORONTO -- Marco Estrada set the bar high as he approached his critical start for the Blue Jays in Wednesday's Game 5 of the American League Championship Series, saying that he expected to pitch deep into the game and keep the Indians from celebrating on the turf at Rogers Centre.
Known for stepping up in big games, Estrada was outdueled by rookie left-hander Ryan Merritt and three Cleveland relievers, surrendering three runs (two earned) over six innings in a season-ending 3-0 loss.
While Estrada kept the Tribe at bay for most of the afternoon, allowing just five hits, a pair of solo home runs by Coco Crisp and Carlos Santana along with an unearned run in the first provided all the offense Cleveland would need to advance to its first World Series since 1997.
Estrada, who staved off elimination last season with a Game 5 victory in the ALCS against the Royals, said Wednesday's loss would sit with him for a while.
"This one hurts a little more," Estrada said. "Maybe because I was the one pitching and gave up the only three runs of the game. Right now, it's hard for me to take it."
After surrendering runs in three of the first four frames, Estrada settled down with two scoreless innings before giving way to the bullpen. The 33-year-old took the time to reflect on back-to-back ALCS appearances, before lauding the Indians for their gritty effort throughout the series.
"We're all very proud of being here, but with the team we have, we should all still be playing," Estrada said. "It's pretty incredible that [the Indians] took the first three games. We had our opportunities, we didn't take advantage of it. That's just the way the game works sometimes. I'm still extremely proud of everybody. Credit to Cleveland, they played a heck of a series."
Estrada went 9-9 with a 3.48 ERA in 29 starts this season, earning his first career All-Star Game selection. He pitched his first career complete game in Game 1 of the ALCS, taking the loss after allowing Francisco Lindor's two-run sixth-inning home run among six hits over eight innings.
The Long Beach State product also picked up the win in Game 1 of the AL Division Series, limiting the Rangers to one run on four hits over 8 1/3 innings.
Alykhan Ravjiani is a reporter for MLB.com based in Toronto. This story was not subject to the approval of Major League Baseball or its clubs.