Bichette named to Colorado Sports HOF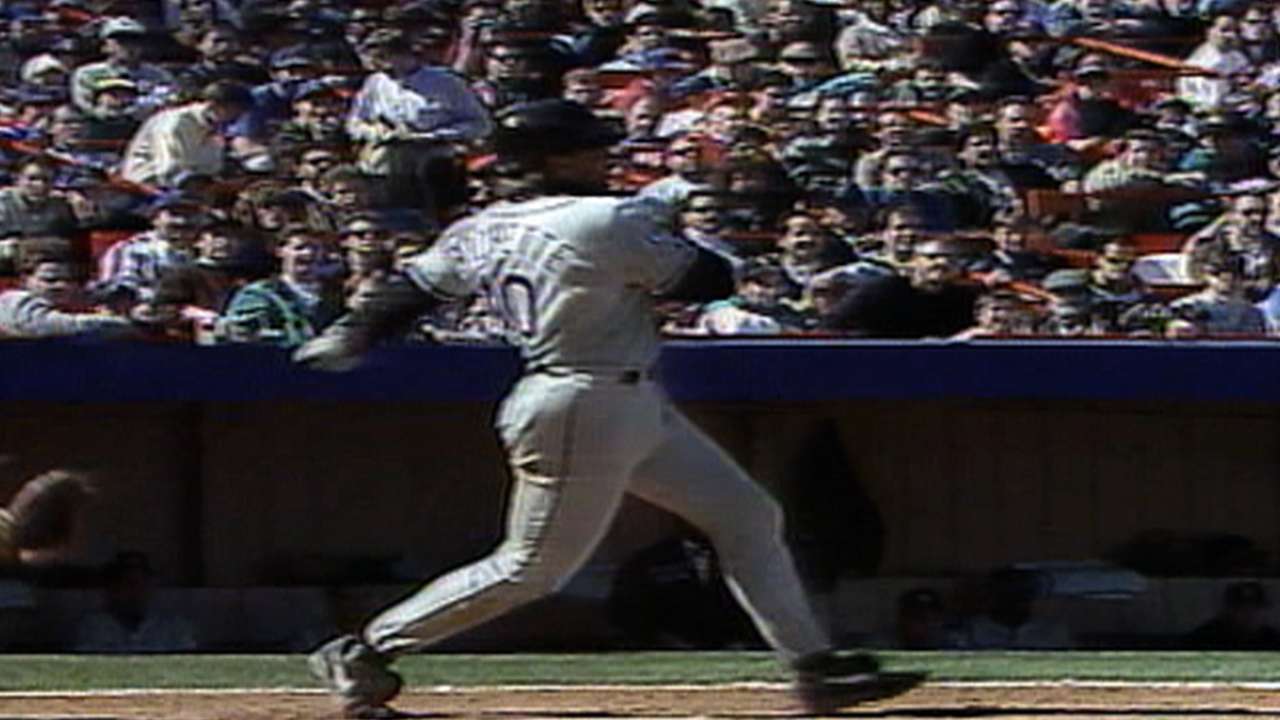 DENVER -- Dante Bichette became one of the Rockies' earliest stars with his bat, so much so that the Colorado Sports Hall of Fame this week announced that Bichette will be a member of its 2017 class of inductees.
So it comes almost as a shock to learn what Bichette, 53, is doing these days: pitching.
On Wednesday, Bichette discussed his Colorado sports honor from Phoenix, where he was pitching for the EC Cardinals, a men's team out of Charlottesville, Va. It's one of several teams Bichette -- who resides near St. Petersburg, Fla. -- has been known to pitch for these days.
"The knees give me a hard time, so I don't hit much anymore -- too much pressure," Bichette said, laughing. "I like to pitch now. I've thrown a lot of batting practice to my boys [Dante Jr. is a Double-A prospect with the Yankees, and Bo is a Blue Jays prospect in Class A], so my arm is in good shape. I've got a fastball, a curve and a changeup, and I'll drop down a little, submarine style. I was at 90 mph a few years back, but I don't know if I can touch that anymore."
But Bichette is a Colorado Sports Hall of Fame inductee because he could really hit. He had a 14-season career as an outfielder. In seven seasons with the Rockies (1993-99), he compiled a .316 batting average that's tied for third-best in club history. His 201 home runs rank fourth.
Bichette had on-and-off success with the Angels (1988-90) and Brewers (1991-92). But after the '92 season, he was traded to the Rockies after the expansion draft, and he embraced the new start with his new club.
"I remember Jerry McMorris [the club's principal owner] saying at our very first meeting that this is a great opportunity for every one of us," said Bichette, who served as the Rockies' hitting coach in 2013. "These fans had been waiting a long time for baseball, and they were going to show up. I remember taking that to heart. I figured it was time to do it. It just worked out."
Bichette hit the first home run in club history, on a solo shot off the Mets' Bret Saberhagen at Shea Stadium on April 7, 1993. He also launched a 14th-inning home run against the Mets in the 1995 inaugural game at Coors Field. His best season was 1995, when he led the National League in home runs (40), RBIs (128), hits (197) and slugging percentage (.620). He barely lost in the MVP Award voting to the Reds' Barry Larkin.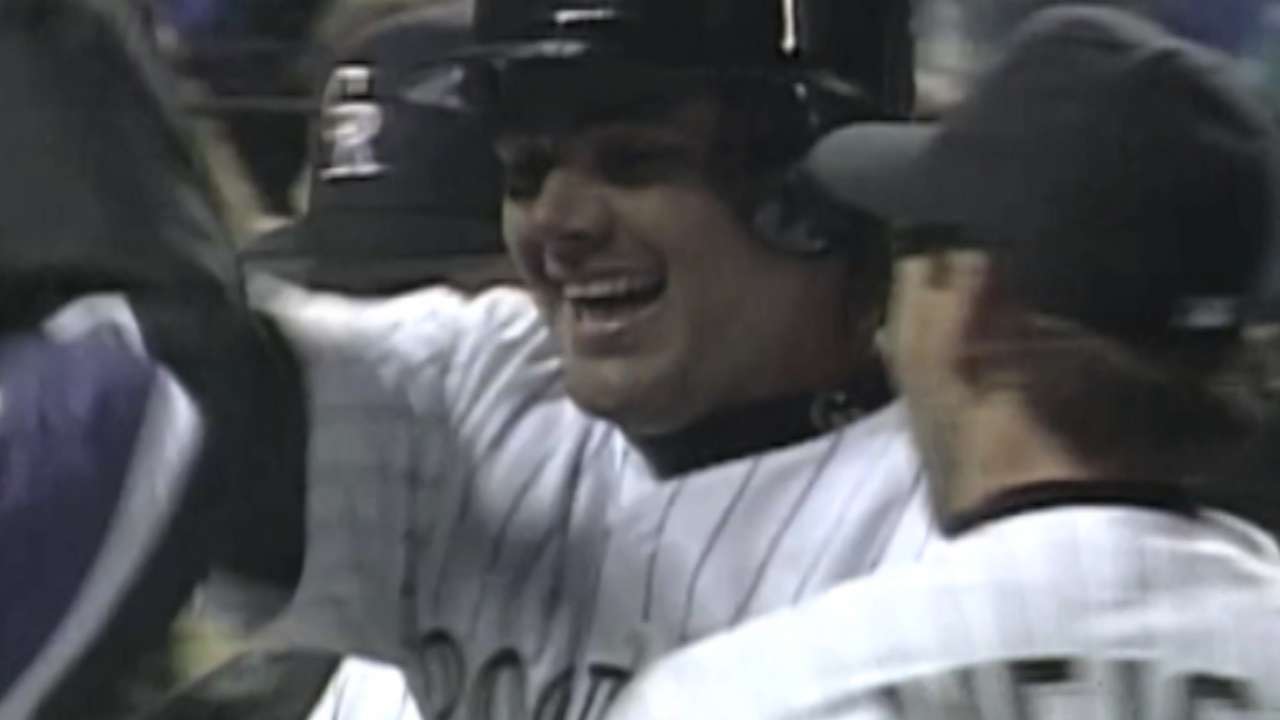 Bichette said he is proud to be remembered in a place he will always remember.
"It was a special place to me, what I call my baseball home," Bichette said. "That's the best thing an athlete can wish for, to be remembered. Even fans who weren't old enough to see me kind of remember you, because they've heard the stories. It's kind of nice to have a little legacy."
Bichette is part of a six-member class that also consists of former Denver Broncos star Champ Bailey, world-class Olympic skier and former University of Colorado and NFL football plyer Jeremy Bloom, world-famous squash player Hashim Kahn, renowned high school football player and high school swimming and diving coach Maurice "Stringy" Ervin, and University of Colorado All-American and Cleveland Browns and Washington Redskins star lineman John B. Wooten.
The Rockies also are represented in the Colorado Sports Hall of Fame by Vinny Castilla, original manager Don Baylor, Andres Galarraga, Todd Helton, Larry Walker and former club president Keli McGregor, an accomplished collegiate and pro football player before joining the Rockies.
The 2017 class will be honored at the Colorado Sports Hall of Fame's 53rd annual banquet on April 27 at the Denver Marriott City Center. The Colorado Sports Hall of Fame & Museum is at Gate 1 on the west side of Sports Authority Field at Mile High Stadium in Denver.
Thomas Harding has covered the Rockies since 2000, and for MLB.com since 2002. Follow him on Twitter @harding_at_mlb, listen to podcasts and like his Facebook page.
This story was not subject to the approval of Major League Baseball or its clubs.