NLCS Game 4 starting lineups: Cubs vs. Dodgers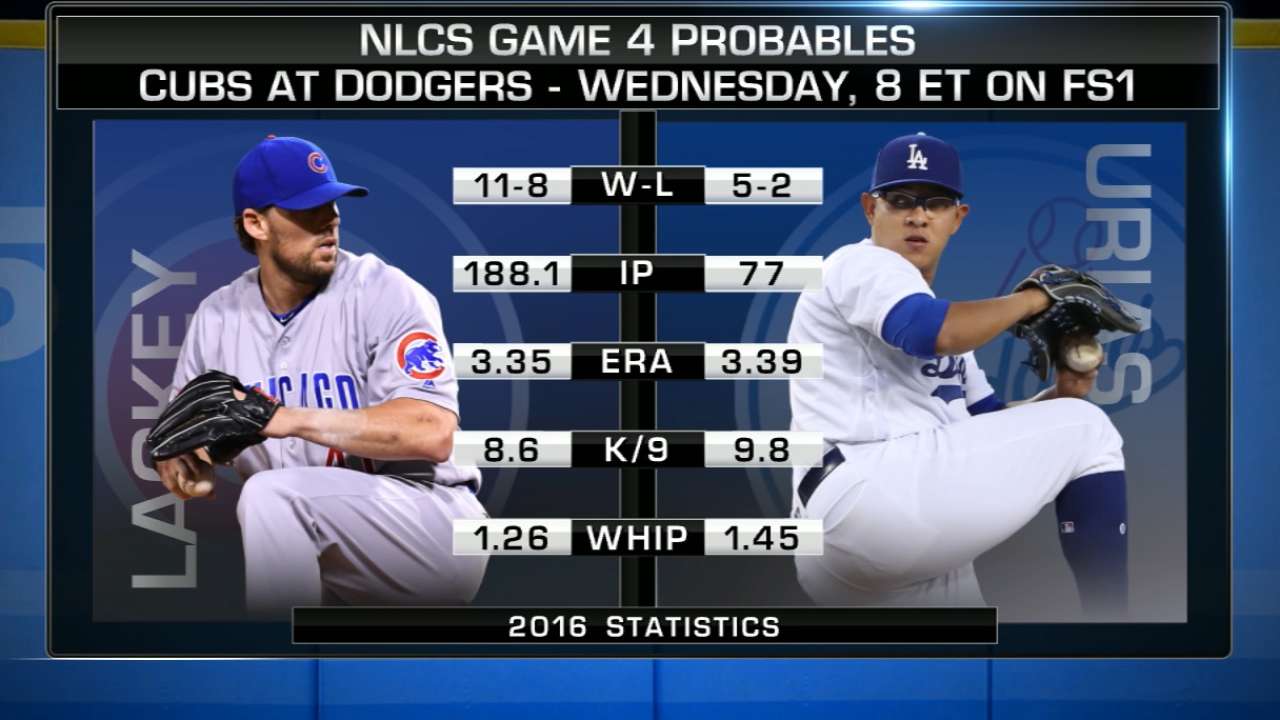 LOS ANGELES -- Cubs manager Joe Maddon went back to a more defensive lineup on Wednesday for Game 4 of the National League Championship Series, starting Jason Heyward in right field. Rookie Willson Contreras will be behind the plate, and Addison Russell, who has been struggling in the postseason, was dropped to eighth in the order.
Center fielder Dexter Fowler leads off for the Cubs, and will be followed by third baseman Kris Bryant, first baseman Anthony Rizzo, left fielder Ben Zobrist, second baseman Javier Baez, Contreras, Heyward, shortstop Russell and pitcher John Lackey.
• NLCS Game 4: Tonight at 8 ET on FS1
Meanwhile, Dodgers manager Dave Roberts, whose team is facing a right-handed pitcher for the third straight game, stuck with the same lineup he used to win Games 2 and 3. That means seven left-handed batters out of eight position players, including switch-hitting catcher Yasmani Grandal. Third baseman Justin Turner is the only righty, and rookie Andrew Toles gets another start in left field.
The Cubs will face their third straight left-hander in the series in 20-year-old Julio Urias. They faced the youngster twice this season, beating him on June 2 at Wrigley Field in his second Major League start and then losing Aug. 27 in Los Angeles, 3-2. The Cubs did not face Game 2 starter Clayton Kershaw or Game 3 starter Rich Hill in the regular season, and lost both NLCS games against them. The Dodgers lead the best-of-seven series, 2-1.
Maddon said he considered starting Jorge Soler or Albert Almora Jr., both right-handed hitters, rather than Heyward.
"Jason's presence means a lot," Maddon said. "I like looking out on the field and seeing him out there. He had a good game against this pitcher earlier this season, and so I feel good about it."
Against Urias, Bryant was 2-for-6, Baez 2-for-4, and Heyward 2-for-2, and all three hit home runs off the lefty.
The goal remains the same, Maddon said.
"Normally, our gig is to try to score first and win innings, and we haven't done that for two days," Maddon said. "I can't take a trip to negative town right now just because we've had two tough days. I have a lot of faith and trust in our players."
The Cubs will counter with Lackey, who will be making his 22nd career postseason start, the most by any active pitcher in baseball. He will be tied with Whitey Ford for the sixth-most starts in postseason history. Andy Pettitte holds the all-time record with 44 postseason starts.
Despite Lackey's long track record, the Dodgers only have two starters who have batted against him more than six times in their careers. Adrian Gonzalez has gone 7-for-23 (.304) with a double, and Chase Utley 2-for-13 (.154) with a triple.
What the Cubs need is some hits. They enter Game 4 batting .185 in the postseason overall, and .161 in the NLCS. Rizzo is 2-for-26 in seven games, 1-for-11 against the Dodgers, while Russell is 1-for-24 in the playoffs and 0-for-9 in the NLCS. Zobrist is 1-for-10 in the NLCS, and Heyward is 1-for-7.
What's been surprising is how the Dodgers lefties have shut down the Cubs, who hit .267 against southpaw pitchers during the regular season. They're batting .152 against left-handers in the postseason.
CUBS
Dexter Fowler, CF
Kris Bryant, 3B
Anthony Rizzo, 1B
Ben Zobrist, LF
Javier Baez, 2B
Willson Contreras, C
Jason Heyward, RF
Addison Russell, SS
John Lackey, P
DODGERS
Chase Utley, 2B
Corey Seager, SS
Justin Turner, 3B
Adrian Gonzalez, 1B
Josh Reddick, RF
Joc Pederson, CF
Yasmani Grandal, C
Andrew Toles, LF
Julio Urias, P
Carrie Muskat has covered the Cubs since 1987, and for MLB.com since 2001. She writes a blog, Muskat Ramblings. You can follow her on Twitter @CarrieMuskat and listen to her podcast. This story was not subject to the approval of Major League Baseball or its clubs.