Reds, FOX Sports Ohio agree to 15-year extension
New deal begins in 2018; financial terms not disclosed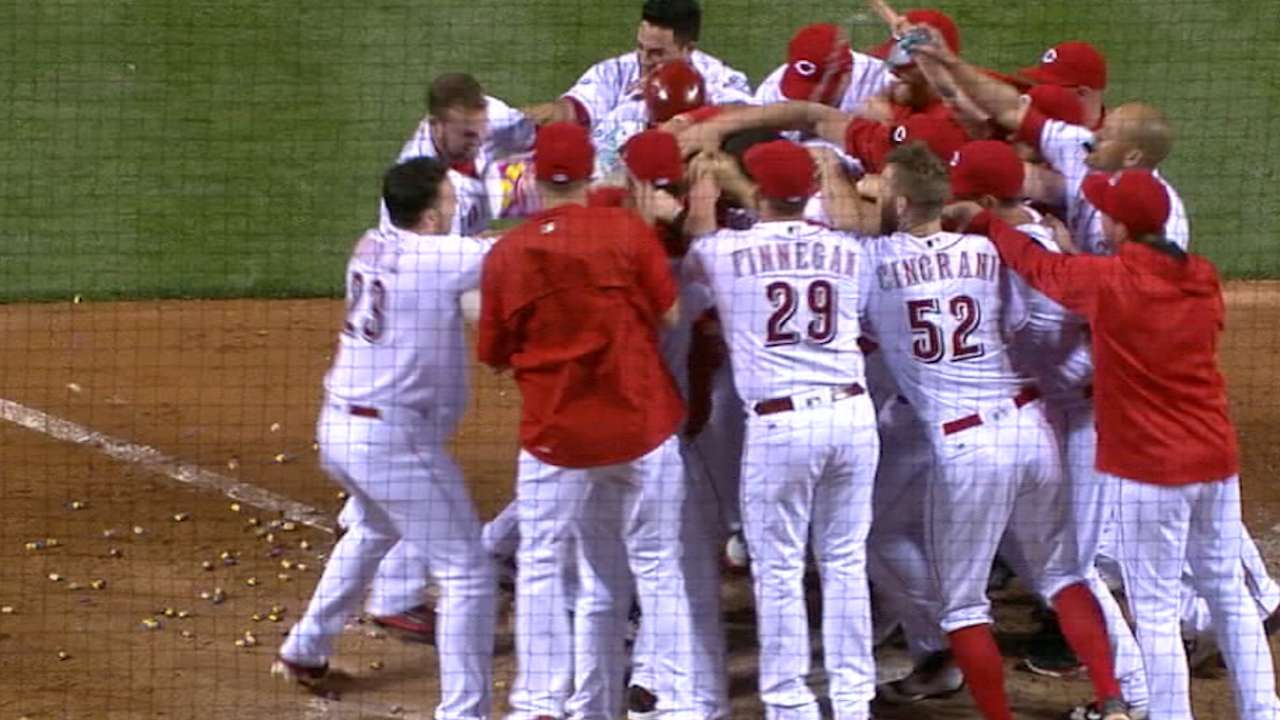 The Reds have agreed to a 15-year extension of their local television broadcast rights agreement with FOX Sports Ohio, the club announced on Wednesday.
The financial terms of the deal, which goes into effect in 2018, were not disclosed. Reds chief operating officer Phil Castellini noted that the agreement, which had been in the works for some time, gives the club an equity stake in FOX Sports Ohio.
"We really view it as a new relationship that looks more like a partnership," Castellini said. "It'll operate very much the same as it has -- FOX will be in charge of all elements of the broadcast, the technical aspects -- but we are in it more together."
A few years ago, the Reds considered starting their own regional sports network. They hired a consulting firm to explore the pros and cons of such a move, and the club ultimately decided to extend its long-standing partnership with FOX Sports Ohio, which has televised Cincinnati's games since 1998 while also producing the Reds Live pre- and postgame shows, Spring Training games and additional Reds programming.
Media rights have recently become a boon for organizations renewing their deals. The Dodgers reportedly agreed to a contract in 2013 worth at least $280 million annually, while the Cardinals reportedly reached a deal with FOX Sports Midwest worth more than $1 billion over 15 years.
Castellini called the deal a "nice increase" for the Reds, but he stressed that the agreement is still relative to Cincinnati's market size.
"We're very pleased with our deal, especially with the uncertainty in the marketplace," he said. "We're very pleased with the deal we have with FOX, and I think our timing was excellent."
While the deal will increase the Reds' revenue and continue to increase in value on an annual basis, it won't change the club's approach to rebuilding from within. One reason: The Reds' attendance at Great American Ball Park dipped significantly as they finished 68-94 this year, dropping to 1,894,085 this year from 2,419,506 in 2015.
"We had a dip in attendance and, as such, a dip in revenue. It's not quite the windfall we hoped it would be," Castellini said. "As we progress back up the competitive ladder … we will continue to reinvest all revenues back into the product. We define the product as player development, scouting, Major League payroll -- everything that goes into what [GM Dick Williams] does to put the team on the field, as well as the game-day experience at Great American Ball Park. The partnership with FOX is really going to help us continue that work."
Added Williams: "This is obviously good news for us and the franchise and puts us in a good position to continue the work that we've started here the last couple years. … We're still very much committed to the rebuild. We're excited about the progress we made, especially off the field this year, a lot of good stuff to talk about that bodes well for our future. I'm really pleased these guys were able to get this TV deal done, because I know that helps the revenue side."
The Reds' previous agreement with FOX Sports Ohio, reportedly worth $30 million per year, expires after the 2017 season.
"We are proud to extend our long-standing partnership with the Reds organization well into the future," senior vice president and general manager of FOX Sports Ohio and SportsTime Ohio Francois McGillicuddy said in a statement.
Adam Berry has covered baseball for MLB.com since 2011. Follow him on Twitter. This story was not subject to the approval of Major League Baseball or its clubs.