Status uncertain: Bauer set for another checkup
Indians hope lacerated pinkie will heal enough for World Series start
TORONTO -- The Indians continue to monitor the laceration on Trevor Bauer's right pinkie finger, but there remains little clarity about his potential availability.
Prior to Game 5 of the American League Championship Series on Wednesday, which Cleveland won, 3-0, to advance to the World Series, Indians manager Terry Francona noted that Dr. Thomas Graham -- a renowned hand specialist -- is scheduled to re-examine Bauer's stitched-up finger in Toronto. Francona's hope was that Bauer might be available out of the bullpen if the ALCS extended to six or seven games, and that the pitcher would then be able to start again in the World Series.
• World Series Game 1: Tuesday on FOX
Bauer, who cut his pinkie while repairing one of his personal drones on Thursday night, exited Game 3 of the ALCS on Monday at Rogers Centre after 21 pitches due to blood dripping from his finger. When he throws on the side, Bauer can keep a bandage over the cut, which required 10 stitches from the second knuckle to his fingernail. The right-hander is not allowed, however, to have any kind of covering on his finger in games.
Bauer could be penciled in for Game 3 of the World Series on Oct. 28 or Game 4 on Oct. 29. That would give him 10 or 11 days, respectively, between outings to give the wound more time to heal.
"[Dr. Graham] didn't put any more stitches in there," Francona said. "He thought it really was healing pretty well, considering all it had been through for the last three or four days. He thought -- with time -- it's going to continue to get better."
Other items of note from Wednesday
• Indians relief ace Andrew Miller was already the first reliever to have a streak of five appearances (with no starts in the middle) with at least 1 1/3 innings in the same postseason since 2005, when Kelvim Escobar had six for the Angels. Miller averaged 16.8 pitches per inning, and he topped 30 pitches three times prior to Wednesday.
Miller added 2 2/3 scoreless innings and 21 pitches to his ledger in Game 5, and he was honored with the ALCS Most Valuable Player Award after Cleveland won the series.
Francona said there was no innings cap on Miller. The manager instead focuses on pitch count, stress level of innings and feedback from the pitcher.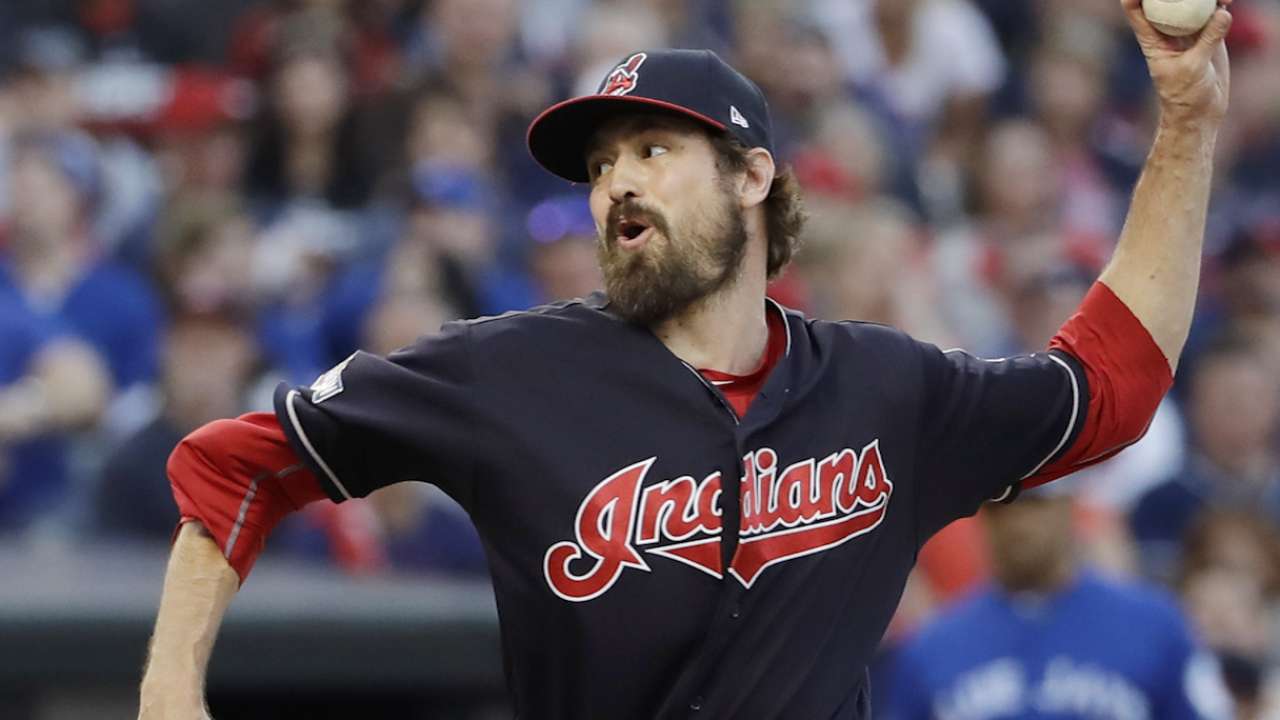 "It's not just innings," Francona said. "It's probably how much you work for each inning. ... You get in a rhythm sometimes -- guys are making quicker outs. We're not just going to put a limit on him because there's a number [of innings]. I think we always check with our guys, because that's what's most important, how they feel."
• Before Game 5 in Toronto, Francona had a brief word with rookie starter Ryan Merritt in the clubhouse. The manager said the lefty was understandably nervous ahead of his start against the Blue Jays, but Francona said he believed Merritt would calm down more once he began his warmup routine and got on the mound.
"I just wanted to make sure he understood that this isn't life or death," Francona said. "I just wanted him to know that, 'We're with you here. Just go do your thing.'"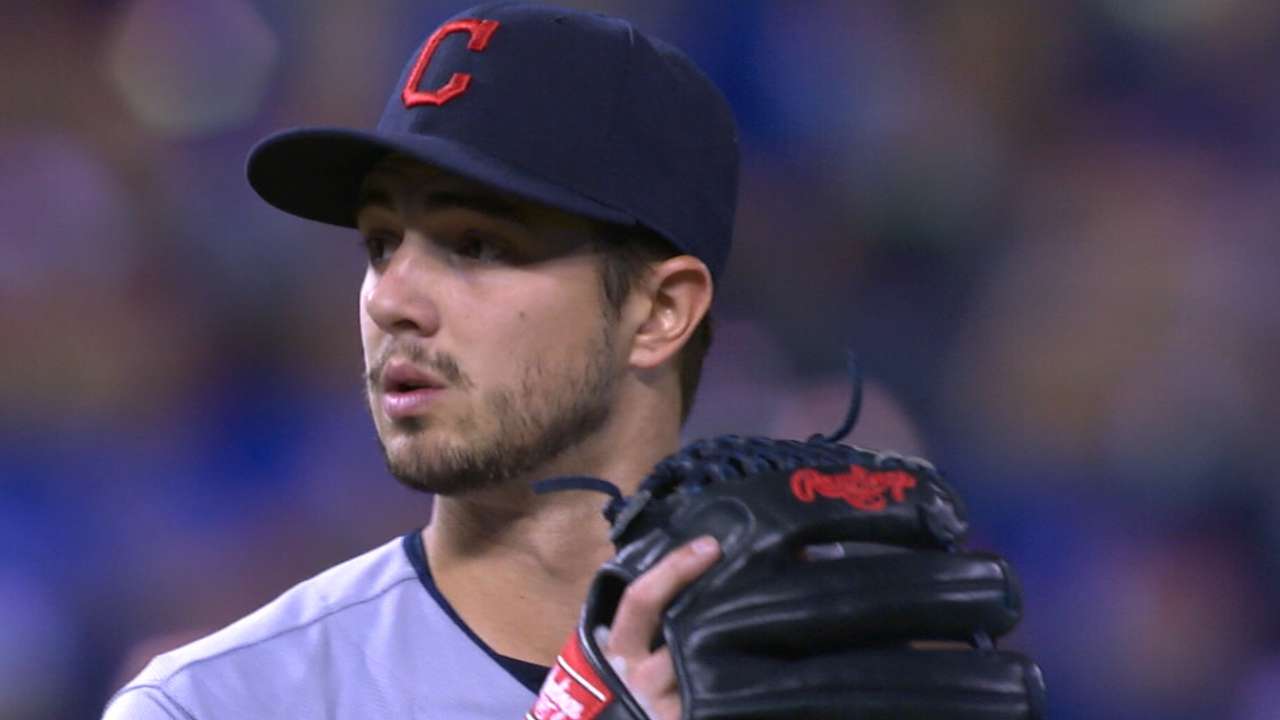 Merritt went on to toss 4 1/3 scoreless innings while allowing two hits and striking out three in a superb outing.
• Mike Napoli had manned first base in each of Cleveland's first seven games this postseason. For Wednesday's game, Francona switched things up, moving Carlos Santana to first and slotting Napoli in as the designated hitter. Santana DH'd in the previous seven games.
"This has been the third day up here," Francona said. "I just think it'll do Nap a lot of good, and I think it'd be good for Carlos. He's been taking ground balls every day. It'll get him playing defense, not just sitting on his at-bats in-between when you're DHing. I think that'll be good for him."
Napoli provided an early spark with a double that scored Francisco Lindor with help from an error, and Santana clubbed a solo home run in the third.
Jordan Bastian has covered the Indians for MLB.com since 2011, and previously covered the Blue Jays from 2006-10. Read his blog, Major League Bastian, follow him on Twitter @MLBastian and listen to his podcast. This story was not subject to the approval of Major League Baseball or its clubs.