ALCS Game 5 starting lineups: Indians vs. Blue Jays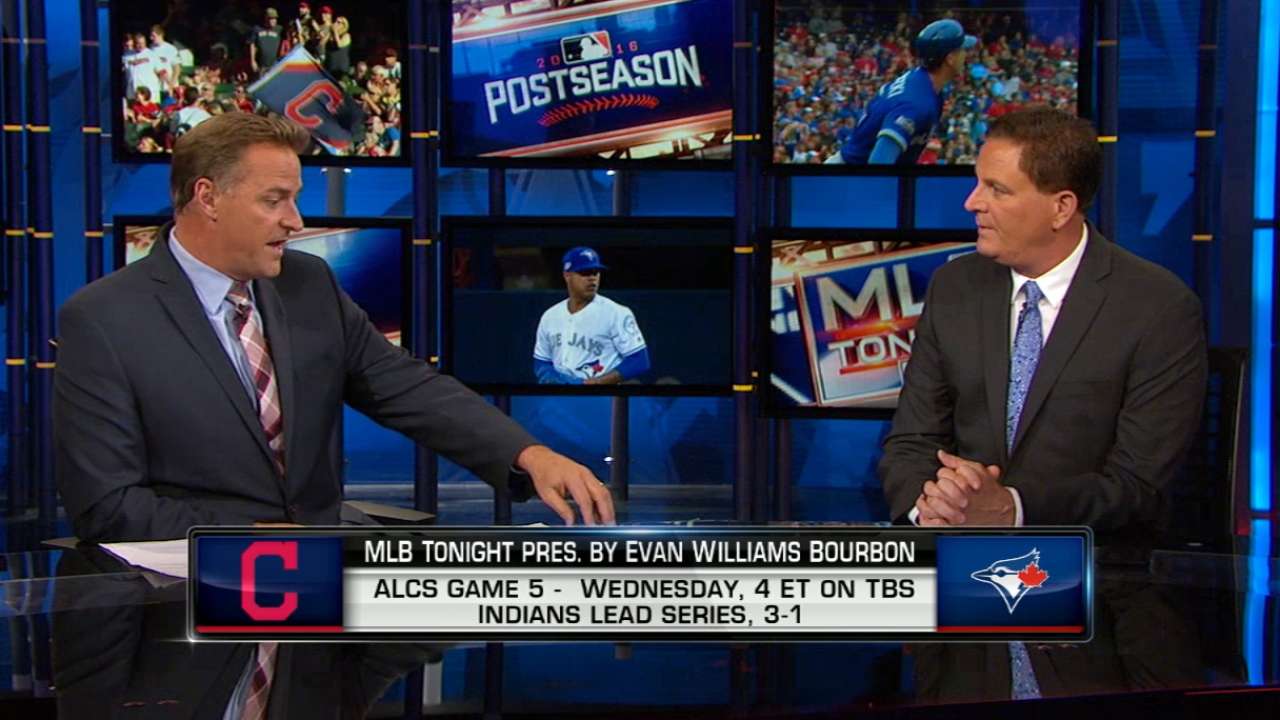 TORONTO -- Melvin Upton Jr. was moved into the Blue Jays' starting lineup for Game 5 of the American League Championship Series this afternoon at Rogers Centre.
Upton gets the start at designated hitter in place of Michael Saunders as Toronto will go with its typical lineup against lefties. Rookie left-hander Ryan Merritt will start for Cleveland in another win-or-go-home scenario for the Blue Jays as Toronto trails 3-1 in the best-of-seven series.
Toronto acquired Upton prior to the Aug. 1 non-waiver Trade Deadline primarily so he could start against left-handed pitching. He posted an .874 OPS in 120 at-bats against lefties this season, and that was enough to start Game 5 over Saunders, even though Saunders had a .927 OPS in 109 at-bats against lefties.
"We talked about different things," Blue Jays manager John Gibbons said. "Upton's our left-handed guy, and then we have Saunders waiting. The only lefty they got down there [in the bullpen] is [Andrew] Miller. At a certain time, you're going to see him. Keeping those guys in the DH spot in case we see a righty or Miller later allows us to keep that DH spot alive."
The only other change in Toronto's lineup is Darwin Barney starting at second base in place of Ryan Goins. They have been platooning at second base since Devon Travis was ruled out for the remainder of the postseason because of a right knee injury.
Left fielder Ezequiel Carrera remains in the lineup despite a lefty on the mound. Carrera became an everyday player in mid-September, and Gibbons said he does not expect that to change anytime soon.
"Zeke has been swinging it. He's been taking good swings," Gibbons said of Carrera, who has two triples and is batting .286 (4-for-14) in the ALCS.
On the other side of the field, Indians manager Terry Francona is sticking with the predominantly left-handed-hitting lineup he used in Game 4 in the Game 5 matchup against Blue Jays right-hander Marco Estrada.
Carlos Santana, 3-for-5 with a home run in his career off Estrada, leads off for the Tribe. Second baseman Jason Kipnis and shortstop Francisco Lindor, a combined 0-for-8 lifetime off Estrada, follow Santana. Left fielder Coco Crisp, 2-for-3 with a double and a home run off Estrada in his career, bats seventh.
Shortly before first pitch, Francona decided to switch Santana to first base and make Mike Napoli the designated hitter. It will be Santana's first start of the postseason at first base.
The winner of the ALCS will advance to the World Series against the winner of the National League Championship Series between the Cubs and Dodgers. Los Angeles leads that series, 2-1.
INDIANS
Carlos Santana, 1B
Jason Kipnis, 2B
Francisco Lindor, SS
Mike Napoli, DH
Jose Ramirez, 3B
Lonnie Chisenhall, RF
Coco Crisp, LF
Tyler Naquin, CF
Roberto Perez, C
Ryan Merritt, P
BLUE JAYS
Jose Bautista, RF
Josh Donaldson, 3B
Edwin Encarnacion, 1B
Troy Tulowitzki, SS
Russell Martin, C
Melvin Upton Jr., DH
Ezequiel Carrera, LF
Kevin Pillar, CF
Darwin Barney, 2B
Marco Estrada, P
Gregor Chisholm is a reporter for MLB.com.

Oliver Macklin is a reporter for MLB.com. This story was not subject to the approval of Major League Baseball or its clubs.