MLB.com Columnist
Roger Schlueter
Stats of the Day: Dodgers lefties sending Cubs' offense south
Hill, Kershaw combined for 13 scoreless innings in Games 2 and 3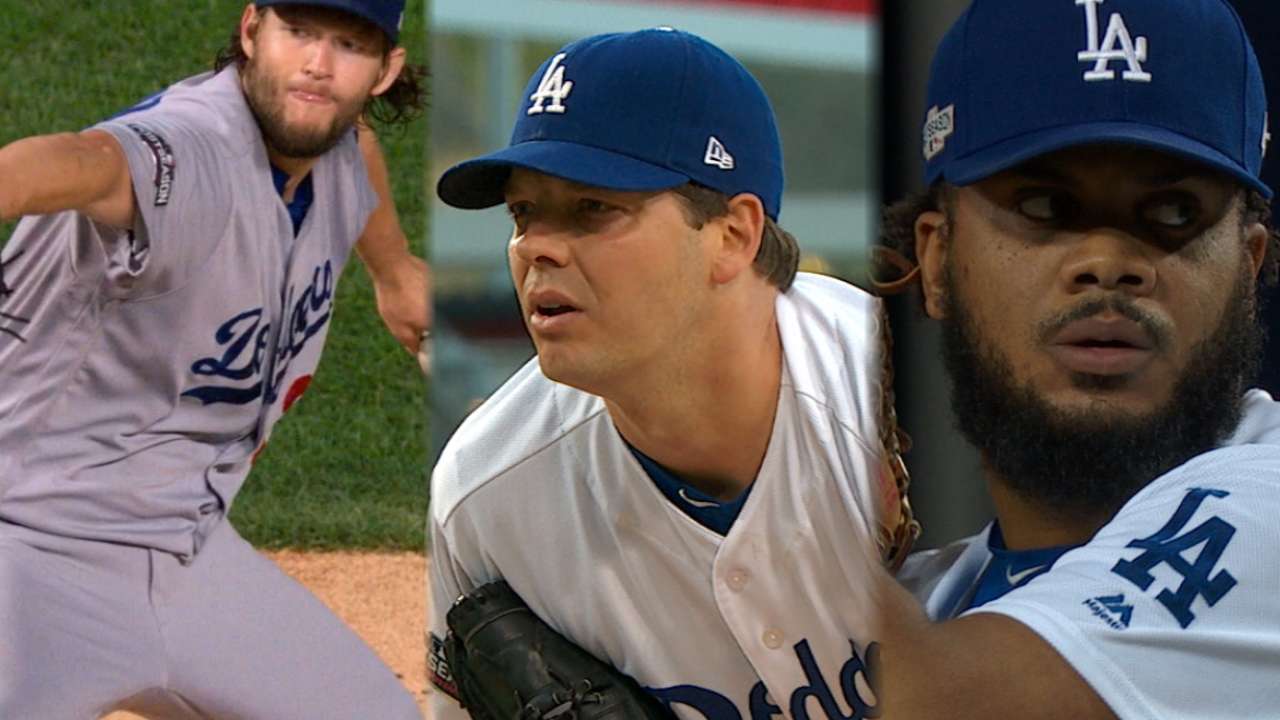 Here are three interesting items from League Championship Series play on Tuesday …
• Southpaw Rich Hill (six innings, two hits allowed) and three Dodgers relievers combined on a four-hitter with 10 K's, as Los Angeles blanked Chicago, 6-0, and took a 2-1 lead in the National League Championship Series.
• NLCS Game 4: Tonight at 8 p.m. ET/7 p.m. CT on FS1
This four-hitter came after the Dodgers allowed two hits in a 1-0 win in Game 2. They have compiled consecutive postseason shutouts for the first time in a franchise history covering 200 playoff games. The Dodgers are just the third team in postseason history to blank the same opponent on four hits or fewer in back-to-back games, joining the 1908 Cubs (vs. the Tigers) and the 1919 Reds (vs. the infamous "Black Sox" White Sox club).
• Hill's effort followed Clayton Kershaw's gem in Game 2, where the ace lefty worked seven scoreless innings and allowed two hits. Only three times previously in history had a team gotten multiple outings of at least six innings, no more than two hits allowed and no runs allowed by southpaw starters in the same postseason: Steve Avery and Tom Glavine with the 1995 Braves, Kenny Rogers with two such outings for the 2006 Tigers, and C.J. Wilson and Cliff Lee for the '10 Rangers.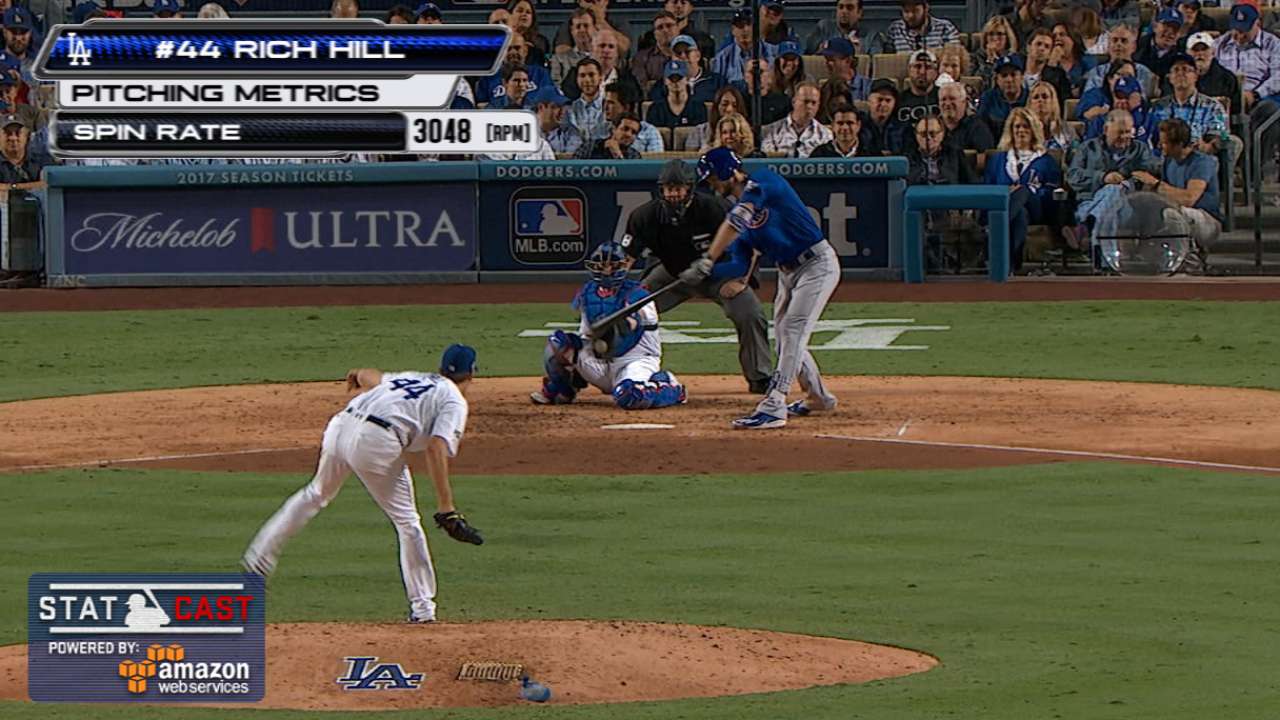 • Aaron Sanchez (six innings, one run allowed) and three relievers helped the Blue Jays hold off elimination, as Toronto defeated Cleveland, 5-1, in Game 4 of the American League Championship Series.
• ALCS Game 4: Today at 4 p.m. ET on TBS/Sportsnet/RDS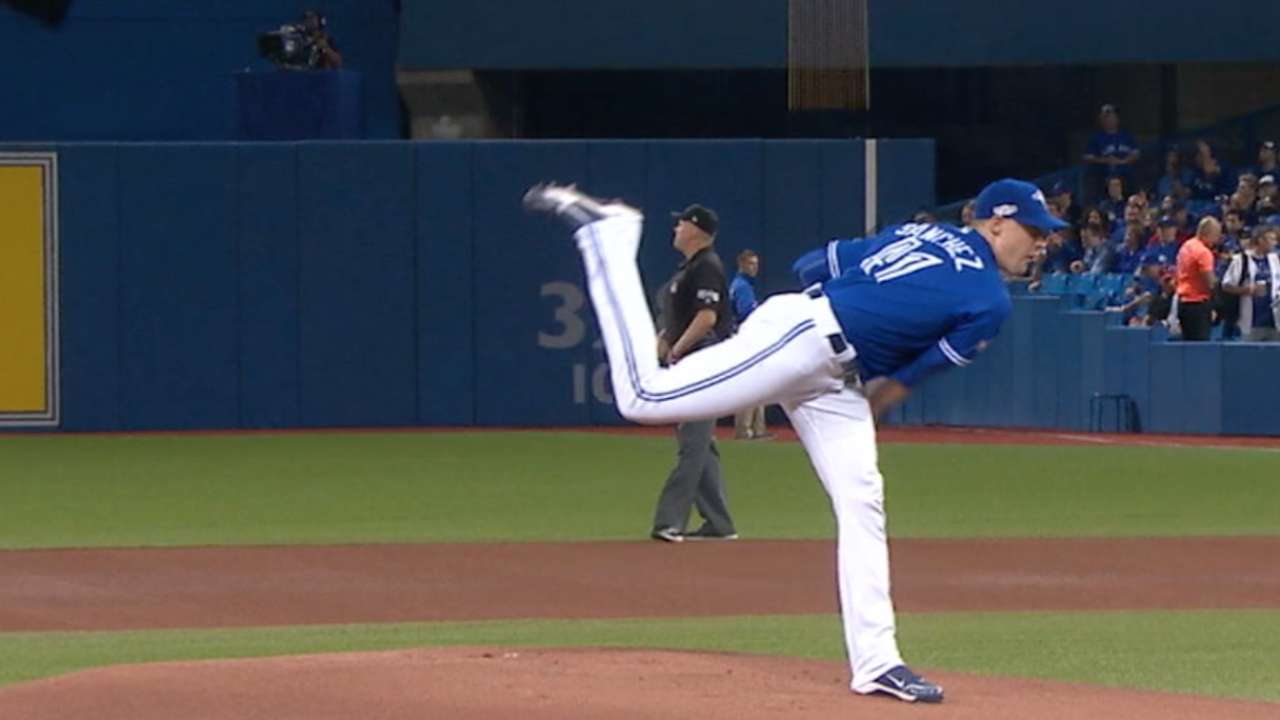 At 24 years and 109 days old, Sanchez was the ninth-youngest pitcher to start and win a League Championship Series game with his team facing elimination, and the youngest since Josh Beckett (23 years and 150 days) for the Marlins in Game 5 of the 2003 NLCS.
Roger Schlueter is a statistical researcher and writes for MLB.com. This story was not subject to the approval of Major League Baseball or its clubs.