Oct. 18 Yasmani Grandal, Rich Hill postgame interview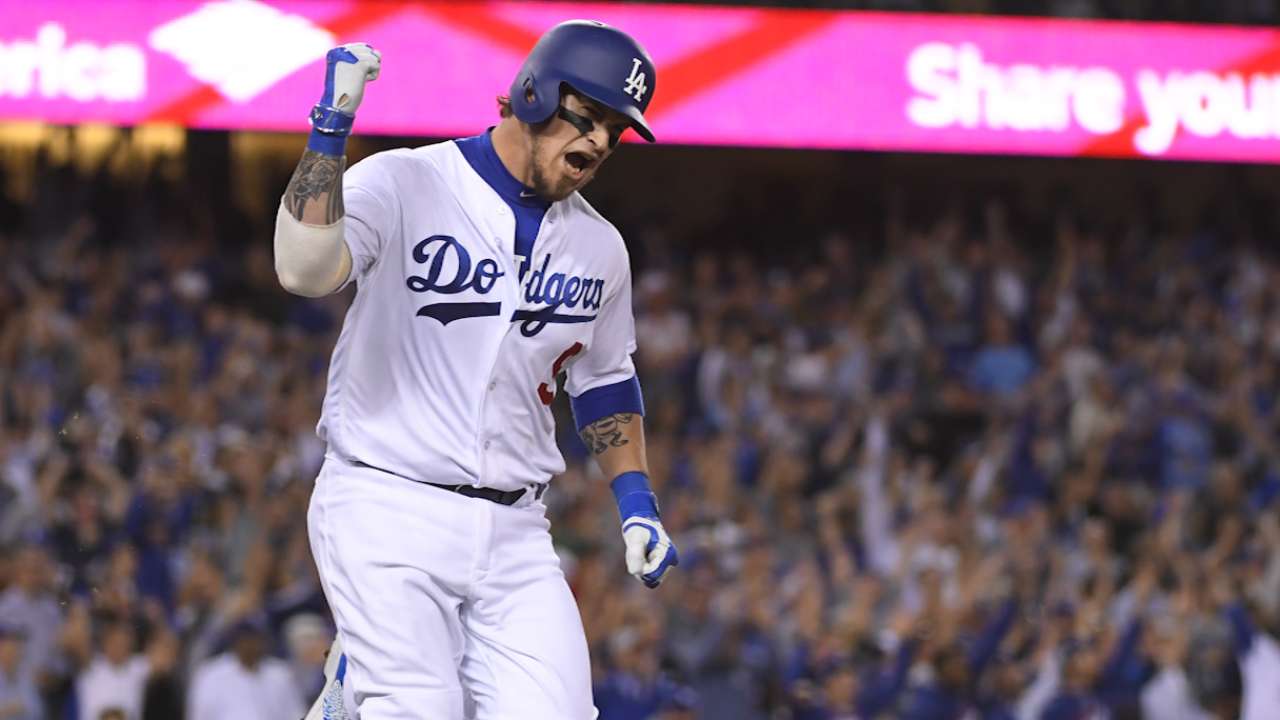 Q. Arrieta gets ahead 0-2. What's your approach at that point, and what did you like about that pitch that you hit out?
YASMANI GRANDAL: Basically stay alive. We had a man on second, any contact, anything, you never know what can happen. So stay alive until you get a pitch that he gives you to hit. I mean, he's been so good for the last couple years just because he doesn't give in. So fouled off a couple pitches. He still made a really good pitch down in the zone. I was just lucky to put a swing on it and hit it out.

Q. Rich, can you run us through the second inning? I mean, Rizzo had a really good at-bat to get that walk when he let off a lot of curveballs, and then it's two on. Can you go over Russell and Montero there?
RICH HILL: Yeah, Yas did a great job of keeping me back, getting me back on track. And, again, I was just executing pitches after that. It was a tough at-bat with the two walks. Just to get back into executing the pitches one pitch at a time, really that was it. Not thinking about the two walks or thinking of any kind of outcomes from those two walks. Just focusing in on executing that pitch and executing the next pitch, execute the next pitch. We were able to do that. And it's something that -- just Yas keeping me focused on where we needed to be in that inning, especially having those two guys get on and then just work our way out of it. That was really the big key, was just focusing in on one-pitch-at-a-time approach.

Q. Rich, Joe Maddon said that one of the biggest issues that they're having right now is weak contact. Is there an art or a way to produce consistent weak contact?
RICH HILL: I don't know if there's an art to it, I think it's just kind of the way stuff plays out. I think the thing we did tonight, and Yas can attest to this, it's keeping hitters off balance and being able to execute strike with a breaking ball, execute fastballs in. We were throwing, for me, more than in previous games, fastballs in and being able to keep -- that opens up the outside part of the plate. I think that the weak contact is just the result of -- I mean, it's something that I've always had throughout the course of my career as far as being able to throw a fastball in any part of the zone and create a later swing because of the perceptual velocity. But, again, it just comes back to keeping those hitters off balance. And we executed a few changeups that were huge, and just threw another pitch into the mix that they had to think about.

Q. Dave said he didn't think your curveball command particularly was some of your best that he's seen in your starts here. Would you agree? And how did you sort of move beyond that?
RICH HILL: I think it got better as the game went on, curveball command definitely got better as the game went on. I think we were able to establish a fastball and throw-a-strike breaking balls and have them foul off breaking balls when we needed to, foul off fastballs when we needed to. Also with the slider, to be able to mix that in there and give them a different look.

Then, again, also dropping down. So that gives another totally different look to the hitter, especially a right-handed hitter.

Q. I know you've addressed the different pitches. But you did throw more curveballs, more than 50% than you have in the past. Was that deliberate? How is that particular pitch working for you?
RICH HILL: Well, I think it's one of those things that if you have a pitch that's better than your other pitches, you throw it more, and percentage-wise it should work out in your favor. If you can execute it, then we talk about spin rate, we talk about all these things. The higher the spin rate, the more break, the more depth on the breaking ball, the more vertical drop that you can have, the better it is for the pitcher.

We stuck with it tonight, and Yas continued to call a great game back there and stuck with the breaking balls and fastballs in. I can't -- I'm not going to sit here and say it's not a major part of my game, but tonight it was and it proved very effective because Yas kept calling them.

Q. Yasmani, what's it like to be two wins away against that team? And how do you not think about it as you get real close?
YASMANI GRANDAL: We've got to keep on going one day at a time. You can't look ahead. I mean, these guys won 100-some games. They've got the talent. So you can't think ahead. If you think ahead, that's when bad things happen. So we're going to take things one day at a time, and we'll see what happens. We'll keep attacking and keep playing how we've been playing all year. But you can't think ahead. You turn the page to tomorrow. I think it's Lackey for them and Urias for us. So that's how you've got to look at it. You can't really think about what could happen.

Q. With everything you've been through in your career, just to get to this point, what does a game and a moment like tonight mean to you?
RICH HILL: Yeah, yeah. It's the biggest game of my career, and just to -- again, it's all about staying in the moment and executing when you're in that moment, and that's all you can think about. And that's all you can control is that pitch. In the second inning, walk a few guys, it's over with, can't control it, and you move on. You execute the next pitch, and you execute the pitch after that. And you continue to execute until the ball gets taken out of your hand.

But for me, looking back and getting to this point, it's just putting in the work, putting in the time, having a routine, persevere, all those things that you can kind of say to sum up some kind of endurance or resiliency. For me, that's all I've ever known, is just work and just continue to do the work.

Q. Throughout baseball, during the postseason, the starting pitchers haven't gotten much rope for anybody. I know you're living pitch to pitch. But how much of a priority was it to give the Dodgers some innings? You gave them six innings and kind of make it easier for everybody?
RICH HILL: Well, I think if we look back to Clayton's game in Chicago, that's inspiring for all of us to look at. We can all do better by going out there and putting forth the best effort that we can every time we go out there. And we watch Clayton go out there and put everything out there on the line, and everybody feeds off of that. The hitters, the pitchers, the guys in the field, everybody goes for -- you know, the cliche term, leave everything out on the field, really, that is what we saw Clayton do. Now it carries over and passes the baton, so to speak, to everybody else to keep going.

Q. With Julio tomorrow, we know about his four-pitch mix, but Dave was saying that he's a calm, cool guy; that he doesn't really get caught up in the gravity of the moment. What is the make-up of this kid that you've noticed over the last few months?
YASMANI GRANDAL: Just I think you summed it up, basically. I think Dave hit it right on the spot. I mean, he doesn't get overwhelmed by any situation. He's got the talent to do what he's been able to do. So I'm really excited to see him perform in the postseason, even though he already came out and threw a couple innings for us and he did a really good job for us.

So I feel like that game in Washington, he kind of set a tone, where just because I'm 20, I'm not going to stand here and back down from anything. I'm going to go straight at you guys. Actually, for the first time I actually saw him attack guys with his fastball at 96, 97, where it seemed early in the year he was just trying to spot. So if he's got that tomorrow, we'll build a really good game plan for him and execute it.

Q. Yas, when you see Rich's curveball missing the zone and the Cubs willing to lay off of that pitch, what is your role in helping Rich kind of turn that around?
YASMANI GRANDAL: You know, no matter what happens, we're still trying to attack. No matter what pitch we're throwing, our mindset is to attack the hitters. So once his curveball is just missing for strikes or -- you know, you can't really think about it. That's his go-to pitch. Everybody knows it. Everybody knows what's coming. It's like Kenley, you know. He's throwing a cutter. If you can hit it, you hit it. So we're going to live and die with his best pitch. If it so happens that he gets hit with it, it was a bad day. No big deal. We'll adjust. But we've got to live and die with his number one pitch, and right now his number one pitch is his curveball, so we have to build a game plan around it and look at previous outings, not only in the postseason, but later in the year and see what we did good, what we did bad, and match it up.

Q. I hope I could ask you this the last time, but how's your blister?
RICH HILL: It's good, yeah. Yeah, thank you (laughter).

Q. Yas, whenever we've asked you about the hits, which lately haven't been falling in, you've always pointed to the defense. And Dave Roberts always says that catcher is primarily a defensive position and you're doing a good job there. When one finally does fall in, does that do anything for you confidence-wise? Anything like that?
YASMANI GRANDAL: No, not really. I mean, okay, good swing. You've got to turn the page. You've always got to turn the page, especially for me as a catcher. I mean, you've got to separate the offense from the defense, because you can't let one effect the other. I said it before, if I go 0-4 and I shut down a team, I'm sleeping tight that night. So no matter what would have happened tonight, if we came out with the same outcome and I wouldn't have gotten a hit, I would still be happy just because we're executing the plan, and that plan is built by a lot of guys here who put a lot of effort into a game plan. So once we're able to execute that and come out with the outcome that came out tonight, that's all that the matters. So that right there makes me happy. Home run and the couple RBIs was just an extra for -- for the day.

Q. On your home run at-bat, a single would have scored Josh, but he steals third after you go down 0-2 in the count. Do you think that affected Arrieta there, because then he goes 3-2 to you and leaves that fastball up? And second part, you had said your number one priority is catching and managing the pitchers, and the second one was to be hitting home runs and when you do get ahold of one, watch out. Is this what you were talking about?
YASMANI GRANDAL: Yeah, going into that at-bat, having read it a second, obviously puts a lot of pressure on the pitcher. Obviously, if you throw the ball away, no big deal. He gives you third. You've still got to make pitches. It just so happens that he stole third, and then, like I said, it's staying alive from there on. What can we do to stay alive? Stay alive for long, you might be able to get him.

But like I said before, he's the type of pitcher where he doesn't give in. So I was able to foul off a couple pitches here and there, lay off a couple pitches here and there. But, you know, there was no doubt that the more I saw him throw, the more comfortable I got in the batter's box.

Yeah, you know, taking that one swing got me back into what I've been trying to do for a while now. It definitely is a confidence boost. There's no doubt about it. But like I said before, defense comes over offense. So for me, defense wins the game. So if I stay back there and I call a good game, I did a good job with my pitchers, I'm still happy.