MLB.com Columnist
Richard Justice
Happy Jays are here again, and there's still a chance
Toronto faces 3 more potential elimination games, but hope abounds after big win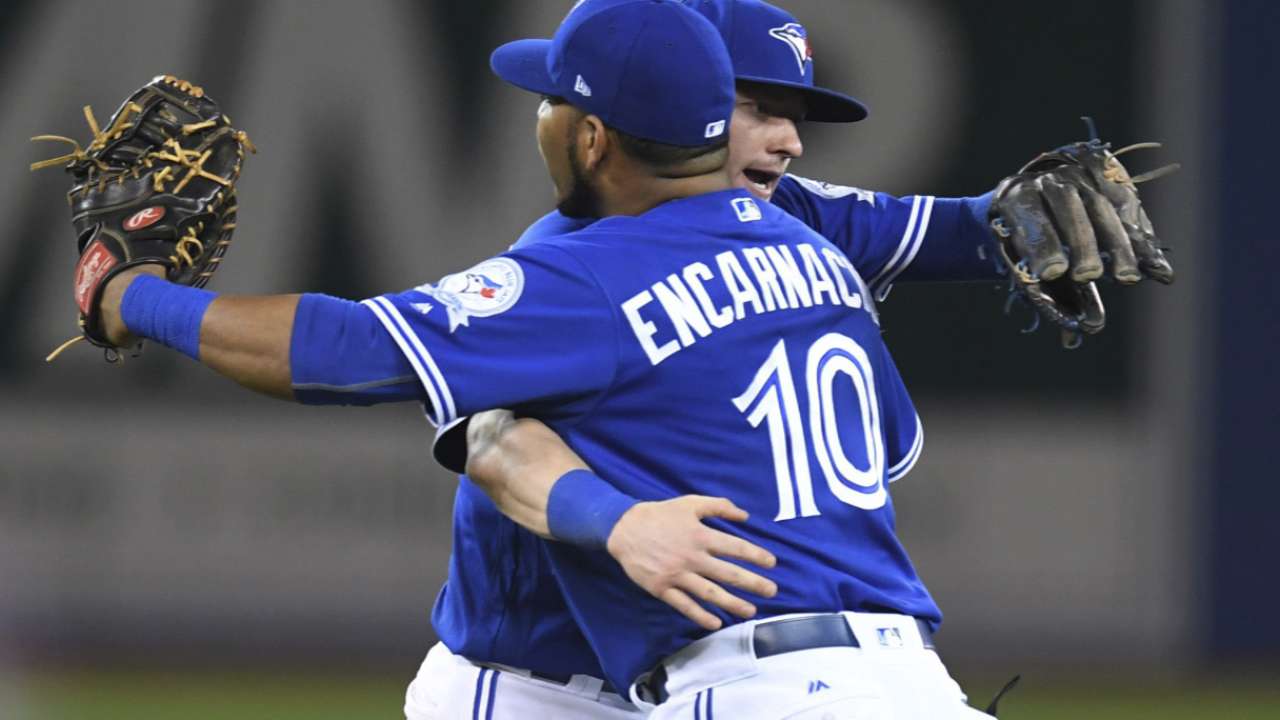 TORONTO -- This is what great players do, and Josh Donaldson certainly is one of those. This is what really good teams do, and the Toronto Blue Jays are that.
The Blue Jays do not go quietly. They do not give in. Toronto certainly did not give up. Who knows where things go from here after the Jays beat the Cleveland Indians, 5-1, in an elimination game on Tuesday.
• ALCS Game 5: Today at 4 p.m. ET on TBS/Sportsnet/RDS
The Indians lead the best-of-seven American League Championship Series 3-1, and they will try again to win their first pennant in 19 years in Game 5 on Wednesday.
In 35 previous postseason series, the team with a 3-0 lead has won the series 34 times. The Blue Jays could not care less about silly numbers. They've got some hope, maybe just a glimmer, but hope all the same.
"The fact of the matter is I'm not ready to go home," Donaldson said. "And I feel like our team is capable of winning this entire thing."
Postseason baseball is a different animal. It's not just a reset button from the regular season. Each series has a life of its own. In some ways, each game has that.
Afterward, players say they're stunned at how exhausted they are when a postseason series ends. They've invested so much of their mind and body into winning, playing game after game in which a season seems to ride on every pitch.
The Blue Jays can see the ALCS through a different lens after winning just once. First, they beat the Tribe's ace, Corey Kluber. Second, they finally looked like themselves.
After scoring three runs in three games, Toronto got nine hits and scored five runs. Donaldson's home run in the bottom of the third inning gave the Blue Jays their first lead of the series.
That home run, Toronto's first of the series, also awakened a crowd of 49,142 at Rogers Centre, gave the fans hope and got the place rocking.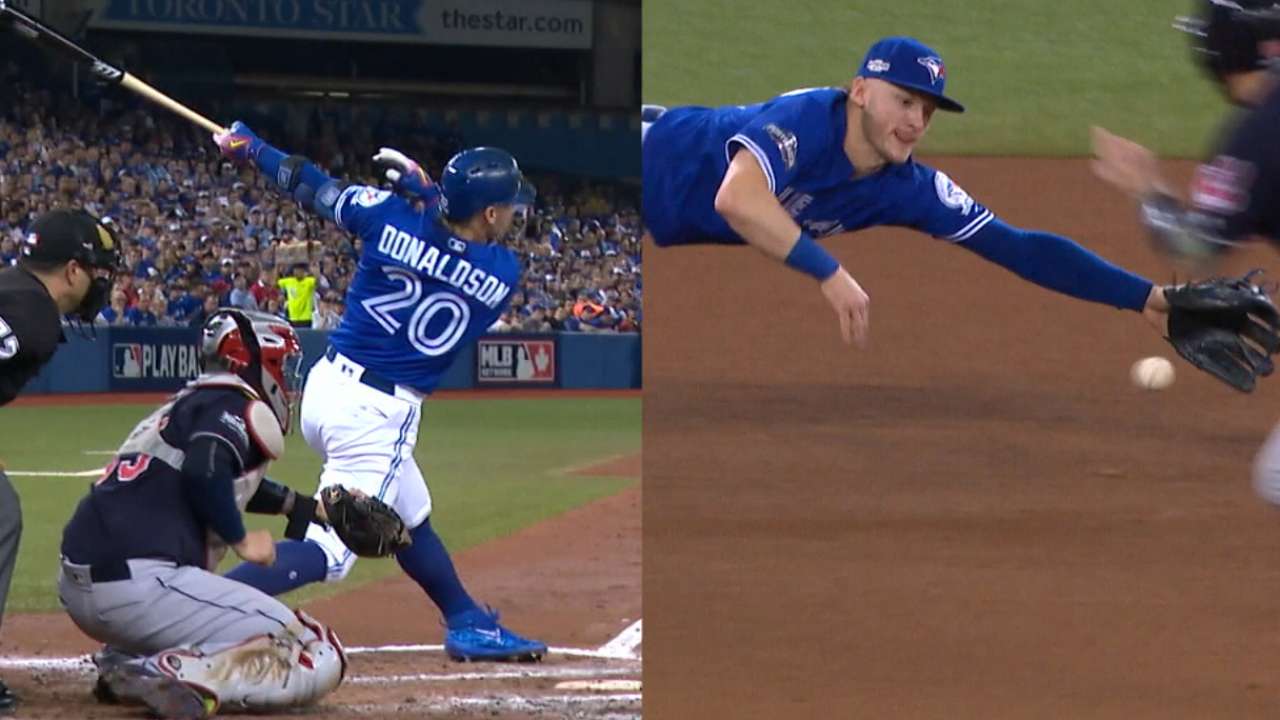 "We're capable of doing even more than we did today," Blue Jays right fielder Jose Bautista said. "The bottom line is, we only need to do as much each day to get that win, and we got that today."
Now the Blue Jays have their best postseason pitcher, Marco Estrada, going in Game 5 on Wednesday. The Indians are going with left-hander Ryan Merritt, who is making just his second Major League start.
"We're up in the series, obviously," Indians reliever Bryan Shaw said. "We still have the upper hand, up 3-1 now. We gotta win one, they gotta win three."
If Toronto can force the series back to Cleveland for Games 6 and 7, plenty of things change, especially confidence, psychology, all that good stuff.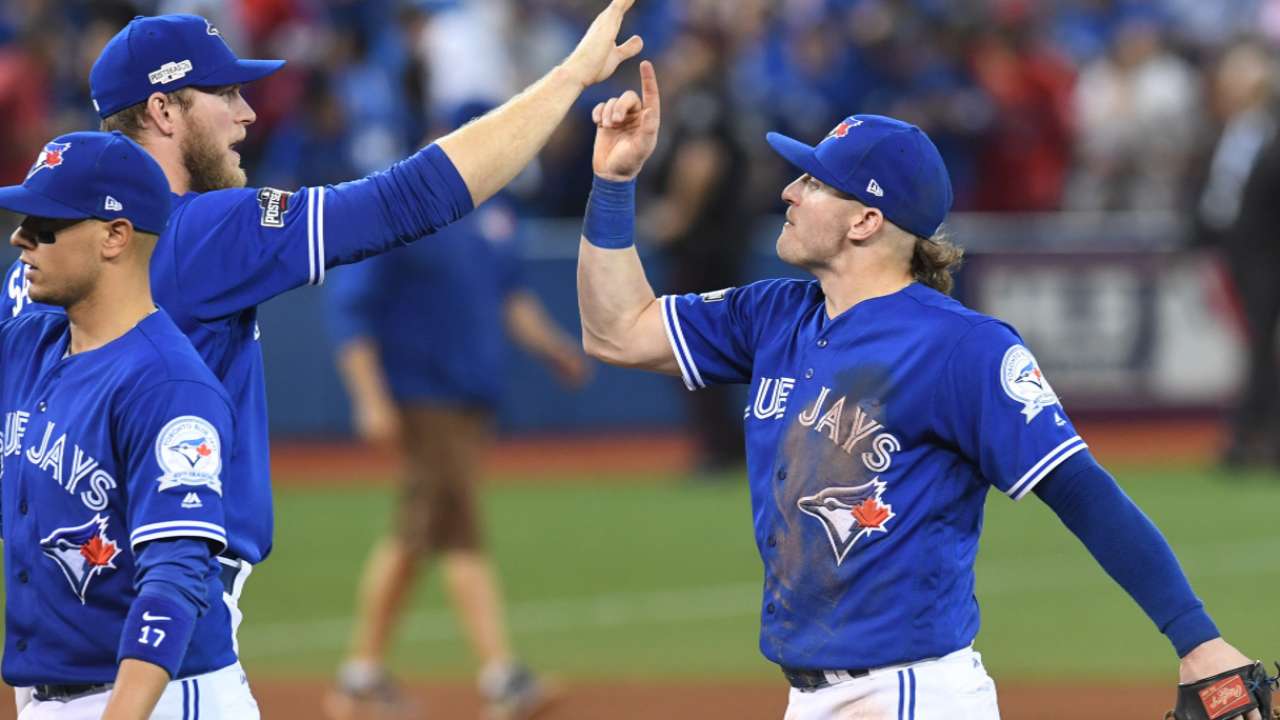 "They've got a good team over there, and so do we," Indians center fielder Tyler Naquin said. "It just didn't go our way and we'll have another chance tomorrow, and we'll see what happens from there. We feel good. No reason to press. Just keep on putting in the work and have a little bit of fun out there."
And there's this: the Tribe is the only team in the Major Leagues that didn't lose four games in a row this season. For a day, though, the Blue Jays could see things differently.
Back to Donaldson. He showed up at Rogers Centre after a nearly sleepless night on Monday unable to wrap his mind around the fact that a season of such hope could end so suddenly.
Donaldson gathered his teammates before Tuesday's game and spoke passionately about hanging tough.
"I just wanted to kind of reiterate that and let the boys know that I was coming to play today," he said.
Donaldson then went out and led the way, hitting the home run and making a dazzling defensive play that ended a Cleveland rally in the top of the fifth.
"Big-time players make big-time plays in big-time games," winning pitcher Aaron Sanchez said.
Indians manager Terry Francona had controlled the first three games, in part, because his team never trailed and he was able to line up his bullpen for the final outs.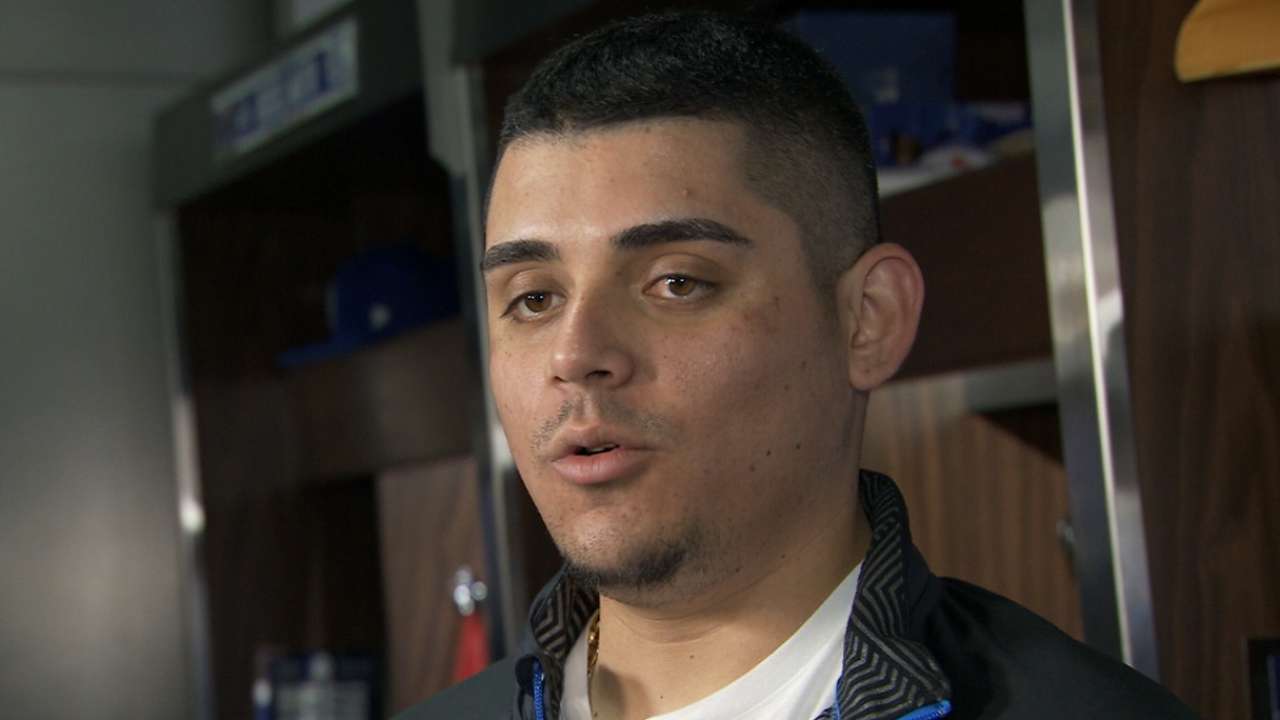 Toronto's John Gibbons had that advantage on Tuesday, and after he got six innings from Sanchez, he got an inning apiece from Brett Cecil, Jason Grilli and Roberto Osuna.
Now Gibbons will hand the ball to Estrada in Game 5 and hope to ratchet up the pressure on the Tribe a bit.
"We're still alive, no doubt," Gibbons said.
That they are.
Richard Justice is a columnist for MLB.com. Read his blog, Justice4U. This story was not subject to the approval of Major League Baseball or its clubs.