Facing must-win, Estrada has Blue Jays' confidence
Trying to extend ALCS yet again, Toronto glad to have even-keeled righty on mound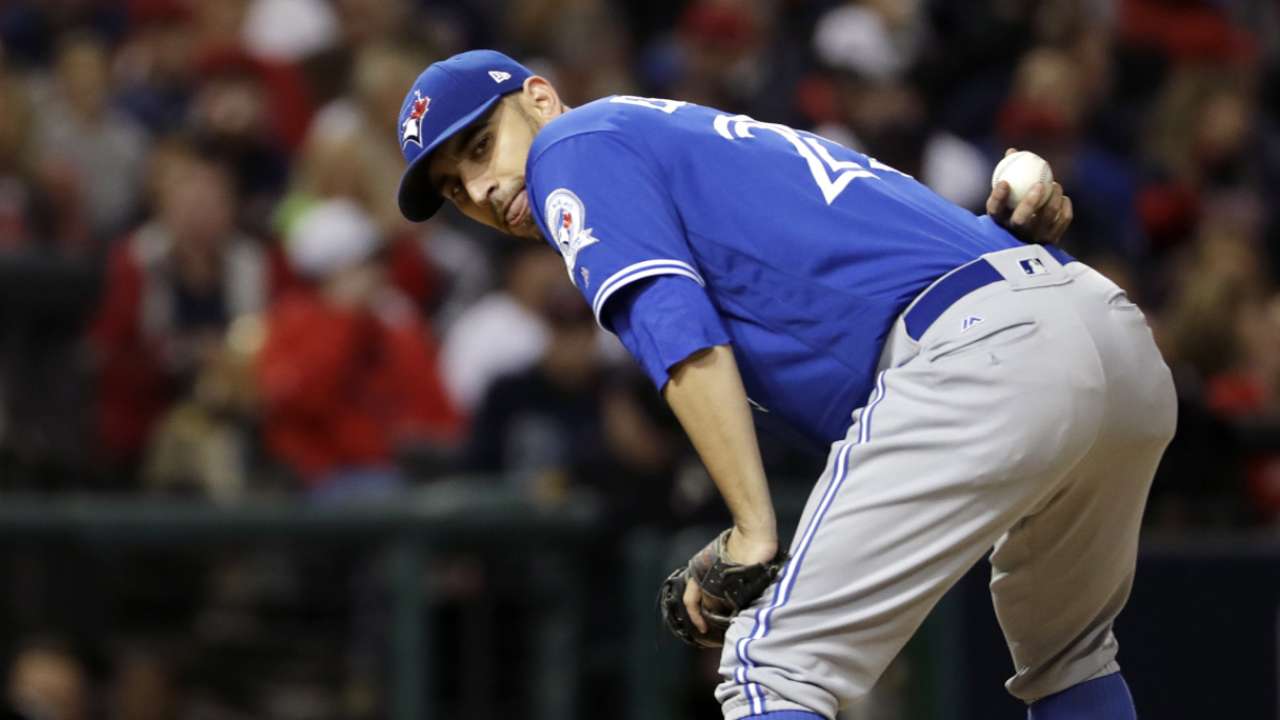 TORONTO -- In the moments immediately following the victory that extended their season at least one more day, the Blue Jays weren't pretending to know much about Ryan Merritt, the left-handed rookie who will stand between them and a return flight to Cleveland in today's Game 5 of the American League Championship Series.
What they do know, however, is that Marco Estrada has been tabbed as their postseason ace for a reason. The right-hander has proven his ability to deliver in pressure-packed situations on many occasions, and with the Blue Jays unwilling to watch the Indians celebrate on their field, they will ask him to answer that call once more.
• ALCS Game 5: Today at 4 p.m. ET on TBS/Sportsnet/RDS
"All I can tell you is I've seen him the last two years -- when the team needs something, he comes through," manager John Gibbons said. "That can even be during [the] regular season. I expect he'll be good tomorrow. It won't be easy, but you always expect that, really, out of all your guys. He's one guy, you see him doing that time and time again."
The 33-year-old Estrada was 9-9 with a 3.48 ERA in 29 starts this season, earning his first All-Star Game selection. He pitched his first career complete game in Game 1 of the ALCS, taking the loss after allowing Francisco Lindor's two-run sixth-inning home run among six hits over eight innings.
The ALCS opener was Estrada's second start of the postseason. He picked up the win in Game 1 of the AL Division Series by limiting the Rangers to one run on four hits over 8 1/3 innings. Relying on his high-80s velocity, pinpoint command and terrific changeup, Estrada said that he is setting the bar high as Toronto tries to force its way back to Ohio.
"My job is to try to go nine innings and give up zero runs," Estrada said. "So it doesn't matter if it's the last game of the season, the first game, you want to do that every time out. So that's basically my thought is just to give the guys innings and try to shut out the other team."
Estrada faced Cleveland once during the regular season, allowing three runs on five hits over five innings in a July 2 start, but it was the last outing he had before going on the DL with back soreness. As such, he said it was not representative of what he'll try to do Tuesday.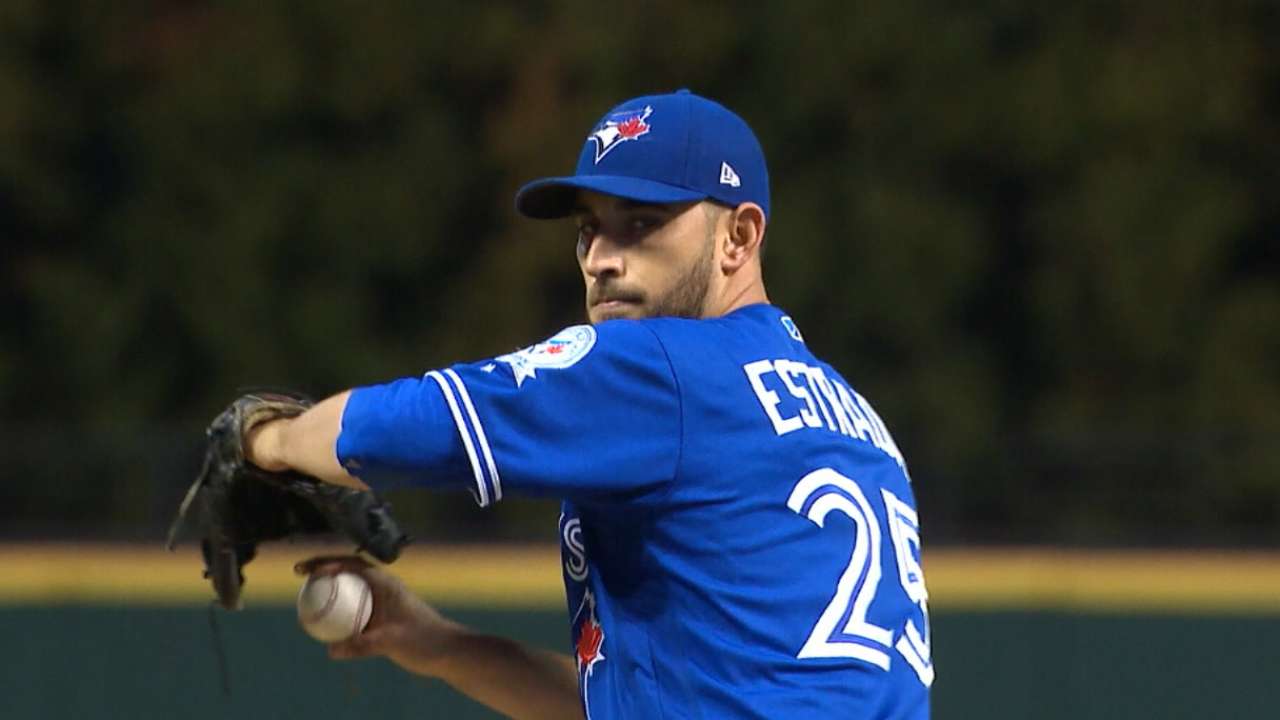 "There's nothing for me to take from that game," Estrada said. "That's actually when the whole back issue flared back up. And I might have been throwing 82, 83 mph that game. I was out there just trying to throw strikes and give the guys at least five innings that day."
Gibbons and the Blue Jays will be counting on more than that. In five postseason starts for Toronto over the past two seasons, Estrada is 3-2 with a 2.02 ERA, holding opponents to a .190 average. In 35 2/3 innings, he has struck out 27 while walking just two.
"Really, what he's accomplished two years in the playoffs, it's hard to do," Gibbons said. "And he's got a different style than most guys. The key is, again, we've got to score runs. We do that, we have a better chance. Most teams do. But, yeah, I would expect him to be very, very good."
The Blue Jays know they still have an uphill battle to fight, but they're happy that they are doing it with someone such as Estrada on their side.
"It's another game. We've got to win," Estrada said. "That's basically it. I'm going to go out and do what I've basically done all year and not really think about it as an elimination game. I'll just think about it just as another game."
Bryan Hoch is a reporter for MLB.com. This story was not subject to the approval of Major League Baseball or its clubs.