Tale of the Tape: Lackey, Urias in battle of ages
Cubs veteran eyes 22nd playoff start; Dodgers rookie making first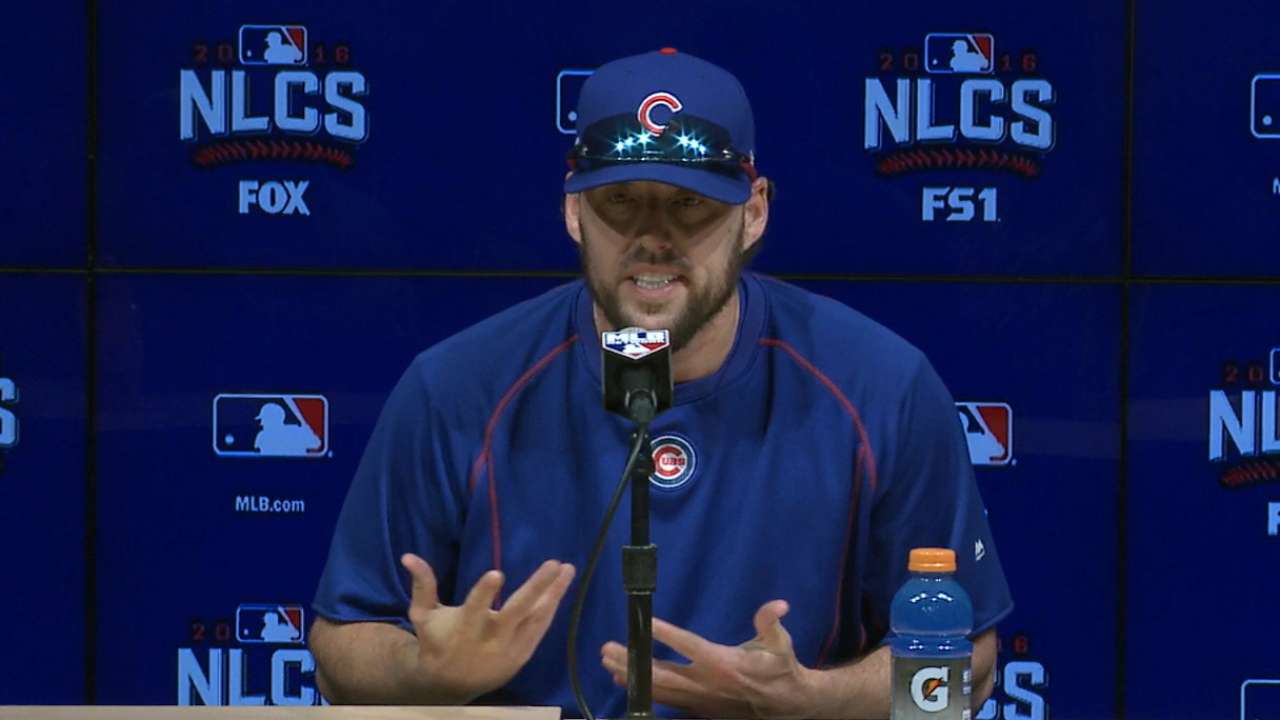 The MLB postseason has seen rookie pitchers face off against veterans before, but gaps in experience like the matchup at Dodger Stadium on Wednesday night are few and far between.
In Game 4 of the National League Championship Series, 37-year-old Cubs right-hander John Lackey will make his 22nd career postseason start, most among active pitchers, while 20-year-old Dodgers lefty Julio Urias becomes the youngest starting pitcher in MLB postseason history.
• NLCS Game 4: Today at 8 p.m. ET on FS1
Regular-season stats
Lackey: 11-8, 3.35 ERA, 188 1/3 IP, 180 K, 53 BB
Urias: 5-2, 3.39 ERA, 77 IP, 84 K, 31 BB
Lackey against the Dodgers
2016: Did not face Los Angeles
Career: 12 G, 11 GS, 6-3, 1.75 ERA, 77 IP, 71 K, 17 BB
Loves to face: Howie Kendrick, 5-for-21 (.238), 2 K; Andre Ethier, 4-for-19 (.211), 2B, 6 K
Hates to face: Adrian Gonzalez, 7-for-23 (.304), 2B, 5 K
Why he'll win: Lackey has some strong postseason experience, both in general and against the Dodgers. He allowed one run in seven innings against Los Angeles in the 2014 NL Division Series with St. Louis, and he has a career 3.22 ERA in the playoffs overall.
Pitcher beware: As strong as Lackey's track record is, it didn't help him much in an NLDS start against the Giants. Lackey allowed nine baserunners and three runs in four innings, the second-shortest start of his postseason career. He's also making just his second start in three weeks, a situation he called "not ideal" -- given that he's less than two months removed from a DL stint for a right shoulder strain.
Pitch repertoire: Lackey works mostly with a fastball that averages 92 mph and will drop in a slider against right-handers at any point in the count. That slider has been devastating this season, with batters slugging just .124 off the pitch and whiffing 23.5 percent of the time, according to Statcast™. The slider is less present against left-handers, as Lackey opts to use his curveball more along with an occasional changeup.
Bottom line: If Lackey is your fourth starter, you must have a pretty good rotation. The Cubs might have last year's NL Cy Young winner and two other contenders for this year's award, but that shouldn't overshadow what has been an excellent season for Lackey. He stumbled a bit in the NLDS and might have to shake off some rust, but his career indicates he will give the Dodgers plenty to handle.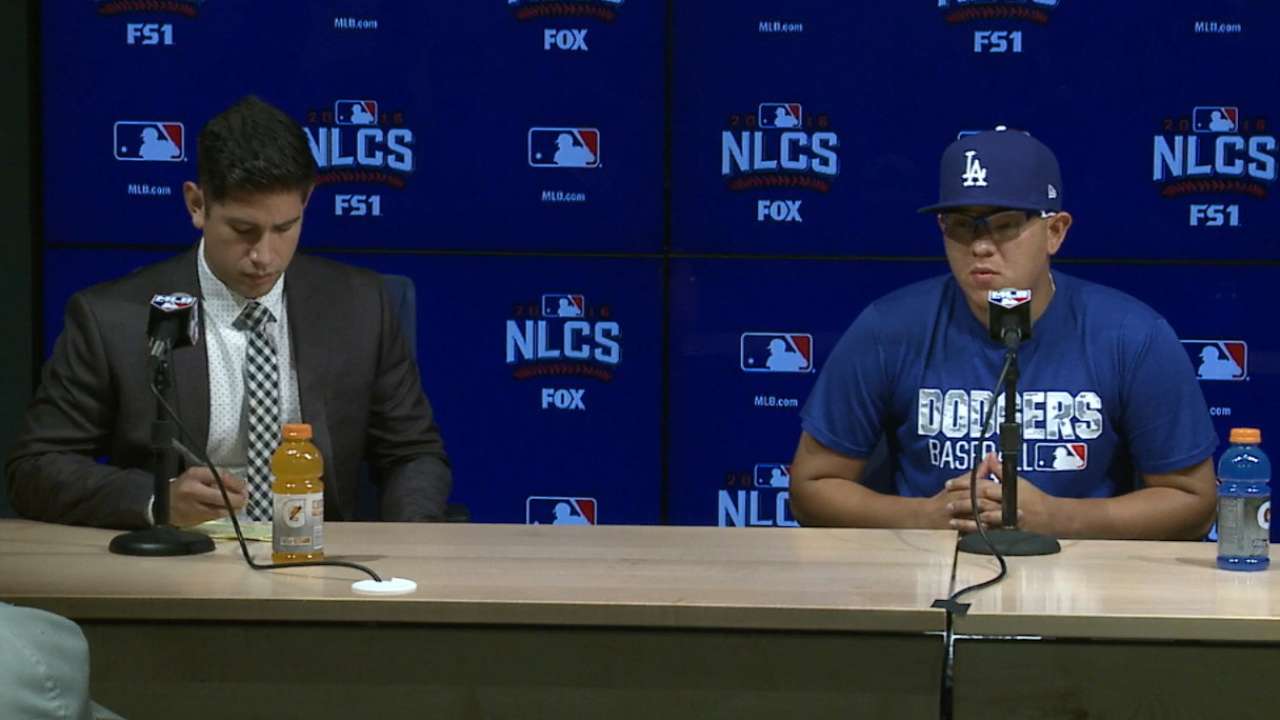 Urias against the Cubs
Career: 2 GS, 1-1, 4.91 ERA, 11 IP, 12 K, 3 BB
Loves to face: Addison Russell, 0-for-5, 3 K
Hates to face: Kris Bryant, 2-for-6, HR; Javier Baez, 2-for-4, HR
Why he'll win: Urias had a rough couple starts to begin his career, allowing a total of eight earned runs in 7 2/3 innings, but has shown he is very much a big leaguer since then. He looked dominant at times in the second half, putting up a 1.99 ERA in 10 appearances and seven starts while striking out 40 batters in 40 2/3 innings. He is also facing a Cubs team that he showed immense improvement against between two starts, going from allowing three homers at Wrigley Field on June 2 to yielding just a single run in six innings while striking out eight on Aug. 27 at Dodger Stadium.
Pitcher beware: It's been a common trend this season for Dodgers starting pitchers to rarely last long into games, and Urias is no exception. He might even be the prime example, with the club attempting to limit his workload. Urias hasn't reached the sixth inning of a start since August, a ceiling not helped by his frequent movement between the rotation and bullpen. Including the NLDS, Urias has been moved to the bullpen four times since the All-Star break.
Pitch repertoire: Urias uses a fairly standard arsenal, starting with a fastball that sits around 93 mph and regularly mixing in a curveball, slider and changeup. His curveball is his favorite secondary weapon, despite it likely being his worst pitch. Its main use is to surprise right-handed batters on the first pitch, but opponents are hitting .375 against it.
Bottom line: The Dodgers would certainly love for Urias to go out and pitch against the Cubs like he did the last time he saw them, but nothing will change the fact that it's a 20-year-old rookie making his first postseason start. It almost certainly won't be his last.
Jack Baer is a reporter for MLB.com based in Los Angeles. This story was not subject to the approval of Major League Baseball or its clubs.