Game 4 'pen usage a balancing act for Tito
If not for key error, relievers could have had better outcome while Miller, Allen rested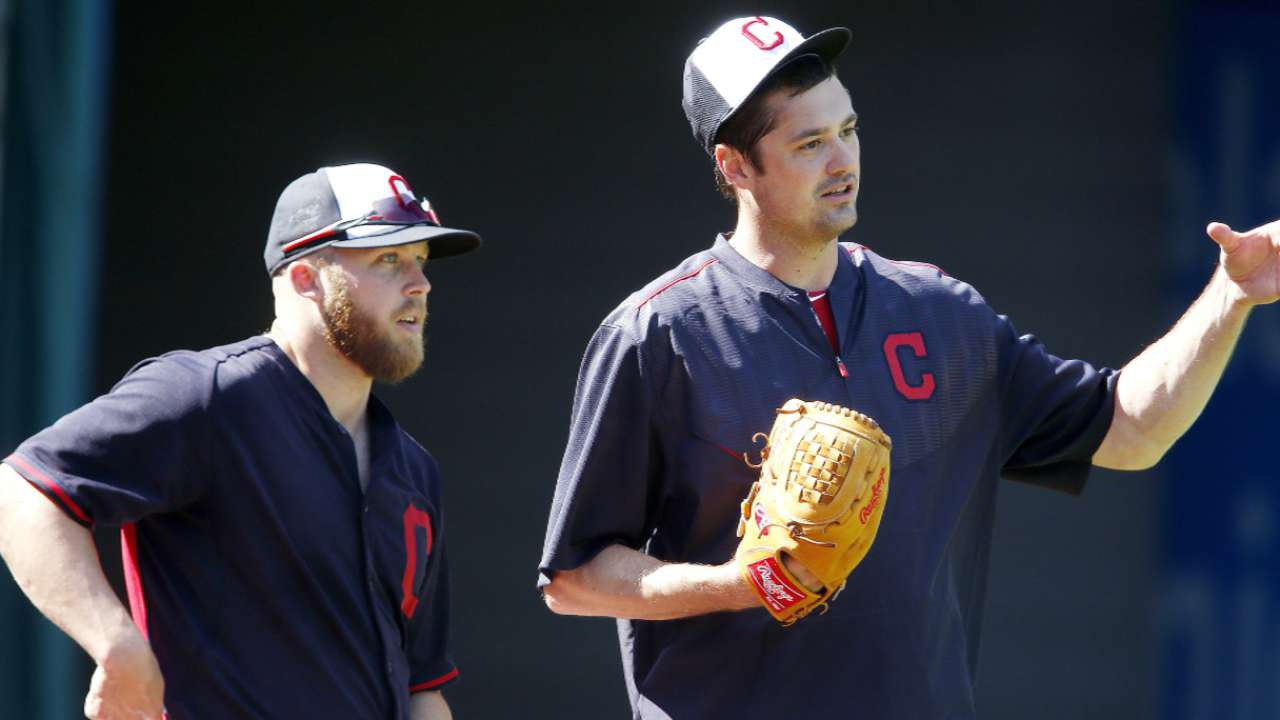 TORONTO -- Bryan Shaw grabbed the bouncing baseball with his bare right hand, turned his head to find first base and felt he had plenty of time. Where the Indians reliever went wrong was regaining his balance, as evidenced by the ball that was soon bouncing into foul ground down the right-field line.
Throughout this American League Championship Series against the Blue Jays, and in the postseason as a whole, Cleveland had been fundamentally sound and powered by its bullpen. In a 5-1 loss in Game 4 on Tuesday, both elements escaped the Tribe and delayed the Indians' opportunity to punch their ticket to the World Series for the first time in nearly two decades.
• ALCS Game 5: Today at 4 p.m. ET on TBS/Sportsnet/RDS
"I just rushed it," said Shaw, whose back was against a wall outside the visitors' clubhouse at Rogers Centre, as he explained what happened on his game-changing error in the seventh inning.
The good news for the Indians is that it is still the Blue Jays who have their backs against the wall in this best-of-seven series.
The 2004 Red Sox, who were managed by current Indians manager Terry Francona, are the only team to overcome a 3-0 deficit to win a best-of-seven series. To eliminate the Tribe, Toronto needs to win four games in row. As it happens, Cleveland was the only team in the Majors this season not to have a four-game losing streak. This loss was the first for the Indians since Sept. 28, snapping a nine-game winning streak (six in the playoffs).
That is why the defeat -- while certainly carrying some sting -- was mostly met with shrugs inside the Tribe's clubhouse.
"We're one win away from the World Series," Indians ace Corey Kluber said. "That's what we're focused on."
Due to the unexpected bullpen game that developed in Game 3 on Monday night, Kluber started on three days' rest on Tuesday. When Cleveland's offense struggled to solve Toronto right-hander Aaron Sanchez, and the Blue Jays' lineup grabbed a lead off Kluber, Francona opted to pull the plug on his ace's effort after five innings and 89 pitches. After all, if by chance the ALCS extends to a Game 7, Kluber will be given the ball again.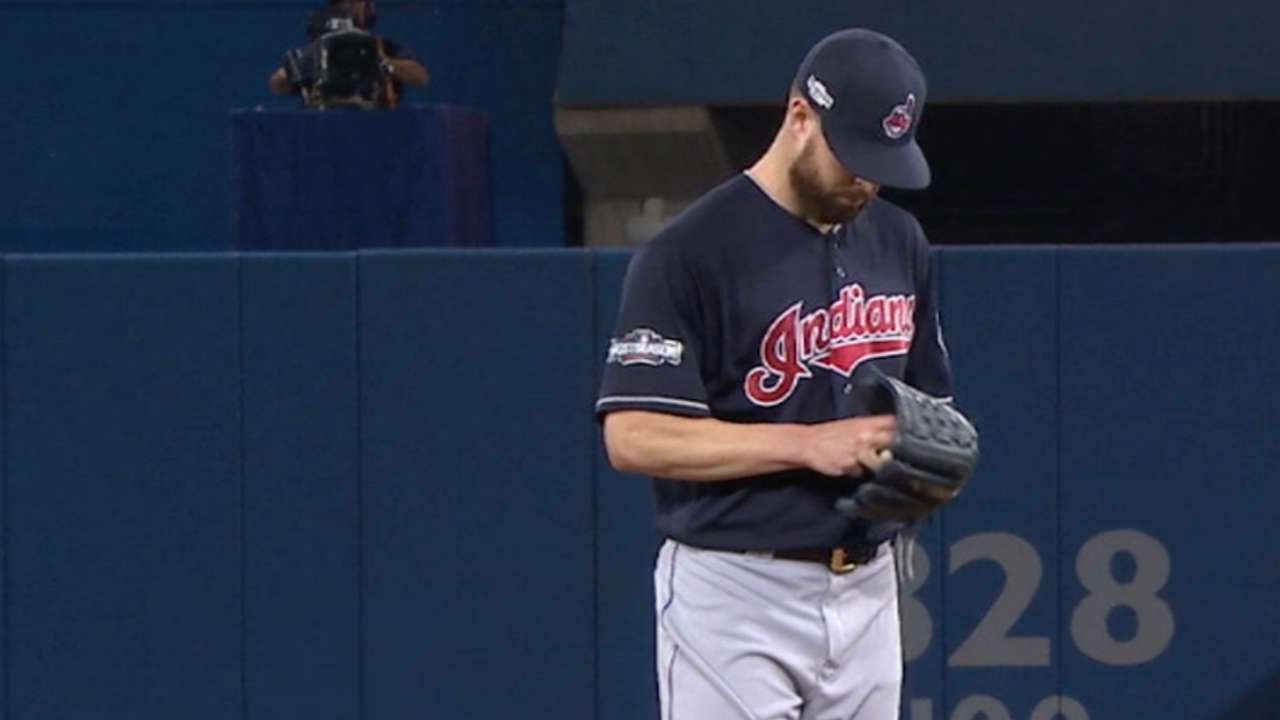 The Indians' bullpen -- led by relief ace Andrew Miller, who has 20 strikeouts in nine innings this October -- has been a game-shortening force so far in the playoffs. Under Tuesday's circumstances, Francona's task was balancing keeping the score close, while keeping his main relief weapons fresh for a Game 5 on Wednesday that will feature wide-eyed rookie starter Ryan Merritt.
Along those lines, Francona succeeded. Neither Miller nor Cody Allen appeared in the loss.
"Tito knows what he's doing," Indians catcher Roberto Perez said. "He's been in this situation before. He's good. He's got experience. He's done such a good job, handling the pitchers, bringing them in. It was good, even though we lost, it was good to get the other guys in."
Entering Tuesday's loss, the Indians' relief corps had posted a 1.46 ERA in the postseason with 35 strikeouts and five walks in 24 2/3 innings, including 8 1/3 after Trevor Bauer exited Monday's game due to injury in the first. This time around, the bullpen allowed three runs (two earned) on five hits with two walks and one strikeout. A 2-1 deficit through six innings turned into a 4-1 Blue Jays lead by the seventh, and a 5-1 Toronto advantage when it was all said and done.
The breaking point arrived in the seventh, when Shaw allowed a leadoff single to Ryan Goins and then faced Jose Bautista. The slugger tapped a pitch to the right side of the mound and Shaw scrambled off the hill in pursuit of the ball. On the third bounce, the right-hander plucked the ball from the air and, leaning on his back foot, threw the ball well beyond the reach of first baseman Mike Napoli.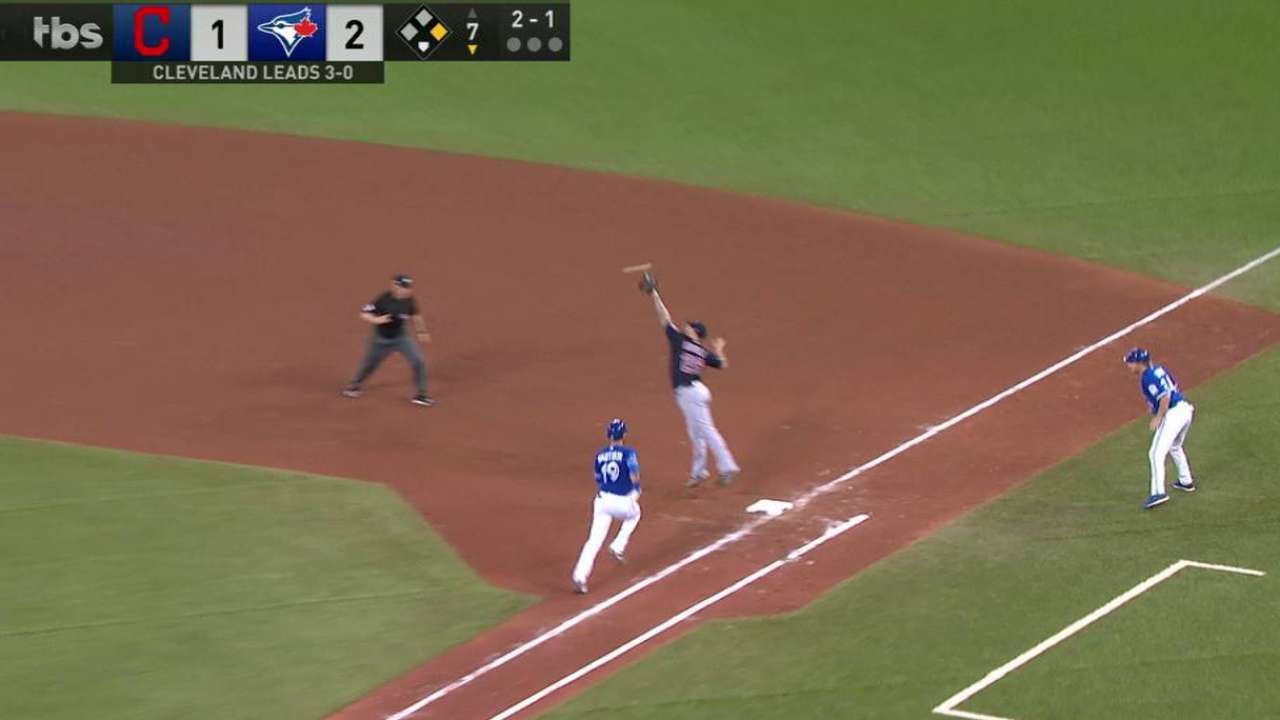 "I should've had him all the way," Shaw said. "Had I planted my foot and made a better throw, he would've been out. It wasn't too tough a play. I got over there, I got the ball, I just opened up too much and spun and threw it away."
• Return to defensive excellence key for Tribe
With runners on the corners and no one out, Francona elected to issue an intentional walk to Josh Donaldson, who launched a home run in the third inning.
"I went through every scenario in my head where we can't exchange outs for a run," Francona said. "So, it's a difficult situation all the way around. But, rather than play the infield in without a forceout with Donaldson, I decided with the forceout at the plate and pitch to [Edwin] Encarnacion."
Even given that strategy in mind, Donaldson was caught off guard.
"To say the least, I was a little surprised," Donaldson said, "because I just had a terrific season, and there's no outs. Walking up to the box, I wasn't thinking I was about to get an intentional walk."
Encarnacion made Cleveland pay with a hard comebacker, which struck the top of the mound and bounced into center for a two-run single. Encarnacion shouted as he ran up the first-base line and -- after advancing to second on a throw to the plate -- the Blue Jays first baseman pounded his chest as the Rogers Centre crowd roared.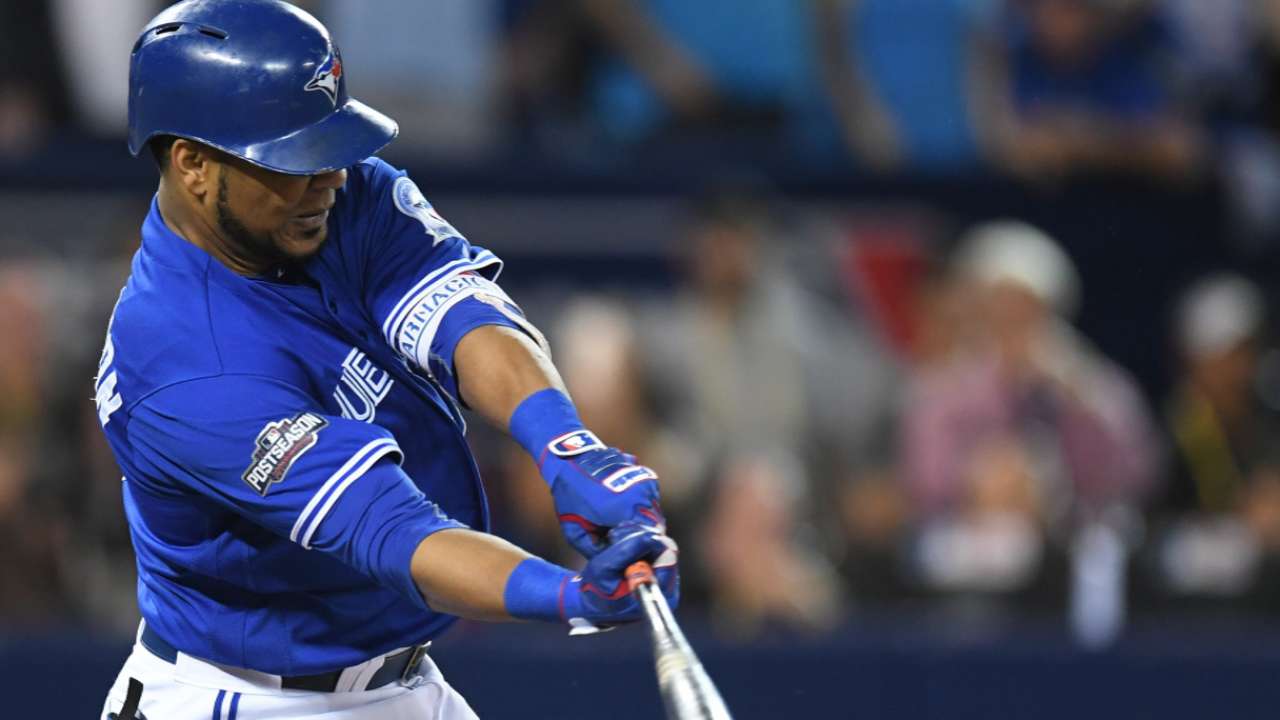 It was not the desired result. The Indians would have rather been spraying champagne and partying in advance of their first World Series berth since 1997.
The odds of that scene remain in the Tribe's favor.
"We're up in the series," Shaw said. "We still have the upper hand, up 3-1 now. We've got to win one. They've got to win three."
As for the bullpen's momentary lapse, Kluber was not concerned.
"They've been phenomenal so far," said the ace. "If [Shaw] was able to make that play and get the out at first, it could change the whole complexion of that inning. They've been really good to this point, and I don't think we have any doubts that they're going to be really good going forward."
Jordan Bastian has covered the Indians for MLB.com since 2011, and previously covered the Blue Jays from 2006-10. Read his blog, Major League Bastian, follow him on Twitter @MLBastian and listen to his podcast. This story was not subject to the approval of Major League Baseball or its clubs.