Maddon wants Urias' pickoff move on umps' radar
Dodgers lefty appeared to balk on throw to first in NLDS Game 5 vs. Nats
LOS ANGELES -- The deceptive move that helped Dodgers rookie Julio Urias convert an MLB-leading six pickoffs during the regular season and another this postseason is one that Cubs manager Joe Maddon hopes will be closely monitored by the National League Championship Series umpiring crew. Urias starts Game 4 on Wednesday for the Dodgers, who have a 2-1 edge in the best-of-seven NLCS after a 6-0 win over the Cubs on Tuesday.
The left-hander's move came under particular scrutiny last week after Urias picked off Bryce Harper in the fifth inning of NLDS Game 5. Though the call on the field was not argued by Washington manager Dusty Baker, replays of Urias' move raised some eyebrows. That's because, according to Rule 8.05, he appeared to commit a balk.
• NLCS Game 4: Today at 8 p.m. ET/7 CT on FS1
As that rule reads: "If a left-handed or right-handed pitcher swings his free foot past the back edge of the pitcher's rubber, he is required to pitch to the batter except to throw to second base on a pickoff play."
Maddon said he hopes it will be called as such if Urias tries a similar move on Wednesday.
"When you get to see it on TV, it's pretty obvious," Maddon said. "It's not even close. It's a very basic tenet regarding what is and what is not a balk. Give him credit, man, for going through with it. That's part of the game.
"I think from the umpire's perspective, there are certain umpires that are in tune to that, some that are not. There are other balks that I always get annoyed with that aren't called. So I'm certain that the umpiring crew have been made aware of it. That's 101. That's not an interpretation. That's balking 101 for me."
Maddon did not clarify whether he has, or will, personally reach out to the umpires to ask they pay attention to Urias' pickoff move.
"We'll see how it plays out," Maddon said. "From [an] umpire's perspective, from the dugout, I'd like to see a little bit more scrutiny with that overall."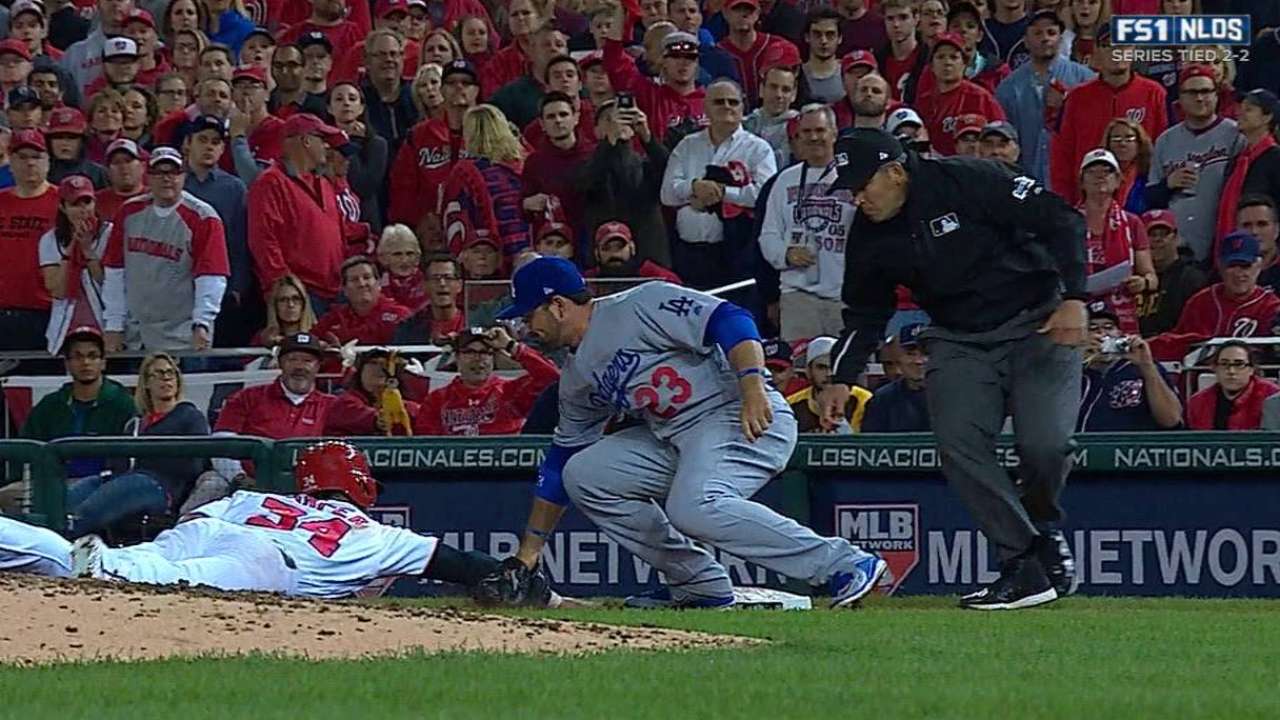 This is not the first time this postseason that a manager has urged the umpires to more closely scrutinize the pickoff move of a Dodgers pitcher. It also happened in at the start of the NLDS, when Baker was discussing Clayton Kershaw's effectiveness in controlling the running game.
"Quite frankly, I'm hoping that the umpires, we get some baserunners and the umpires might call a balk or two on [Kershaw], because he kind of rolls through the set position, which they don't call, but I heard that really upsets him if they do call one," Baker said.
Kershaw, nevertheless, has not registered a pickoff this year.
Jenifer Langosch has been a reporter for MLB.com since 2007. This story was not subject to the approval of Major League Baseball or its clubs.